If you're looking for a quality electric mountain bike, preferably for hunting purposes, the $2000 mark is near the minimum you should look to spend.
This will get you a very decent and quality hunting eBike which is a much smarter choice than going for the cheapest electric bikes that might not provide nearly as many benefits and won't be able to last for long.
And in this post, you'll find  5 of the best electric mountain bikes under $2000 that won't break the bank and yet will provide the best quality for the money you can get. On top of that, you'll also learn how to easily finance your new electric bike purchase, so keep on reading!
What to Look Out for in the Best Electric Mountain Bike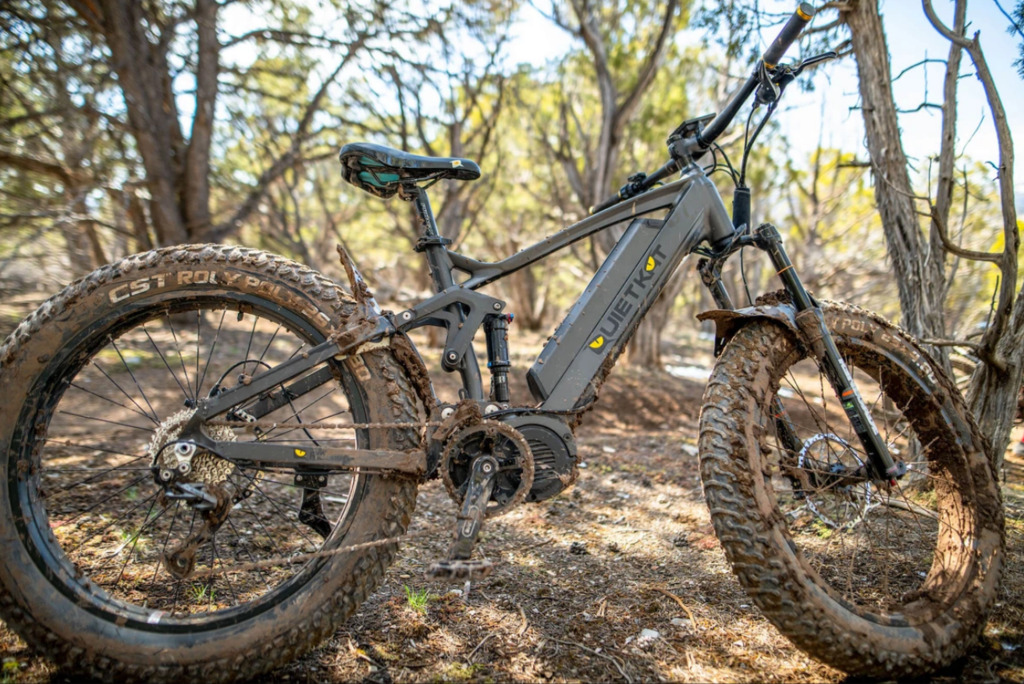 Electric mountain bikes are often reinforced bikes that are built to last for a lot longer and have the ability to cover almost any type of terrain (especially electric hunting bikes).
Therefore, some of the characteristics you should look for in an electric bike include:
Durability
Versatility
Power and range
Components
Comfort
Additional accessories
The most important aspect of electric mountain bikes is their durability. Electric hunting bikes that cost around $2000 are well built to withstand the most demanding needs, but also to be used in almost any type of terrain there is.
With the ability to cover various terrains, electric mountain bikes are a lot more fun and even provide an advantage over other bikes or electric vehicles.
When it comes down to power and range, a $2000 electric bike can get you a quality motor such as any of the Bafang series and a long-range battery from a quality manufacturer such as Samsung or LG. So anywhere between 500 to 1200W of power can be easily expected. But when it comes down to the range, on average, 60 miles or more is a very realistic estimate.
Besides a sturdy and quality build with a powerful motor and a quality battery, other components on the eBike also need to be made of high quality to match the whole eBike. This way, you will know that the eBike is made to last and that it is a great fit for any type of adventure you seek in the mountains or any other type of terrain.
For example, a set of fat and wide tires, a durable chain, and a Shimano gearing system are just some of the components to look for in a $2000 mountain eBike.
Comfort is also something you should look out for in the form of components. Almost every mountain electric bike will come with a front fork suspension, but some come with a full-suspension system. Other things you can look out for include a type of seat post and the saddle itself, but also tires, steering wheel, and other components.
Lastly, all additional accessories are always a bonus you can get with the purchase of your new electric bike. So it's advised to look out for a digital display that's often integrated into the eBike, fenders, lights, racks, or even a cargo wheel.
You can always buy these accessories separately from most manufacturers, but it's also a great way to save some money and grab a good deal while you're choosing your next electric bike.
Best Electric Mountain Bikes Under $2000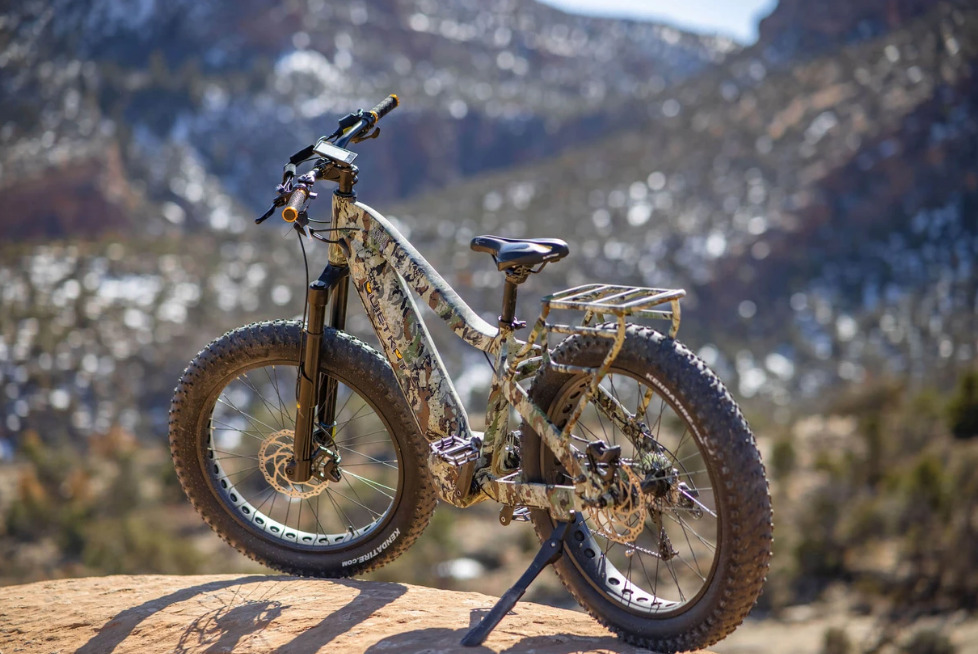 It might seem impossible to find a quality electric mountain bike for $2000 or less, but it's definitely not. All you have to do is find a great eBike retailer, know what you're looking for, and have a bit of luck finding a great deal!
All of these 5 mountain eBikes below are a great score and you can never go wrong by purchasing any of them.
1. Himiway Zebra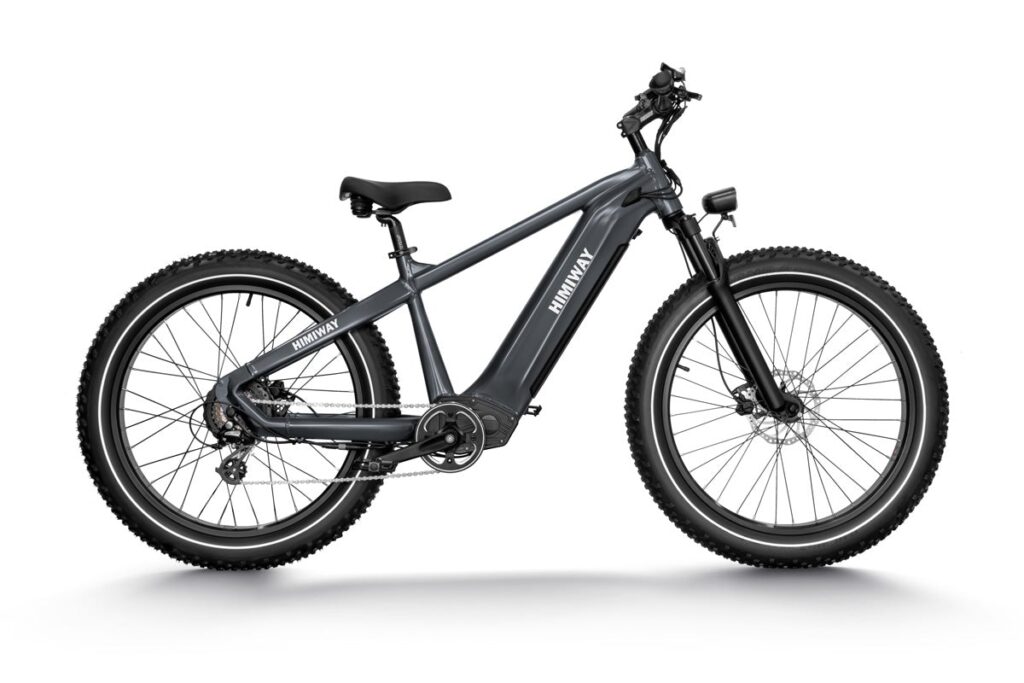 Himiway Zebra is a premium all-around and all-terrain electric bike that's based on the mountain bike frame and yet is reinforced to handle the weight of a motor and a battery. Besides that, Zebra electric mountain bike can also handle rough terrain and provide versatility wherever riders decide to take Zebra for a ride.
It costs just a dollar off the $2000 mark, but it is made with only high-end components. Starting from the frame, Zebra eBike is built using upgraded 6061 aluminum where the battery is integrated right into the frame.
This electric mountain bike is powered by a 750W Bafang hub motor in combination with a 48V 20Ah Samsung or LG battery. When you need the most power out of this eBike, you can expect 86Nm of max torque, and when you need to go further, your mind will be at ease knowing this eBike can achieve at least 80 miles on a single charge.
Equipped with a Shimano 7-speed gearing system, and 4″ wide fat Kenda tires, this eBike is built to go anywhere so riders don't have to think twice before heading off the off-road path.
From additional accessories, you can expect a digital display where you can keep a track of the most important aspects of the eBike. On top of that, lights, a kickstand, and a bell come included with the eBike.
2. Quietkat Pioneer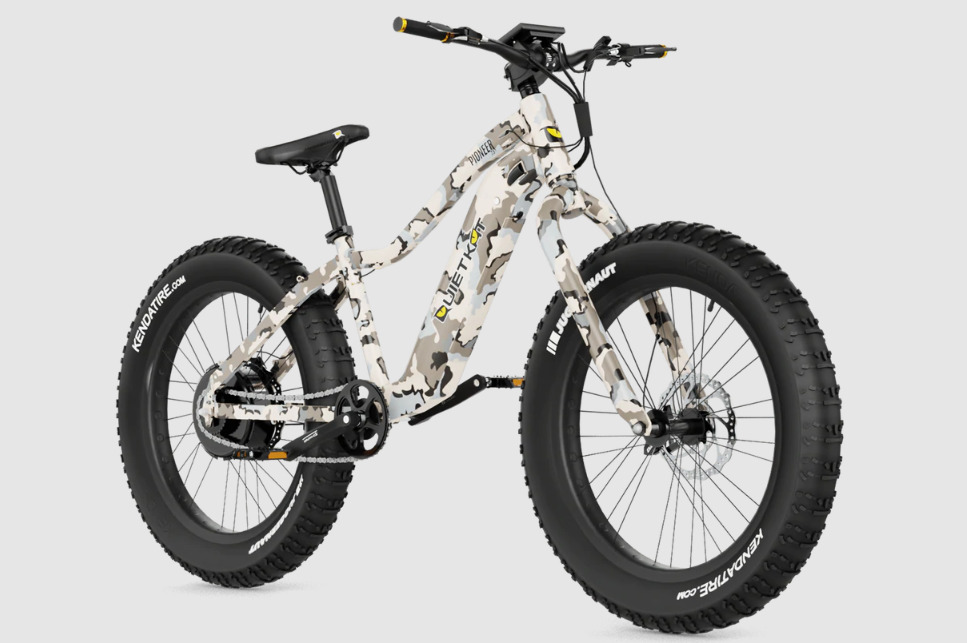 Quietkat is known as one of the top mountain bike manufacturers that are ideal for hunting purposes. And even though their electric bikes are often on the expensive side, they are the best you can get on the market.
Luckily, Quietkat introduced an entry-level electric bike that provides much better specifications, components, and build quality within the price range of $2000 than other manufacturers.
Therefore, Pioneer eBike comes with a 500W hub-drive motor (which can be upgraded to 750W) and comes with a 48V 9.6Ah battery that can give you anywhere between 15 to 30 miles on a single charge (depending on the riding style and conditions).
However, you should also keep in mind that Pioneer eBike has 3 levels of pedal assistance which can extend the range if used.
It's based on a single-speed gearing system which simplifies maintenance but still allows riders to climb steep hills with ease, even in off-road conditions and terrain settings.
There are also 26″ x 4″ wide fat tires that don't only ensure comfort, but also ensure that this eBike never comes across obstacles it can't handle.
From other high-quality components, Pioneer includes Tektro mechanical disc brakes which can stop you at any time no matter the type of surface you're on. However, the only thing Pioneer lacks is any kind of suspension system so this is something to keep in mind.
Also, keep in mind that this eBike crosses the $2000 mark by only $100 which is definitely nothing compared to the quality, value, and performance this eBike provides.
3. Emojo Lynx Pro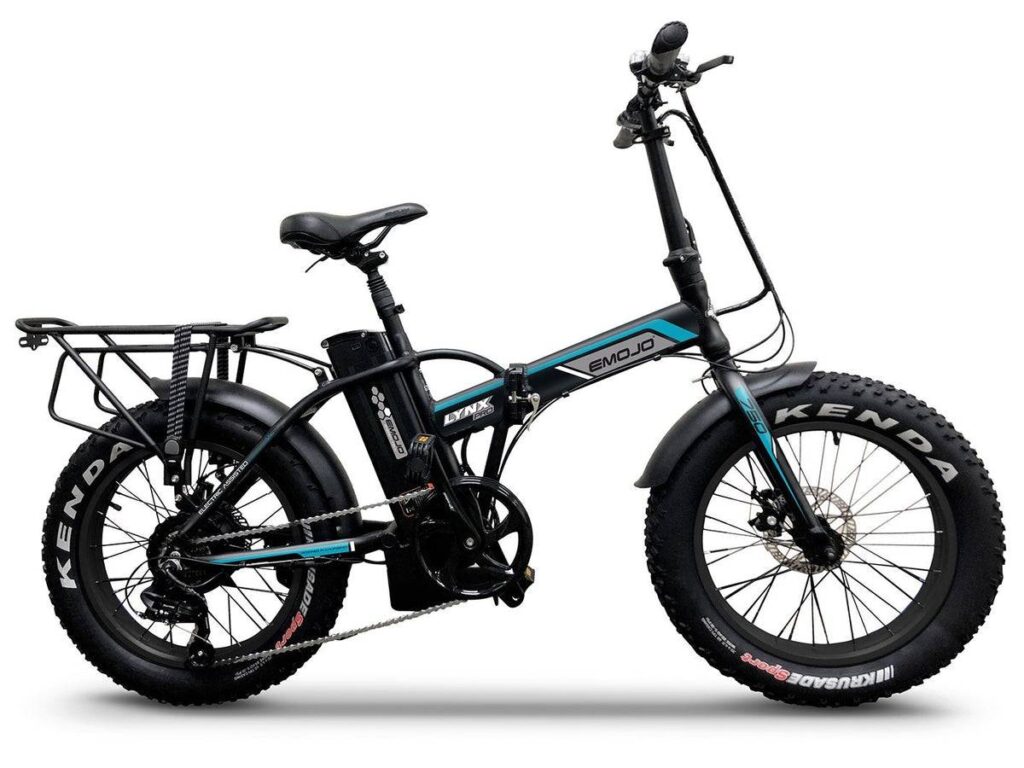 Emojo Lynx Pro is an electric bike that you might not even think of taking to the mountains until you closely check it out and review its specifications.
Lynx Pro eBike is based on a folding eBike frame and yet is reinforced with the use of sturdy aluminum. With a smaller frame that sits lower to the ground, this electric bike provides better stability and control, noticeable on rough terrains.
Of course, Lynx Pro eBike comes with 20″ wheels, but it still features 4″ fat off-road tires so you can take this eBike anywhere.
Even though it misses any type of suspension, you will enjoy the seat post suspension that will eliminate and reduce shock when you're overcoming even the biggest obstacles in the way.
But when it comes down to power, you'll never lack it since this eBike is powered by a 750W brushless motor. It might seem small, but it's a very mighty eBike that introduces useful accessories such as a rear rack, LCD display, and folding ability so you can store it in the trunk of your car without a problem.
If you're someone who's of a smaller height to enjoy the most average mountain eBikes, Emojo Lynx Pro makes it a perfect combination of both worlds.
4. Emojo Wildcat Pro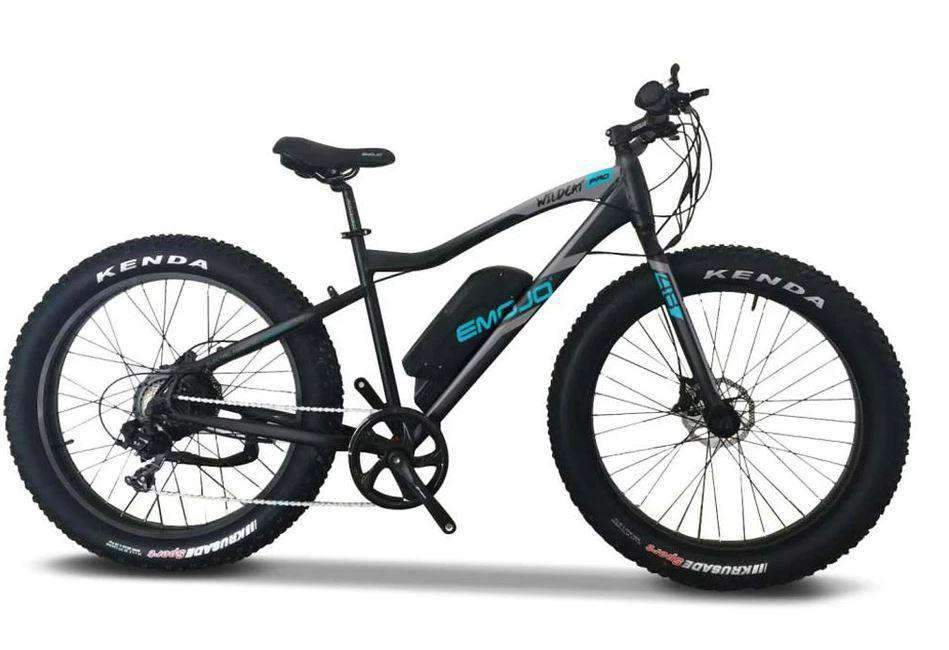 Emojo Wildcat Pro is one of the most ideal mountain eBikes under $2000 since it offers two versions and you can choose between them without worrying about your budget.
Wildcat Pro eBike comes in either a 500W version with Tektro disc braking system or a 750W hydraulic disc braking system.
The motor that's powering Wildcat Pro is a brushless DC by Bafang which is very torquey so you can really push this eBike to its limits even when you're on off-road terrains.
The reinforced aluminum alloy-rigid frame provides all the support you would need to overcome the off-terrain obstacles. But when it comes down to the battery, you'll be pleased to hear that this eBike has one of the quickest charging batteries on the market.
A single full charge takes about 4 to 6 hours and yet it can help you cover about 30 miles. Equipped with a 7-speed Shimano gearing system, disc brakes, and pedal-assist system in combination with the throttle, you can take full advantage of this eBike in any type of setting.
Build quality is very decent, components are quality, and the whole build is made to provide riders with the mountain eBike best solution that won't break the bank.
5. Fission Cycles FM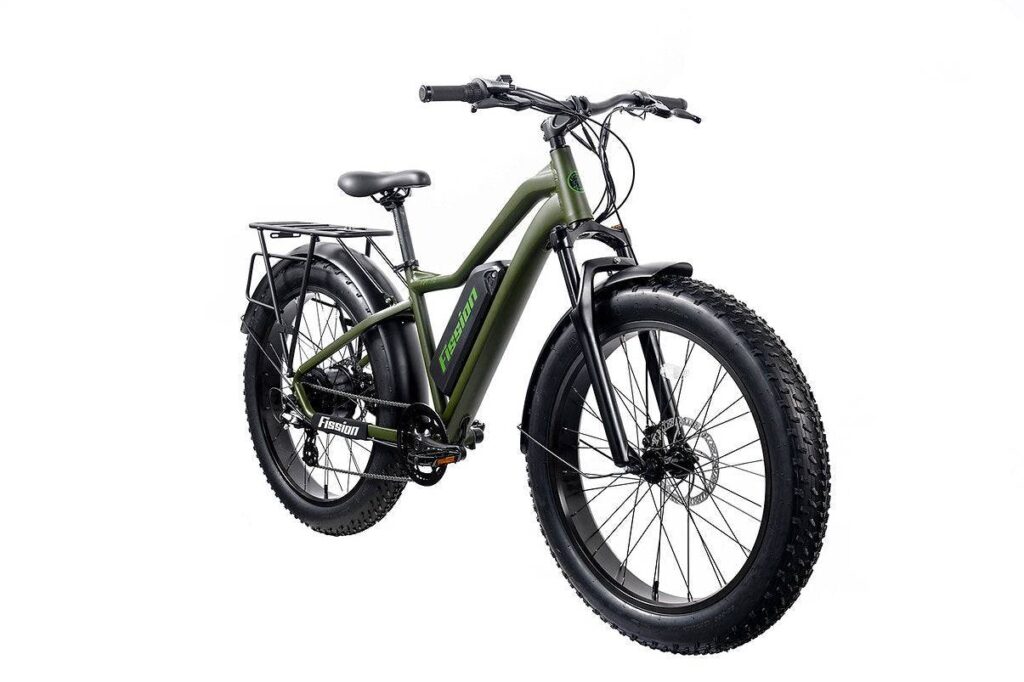 Fission Cycles FM is a 750W electric bike that's equipped with almost everything you would need to take it up to the mountains, ride it off-road, or experience paths beyond the off-road sections.
Considering the price, Fission Cycles FM comes with relatively high-end components that don't only improve the rider's experience, but also improve the overall quality and durability of the eBike.
This electric mountain bike comes equipped with a TruckRun 48V 14Ah battery and a 750W hub-drive motor that provide more than enough power for any type of terrain and riding style.
With an improved Shimano 8-speed gearing system, Tektro mechanical disc brakes, and even Kenda anti-puncture fat tires that are made for all-terrain you won't ever have to worry about the quality or durability of the eBike when you're riding way past the off-road paths.
On a single charge, this eBike can help you cover anywhere between 20 to 40 miles and you get to keep track of the most important data on the smart color display that's integrated into the eBike.
Along with a smart color display, you'll also get a rear rack, front and rear fenders, and a chain guard.
How to Finance the Best Electric Mountain Bike Under $2000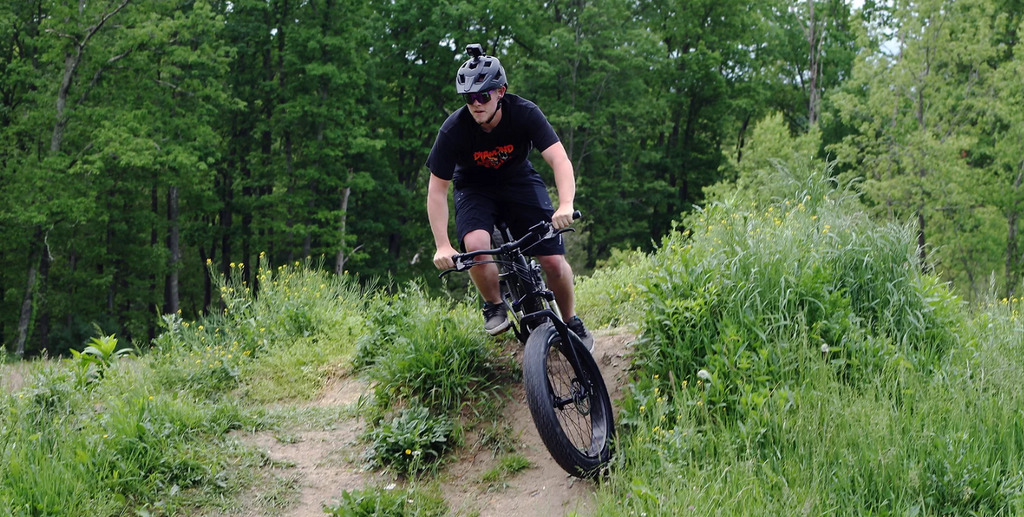 Even though these electric bikes are on the cheaper end of the quality electric bikes you can get today, it's still a decent price that might make you have to save your money or dip into the savings.
However, there's a better way to purchase your new electric bike and it's through financing. Quality electric bike retailers such as eBikeGeneration don't only provide top-notch electric bikes, but they also provide financing plans ideal for almost everyone.
The best thing about these financing plans is that they can help you buy the eBike today, get it shipped right away, and yet you pay it off monthly. If you pay all installments on time, there's a 0% interest rate as well.
Therefore, even if you have money sitting in the bank, you can take advantage of a financing program since it can make paying for a new electric bike a lot simpler without breaking anyone's bank.
It's very easy to apply to these financing programs and you can get the status of your application straight away.
Conclusion
Some of the best electric bikes under $2000 don't have to break the bank and yet don't have to sacrifice quality or components you can find on more expensive eBikes.
A $2000 mark is more of a bottom price range you should be spending on the eBike and instead of sticking to cheaper eBikes, it's a far better option to settle with one of these 5 eBikes.
These eBikes come from some of the best mountain eBike manufacturers and they provide much more than other eBikes within their price range.
Regardless of the price or quality, one thing is sure. You can take each one of these 5 eBikes to the mountains and you will have fun, without ever regretting the choice you've made!
Which one of these 5 best electric mountain bikes under $2000 is your favorite and why?