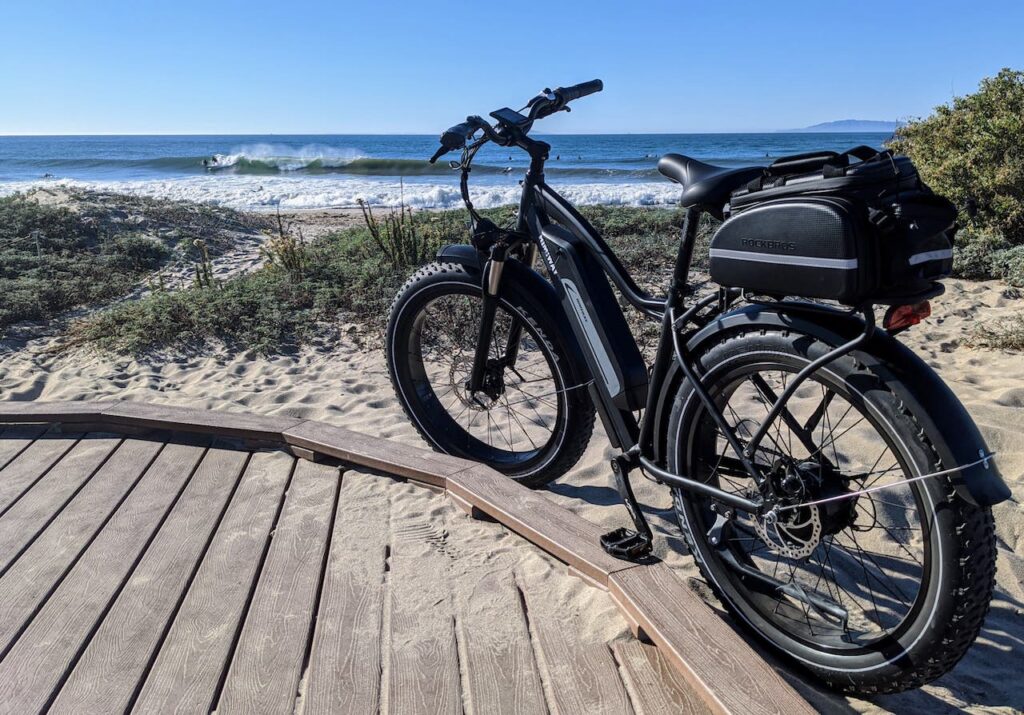 Himiway eBikes are quickly becoming more and more popular mostly for two reasons. They nearly match the quality of some of the best electric bikes on the market, and yet they're a lot more affordable.
We already did a review on some of the most popular Himiway eBikes, but if you are looking at their top eBikes before you make the final choice, you're in the right place!
Down below, we'll review 3 of the best Himiway eBikes, but we'll also tell you how we chose the top eBikes and how you can easily finance them. You'll also get to meet the brand a lot more too, so keep on reading!
More About Himiway eBikes

Himiway is a company on a mission to balance out the power and comfort of an electric bike while maintaining a high level of quality, without compromising on the quality of the components or cutting corners in any other way.
What's so significant about Himiway is that they put a lot of effort into providing modern batteries based on the latest quaternary polymer lithium technology which don't only provides a great range, but also longer durability and lifespan than the most average eBike battery.
Therefore, Himiway eBikes might not be the most powerful eBikes on the market, but they're one of the manufacturers who focus on helping riders cover a much greater distance than any other eBike can do.
With that being said, it's hard to beat Himiway's versatility of electric bikes that are made for almost any occasion.
How We Chose the Top Himiway eBikes for a Review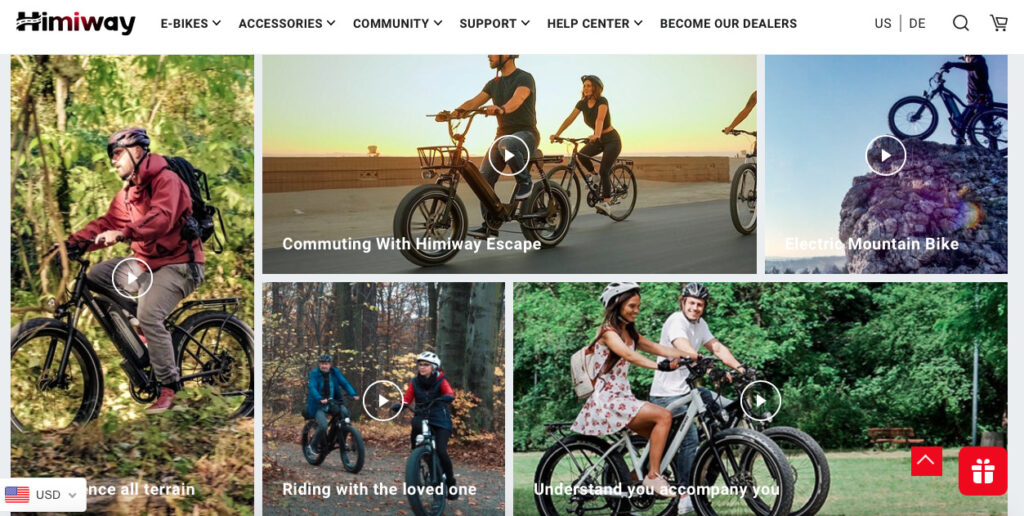 When choosing the top Himiway eBikes for this review, we paid attention to the most important aspects of every eBike to bring you truly the best picks from this company.
Therefore, we had a look at:
Power and range combination
Build quality
Comfort
Additional accessories
Warranty
Himiway is well known for producing electric bikes that can provide a great amount of power with the help of mid-drive quality motors and yet provide an exceptional range thanks to the batteries based on the latest tech in the industry.
Build quality is very decent as Himiway eBikes provide the versatility of eBike and are based on various bike frames instead of only limiting their options to mountain bike frames. With the use of aluminum alloy material that's durable yet relatively light, these eBikes make a great fit for any type of surface.
Comfort is guaranteed with the use of decent air front suspensions, and some Himiway eBikes even feature a full suspension for the most comfort. Combined with fat tires that aren't only durable but also allow you to take these eBikes anywhere, you won't dread riding on rough terrains.
Additional accessories are always a great thing to get included in the price of an eBike and every Himiway eBike features at least a very decent LCD, a rear rack, fenders, or lights.
Warranty-wise, all Himiway eBikes come with a 2-year warranty that will keep you covered in case of any malfunction.
Top 3 Himiway eBikes
For the top 3 Himiway eBikes, we decided to go with the Big Dog, Zebra, and Cobra. As you can guess from the model names, these eBikes are serious and in the reviews down below, you can find out how serious they are!
Himiway Big Dog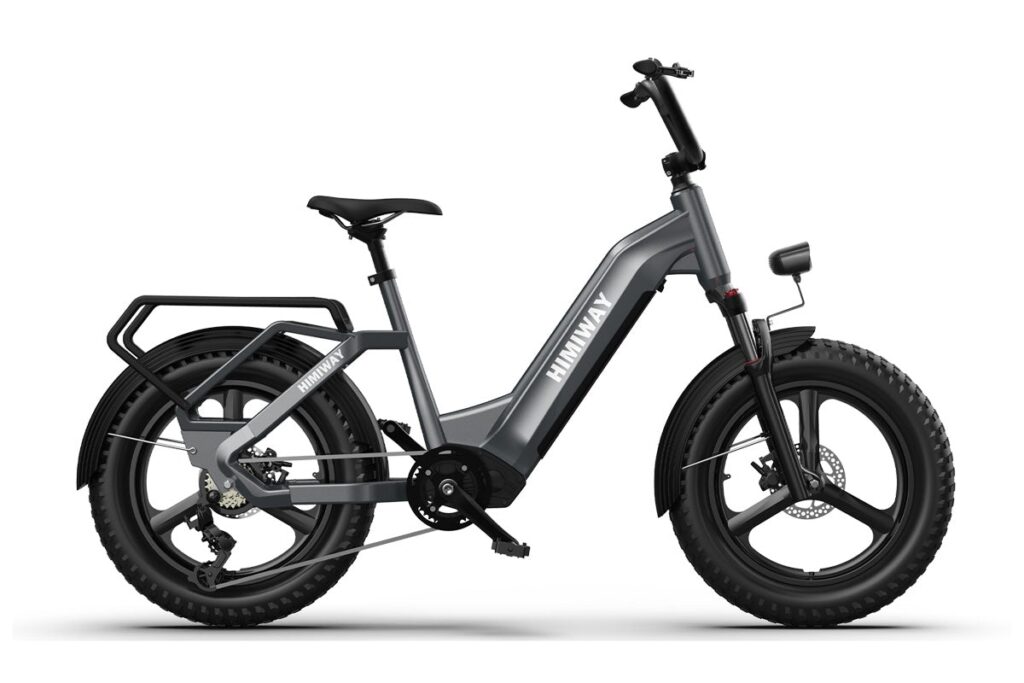 Himiway Big Dog is an electric bike built for versatility, all rider heights, and everyone who wants an eBike that will allow them to quickly and effortlessly move in any type of terrain without having to worry about the battery percentage.
Big Dog is built on a low step-through bike frame so it also features slightly smaller wheels, but this gives riders an advantage of easily storing the eBike, finding a perfect parking place, and also getting on and off the eBike in seconds no matter where you are.
However, the eBike's frame is built on a reinforced 6061 aluminum material that provides durability and strength so not only does the eBike last longer but so is the battery well protected in all conditions.
Even though the battery is fully integrated into the frame, such a design can help maintain a capacity well most importantly, reduce mechanical errors that are possible due to the weather and riding elements.
A mid-drive motor is also placed in the lower middle section of the eBike's frame which keeps the eBike stable as most of the weight sits lower to the ground. Therefore, even with smaller wheels, you can take this eBike on even the rockiest terrains and still feel confident and stable riding the eBike without any wipeouts.
In combination with a Samsung or LG 48V 20Ah battery, Big Dog eBike can achieve a range of about 80 miles on a single charge. However, you should keep in mind that riding style, weather conditions, and some other elements can determine the range you can achieve with this eBike.
With 4″ wide Kenda tires and a 7-speed Shimano gearing system, you can take this eBike anywhere from flat pavement to deepest paths in the wilderness without worrying about getting a puncture or making your way where you couldn't before.
On top of that, Big Dog is well known for its accessories that come included with the eBike, such as a multifunctional rear rack, LCD with USB charging, and pedal-assist with 5 levels that can help you expand the eBike's range by putting in a bit of effort.
The maximum weight capacity of this eBike is 400 lbs which is way above the average, especially for eBikes of this design, and that's just one of many reasons why this eBike is beloved by hunters all around the United States.
2. Himiway Zebra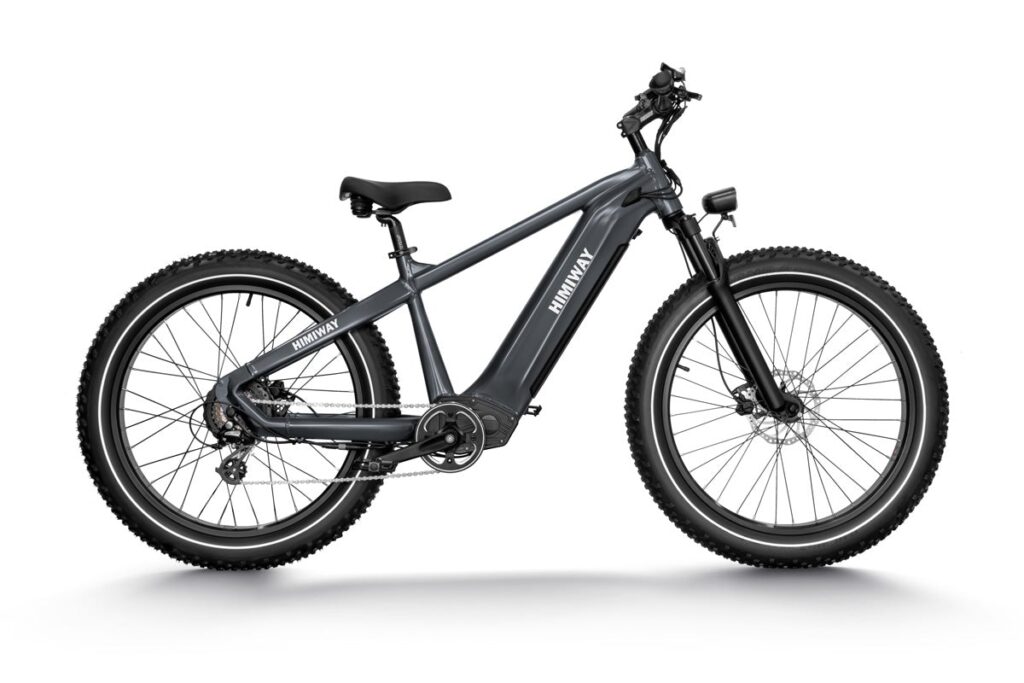 Himiway Zebra is a sporty electric bike that can roam the paved streets, off-road trails, and even paths when the trail ends because of its versatility combined with great components, and great design features.
Zebra electric bike is based on a powerful 750W geared hub motor that can produce up to 86 Nm of torque at its max. That's plenty of power to help you get moving quickly, but also maintain a very decent speed no matter the type of terrain you ride at.
Along with a powerful motor, Himiway Zebra eBike comes equipped with a 48V 20Ah battery (Samsung or LG) that's fully integrated into the frame for better durability, yet is based on the latest technology that can hold capacity much longer than other eBike batteries.
Each cell in the battery is significantly smaller, but it is a lot more diverse which means it can hold capacity for longer, making the battery last for longer in general too.  Therefore, even after 1000 charges, this battery's capacity will still be around 80% which is fairly a good condition for so many charge cycles.
As a result, you can achieve a range of anywhere between 60 to 80 miles on a single charge, but of course, this also depends on how often do you use a pedal-assist system, the way you ride, the type of terrain you ride at, and even weather conditions.
Design-wise, Zebra is based on a reinforced mountain bike frame that is made of durable aluminum which keeps the eBike fairly light yet reliable and durable. With 26 wheels and 4″ Kenda wide fat tires, you get to choose if you'll take Zebra to the city streets or off-road. Even going deep into the wilderness is an option, which is one of the reasons why hunters love the Zebra electric bike.
For an affordable price tag, Zebra still features high-quality components such as brake levers that come with a cutoff switch that saves power and improve range, Shimano's 7-speed gear system, SR saddle, Promax stem, alloy front fork suspension, KMC chain, and others.
3. Himiway Cobra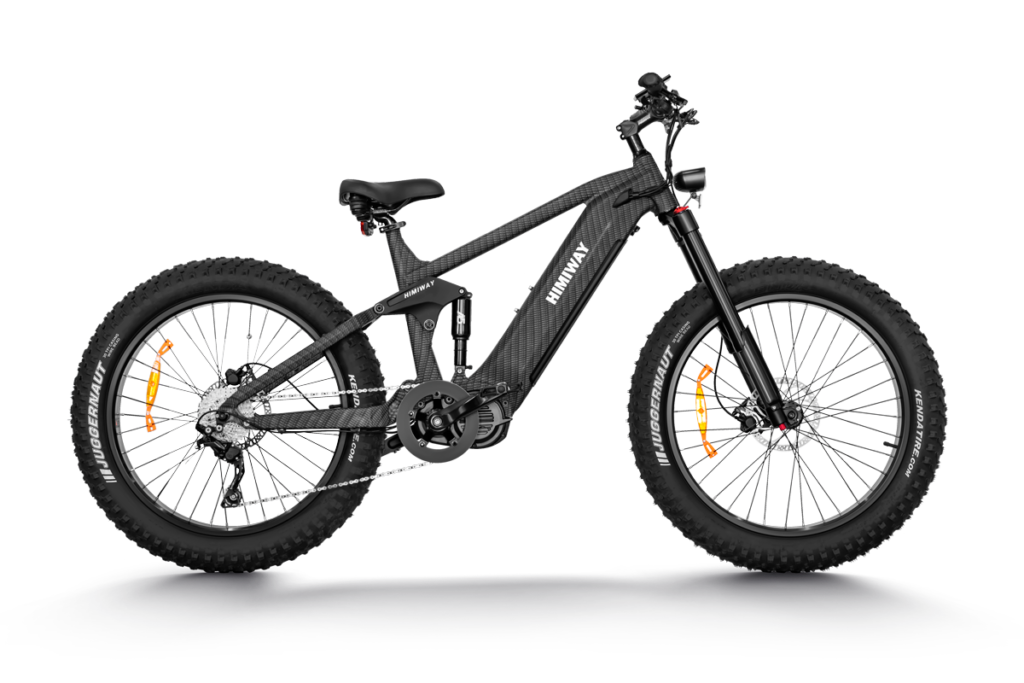 If you are looking for an electric bike that will be able to conquer any type of terrain and that you won't have to worry if you ever take down the wrong path, then Himiway Cobra is a perfect choice.
Himiway Cobra is one of the most expensive Himiway eBikes, but also the best ones for off-road use since it features a full suspension that improves mobility and increases comfort.
Just like all other Himiway eBikes, Cobra is based on a reinforced aluminum frame that's most similar to a mountain bike frame, yet with improvements that will help Cobra conquer any type of terrain with ease.
However, this is also one of the most powerful eBikes in the Himiway's fleet since it features a 1000W mid-drive motor that can produce 160 nm of torque at max. This is twice the torque other Himiway eBikes can produce, so if you're looking for the fastest, yet most versatile Himiway eBike, this is the one.
Regardless of this, Cobra eBike can still provide the same long-range just like other less powerful Himiway eBikes do. Thanks to the 48V 20Ah Samsung/LG battery, you can achieve up to 80 miles on a single charge. Of course, this requires you to use pedal assist from time to time and put effort into making the most of a single charge.
But if you decide to only rely on the throttle, you will be able to cover about 60 miles on a single charge without breaking a sweat which is still a very decent range.
Another improvement is the gearing system which is still a Shimano gearing system, yet instead of 7 gears, 10 gears will help you climb any hills with or without any load stored at the back of your eBike.
While this electric bike is super efficient with power and range, it excels the best at comfort. Considering the price tag which is super affordable, knowing that this eBike features a four-linkage full suspension is incredible and it's probably one of the best quality eBike deals you can get that features a full suspension.
Combined with the great suspension system, Cobra eBike also features one of the widest eBike tires in the Himiway fleet. This eBike includes 4.8″ wide fat tires that show that Cobra eBike is made for an adventure.
While the whole eBike only weighs about 90 lbs, it has a load capacity of up to 400 lbs which is incredible.
Best Way to Finance a Himiway eBike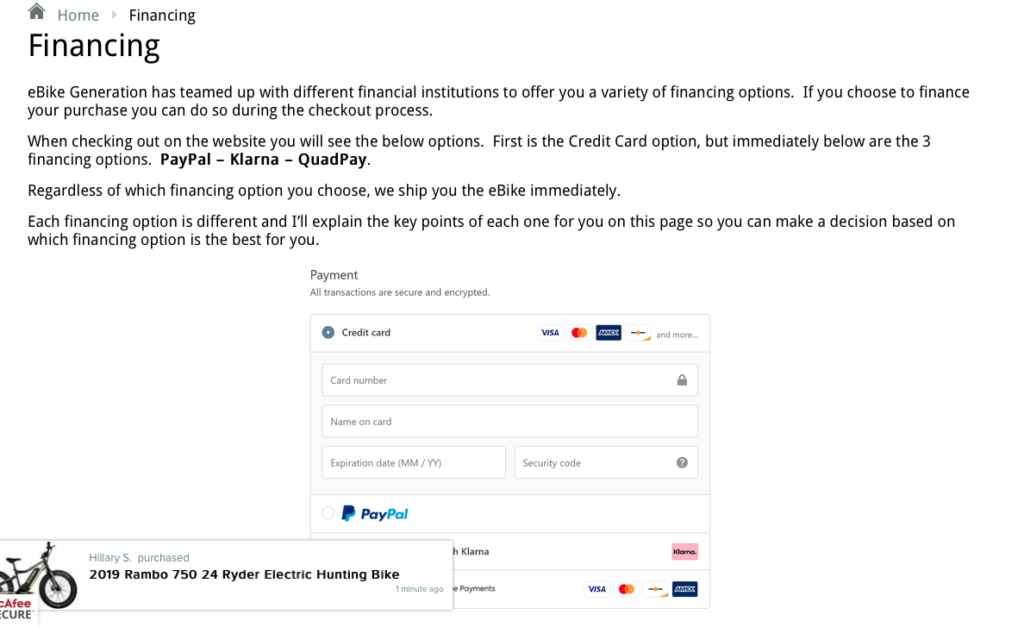 Even though Himiway eBikes are a lot more affordable than some of its competitors and they still keep the quality almost as high, they can still make a pricey purchase.
Therefore, one of the best ways to purchase a Himiway eBike is through finance. The first step is to find a quality eBike retailer that offers both Himiway eBikes for sale but has also partnered up with financial institutions to make purchasing with the help of financing much easier.
One of such retailers is the eBikeGeneration where you can find some of the best Himiway eBikes we've mentioned in this article, but also apply for financing through their store in only minutes.
With financing, you can pay for the eBike monthly, and if you pay it off within 6 months, there is 0% interest so you're only paying what the eBike's worth, and yet you still have 6 months to pay it off which can help make the purchase a lot easier.
Conclusion
With so many great eBikes from the Himiway's lineup, it can be hard to make the right choice. However, one thing to keep in mind is that all of their eBikes are versatile and can be used for many different purposes.
Still, as you can see, each one of these 3 electric bikes has its strengths and weaknesses, so one of these 3 eBikes will fit your needs the best and it's up to you to find out which eBike that is.
What do you think about Himiway eBikes and which one is your favorite?