Deer huntings will know that even though hunting deer is very common – it's still a demanding hunting type.
We bet that you were looking into electric hunting bikes only to ask yourself – how will you transfer the score back to your car or home?
Is there an electric bike for deer hunting and if there is – what are some of the things it provides that other eBikes just don't offer?
We understand that you might feel overwhelmed at this point – but believe us, staying away from hunting eBikes is the last thing you should do.
In fact, you can successfully experience all benefits of hunting eBikes even if you're a deer hunter who needs a lot of space and has many demands.
How? Keep on reading to find one of the best electric bikes for deer hunters!
Are Electric Hunting Bikes Suitable for Deer Hunters?
Don't think that hunting eBikes won't be a great fit for your needs – no matter what you're hunting. Hunting eBikes are specially designed for hunters of all types and hunters with different needs.
It's only important that you find an eBike that's suitable for the type of terrain you hunt in, that it fits your needs, and that it doesn't limit you in any way.
When we looked at which eBike could be the best option for deer hunters and 2020 Quietkat Ranger just felt like the right pick because of its features, benefits it could bring to deer hunters, and its package that has a lot to offer.
Along with Quietkat Ranger, there are quite plenty of suitable hunting eBikes for deer hunters, such as Rambo 750, Quietkat Warrior, Rungu Juggernaut, and many others.
Best Electric Bike for Deer Hunting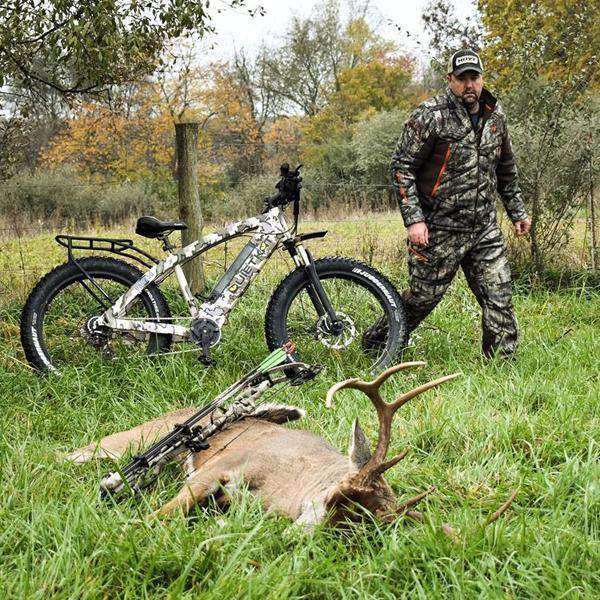 The best electric bike for deer hunting is definitely the 2020 Quietkat Ranger. It's an eBike that's made to make hunting enjoyable, cross any challenges, beat any obstacles, and go & return with your hunting gear and even the game on the back of your eBike's trailer.
Down below, you'll find some of the best features & benefits of the 2020 Quietkat Ranger so you know exactly what to expect when you hop on it and go after the deer!
Move Without Disruptions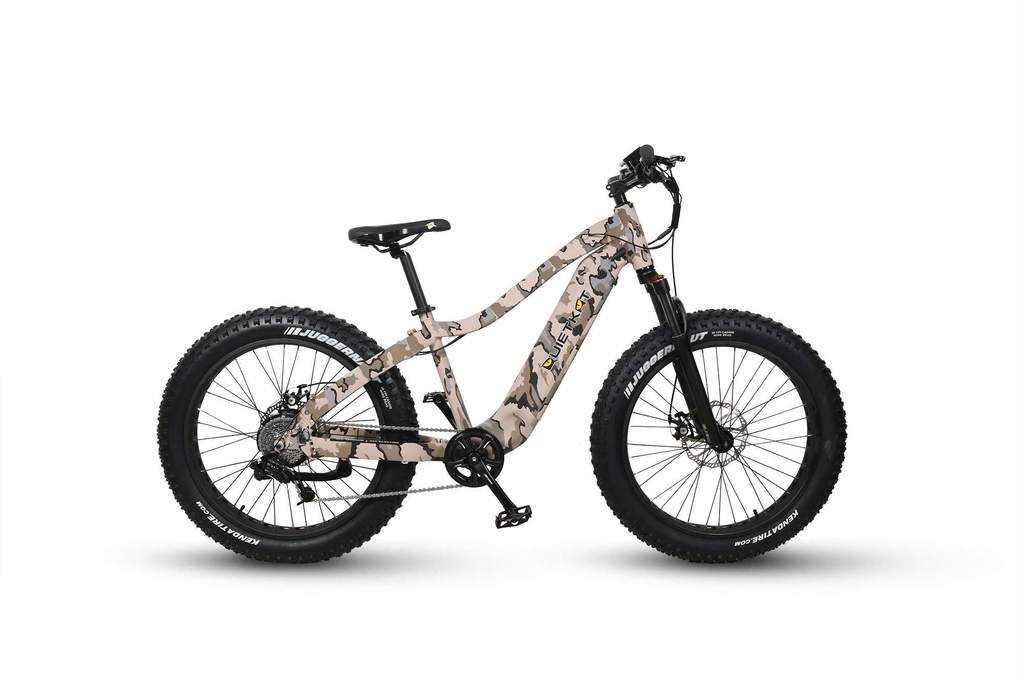 One of the biggest challenges a hunter can face is the movement. Moving on foot takes a lot of time and you might feel like you're never going to cover as much space as you would like to.
However, riding a loud ATV is just going to scare the game away. 2020 Quietkat Ranger is a great option that is noiseless, powerful, and yet can cover a decent distance before you need to get back to the charger.
The motor that's powering the Ranger is quiet yet quick so you'll be able to cover a lot of ground without having to worry about spooking the deer.
Made for Tough Terrain
Quietkat Ranger is made for tough terrain so when it comes down to tough terrain, you won't have to worry about the terrain you take.
Ranger can climb moderately steep hills, handle muddy trails, and rip through the rocky terrain with the help of 26″ by 4.5″ fat tires. These tires also feature a heavy-duty tread so you can forget about slipping in the mud.
It will keep you going up-hill in the rocky mountains at all times and you won't ever have to worry about making it up the hill.
High Speeds with Plenty of Range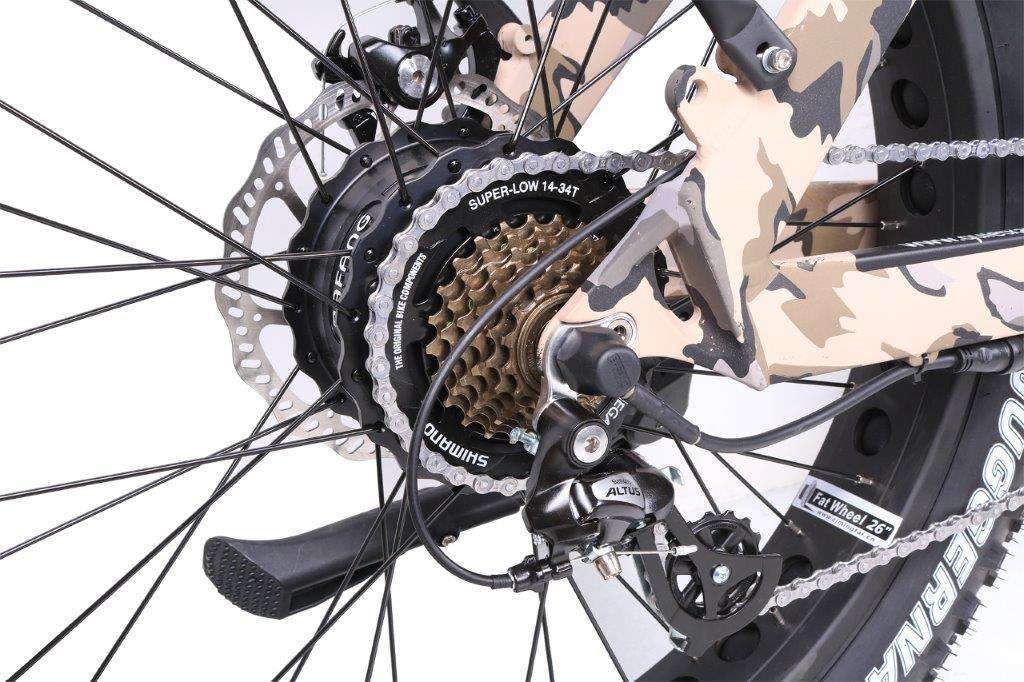 Quietkat Ranger is powered by a 7-speed gearing and a Bafang hub-drive 750W motor (or an optional 1000W motor) and the Panasonic battery.
Therefore, even though Ranger can achieve speeds of about 25 miles per hour, it can achieve a range of about 20 miles before you need another charge.
When Ranger is on a charger, it takes only 6 hours to fully charge so you'll always be ready for the next time – no matter how early you rise.
The standard battery that comes with the Ranger is a Panasonic 48V long-distance battery, hence the name of the model Ranger.
Also, you'll never worry about the range on your way back as this type of battery is as good as it gets.
Everything You Need to Carry Your Gear
Hunting with the electric bike won't make you sacrifice the gear you can carry to your hunt. Gear can get heavy and it can get become a real chore.
Luckily, Quietkat Ranger has a carrying capacity of about 300 lbs so you can carry everything you need in one trip.
Also, even though the Ranger is fairly compact – its easy maneuverability combined with components, tires, and suspension makes it perfect to recover your game no matter where it ends up.
Hunter Package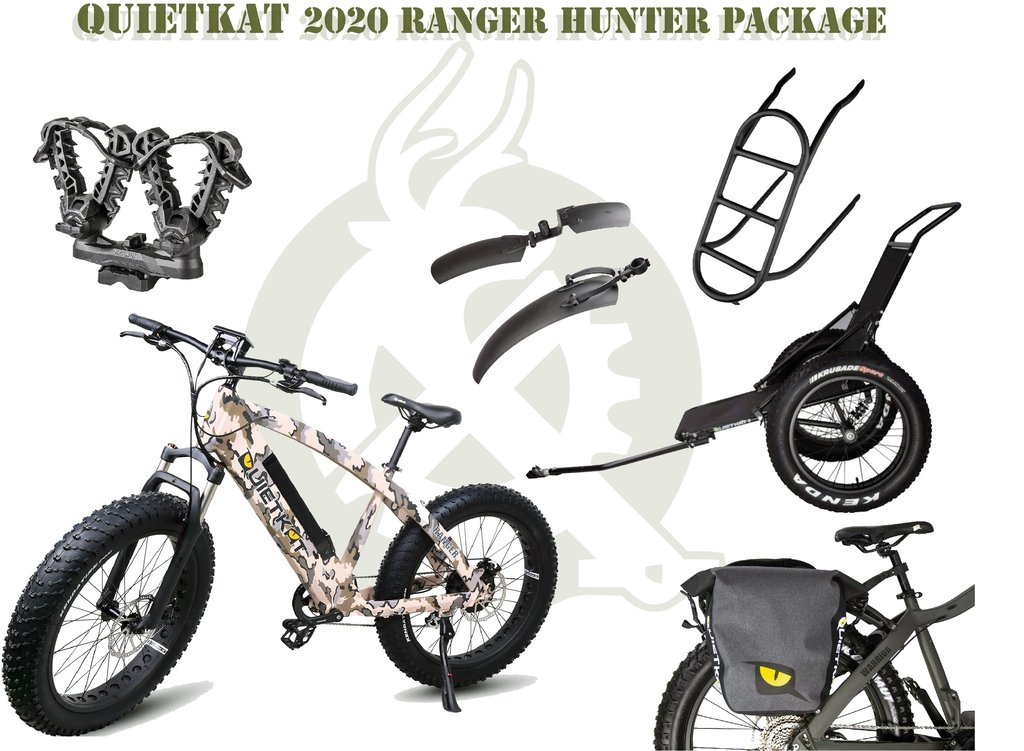 Quietkat Ranger comes with a hunter package that will equip the Ranger with possibly everything a deer hunter would need to hunt without breaking a sweat about moving, carrying, or storing equipment.
As a part of the hunter package, you'll receive factory-fit accessories such as:
Gun/bow holder
Rear rack
Front and rear fenders
Rear pannier
Quietkat trailer
This is almost everything you would need and yet it's included with the purchase of a Quietkat Ranger (also included in the price).
Another important thing to note is that all of these accessories are factory accessories that are made for the Ranger so you're really getting the best of the best.
Personally, we're the biggest fan of the rear rack, pannier, and trailer as these are the things that will help you stay organized, carry everything you need, and recover your game easily.
Conclusion
There are many competitors for the best electric bike for deer hunting, but for us – Quietkat Ranger is the winner.
When we compare its value, everything that comes included as a part of the hunter package, and its hunting ability is definitely well worth the price it costs.
It's a one-time investment that is really going to pay off in the long run when you compare it to the regular hunting vehicle and the expenses that occur.
If you're still in doubt whether switching to a hunting eBike is the right choice – check out some of the benefits you can expect as these are most than likely to intrigue you to test a hunting eBike out.
What do you like the most about the best electric deer hunting bicycle and why?