There aren't many electric bikes that can be taken to trails and even way deeper off the road. However, electric bikes for hunting are simply made to fit all these needs and help you keep moving in any type of terrain.
Of course, if you're looking for the best off road electric bike for hunting, you're in the right place. Even if you're not a hunter but are looking for an off road electric bike, you're in luck!
In this article, you'll learn everything about one of the best eBikes we chose as the number one eBike for off road adventures and if you keep on reading, you'll learn everything you need to know about this eBike before the purchase!
Best Off Road Electric Bike for Hunting
With so many different options and high-end quality electric bikes for hunting that fit this purpose the best, we chose that the best off road electric bike for hunting is definitely the Christini Fat 5 Ultra.
One Motor – All Wheel Drive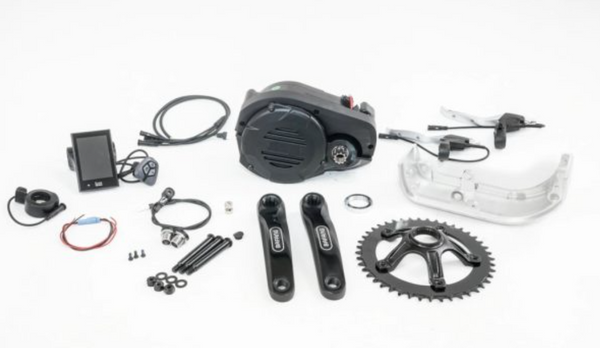 While most off road electric bikes have advanced to having two motors instead of one to put power on both wheels, Christini Fat 5 Ultra eBike takes this to another level by introducing only one motor with an all-wheel drive system in place that still provides power on both wheels equally.
This way, the weight of the eBike is reduced, and with the motor being placed in the middle of the eBike, it gives hunters and riders an advantage that helps with manueverability and stability thanks to the lower placement of the motor in the center of the eBike.
The motor in question is a top-of-the-line Bafang Ultra Mid Drive 1500W motor that comes with a torque sensing feature so riders will be able to take full advantage of the eBike without thinking twice about going flat out or having to slow down.
Super Long Lasting Battery (Great Range)
Besides the high-end motor and the AWD system, Christini Fat 5 Ultra eBike comes with a big 51V 15 Ah battery that might look bulky at first, but it is wisely placed in the middle of the eBike and it is well protected.
However, in combination with the motor, you can achieve a range of 50+ miles on a single charge which is more than enough to not worry about having enough range to get back to your starting position.
Built for Off Road Adventures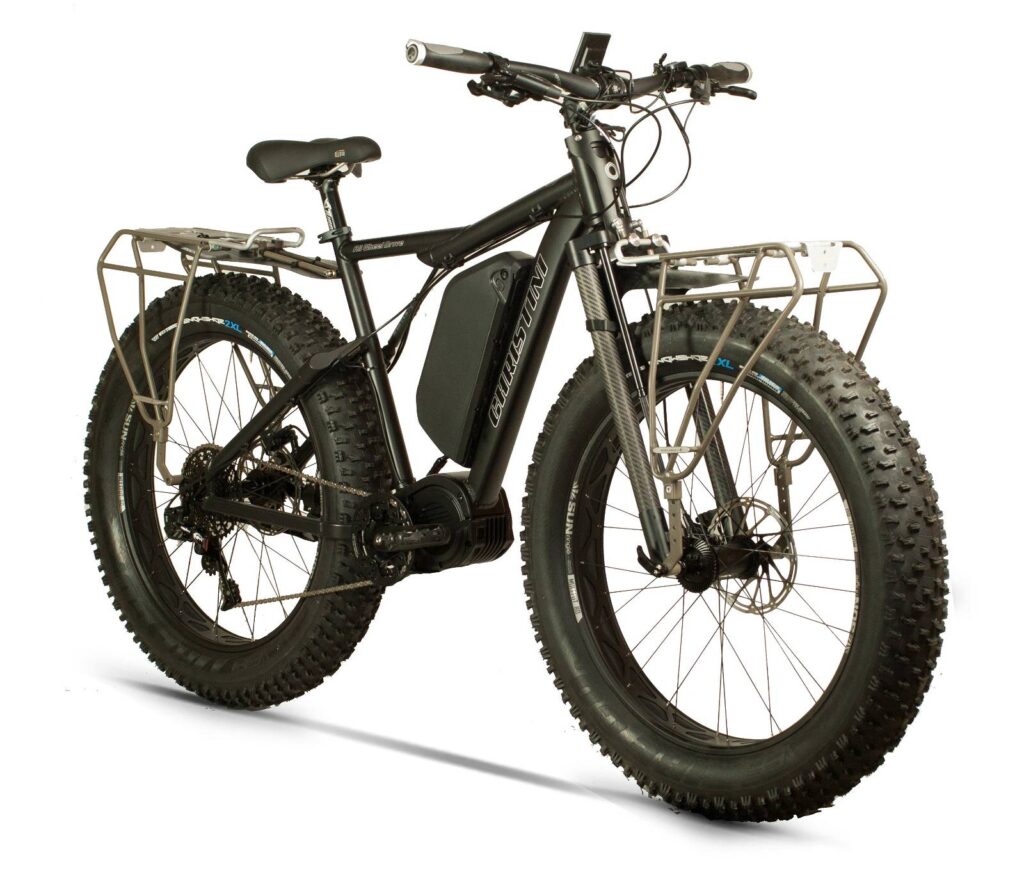 Just one look at Christini Fat 5 Ultra eBike and you'll notice that this eBike is built for off road adventures.
A durable and robust frame built with 6061 T6 aluminum, front carbon and suspension fork, and ultra-durable Vee Tire Snow Avalanche tires that are almost 5″ wide will keep you going in any type of terrain.
11-speed Shimano gearing system in combination with some other high-end components will provide a smooth ride even in the rockiest terrains, way deep down in the wilderness where trail paths are nowhere to be seen.
Of course, for the ultimate safety and stopping power, this eBike is also equipped with SRAM-level hydraulic brakes that provide the ultimate stopping power you will ever need.
High-End Components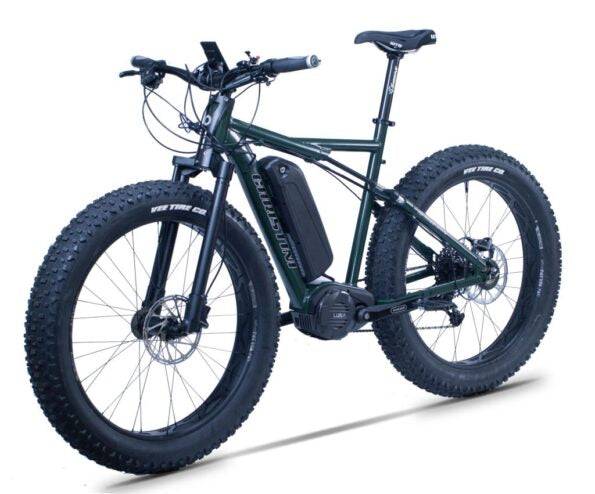 Other additional components still play a big part in the quality of this off road electric bike. Therefore, wherever you look, you'll notice top-notch components such as RaceFace bars riser, RafeFace stem, WTB Speed Pro Gel saddle, Ergon GP1 grips, RaceFace Chester pedals, Sun Ringle Mulefut rims that support tubeless setup, and more.
There are also two available colors to choose from which are Black or Hunter Green so you'll be stealthy in the woods if you're going to use this eBike for hunting. However, if you'll use this eBike for any other purpose, the sleek black finish will definitely make you feel like you're riding on a million-dollar eBike.
Equipped for Hunting (Accessories)
The whole eBike is robust and it doesn't only feel it's built for off-road terrains, but it also looks like that.
You can notice it from the ultra-wide tires that won't ever get punctured, but also the rear and front racks that come included. These racks are built with level adjustment and they're big enough so that you can use them for storage, hang pannier bags, or even connect a cargo trailer to the rear rack and haul your gear that way.
On top of that, there's a smart display that comes with the eBike which shows you all important information at a glance, such as the speed, average speed, time riding, covered distance, estimated range left, battery percentage, and more.
How to Finance the Best Off Road Electric Bike for Hunting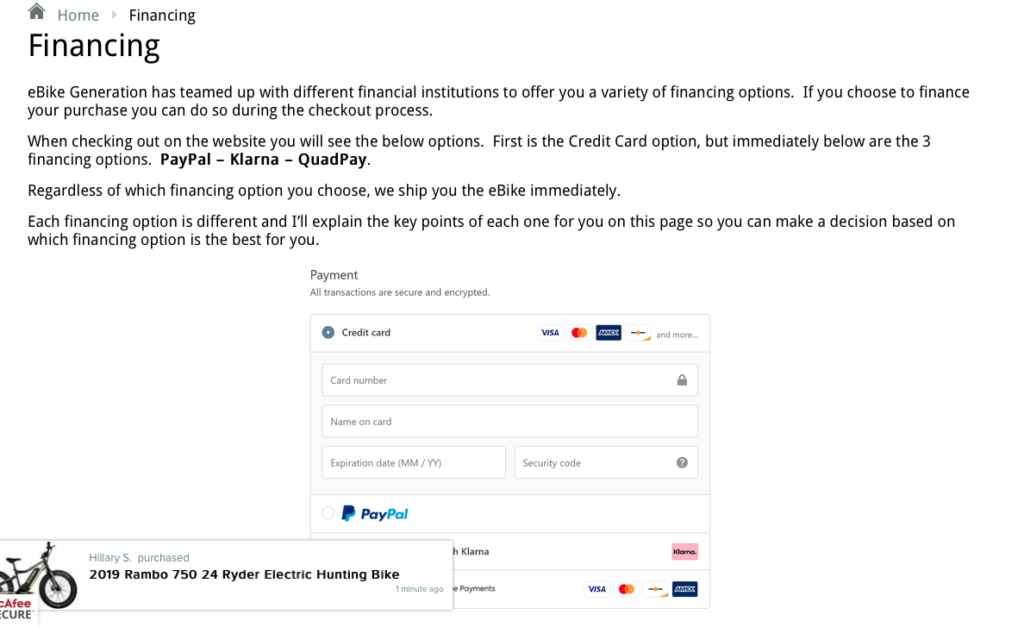 Even though Christini Fat 5 Ultra eBike is definitely the best off road electric bike for hunting, it's also on the expensive side since it provides incredible quality that won't ever let you down or make you regret your choice.
Luckily, with top eBike retailers such as eBikeGeneration, you can apply for a financing plan that can help you buy the eBike today and yet pay it off monthly with a 0% interest rate (if you pay your monthly installments on time).
Therefore, even if you have money sitting in your bank account, a financing plan can help ease you into the purchase and make sure you don't break your bank.
On top of that, applying and getting back the status of your application only takes minutes so it is really a straightforward process.
Conclusion
Choosing the best off road electric bike for hunting wasn't easy, but there's no doubt that Christini Fat 5 Ultra eBike is worth the title.
It's one of the most equipped electric bikes that's built for off-road settings and it can keep you going in any type of terrain. Also, overcoming any obstacles along the way won't ever be an issue, and you won't ever have to worry about the puncture, yet you'll be able to have the most enjoyable ride you can think of no matter how far deep into the wilderness you go.
What is your favorite feature of Christini Fat 5 Ultra eBike and why?