Quietkat is one of the leading brands in the world of hunting eBikes, and if you're looking for your next purchase that will quietly get you to even the most remote hunting spots, Quietkat will not disappoint.
Just by looking at the model names of their eBikes and you'll be intrigued. However, once you have a look at the bikes individually, you'll definitely want to own one.
In this post, you'll find the best 5 Quietkat eBikes which feature fat tires that will get you anywhere you wish to go.
And believe us, by the end of this post – you'll have a clear winner in your mind.
The Best 5 Quietkat Fat Tire eBikes
Even though these bikes are made by the same manufacturer, they differ in some aspects and with the help of this post, you'll be able to find the most suitable eBike for your needs.
Quietkat Ranger is the ideal hunting eBike that will get you through the toughest terrain with a very decent speed yet very quietly so you can claim your precious prize.
With that being said, you'll move stealthily without disrupting the game, and if that sounds like a great thing – wait until you hear more features of the Ranger eBike.
You won't have to worry about the range at all since Ranger is able to take you up to 20 miles before it needs to be recharged.
With the capability to haul all your gear at once, you'll enjoy going deep in the wilderness where the best prize is found. When you need to charge the battery, it will only take about 6 hours before you can get back on the eBike again.
Quietkat Ranger is going to do the hard work for you so you can focus on more important things.
Hunters who are looking for rugged & durable eBike that can take you to extremes and yet absorb the stress of traveling long distances in the rough terrain – Warrior is the right eBike model by Quietkat that will fit your needs.
Spring coil hydraulic suspension allows Warrior to tackle any hills, bumpy trails, and what we like the most – blaze your own path.
Crossing puddles of water or even a stream surely isn't a problem for Warrior.
With a great combination of power, speed, and rugged bike frame with fat tires – you get the best of both worlds. A quick yet stealth ride to your favorite and best hunting spots.
With two different camo colors, Warrior is designed to hide and blend in with the surroundings. Hauling most of your gear and controlling the bike is fairly simple and you can even take the trophy back home without a hassle.
If you're a hunter who's looking to cover some serious ground and handle even the biggest challenges with pride – Ambush is the right hunting eBike for your needs.
Getting from one spot to another in a reasonable time used to require a lot of noise, but with Quietkat Ambush, you don't won't be noisy at all.
Combination of power and speed is what Ambush eBike offers with the help of the 750-watt motor. In no time, you'll be reaching up to 19 miles per hour riding through the toughest terrain. And with the help of Panasonic battery, you'll be able to dive deep in the forest and without having to worry about the distance.
Other than being able to blend in with nature, Ambush can help you carry your gear with ease – and if you combine Ambush with a single wheel cargo – you'll enjoy the durability and reliability of Quietkat's Ambush.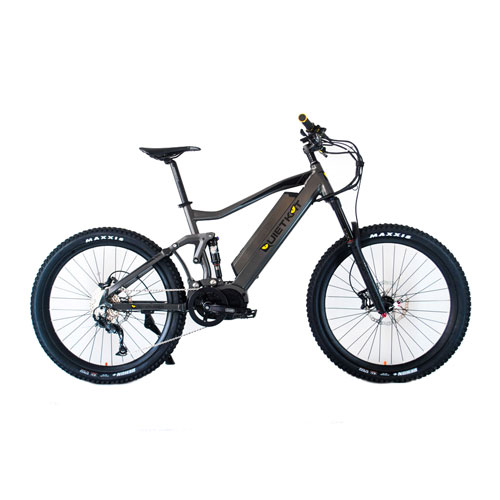 When you're not looking forward to handling the terrain towards your favorite hunting spot – RidgeRunner by Quietkat is there to change the mood.
Quietkat RidgeRunner is a full-suspension eBike which is ideal for hunting and exploring the backcountry and even visit places you've never been before.
It features quite a unique suspension called Fire-Link suspension system that offers a four-bar linkage. This might not mean anything to you, but once you give RidgeRunner a test ride – you'll know exactly what this means. It's the main reason this eBike provides ultimate traction and has the capability to handle any type of terrain.
Combine this with 4 piston hydraulic disc brakes and 27.5″ platform – you'll enjoy technical off-road rides with RidgeRunner.
Another great thing is that you can choose between 1000 watt and 750-watt motor options – leaving you with even more power. Because you never know how much power you will need, right?
Love taking challenges to another level? Quietkat Quantum is the most capable eBike which is ideal for hunting, and if you are looking to ride and even descend in confidence – you'll love Quantum eBike.
We really like the aggressive framework Quietkat done with Quantum model which works really well in combination with 150  mm of front and rear suspension in order to provide comfort even when tackling most rouge terrains.
Upgraded components make it really worth during steepest hills and descend. You will feel confident no matter the type of terrain you're riding.
However, the best thing that the Quantum model has and other eBikes by Quietkat don't is the Funn package. Funn package includes Funn handlebars, grips, pedals, stem, and even a remote dropper seatpost.
No matter how fast you're going 4 piston hydraulic disc brakes will allow you to keep control even in the deepest mud.
Conclusion
Quietkat isn't the only eBike manufacturer who focuses on providing ideal eBikes for hunting, but they're one of the most innovative brands who always finds a way to improve their eBikes.
Therefore, no matter which eBike you go for – you will never make the wrong decision. However, we highly recommend you look into these 5 best models and figure out which would fit your needs the best.
They might not differ visually, but there are a few aspects which can make a huge difference when you're riding.
What is your favorite Quietkat eBike and which one would you like to take hunting with you?