Not all hunting bikes will be as good as camo hunting bikes so the camo finish isn't only for the looks, but it's also beneficial for the hunters.
It can be difficult to find best of the both worlds; a quality hunting eBike and a camo finish. However, it's not impossible, especially if you know where to look.
And since you're reading this article, you're in the right place because down below, you'll find all about the hunting camo bike benefits and some of the best camo eBikes you can get for hunting.
Therefore, keep on reading to find everything you should know before making a purchase!
What are the Benefits of Camo Hunting Bikes?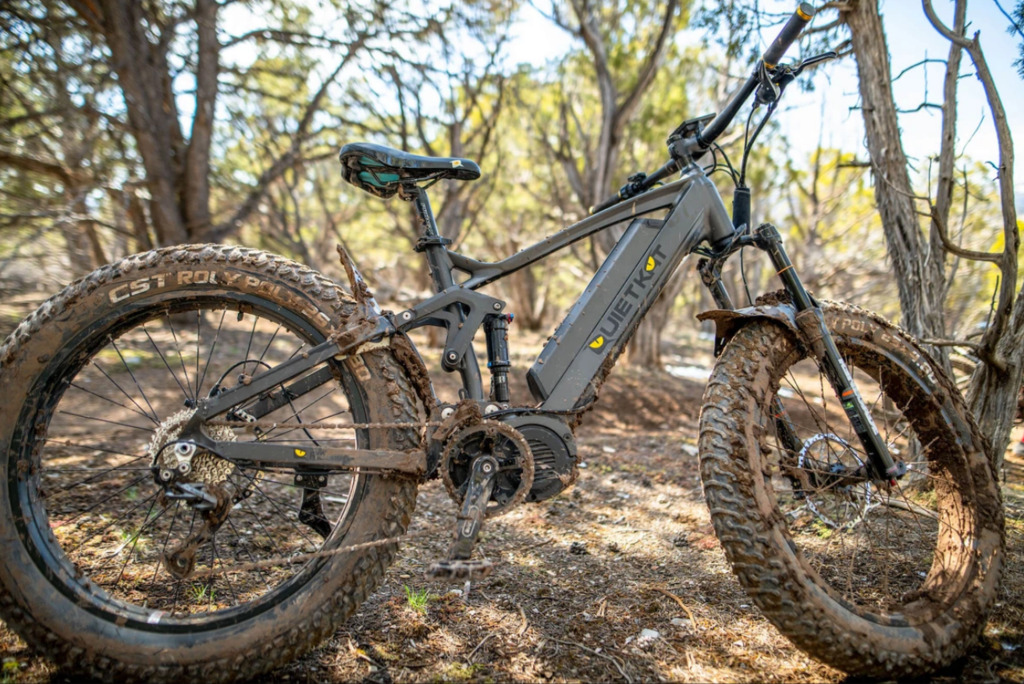 Just the way hunters dress in camo clothing, so should your hunting vehicle be wrapped in camo. A quality camo can break the outline and allow your hunting eBike to be "invisible" in some situations.
Of course, camo is not always the most needed thing you would need during your hunt. However, it can be really helpful.
On top of that, camo will make your hunting eBike look clean at all times, and of course, it will make you very confident since you'll be ready for the action!
Some animals don't see color yet they can see outlines which is one of many reasons why a good camo is a necessity for some hunters.
But of course, a good camo isn't a necessity for all hunters or all hunting eBikes so that's something to keep in mind. On top of that, there are different camo types that will mostly depend on your location and your hunting ground.
Best Camo Hunting Bikes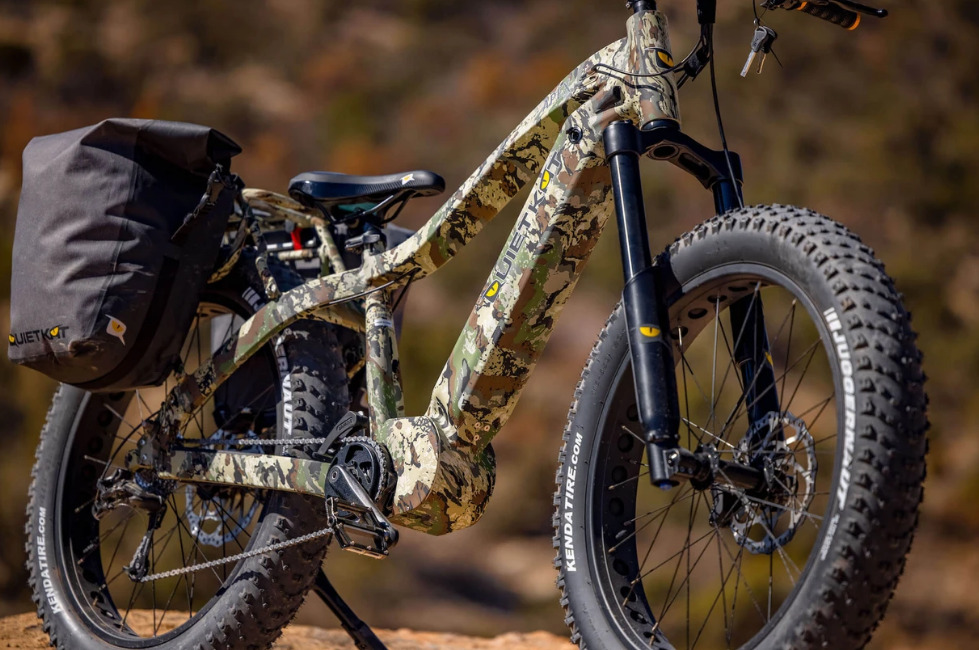 If you're looking for both a quality hunting eBike and also a beautifully camo-wrapped eBike, you will have plenty of choices if you browse some of the best-known manufacturers in the eBike hunting industry. Down below, you can see some of the best camo hunting bikes that will meet all your hunting needs.
Quietkat Ranger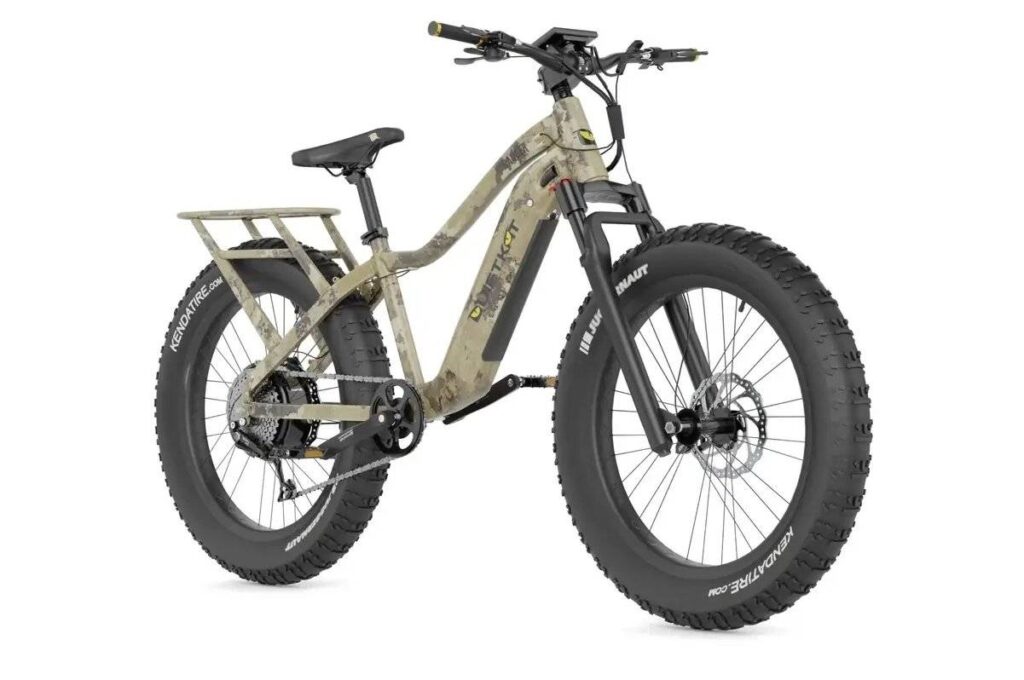 Quietkat Ranger is a quality hunting eBike that comes with a very minimalistic camo that's ideal for owners who might not want a full-on camo and yet need a simple camo that covers their needs.
Combined with innovative frame geometry, this hunting eBike will blend in any surrounding no matter the time of day.
When it comes down to hunting, you won't be missing anything as Ranger eBike is equipped with a powerful mid-drive Bafang motor that comes in two options, 750W or 1000W.
Design-wise, Ranger includes all you might need on your off-road trips and this includes a rear rack, a display that will keep you in the loop, and an 11.6Ah Panasonic battery that offers a range of about 40 miles on a single charge.
Ranger is definitely ready for all hunting adventures, and with the Mozo coil suspension fork, your rides won't be as rough.
Bakcou Storm G2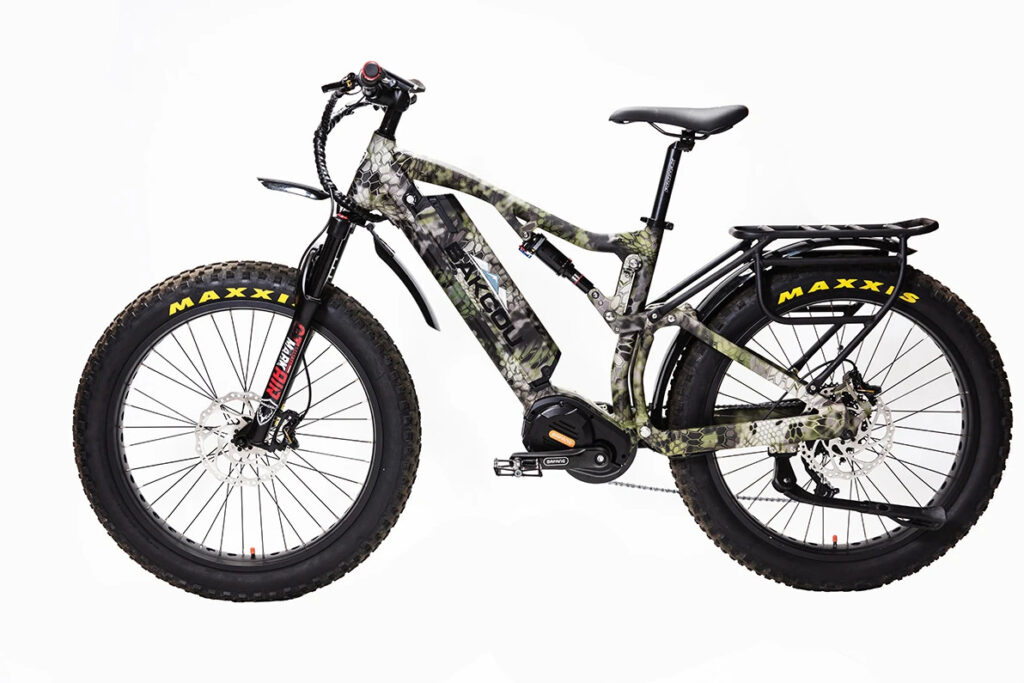 If you're looking for a full-on camo that matches the quality of the eBike, you are looking at one of the best ones out there.
Bakcou Storm G2 is a hunting eBike that comes in many different colors, but is also available in two different finishes; Kryptek Highlander and Kryptek Altitude.
Kryptek Altitude is a great combination of a forest camo and a snake pattern that creates a perfect camo that is ready for all terrain types.
Equipped with a mid-drive Bafang Ultra motor that comes with a torque sensor and a Panasonic 48V 17.4Ah battery, this eBike won't only look invisible in the forest, but will also provide you with 40+ miles of range. You can even choose the capacity of the battery to extend the range, and instead of 17.4Ah, you can go with a 19.2Ah or even a 21Ah battery.
If you live in the hills or you hunt in the hills, this eBike is probably a good idea as it is equipped with an SRAM hill-climbing 9-speed gearing system, as well as a 40T chain ring, and an 11-34T rear cassette.
Rambo Roamer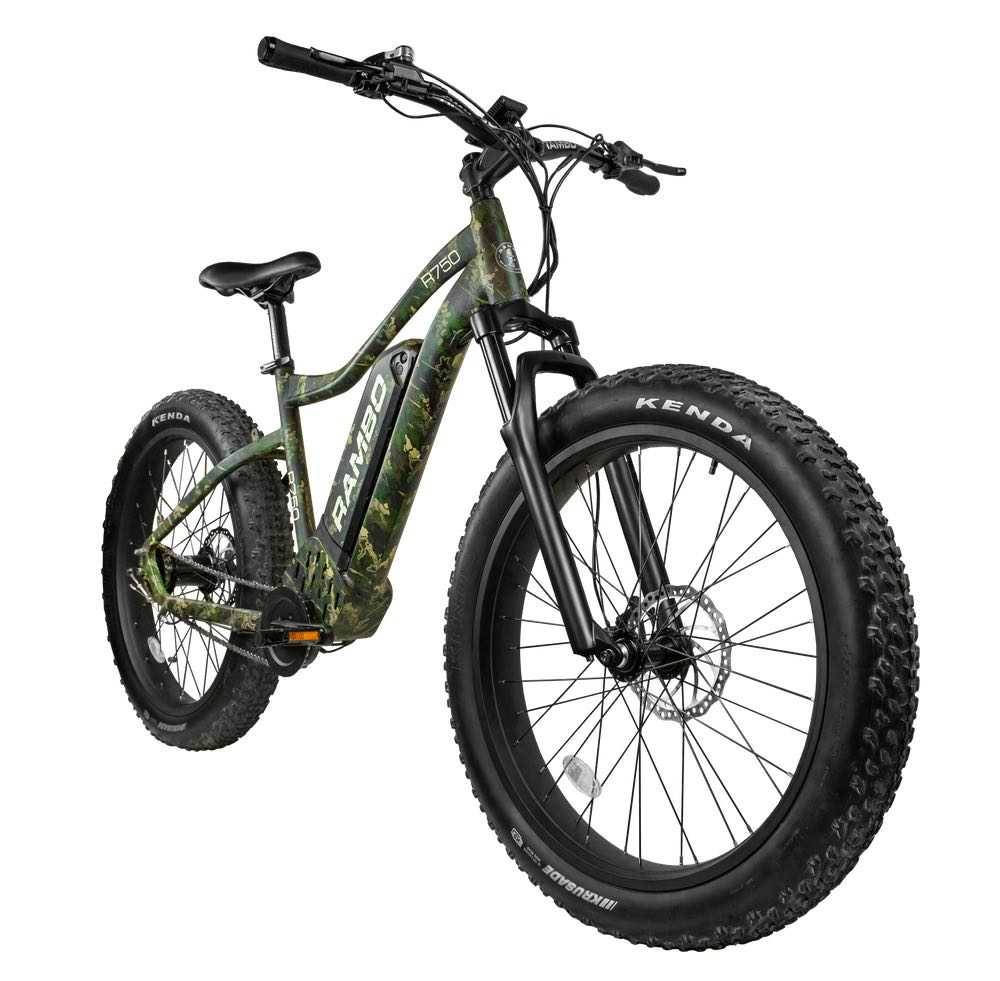 Rambo is one of only a couple of brands that produce high-quality hunting electric bikes and yet wraps them up in beautiful and long-lasting camo wraps.
This is a 750W eBike with a powerful mid-drive Bafang motor that can produce high torque. Accompanied with a Samsung 48V 14Ah battery, this eBike can help you go undetected and cover up to 35 miles on average.
Its camo is a typical wood camo that will fit almost 80% of hunters, and what's even better yet is that even the battery pack is camouflaged.
Equipped with anti-puncture 4″ fat tires, thumb throttle, and GT MRK front fork suspension, you'll feel a lot more confident to push this eBike to its limits and yet stay invisible to both animals and humans.
Large hydraulic brakes will provide strong stopping power so you won't even worry about going downhills in the rockiest terrain possible.
A sealed drivetrain in combination with a 3-speed rear hub gearing system will be more than enough for the most average hunters.
Yet you'll be able to actually enjoy hunting with this eBike since it comes with a built-in display that provides the most important information such as estimated range left, battery level, level of assistance, and mode.
Bakcou Mule Elite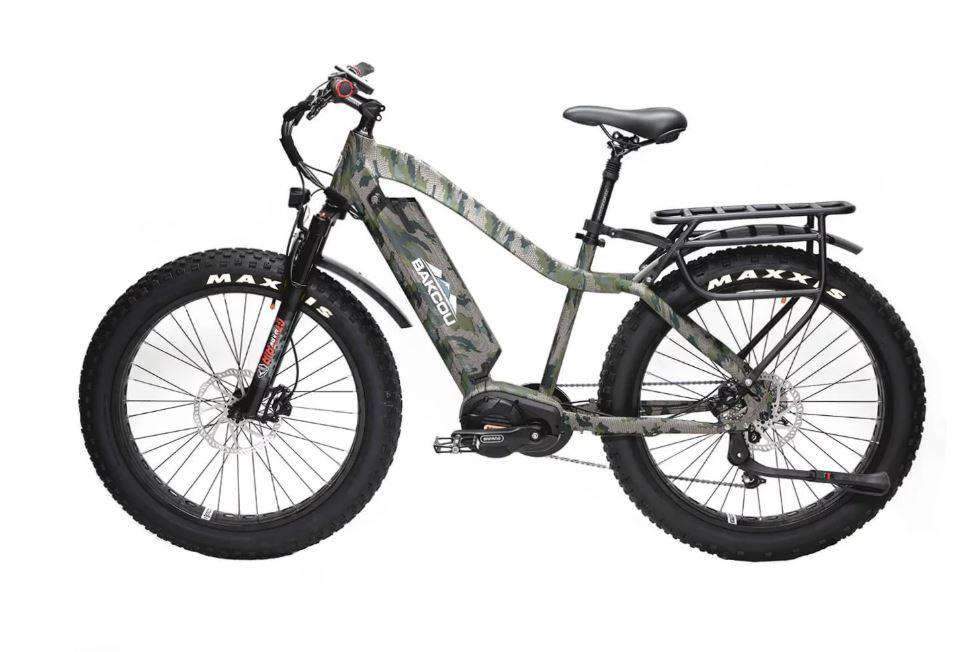 If you're looking for more camo that will match the lighter and sandy backgrounds, Bakcou Mule Elite is a great pick.
Bakcou Mule Elite comes in 4 different finishes, of which two are camos. Kuiu Verde and Badlands are two finishes you should look into while matte black and desert tan are also an option.
Not only does Mule Elite eBike look like it's ready for action, but it actually is thanks to the Smart Torque Sensing motor.
Mid-drive Bafang Ultra motor is combined with a Panasonic 48V battery where you can choose the capacity between 17.4Ah and 21Ah.
Such a combination gives hunters a range of 40+ miles on a single charge so you won't ever get the range anxiety.
With the Shimano Alivio 9-speed hill-climbing gearing system, Maxxis fat tires, and hydraulic brakes, there is no terrain you won't be able to conquer.
Rambo Nomad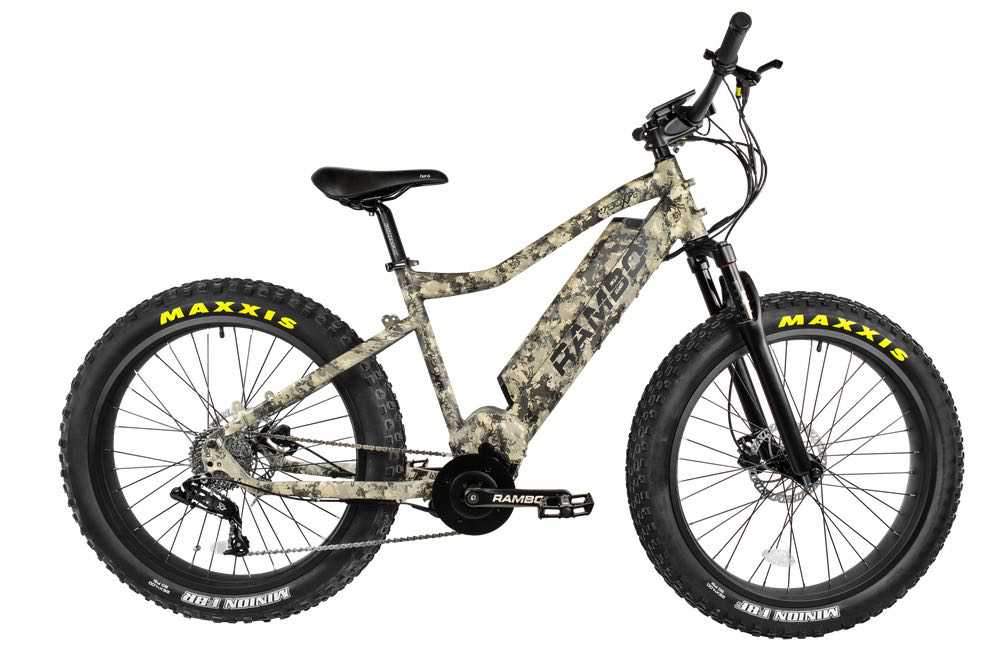 If you're looking for a unique camo that is minimalistic, yet beautiful and can do as good a job as regular forest camo, Rambo Nomad is a great choice.
Rambo Nomad has an Urban camo that looks really neat and it will fit almost all types of hunting grounds, forests, terrains, and backgrounds.
Nomad is also one of the best long-range hunting eBike models since it's equipped with a Bafang 750W BBSHD high-torque mid-drive motor and a Samsung 48V 14Ah battery.
Such a combination allows hunters to cover up to 38 miles on a single charge, and even more if you take full advantage of pedal assist (PAS).
However, power is not everything for Nomad. This eBike is also equipped with a great gearing system that will pull you and your gear up the hill without a hiccup and will keep you safe at the steepest and rockiest downhills thanks to the 180mm piston hydraulic disc brakes.
But what's even better yet is that Rambo Nomad is reasonably priced and yet it provides features and components that can be found in higher-end models. On top of that, you also get a free rear rack and front and rear fenders included in the price.
Bad weather isn't something you should be worried about since Nomad will take you anywhere you have to be without a doubt.
Rambo Bushwacker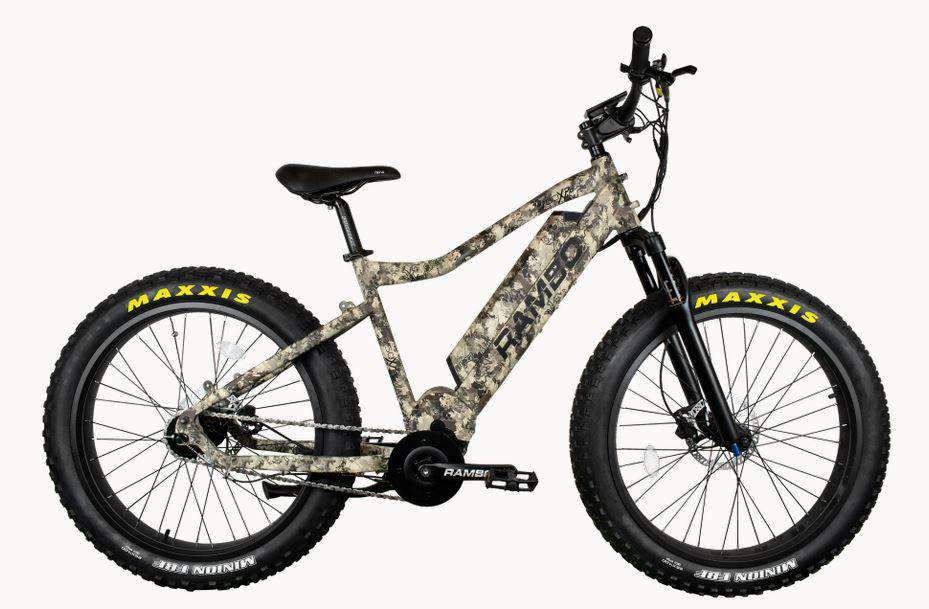 If you're looking for a king-of-the-hunting camo eBike game, Bushwacker is pretty close to taking the title.
Rambo Bushwacker comes with a very unique TrueTimber Viper Western camo that you won't find on any other hunting eBike.
This eBike comes equipped with a Bafang 750W BSSHD high-torque mid-drive motor which is pretty standard for Rambo as it meets the needed quality and needs.
In combination with that, Bushwacker is powered by a Samsung 48V 14Ah battery that helps hunters cover up to 38 miles on a single charge.
With the Maxxis Minion 4″ fat tires, you will be able to challenge any type of terrain, get to the locations you usually couldn't, and even get there faster with the help of a thumb throttle that unleashes the power at your command.
Even though this eBike weighs only 66 lbs, it can handle a load capacity of up to 300 lbs, which means that you can easily attach a trailer to this eBike and carry your equipment or even recover the game without being spotted.
Bakcou Flatlander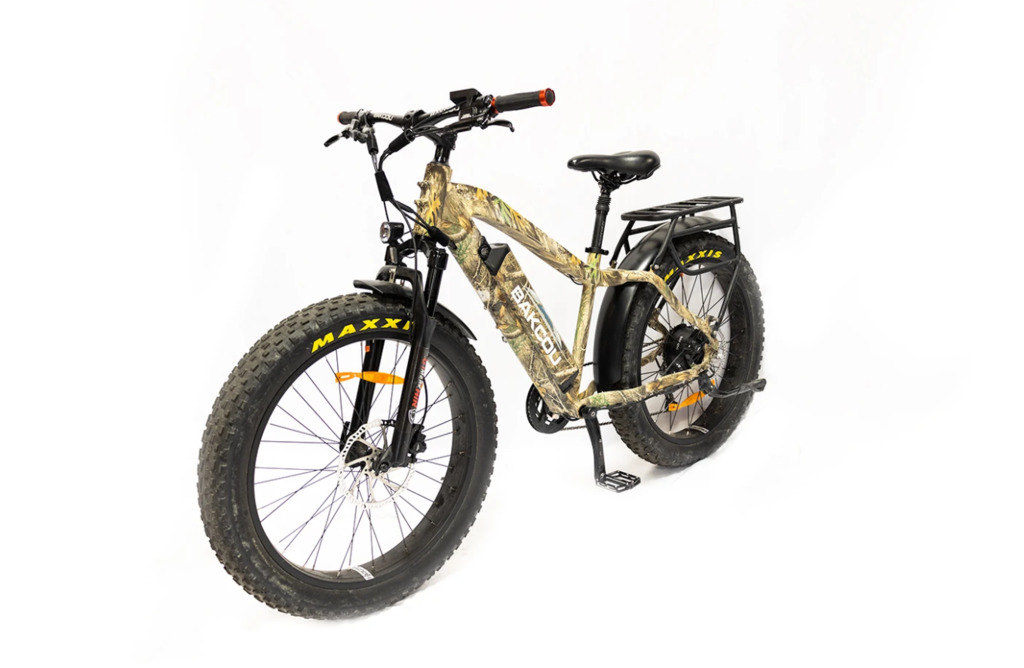 If you need the most extreme camo finish you can find on a hunting eBike, Bakcou Flatlander is the eBike you're looking for.
Flatlander is available in two different camo finishes and 3 different colors. Two camo finishes are Realtree Edge and Realtree Timber, where the Edge is a lot more drastic change from a standard hunting camouflage.
However, if you ever feel like you need it or you like having a more visible camo, this is a perfect camo to get.
Bakcou Flatlander is equipped with a powerful Bafang 750W rear hub motor which can make a huge difference in comparison to mid-drive motors. But it is still being powered by one of the best batteries for hunting eBikes which is a Panasonic 48V battery with the following capacity options; 17.4Ah, 19.2Ah, and 21Ah.
Wherever you go, whatever hills you climb, no matter which terrain types you conquer, Flatlander's powerful stopping power will keep you safe thanks to the Tektro dual-piston hydraulic brakes.
Rambo R750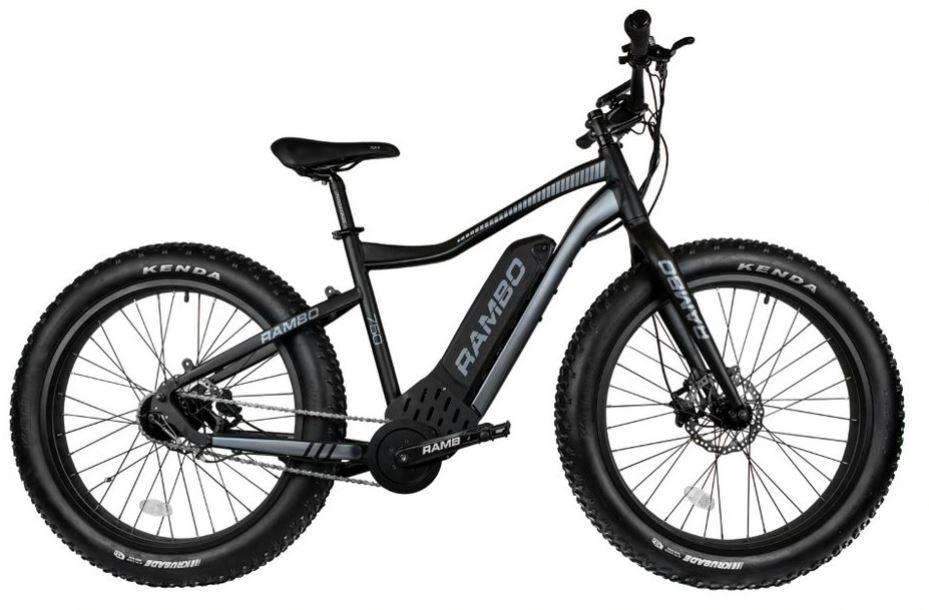 If you're looking for a different type of camo and you only care that it's dark, Rambo R750 eBike might be a perfect choice since it's wrapped in a matt black color. Another option is charcoal which isn't bad either, especially as it fits perfectly the forest's shadows.
Like most Rambo eBikes, R750 is equipped with a 750W Bafang Ultra C965 motor that combines well with Samsung's 48V 14Ah battery. Such a combination provides hunters with a range of up to 35 miles on a single charge.
If you push it to the limit and only rely on the throttle, you can get about 20 miles on average. However, if you take advantage of pedal assist (PAS), you can push it up to 35 miles or even more, depending on the conditions.
Rambo R750 is built in a way that it's not only convenient, fast, and durable, but it's also one of the most comfortable hunting eBikes out there. It comes with a Promax MA-50 stem that improves manueverability and handling, HL ergonomic lock-on grip, Neco alloy pedals, comfortable Justec saddle, and anti-puncture 26″ x 4″ fat tires.
So not only will your hunting eBike look good and help you out during your hunts, but it will also make you feel comfortable at the same time!
Best Way to Finance a Camo Hunting Bike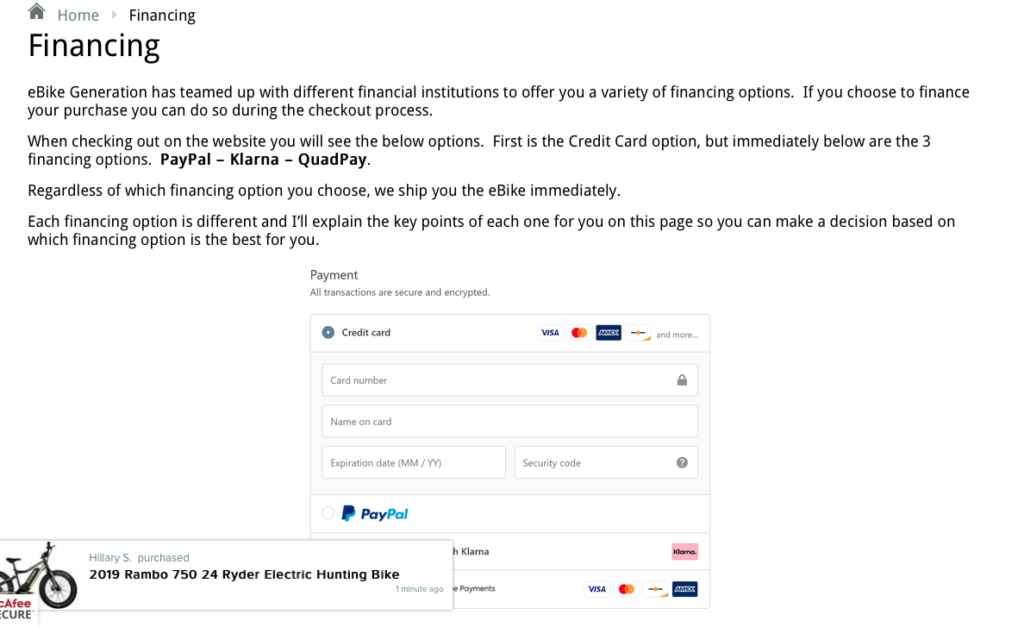 These are some of the best hunting eBikes you can get on the market, and camo is only a bonus. So yes, the prices might be a surprise, but when you consider the quality of these eBikes, all high-end components, and the specific purpose these eBikes are built for, the value is definitely there.
At the same time, it can be a lot of money to pay at once. Therefore, the best way to finance a camo hunting bike is to find a good hunting eBike retailer.
eBikeGeneration is one of the best eBike retailers as they only sell high-quality eBikes for hunters, and they've partnered up with financial institutions to help customers finance these eBikes.
Therefore, you can pay monthly with 0% interest, and get your eBike delivered to your door as soon as possible!
Conclusion
Finding a quality camo hunting bike can be a challenge, but if you're reading this post, you'll have everything you need to make a great choice.
Not only are these some of the best camo hunting eBikes on the market, but they're also some of the best hunting eBikes in general.
However, keep in mind that all eBikes are similar yet different so it's important to find out which one fits your hunting needs the best.
What is your favorite camo on an eBike and why?