Electric bikes for hunters aren't a new thing anymore and with the technological advancements, we get to witness all sorts of hunting eBikes. And if you're in search of the best electric bike for hunting, you're in the right place.
In this article, you'll find out what is the best hunting eBike, but also everything you need to know about it and what to expect from it if you end up choosing it. On top of that, we'll show you how to finance this eBike effortlessly so you don't break the bank, so keep on reading!
Best Electric Bike for Hunting
With so many options out there and so many great manufacturers who do their best to provide the best hunting electric bikes on the market, we finally set for the best pick to be the Bakcou Mule Elite, and here's why!
Smart Power Options
Bakcou Mule Elite is a very versatile electric bike for hunting which allows you to choose between a 750W or a 1000W motor at the purchase.
However, if you go with a 1000W option, you will be able to toggle between a 750W and 1000W output at any given time. The choice is made through a smart display that comes integrated with the eBike and it happens at a touch of a button.
Also, if you go with the 1000W option, the power at its maximum peak is about 1500W which is more than enough to handle any type of adventure. The motor in question is the high-end Bafang Ultra mid-drive motor that comes with the torque sensor which expands its lifespan and helps riders in any type of situation.
Great Battery Choices
Just like the power option, you also get the battery option at the point of purchase. You get to choose between 4 different options that include:
48V 17.4 Ah
48V 19.2 Ah
48V 21 Ah
48V 25 Ah
Not only do you have the power you will need on your rides, but you'll also be able to have a very decent range of at least 40 miles on a single charge, depending on the battery you choose.
The battery is partially integrated into the eBike's frame but it still has easy access and you can remove it for easier charging at any time.
Made for All Terrain Adventures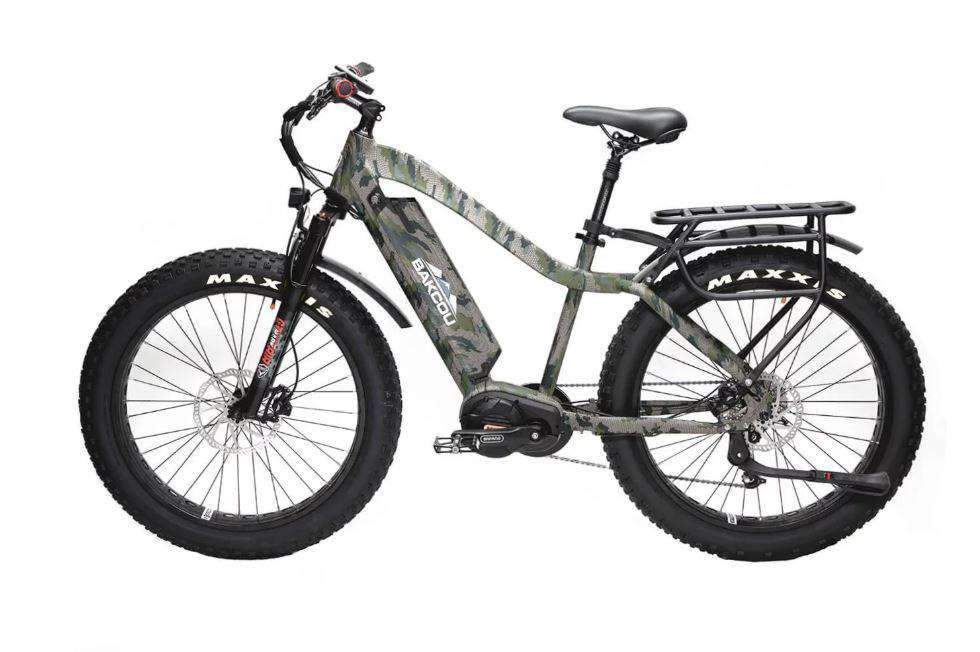 Built on the standard mountain bike frame with various reinforcements, Bakcou Mule Elite is a very sturdy and durable hunting eBike that is made for all-terrain adventures.
Made of high-grade aluminum alloy 6061 material, and it is an 18″ frame, it can fit riders from 5'9″ to 6'4″.
The frame is also wisely designed so that you can step on and off the eBike easily and you can ride it in any type of terrain without worrying about safety since along the durable frame, this eBike is also equipped with Maxxis 4″ wide fat tires.
You can really take Bakcou Mule Elite eBike to any type of terrain, even when you don't know what to expect. With Shimano Alivio hill-climbing 9-speed gearing system, you'll be able to climb hills and safely descend in any type of terrain or weather conditions.
Extraordinary Safe, Manueverability, and Comfort
This electric hunting bike is equipped with BCEB GT MRK 100mm air front fork that's installed to absorb any shock and provide better comfort to make rides more enjoyable, but also to help you overcome any obstacle in your way while feeling safe.
On top of that, Maxxis tires that come installed on Bakcou Mule Elite are classified for unparalleled traction and control so you will be able to go through mud, sand, or the rockiest terrains you come across without worrying about getting stuck or losing grip.
This hunting electric bike also comes with 740mm wide handlebars that are made for greater stability so you'll definitely feel safe when traveling even at the top speed.
Several Colors and Plenty of Additional Accessories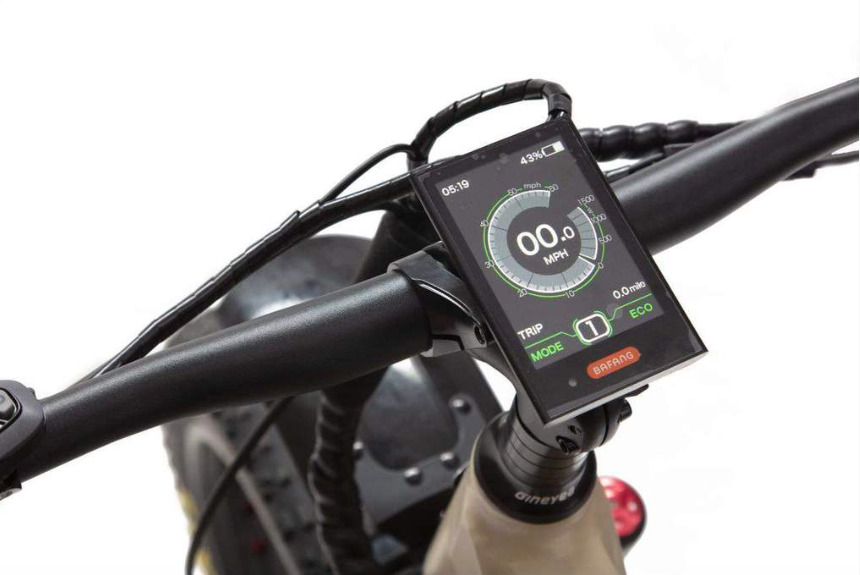 Bakcou Mule Elite comes in a couple of different colors but you have to be quick with the purchase because this eBike is super popular among hunters.
Available finishes include:
Matte Black
Kuiu Verde Camo
Badlands
Army Green
Desert Tan
Kings XK7
No matter which color/finish you go for, you'll always get additional accessories such as front and rear fenders, a rear rack for additional storage, a front, and rear light, and a smart display.
The smart display allows you to check the most important stats such as the battery percentage, estimated remaining range, traveled distance, average speed, current speed, modes, and much more.
How to Finance the Best Electric Bike for Hunting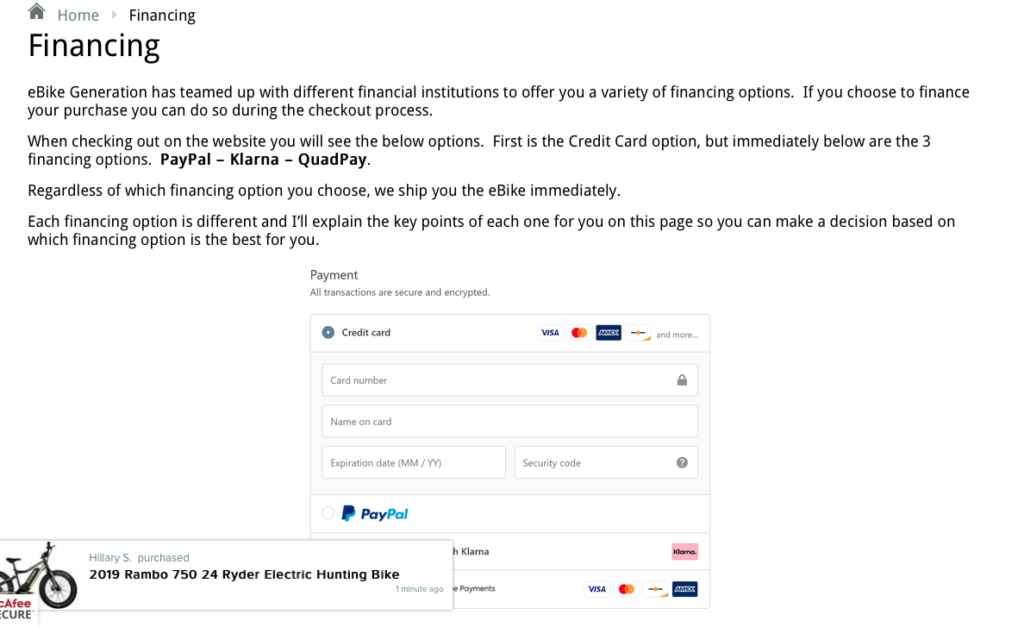 Bakcou Mule Elite is a top-of-the-line electric hunting bike that definitely comes with a price tag. However, even though the value provided justifies the price tag, we still understand that it might be a bit too much to pay at once.
However, here's how you can finance the best electric bike for hunting, have it not break your bank, and yet still take full advantage of the high-end build quality and reliability.
Top-end eBike retailers such as eBikeGeneration provide financing plans that help you purchase the eBike today, pay the first monthly installment, and then pay off the rest of the eBike in monthly installments.
If you make every payment on time each month, you will be paying 0% interest! Therefore, even if you have money sitting in the bank, this can still benefit you since you get to enjoy the eBike straight away and yet pay it off monthly.
Conclusion
The best electric bike for hunting is definitely a tough choice but there's no chance you can go wrong with Bakcou Mule Elite.
This eBike is built with quality in mind and it's built to fulfill all needs a hunter might have no matter how deep in the forest he goes.
With top-notch and high-end components, this hunting eBike is one of the most reliable electric bikes, and yet with plenty of options to choose from, you can customize it to fit your needs and budget.
What is your favorite thing about Bakcou Mule Elite eBike?