Electric bikes were perceived as a technological advancement that provides benefits for people from all walks of life. However, the game has changed and a dual-motor electric bike is the next best thing.
But what is a dual motor electric bike and what are its benefits?
If you're looking to invest in a quality electric bike (especially if you're interested in hunting), this is the right post for you!
Down below, we'll review the top 3 all-wheel-drive electric bikes that can put twice the power on the wheels – but we'll also showcase some of the biggest benefits, so keep on reading!
What is the Purpose of a Dual Motor?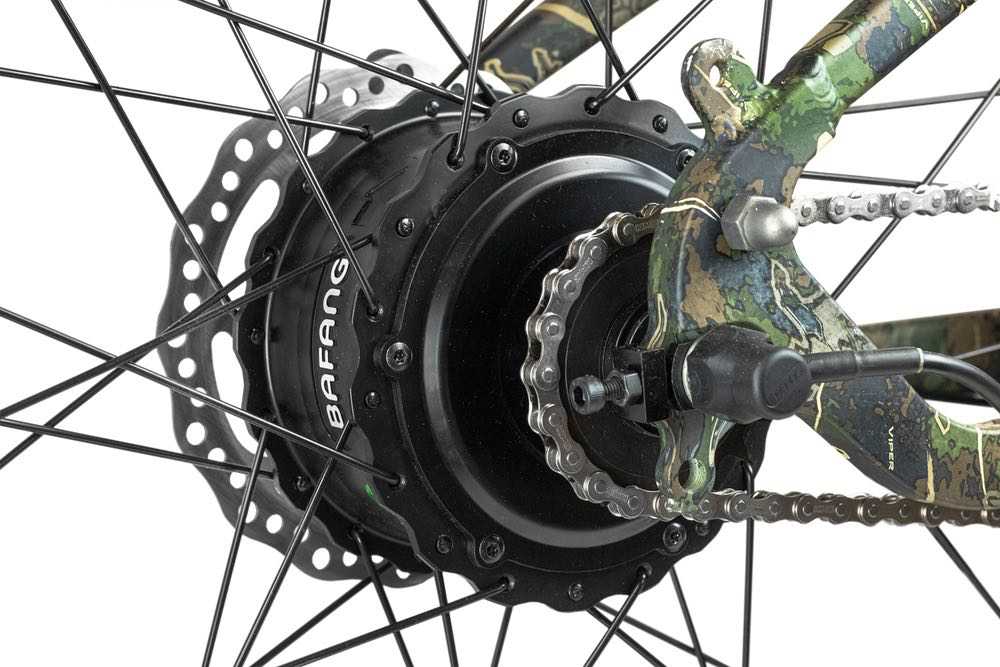 If you ever tried an electric bike, you would definitely notice the "push" from the back as soon as you either press the throttle or start pedaling faster.
Now, imagine this "push" on a dual-motor eBike. This means that you can have power on both wheels, more power in general, and have a greater advantage in tough terrains or very steep hills.
Therefore, the purpose of a dual motor is to improve the efficiency of an eBike, provide greater stability on both wheels (instead of only one), and provide more power.
But does this mean that your eBike with two motors will cover less range? Absolutely not!
Dual motor eBikes come with dual batteries that are often times long-distance type of batteries. Therefore, you will be able to cover the same range a standard eBike would cover, yet you'd have the power on both wheels.
If the dual motor is still confusing you or you can't wrap your head around it – here's an easy way to understand how it works.
If you know anything about cars, you would know that there are rear-wheel and front-wheel-drive cars. This means that the power happens only on two wheels instead of all 4.
However, there's also an all-wheel-drive type of car that is also known as 4X4 and this means that power is available on all four wheels.
Therefore, the concept of all-wheel-drive isn't new and yet it's only introduced to electric bikes by doubling the number of motors that power it.
How Dual Motor eBikes Work?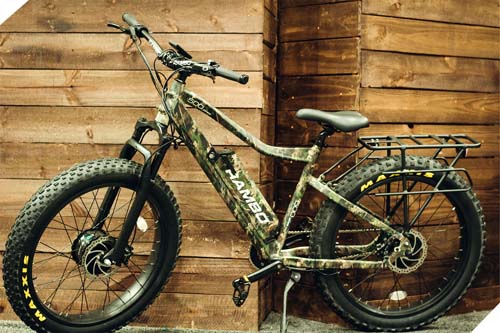 Dual Motors are placed in both front and rear wheel so you won't see a dual-motor eBike with a mid-drive motor.
Both motors are powered by either one or two batteries that are wisely placed in the eBikes frame.
Another thing you will notice among dual-motor eBikes is that they're, most of the time, equipped with a throttle instead of a pedal-assist system.
But of course, all eBikes come with pedals and so do the dual motor electric bikes. Therefore, as soon as you engage the throttle (whether it's from the start or on the move), the energy stored in the battery will be used to provide power to the motors.
The motors will make both wheels spin and you're on the move sooner than you think!
They work in a very similar way to regular electric bikes and really, the only difference is that both wheels are under power.
Best Dual Motor Electric Bike
Many eBike companies are still working on manufacturing the best dual-motor eBike on the market. However, some of the best manufacturers such as Rambo have already released a couple of models, and down below, you'll find some of the best all-wheel-drive eBikes!
Rambo Megatron
Rambo Megatron is one of the latest dual-motor electric bikes from Rambo's lineup.
Megatron comes equipped with Bafang 1000W hub motor on both wheels, but it also comes with dual Samsung 48V 17Ah batteries (totaling 34Ah).
Yes, this makes the Megatron eBike slightly heavier than regular eBikes – but the power it can output on both wheels is definitely worth a couple of extra pounds. Megatron weighs 77 lbs and yet the weight capacity is 300 lbs.
Frame size is 19.7″ which is medium (there's a slightly larger size available) so you don't have to be the tallest person to enjoy the benefits of the dual-powered Megatron eBike.
With the press of a throttle button, you will have both motors produce power on wheels, which won't only give you the extra boost of speed (especially from zero), but it will also provide better stability and control in the rocky terrain.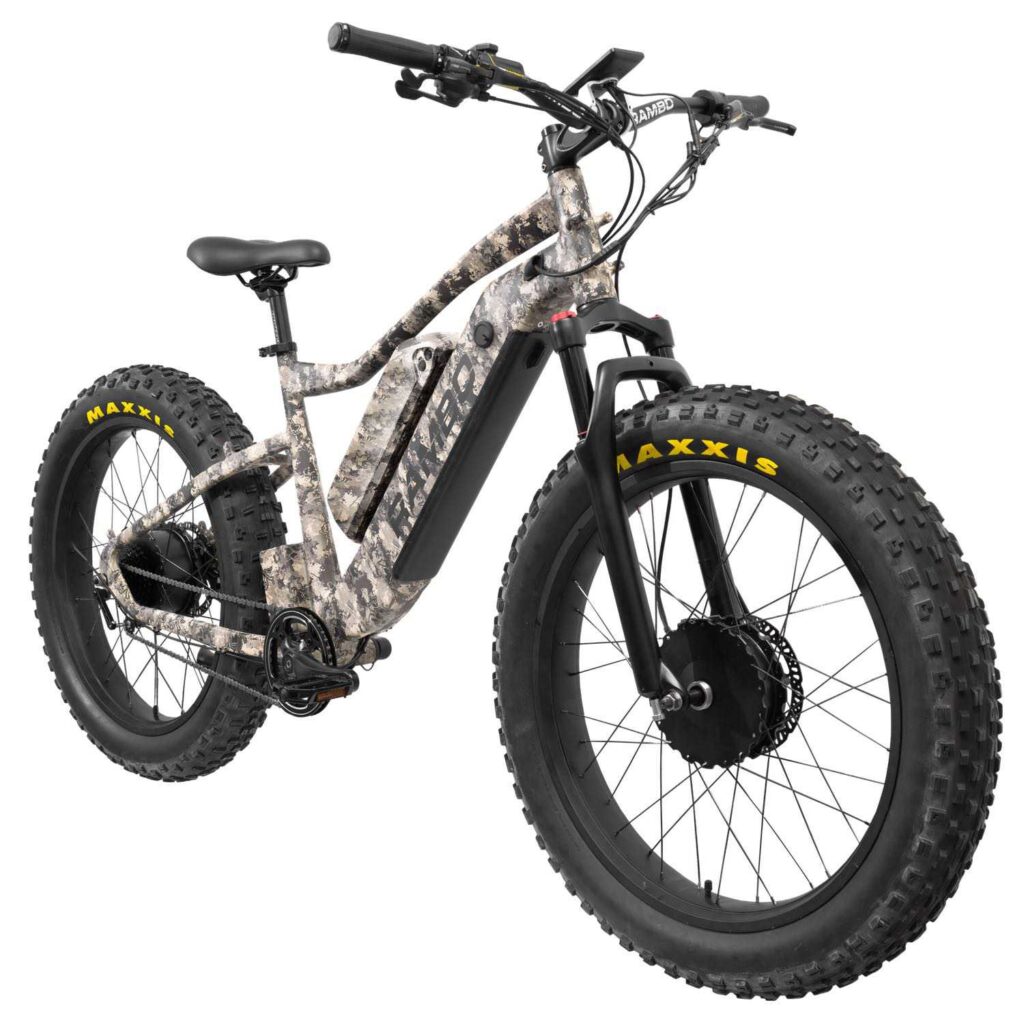 But what's the range like with two powerful motors and two quality batteries?
You won't believe it – but Rambo Megatron can cover about 80 miles on a single charge! And when you have to charge the eBike – how does that work?
Glad you've asked! One battery is placed inside the frame while the second battery is placed in the standard place where most standard eBikes place the battery.
When it comes down to charging – you will have to charge each battery separately, which might take a bit longer. However, the charging time is really quick so it won't be an issue at all.
Two 1000W batteries make a total of 2000 watts which will skyrocket you up the steepest hill. At peak performance and in tough situations, Megatron can output slightly above 2000 watts which is really incredible.
Considering the range it can cover at such a high-end power rate, Rambo has made it incredibly hard for competitors to release anything better.
On top of that, you can also choose to only ride using front or rear motor – in situations where you think the all-wheel-drive feature isn't needed. This will additionally save you the power and increase the range.
Price-wise, Megatron is slightly more expensive which is considerable as it features two top-notch motors and batteries – but we believe that the price is totally worth it (especially if you finance it and pay monthly).
Rambo Krusader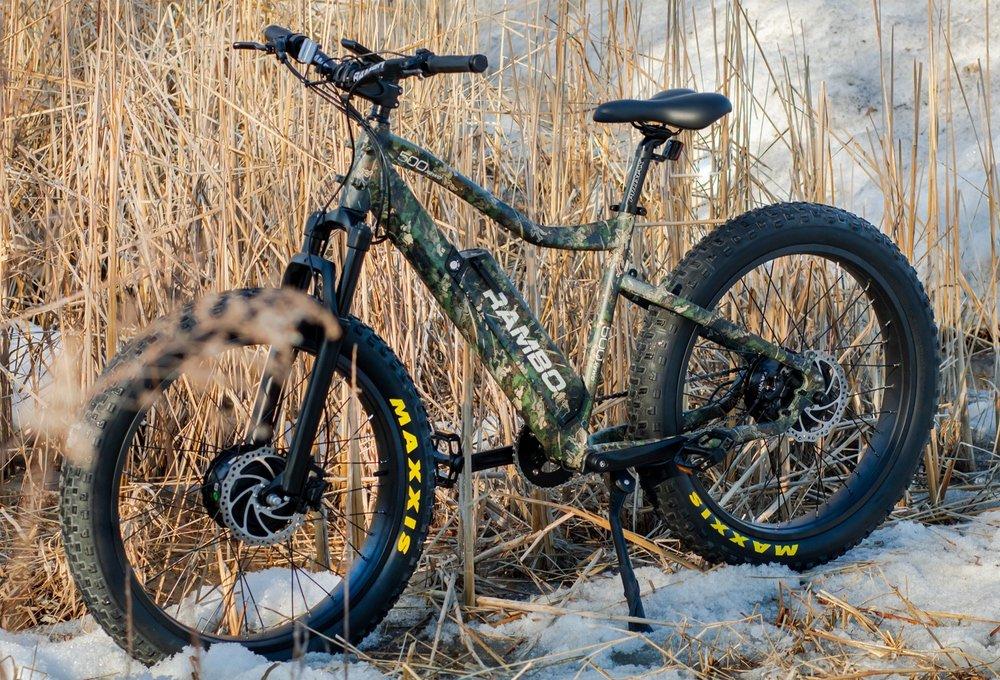 We believe that the Krusader is the second-best dual-motor eBike on the market, right after the Megatron.
Rambo really went all-in on the dual-motor eBikes and they're not only the first brand to release an AWD eBike, but they're also the best one on the market.
Krusader provides slightly less power than its big brother Megatron. Krusader features 2 Bafang 500W hub motors. It's definitely not 2000W, but you'll get 1000W on both wheels which is far better than 1000W on one wheel.
Why?
1000W spread out on both wheels reduces weight in the mid-frame of the eBike and yet it gives it more stability as the motors are placed in the wheel's hub.
On top of that, Krusader is equipped with one but worthy Samsung 48V 14Ah battery. It's a slightly less capacity in comparison to Megatron, but it's more than enough for two 500W motors.
When it comes down to the range, you can cover about 38 miles on a single charge which is pretty decent for a 1000W eBike. And when you drain the battery, you will only have one battery to charge which reduces the charging time – so Krusader doesn't only come with drawbacks in comparison to its big brother Megatron.
The frame is built using aluminum alloy which makes the eBike pretty light yet sturdy, so the weight of two motors (instead of one) doesn't really weigh the eBike down.
The Krusader eBike weighs about 74 lbs with a maximum capacity of 300 lbs.
Everything you touch, everything you see, and on every ride, you will notice how sturdy, reliable, and unrivaled the Krusader is.
It is whisper-quiet which is a great fit for hunters and yet Maxxis Minion 26″ x 4″ tires are made for trails and off-trail rides.
When it comes down to the frame size, you won't be able to choose between two sizes and yet the main size is 19″ which is something to keep in mind. The standover height is 28″ which makes it easy to calculate whether Krusader is a right fit for you (even if you didn't try it beforehand).
All you have to do is measure the inseam of your legs and see whether Krusader's standover height is a great fit or not.
Considering the price, Krusader might be a lot more affordable choice than Megatron, and yet it has plenty of benefits to offer. And if you get it with a great financing plan, you can pay it monthly and yet have it delivered within the next couple of days!
e-Cells Super Monarch Crown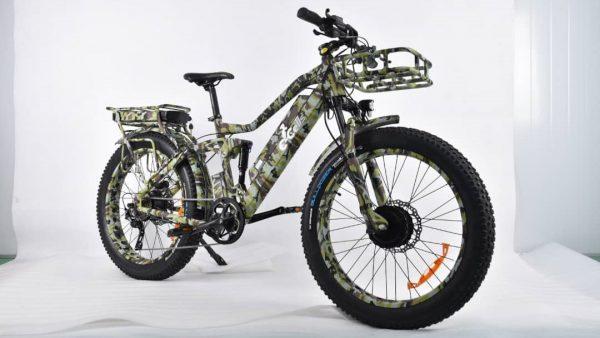 e-Cells is an underdog brand that really put its foot down by manufacturing one of the best all-wheel-drive electric bikes.
Super Monarch Crown is an eBike that features two powerful Bafang 750W hub motors. This means that the Monarch Crown eBike can output incredible 1500 watts of power on both wheels!
With that being said, Monarch Crown also features two batteries. One battery is a 52V 17.5Ah and the second one is 52V 14Ah. Such a combination offers a great range that can handle the power Monarch Crown eBike can output at any given moment.
What we like the most is the wrist throttle which is pretty rare to see among eBikes. All you have to do is twist the throttle to get this eBike flying off the ground. But if live in a state where it's illegal to ride throttle-powered eBikes on the road – Monarch Crown offers a great solution.
This eBike comes equipped with both throttle and pedal-assist system which diversifies the use and increases convenience no matter where you live and what terrain you ride in.
Monarch Crown eBike weighs only 95 lbs which is pretty great considering the powerful motors and two large batteries. At the peak of its performance, this eBike reaches up to 2200W of power thanks to the combination of two powerful Bafang motors.
But here's something people miss. Everyone can easily notice twin motors, twin batteries, but this eBike also features twin suspension. One is in the front and one is in the middle of the frame, ensuring not only a stable and reliable ride – but also a comfortable ride.
Not only this is one of the most advanced eBikes in the all-wheel-drive category, but it's also a dual motor electric bike with the best on-screen features.
This eBike comes equipped with a 750-C display dashboard that features Bluetooth, a pin lock that enables security features, and even mobile navigation along with a smart battery indicator, mileage indicator, and many other helpful insights.
Single-Motor VS Dual-Motor eBikes for Hunting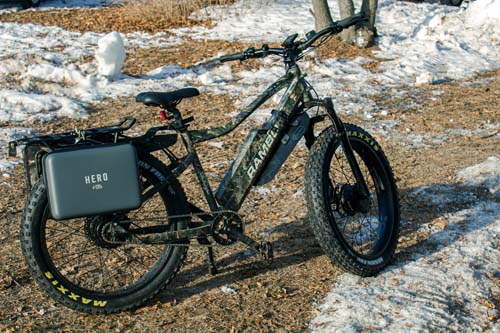 If you are a hunter, what's the better option? A single-motor (regular eBikes) has been a dream of every hunter.
But are dual-motor eBikes a threat or they're just an upgrade that's not very needed for most hunters?
This all depends on you as a hunter, your hunting style, your hunting location, and the way you will benefit from an eBike.
As we all know, electric bikes bring some great benefits for hunters – but let's say that dual-motor eBikes can take it to another level.
How?
They are a lot easier to handle in rocky terrain and they provide more stability. Not only the weight is better distributed, but power on both wheels will ensure that you ride straight as an arrow.
Therefore, while all-wheel-drive electric bikes have a couple of aces on the sleeve, regular eBikes are still a great deal that will provide many benefits for even the most average hunter.
If you aren't on a budget and you get a great financing plan such as the one from eBikeGeneration – we highly recommend investing in a dual-motor electric bike as it is slightly more expensive and yet it unlocks a lot more features & benefits.
Conclusion
There aren't choices available on the market so far which makes a hunt for the best dual motor electric bike a bit tough.
However, you won't need more than 3 choices as these 3 eBikes offer all of the best features you could expect from an all-wheel-drive electric bike.
Prices are slightly higher than regular eBikes – but for a reason. It's definitely a great investment and if you choose the eBikeGeneration financing plan – you can get any of these eBikes delivered within the next couple of days and pay only about $200-$300 monthly.
What is your favorite dual motor electric bike and why?