Finding a quality high-end electric bike that will provide you with an incredibly great range and yet won't let you down on the road can be tricky. However, if you've noticed a Himiway eBike, it's most likely that one of their eBikes caught your attention.
Himiway electric bikes are the eBike company that's on the mission to combine comfort and power without sacrificing the range.
They focus on producing electric fat bikes that are American tough, just like the Ernest Hemmingway, hence the name of the company.
And in this article, you'll learn more about the company, benefits of their eBikes, but also see reviews of some of the best eBikes Himiway has to offer, so keep on reading!
About Himiway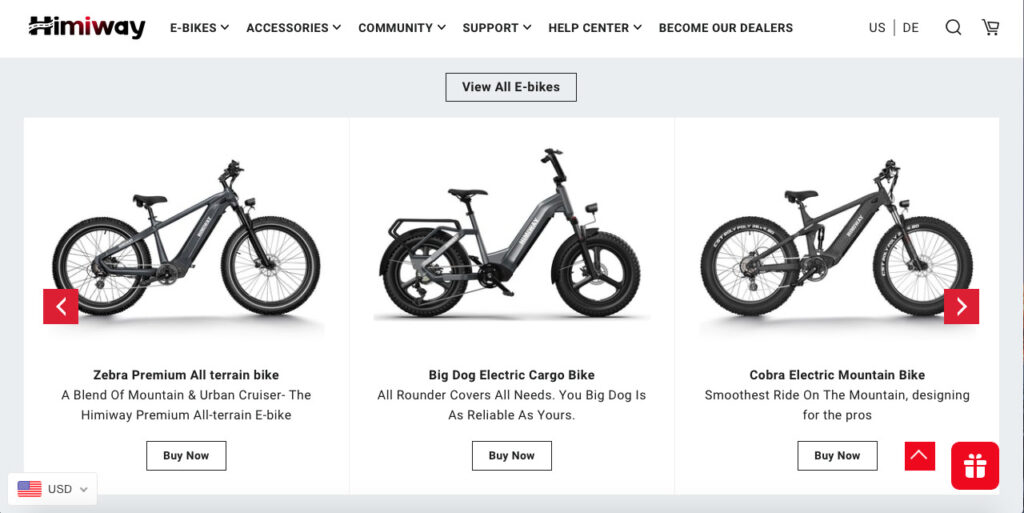 Himiway is an eBike company that's slowly making a breakthrough as one of the market leaders that produce long-range electric bikes.
With so many different models in their lineup, they're also known as a very versatile eBike manufacturer who is producing affordable electric bikes that provide great quality and are capable of covering longer distances than the most average eBike can.
The secret behind Himiway's long-range eBikes is the quaternary polymer lithium battery which is the latest technology in the battery industry that allows endurance Himiway's eBikes offer.
Equipped with a great eBike lineup, excellent customer service, great prices, and great terms of service, Himiway is also changing the way electric bikes are not only made, but also sold as they sell about 30,000 eBikes every year.
On top of that, you have plenty of financing options that will help you grab a great deal you won't ever regret!
Benefits of Himiway eBikes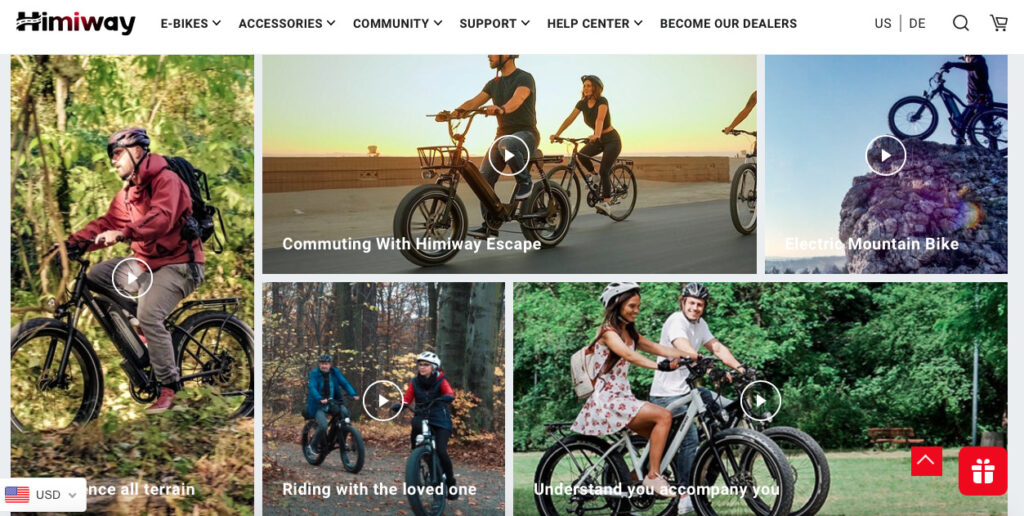 One of the biggest benefits of Himiway eBikes is the range. With the most advanced battery system in the eBike industry, Himiway eBikes allow you to cover at least 60 miles on a single charge.
Of course, the range also depends on the weather conditions, terrain, and even the way you ride the eBike. But on top of that, a quick charging time makes up any difference and ensures that your eBike is always ready for another adventure.
Himiway eBikes also come in a variety and each model is built differently so whatever the reason behind your eBike purchase is, you'll be able to find a specific model that will perfectly fit your needs. This also improves versatility since you can use Himiway electric bikes for anything from casual riding, regular commutes, exploring various off-road terrains, and even hunting.
The price to quality ratio is also incredibly good since the prices of Himiway eBikes are really affordable and are easily justified, and yet the quality is outstanding as you can notice the quality build and use of higher-end components that are made to last.
Also, each Himiway eBike comes with a 2-year warranty and a 15-day return, so you won't ever go wrong with the purchase, no matter how big of an investment the eBike might seem for your financial situation.
Therefore, head right into Himiway electric bike reviews to learn more about the eBikes, but also possibly find a model that will be ideal for your needs!
Best Himiway eBikes Reviewed
With so many different Himiway eBike models available, it can be tricky to make the right choice. But down below, you get to closely check each one of the eBikes so you can see if it is a great fit for you or not in only minutes!
Himiway Escape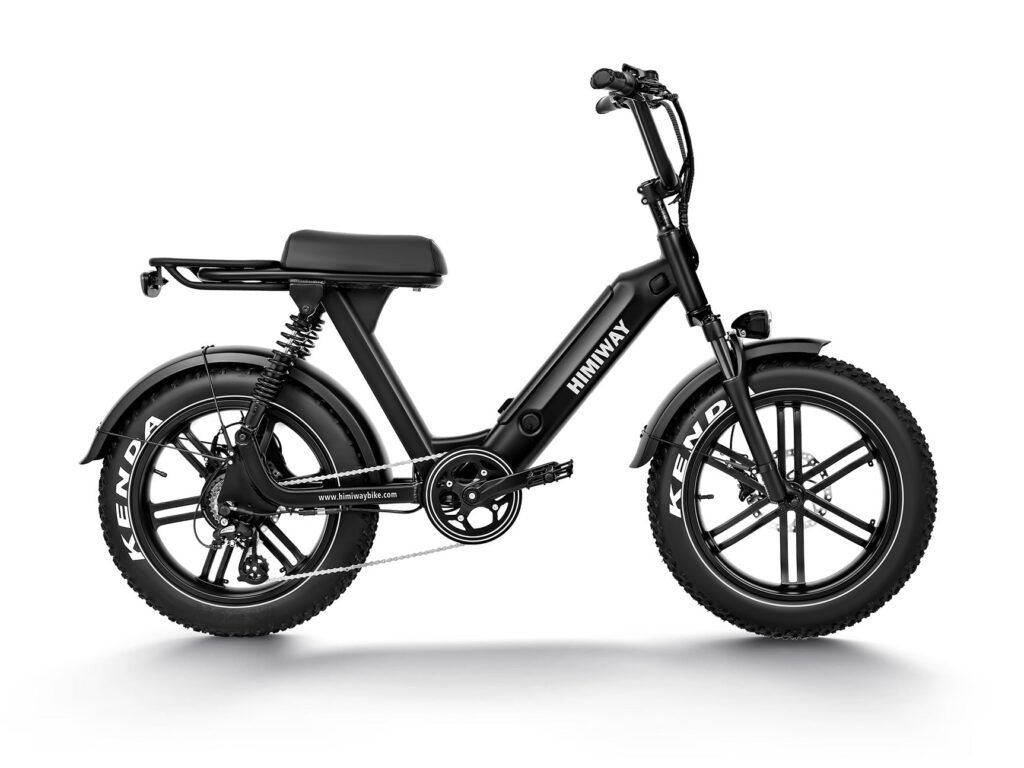 Himiway Escape is known to be the most popular eBike model as it's been around the longest and it has been well-accepted by people because it provides everything you would need to either ride it as a city eBike, use it for a daily commute, or take it off the road for an adventure and a break from the city.
Escape eBike is powered by a 750W brushless motor that's placed in the rear hub of the wheel, combined with the 7-speed gearing system. Such a combination provides a great amount of power on the rear wheel and a gearing system that can help you conquer flats and even hills like it's nothing.
On top of that, Escape also comes with an integrated Samsung/LG 48V 14Ah battery that offers at least 45 miles on a single charge, depending on the way you ride this eBike. However, the battery is made to last and it charges quickly so Escape will always be ready to take you for your escape, wherever you go.
Also, keep in mind that the range is estimated without the use of pedal-assistance, and if you help yourself with pedal assistance, you'll easily achieve 60+ miles on a single charge.
Even though Escape is based on a moped-style bike frame, it is built with 6061 aluminum material that promises durability wherever you go. For the ultimate comfort, Escape comes with front-fork air suspension and rear coil suspension so you can truly take Escape to the forest without even feeling the stress.
On top of that, 4″ fat Kenda tires will ensure that you never get a puncture but also that you overcome any obstacle that comes your way, regardless of the smaller 20″ wheels.
With the powerful Himiway display unit, you'll always have a clear insight into the power, and information such as the top speed, average speed, current speed, range left, and even cadence or ride time and other plenty useful information.
However, one of the best features is that you can even charge your cellphone in urgent situations with the help of this eBike. With an integrated front basket and rear rack, you'll have a decent amount of storage wherever you go.
Himiway Zebra Premium All-Terrain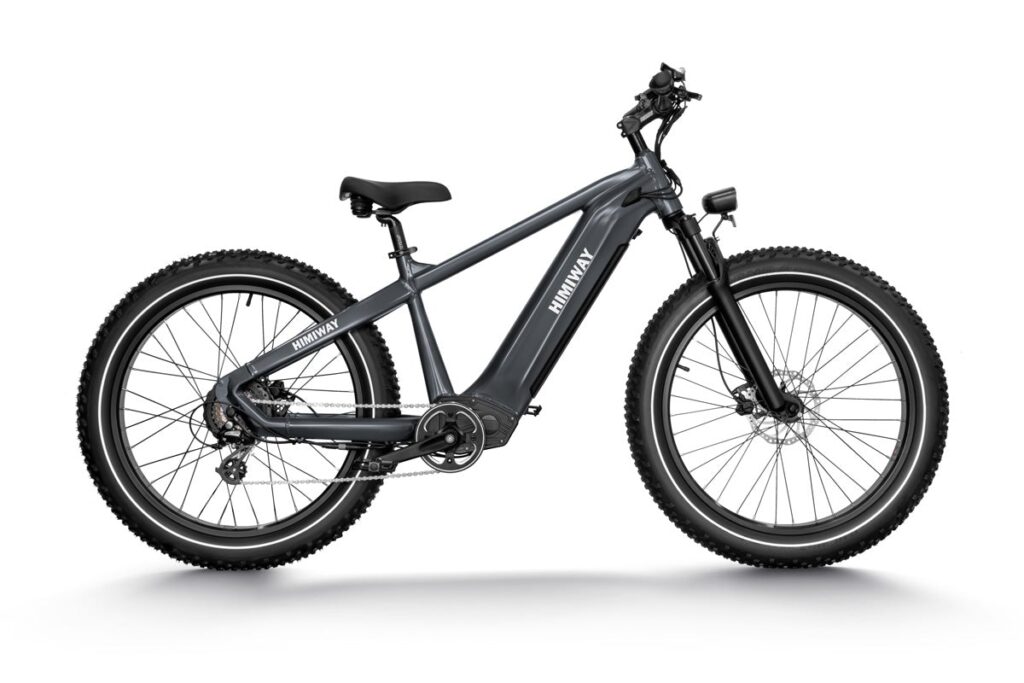 If you're looking for a high-end Himiway eBike that's built using only premium components and is ideal for conquering any type of terrain, Himiway Zebra eBike is what you're looking for.
Himiway Zebra is an eBike based on the upgraded 6061 aluminum frame which is double reinforced for extra sturdiness and durability. Even though eBike weighs about 80 lbs which is slightly above the average when it comes down to the eBikes, it has a very great loading capacity.
On top of that, the battery is integrated into the frame so you can take Zebra eBike anywhere without having to worry about damaging the battery by riding in the rocky terrains.
This eBike comes with a weight capacity of up to 400 lbs. This includes the rider's weight, but also the weight you can put on the eBike and even the weight you can pull if you get a rear rack and attach an eBike trailer to Zebra eBike.
Zebra comes with a 750W geared rear hub motor which can produce up to 86Nm of torque at the rear wheel when you twist the throttle.
Combined with a 48V 20Ah Samsung/LG battery, you will be able to get about 80 miles on a single charge, depending on the way you ride the Zebra eBike and if you rely on pedal assist. However, the only thing to keep in mind is that since this battery has a total capacity of 960Wh, it takes about 7 hours to fully charge. But if you put it on a charger throughout the night, Zebra will be fully ready for use in the morning.
With a Shimano 7-speed gearing system and wide fat 4″ Kenda tires, you will be able to conquer any type of terrain, use Zebra to commute, explore, or even visit locations way off the road you've always wondered about.
Other high-end components you can find on Zebra eBike include KMC chain, hydraulic brakes, Promax stem, forged alloy crank, alloy pedals, and even 48V LED front light.
For the ultimate comfort, you'll also love the SR saddle that will keep you comfortable during your rides no matter the type of terrain you visit.
Himiway Cruiser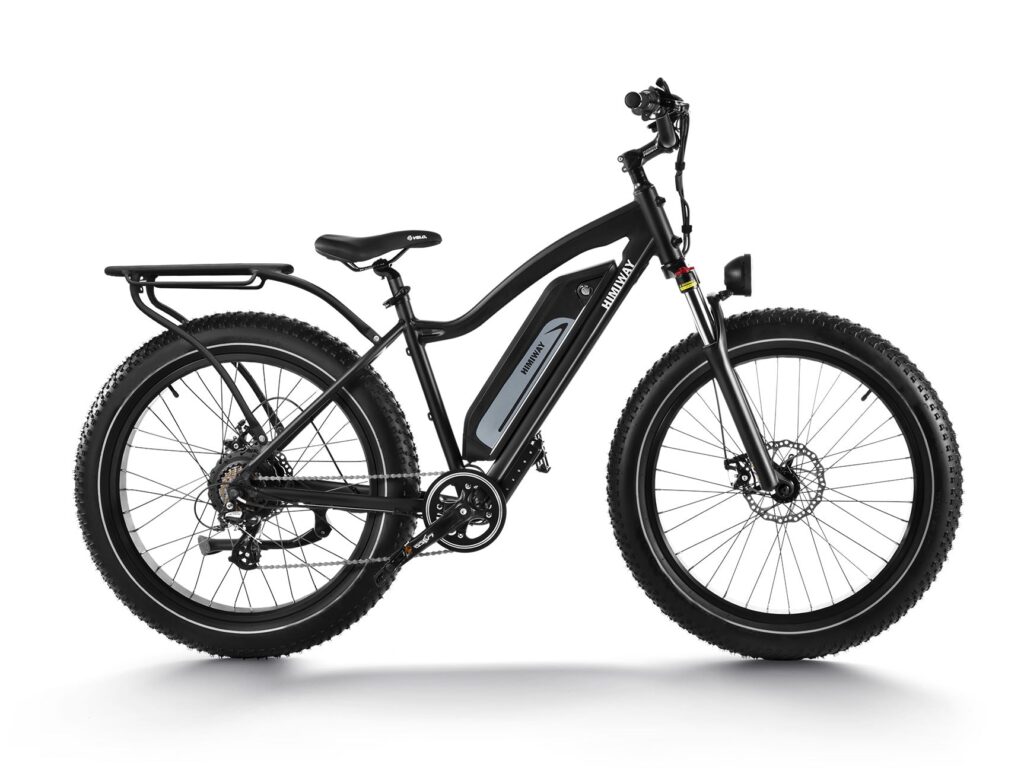 When you need an electric bike for your daily commute, to get your grocery shopping done, or just to chill and cruise, Himiway Cruiser makes a great pick.
Himiway Cruiser is a very versatile eBike that can adapt to various terrains well so you can go from paved road to the rockist off-road terrains with ease.
Cruiser eBike is powered by a 750W geared rear hub motor in combination with a Samsung/LG 48V 17.5Ah battery, which allows you to get anywhere from 35 to 60 miles on a single charge.
Range will depend on the type of terrain you ride, but also how do you ride the eBike, since you can only rely on the throttle for power, but also help yourself with pedal assist pedals to achieve greater range.
Versatile Shimano 7-speed gearing system is perfect for flats and yet is ideal for conquering hills (both paved and unpaved), and you won't even have to worry about overcoming obstacles that come your way.
Design-wise, Cruiser eBike is based on a reinforced 6061 aluminum frame that doesn't only look incredibly good, but also protects the integrated battery and provides reliability anywhere you go.
On top of that, 4″ wide Kenda tires reduce the chances of getting a puncture, provide better grip in any terrain, and allow you to take Cruiser for a cruise anywhere you wish, without worrying much about the obstacles.
LCD that comes with the eBike provides everything you would need to know everything about the eBike, including the remaining battery, the power you're using, current speed, max, and average speed, and other fun information such as distance covered, ride time, and others.
Another interesting feature is the ability to charge your smartphone using this eBike's battery, which is ideal for emergencies regardless of it lowering down the remaining miles.
While the eBike weighs about 72 lbs which fits the average weight of an eBike, it can handle a load capacity of up to 350 lbs which is incredibly good. This means that you can even take this eBike hunting, attach an eBike trailer to its rear rack, and even use it to recover the game!
Himiway Cobra Pro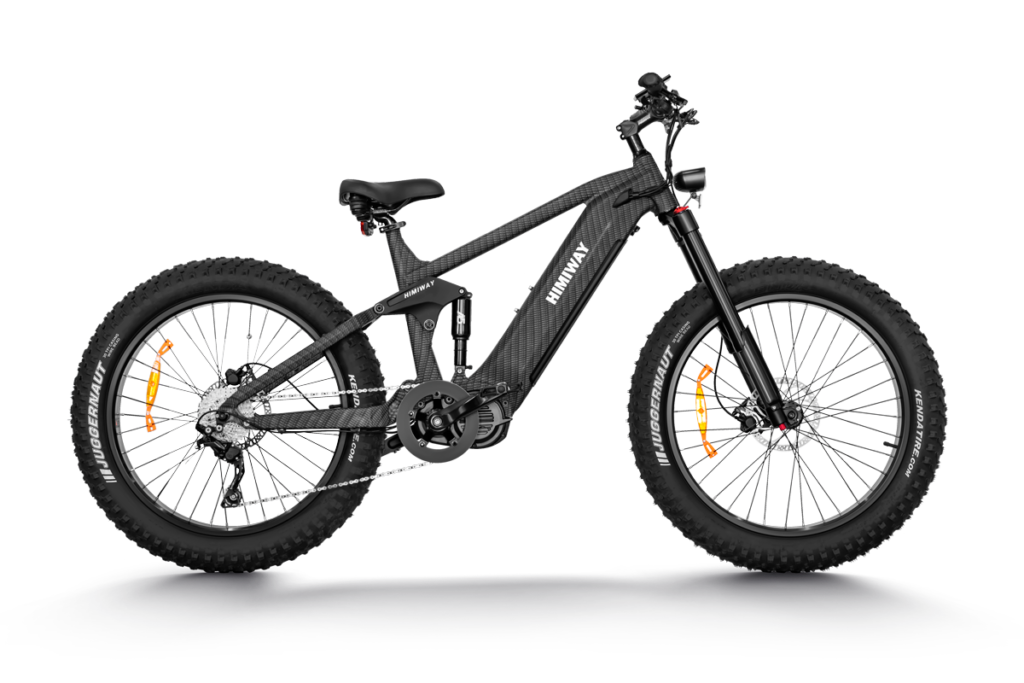 Himiway is known for providing a very versatile lineup of eBikes that can be used for almost any purpose you can think of and Cobra eBike is probably the top of the line for adventurous riders.
Cobra eBike is a full-suspension eBike based on an upgraded 6061 aluminum frame, a four-bar linkage suspension, and a front coil suspension. Cobra is considered to be the first eBike on the market with a four-bar linkage suspension technology, which includes chainstay, seat stay, rocker, and a seat tube.
Therefore, this eBike is good at absorbing force and vibrations while providing incredible stability and even safety in the toughest conditions you can imagine.
For extreme power, Cobra eBike comes with a powerful Bafang 1000W mid-drive motor that's well combined into the frame design of this eBike, since it lays lower to the ground which provides better weight distribution and stability. At any given moment, this eBike can produce 160Nm of torque onto its wheels.
This powerful motor is combined with a Samsung/LG 48V 20Ah lithium battery, so on a single charge, you can cover about 80 miles. However, what's interesting about this battery is its design and single-cell capacity of 5000 mAh which takes less space and yet provides larger diversity.
With that being said, this quality battery will remain around 80% of capacity even after 1000 charges and will require almost no maintenance.
Shimano's 10-speed system combined with ultra-wide 4.8″ CST tires means that you'll be able to conquer any type of terrain and climb any hill without breaking a sweat, regardless of the obstacles you come across on your way up.
For the extra bit of comfort, you'll love the SR saddle, easy-to-use thumb throttle, front 48V LED light, and even a heavy-duty kickstand that will make getting on and off the eBike effortless.
With such high-end specifications and components, Cobra Pro makes it an ideal eBike for hunters who are looking to improve their hunting game without breaking the bank!
Himiway Big Dog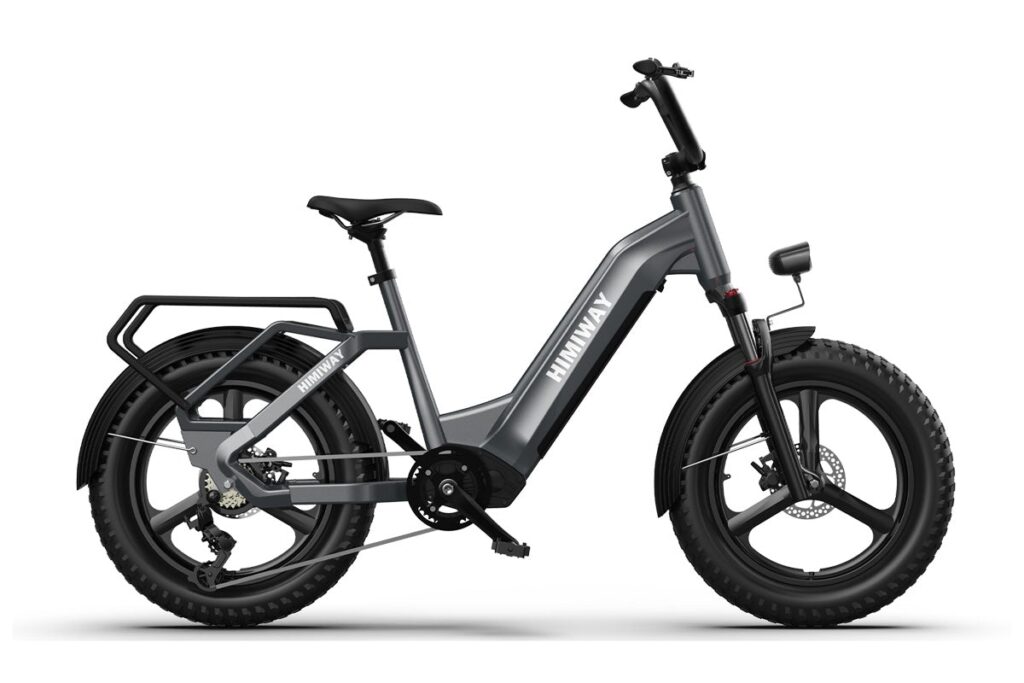 If you are looking for an eBike that comes with the lowest standover height and yet an eBike that will help you get around anywhere easily without worrying where to park it or store it, Himiway Big Dog is an excellent choice.
Big Dog is an eBike based on a low step-through frame style that's still made of upgraded 6061 aluminum material for that extra strength, so you can still take the Big Dog anywhere you wish.
This also means that the wheels are slightly smaller as Big Dog eBike comes equipped with 20″ wheels, yet it still includes 4″ wide fat Kenda tires. These tires will help you cover any distance no matter the type of terrain, so you can go from the suburbs or the city to off-road, and even off the trail with ease.
Big Dog eBike comes equipped with a powerful 750W geared hub motor that can produce a torque of up to 86 Nm in only seconds. Besides the motor, this eBike also comes equipped with a 48V 20Ah Samsung/LG battery.
With such a combination, you can cover up to 80 miles on a single charge, but keep in mind that this is an estimate. The actual range will also depend on the weather conditions, the way you ride the eBike, and the type of terrain you ride. Also, the battery is integrated into the super durable frame so you won't have to worry about causing any damage to the battery since it's well protected inside the aluminum alloy frame.
With front and rear fenders and an extra-large rear rack, especially for such an eBike, Himiway Big Dog is a super versatile and multifunctional eBike.
And even though this eBike might look like a small eBike for some, it is a very strong eBike that features a loading capacity of up to 400 lbs, which is above the average in the eBike industry. This means that you can store almost anything on the rear rack, and even attach a cargo trailer to the rear rack for extra storage space.
This is one of the reasons why Big Dog eBike is beloved by hunters since it is durable, strong, features an integrated rear rack, and can haul a cargo trailer that can be used to recover the game, no matter the type of terrain.
For the most comfort, Big Dog comes with an alloy front fork suspension, durable alloy pedals, SR saddle, and mechanical disc brakes for an extra bit of stopping power.
Himiway Zebra ST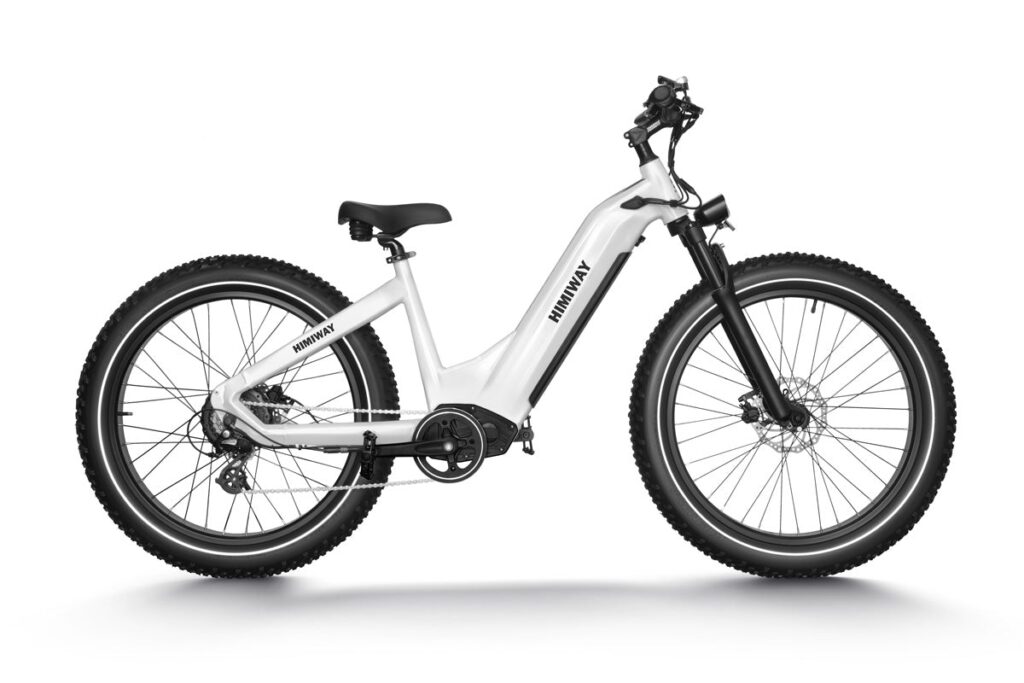 If you are looking for an electric bike that comes with the standard 26″ wheels and yet you prefer a step-through frame that allows riders to easily get on and off the eBike, then Himiway Zebra ST is a great choice.
This eBike is very similar to the Zebra eBike you can see above in this review, and yet it has significant differences you can read about below.
Zebra ST is also built using the upgraded 6061 aluminum alloy material and yet design-wise, the frame is built differently. This doesn't only allow easier access to the eBike, but it also ensures that more weight sits lower to the ground. This allows better control of the eBike, manueverability, and stability even when cornering downhills in rocky terrain.
Combine this with a front fork air suspension, mechanical disc brakes, SR saddle, and alloy pedals with a great grip, and you get a comfortable eBike no matter the type of surface you decide to ride on.
On top of that, Zebra ST eBike comes with 26″ x 4″ fat wide Kenda tires that provide great resistance to flats so you can really take this eBike anywhere without worrying about punctures.
And no matter where you take Zebra ST eBike, you'll always be backed up by a powerful 750W geared hub motor that can put about 86Nm of torque onto the rear wheel in only seconds. The powerful motor is combined with a long-range 48V 20Ah Samsung/LG battery.
Such a combination allows Zebra ST to cover up to 80 miles on a single charge, however, the range will also depend on the way you ride the eBike and where you ride it. Therefore, the expected range is between 60 to 80 miles on a single charge which is still a pretty great range that will ensure you never get range anxiety, no matter how far you are from home.
Best Way to Finance a Himiway eBike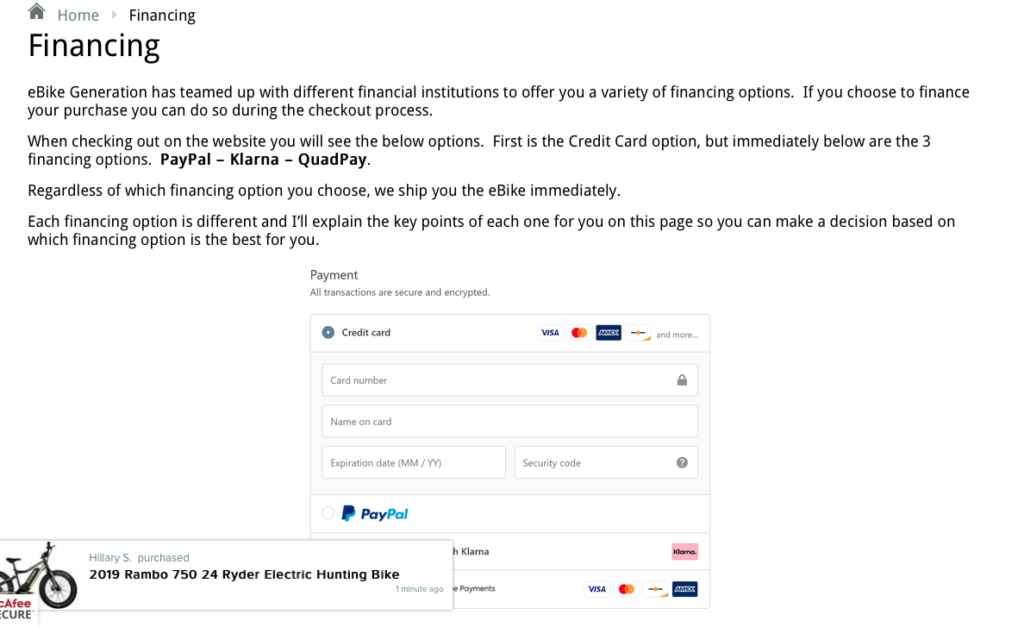 Electric bikes aren't always cheap and even though Himiway eBikes are on the cheaper side of the quality electric bikes, it is still an investment you will have to make.
Luckily, quality electric bike retailers such as eBikeGeneration include financing plans by partnering up with financial institutions so you can easily purchase a Himiway eBike, pay it off monthly, and if you pay it on time, you won't have any interest in the total price.
But here's something even better. If you use a Himiway eBike to replace your regular commuting (gas-powered) vehicle and you pay it off monthly, the eBike can actually pay itself off through the savings you will be making.
So even if you have enough money to finance the eBike yourself, it is always a great thought to keep these eBikes
Conclusion
If you aren't looking to overspend on an eBike purchase yet you'd like to get a quality eBike that's versatile and yet powerful enough to take it almost anywhere you wish, then Himiway eBike is a great option.
With plenty of options to choose from, a variety of eBikes, different specifications, and even frame designs, you can definitely find a Himiway eBike that will fit your needs and your riding style.
But no matter which eBike you choose, you won't have any regrets since each one of their eBikes is very versatile and a great fit for almost any type of terrain.
Which Himiway eBike do you like the most and why?