Electric hunting bikes offer a huge advantage to hunters who want to stay quiet and even blend in the nature while moving efficiently. However, some terrains are really tough and the chances are you might need a full suspension electric mountain bike.
Truth to be told, there aren't way too many full-suspension eBikes available for hunters. However, you're in the right place because we'll review one of the best ones you can get for the money.
So if you're looking to learn everything you can about the Quietkat RidgeRunner eBike. The choice was tough between the Rambo Rampage, Quietkat Jeep, and Quietkat RidgeRunner – but you'll see why we chose RidgeRunner below!
Full Suspension Electric Mountain Bike
As we've mentioned earlier, the choice was hard but RidgeRunner is one of the toughest full-suspension eBikes as it brings incredible features that are specifically designed for hunters and everyone who loves exploring locations you never thought are reachable before.
Full of Power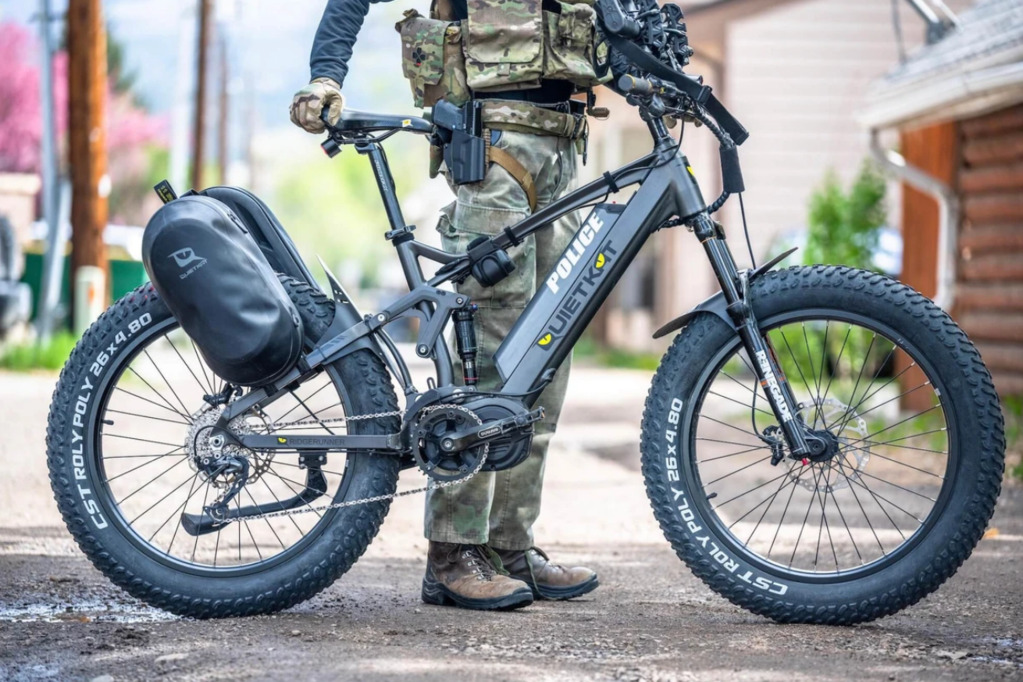 Quietkat RidgeRunner is equipped with a mid-drive Bafang Ultra motor which is a 1000W motor that can output 1600W of power at peak use.
As you push the thumb throttle all the way to the end, you can experience 160nm torque on the wheel that will push you faster than any motorized vehicle can.
Power thumb is removable so you can remove it if you would like to ride the RidgeRunner on the road and yet your local eBike laws forbid you from riding such a powerful eBike legally on the road.
This way, you can remove or add the throttle button to meet all your eBike needs, no matter where you go.
Never Worry About the Range
In combination with a powerful Bafang motor, RidgeRunner eBike comes with a Panasonic 16Ah 48V battery that only weighs 12 lbs.
With such a combination, you can cover about 64 miles on a single charge which is almost twice the average distance a hunting eBike can cover on a single charge.
Therefore, you won't have to worry about the range since you'll also have an insight into the battery level and the predicted range left on the display that comes integrated with the RidgeRunner.
Full Suspension to Conquer Every Terrain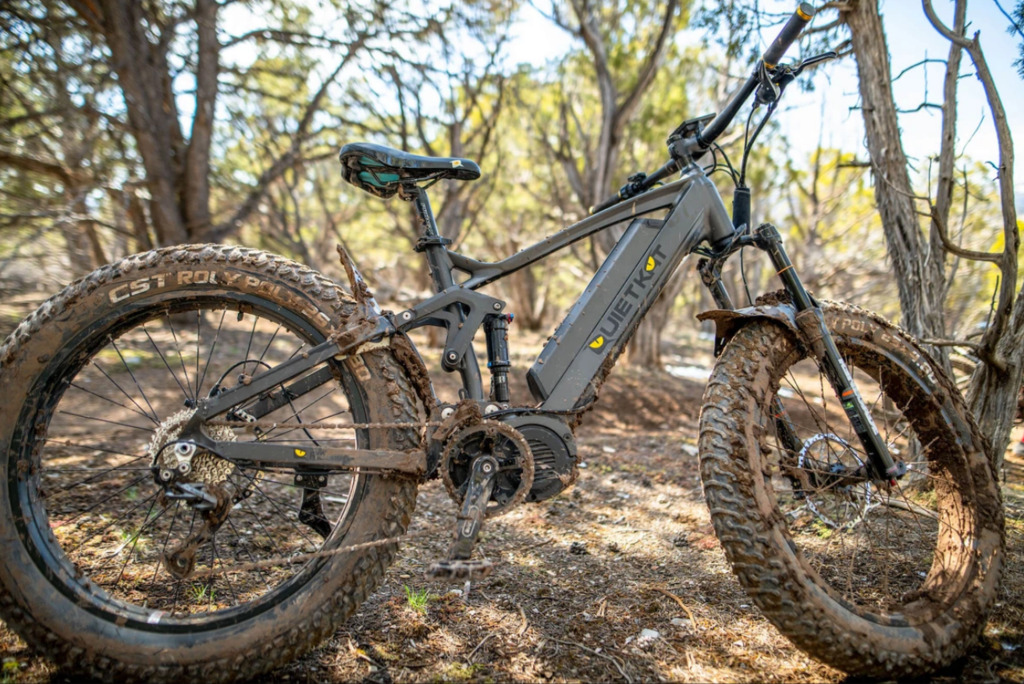 No matter the terrain surrounding your favorite hunting locations, you'll be able to ride on any type of terrain and on any type of surface with the RidgeRunner eBike.
Why?
Quietkat built this eBike with the purpose of conquering any location and discovering further locations than any ATV or other motorized vehicle can access.
They've also equipped this eBike with a full suspension system that provides comfort and allows you to go over bumps, rocks, and anything else that comes your way without hesitation.
RockShox Monarch RL is the main suspension system and for the front, QK inverted air suspension fork will absorb the shock and provide comfort under any weather conditions and in any terrain.
Easy Wheel Swap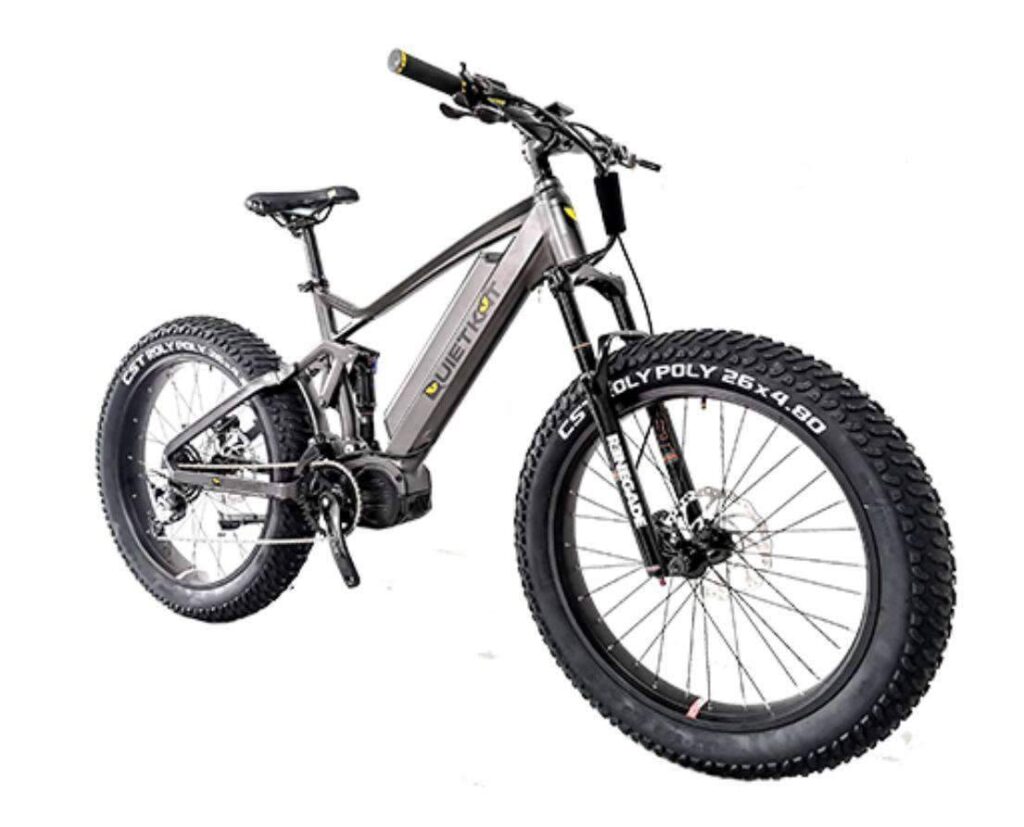 By default, Quietkat RidgeRunner comes equipped with a 26″ wheel. However, the frame is built in such a way to support wheels of up to 29″ in size.
Therefore, you can switch between the wheels as you prefer and for extreme durability and reliability, a wide 4.8″ tread ensures that RidgeRunner is prone to punctures so you never get stuck when you least expect it.
With that being said, you won't have to worry about punctures when riding through the risky terrains and paths as you enjoy the beautiful views and the nature that surrounds you and the Quietkat RidgeRunner.
Great Stopping Power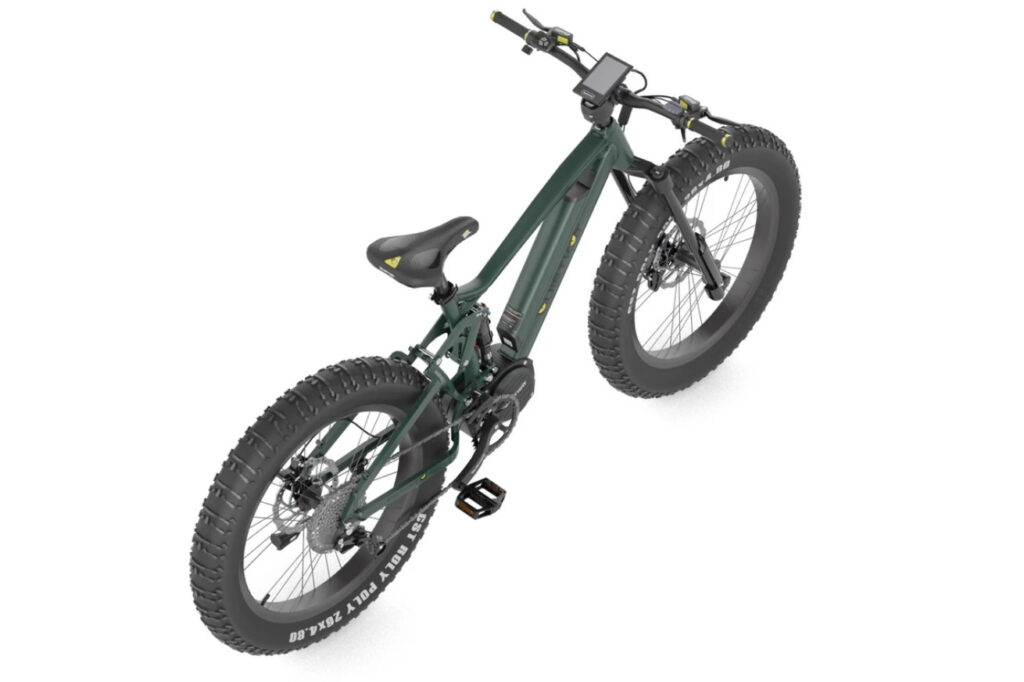 Tektro 4-piston hydraulic disc brakes are in charge of the great stopping power no matter the type of terrain or surface you're riding on.
Even if you're riding down the hill or exploring risky terrains with this ultimate machine of an eBike, you won't have to be scared or overwhelmed by the speed you achieve as stopping power is guaranteed.
You won't even have any issues braking on the wet, muddy, or icy surfaces since this eBike is built with a four-link suspension that provides one of the best tractions on any type of terrain.
Ideal Weight Distribution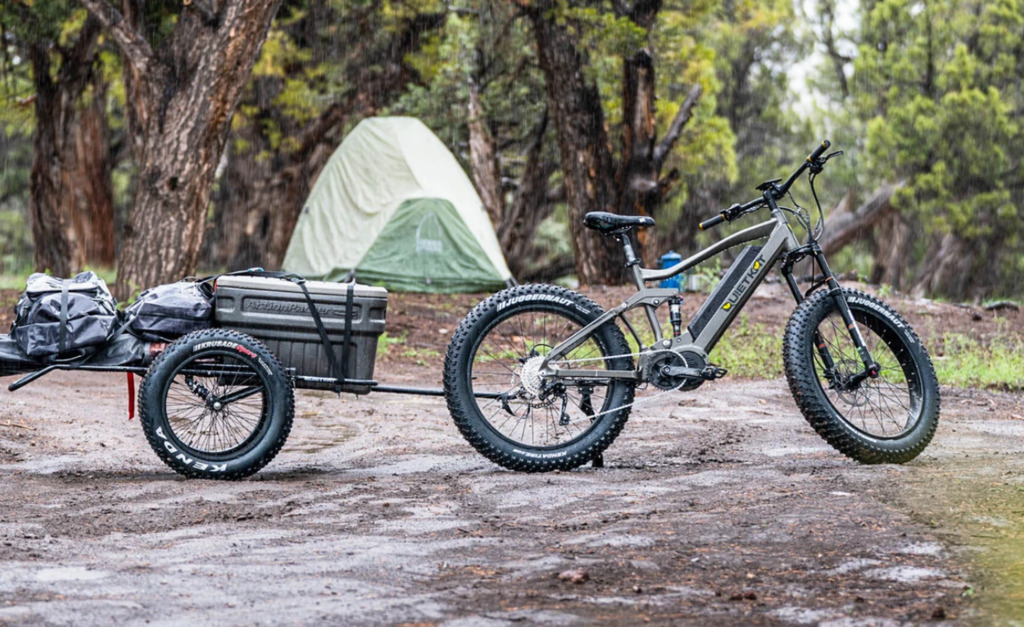 Since the motor is placed in the middle of the eBike, its weight in combination with the rider's weight and the wise battery placement gives a great weight distribution.
With such a weight distribution, the eBike sits lower to the ground which allows better control, stability, and even fewer wipeouts when you're really pushing this eBike to its limits.
With more flexibility up at the front and even more freedom to carry a lot more weight in the back, RidgeRunner is perfectly balanced to the conditions every hunter could face
Perfect Load Capacity and Additional Accessories
Thanks to such a durable and stable build, Quietkat RidgeRunner has the ability to carry up to 300 lbs. This includes the rider's weight and anything else you store on the eBike. However, keep in mind that this also includes the weight of a cargo trailer.
That's right, you can connect a trailer and haul it right behind the RidgeRunner. This can help you expand your storage, carry more gear, or even use the trailer to recover your game when you're deep in the wilderness.
From additional accessories, you'll also get an LCD display, SRAM 9-speed gearing system, and an optional remote dropper post, and wide pedals that provide a great grip level so you never slip.
Conclusion
If you're looking for the best full suspension electric mountain bike, RidgeRunner represents everything you'd want from such an eBike.
It's built with quality and durability in mind, and yet it comes equipped with high-end components that also provide durability, comfort, and are a great solution to many obstacles a hunter could face in the wilderness.
Even though the choice was tough, RidgeRunner is definitely in the top 3 full-suspension eBikes that can conquer any type of terrain in any weather conditions.
We also recommend checking out some additional Quietkat accessories and gear that can further improve the functionality of the RidgeRunner.
What is your favorite RidgeRunner feature and why?