Mule Elite is an electric hunting bike that's surprised everyone with the way it's built for hunters, but also with the high level of durability and stability that can handle any type of terrain.
And if you've been looking for your first or next electric hunting bike, Bakcou Mule Elite is a great choice.
It's better to invest in a quality hunting eBike rather than cut corners since that can only get you in trouble. Mule Elite is an eBike that's worth the investment and in this review, you can find out why exactly.
On top of that, you'll learn everything there is to know before purchasing the Mule Elite (or any other hunting eBike) so keep on reading!
Mule Elite Electric Hunting Bike Review
If you're looking for the best of the best, you're looking at the right eBike. Mule Elite has a lot to offer and these are just some of the features that highlight the benefits and advantages of this electric bike.
Two Different Powering Options
Bakcou Mule Elite comes with two different powering options. You get to choose between a 750W or a 1000W powering option.
Mule Elite is equipped with one of the best electric motors Bafang. What's interesting is that even if you choose a 750W version, you'll get a 1000W motor that's dialed down to 750W. You can remove restrictions and have a 1000W eBike whenever you wish.
This is ideal for everyone who would like to legally ride the Mule Elite on the road and yet has to comply with the local eBike regulations.
Easy to Control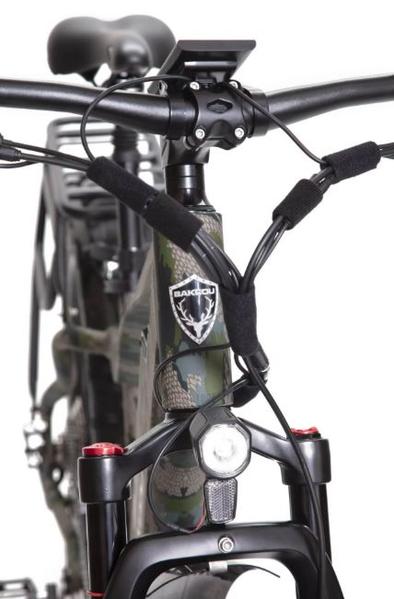 With the weight evenly distributed, a motor placed in the middle of the frame that's sitting low to the ground, Mule Elite is extremely easy to handle.
It's a relatively heavy eBike that comes with wide tires and components such as wide handlebars and a front fork air suspension that help make any ride a smooth ride.
Even if you take Mule Elite to the most extreme terrains, you still won't have any problems controlling this eBike, even at its power peak.
Built for All Terrains
Just one look at the Mule Elite tells a lot. It's an eBike that's built for hunters and it's built for the deepest locations in the wilderness where you have never been able to approach using any other motorized vehicle.
This eBike is built on an enhanced mountain bike frame. In combination with a front fork suspension and 26″ wheels with fat treaded tires, you won't have any restrictions on your rides.
Whether you enjoy hill-climbing, downhill rides, or just rides in the forest to reach unreachable spots, Mule Elite is the perfect eBike. It can take a lot of abuse and the durable alloy frame won't rust or break even under harsh conditions.
Ability to Carry Lots of Gear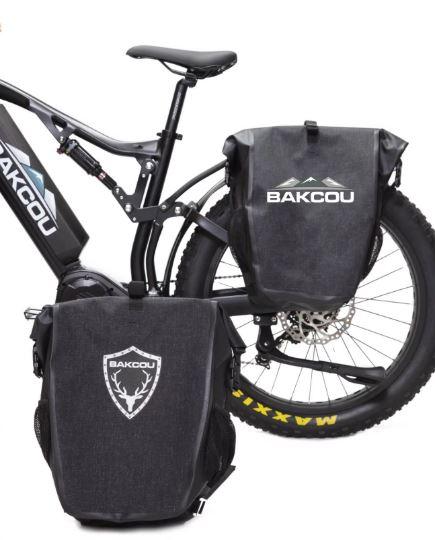 Mule Elite weighs 68 lbs, but its loading capacity is 300 lbs. This means that along with the rider's weight, this eBike can handle and carry a lot more weight.
Whether you use the integrated rear rack, pannier bags, or you decide to attach a cargo trailer to the eBike – Mule Elite can handle it all.
This eBike isn't only ideal for carrying all of your gear, but it can even help you recover the game after a successful hunt.
On top of that, you won't ever have to worry about carrying things up the hill since the smart torque sensor can sense when you need the extra bit of power so you never get stuck.
High-End Components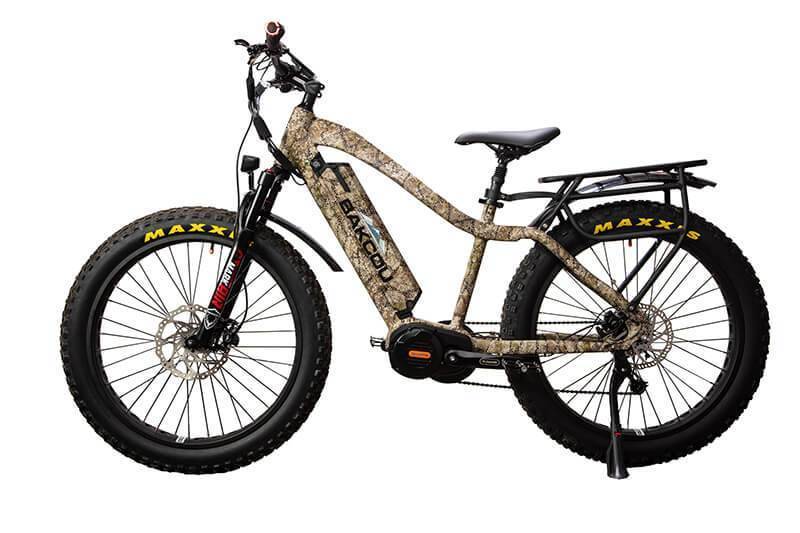 Mule Elite's price might surprise many of you, but no matter which components you have a look at, you'll notice that Mule Elite is built using only high-end components.
These components help match the much-needed performance but also fit hunters' needs wherever they go.
Along with the quality Bafang motor, this eBike is equipped with a long-range Panasonic battery that comes in two options, 48V 17.4Ah or a 48V 21Ah option.
With such a combination, you can cover about 40 miles on a single charge with this eBike. On top of that, you'll benefit from other top-end components such as puncture-proof Maxxis Minion tires, Shimano Alivio hill-climbing 9-speed gearing system, and an integrated display, you'll have everything you need without ever thinking of any upgrades.
Tires That Won't Let You Down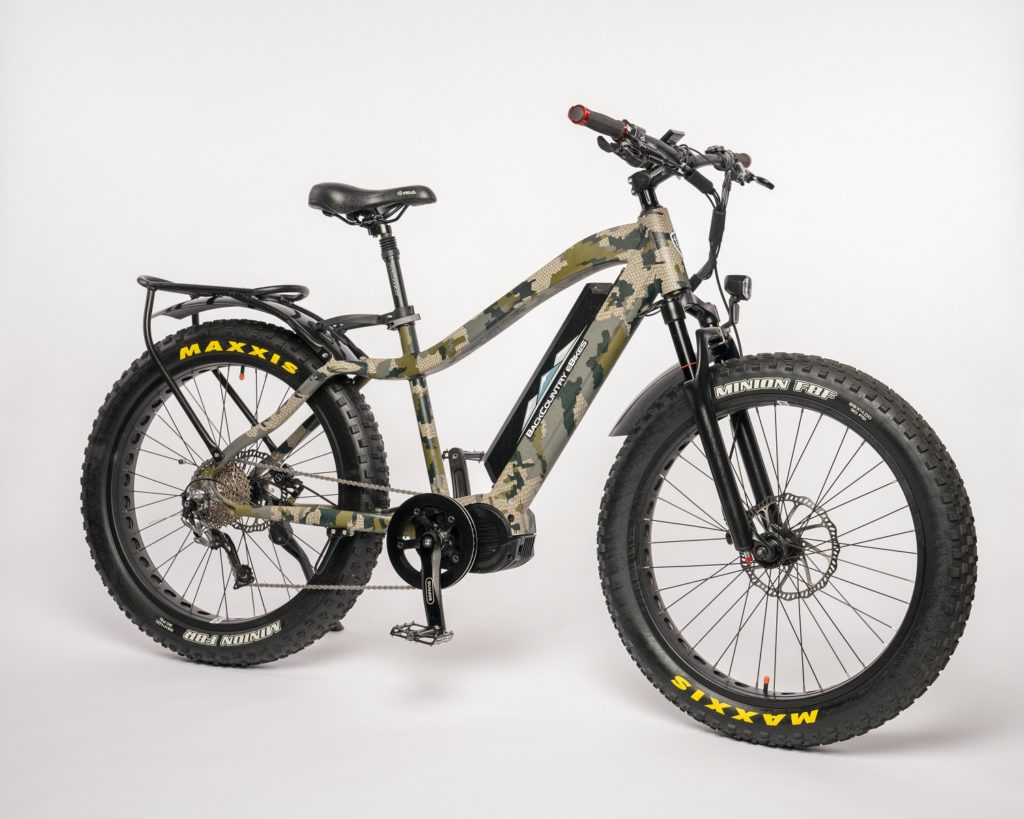 Bakcou Mule Elite is equipped with Maxxis Minion tires that are 4″ wide and in combination with 26″ wheel rims, they provide unparalleled traction and control in all terrain types and weather conditions.
Except for the most difficult terrains out there, Bakcou Mule Elite is also good for snow, sand, mud, and anything you come across during your rides.
It's worth mentioning that these tires are lined with an anti-puncture so you won't ever have to worry about getting stopped on your journey.
Included Accessories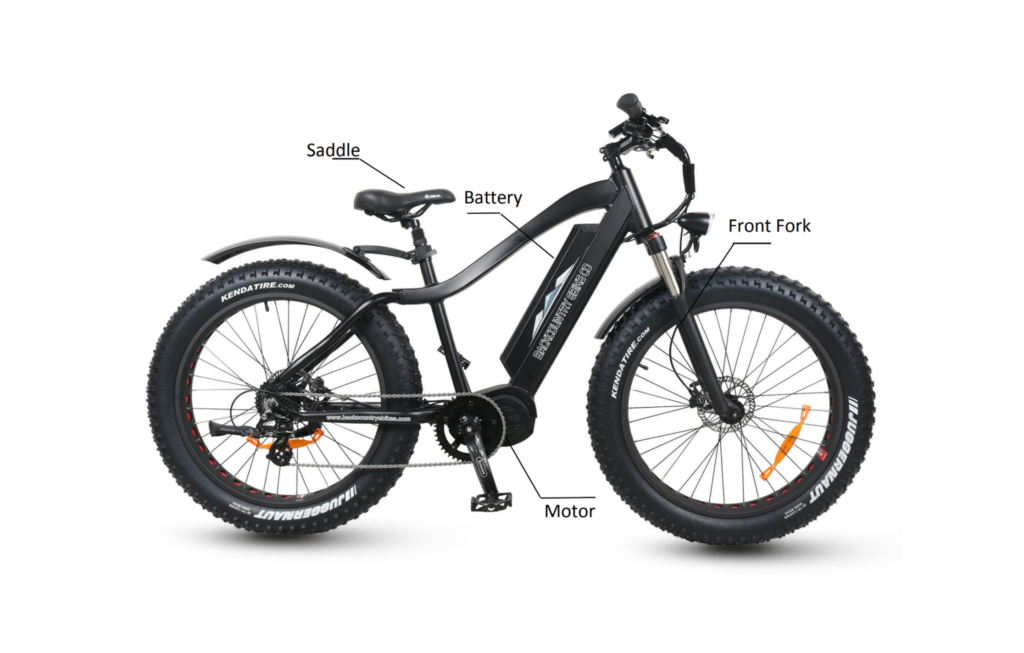 Bakcou Mule Elite comes with plenty of included accessories such as a rear rack, front fender, a kickstand, wide pedals with a great grip, wide handlebars for better control, and even an LCD.
The LCD will give a clear insight into the battery status, the power you're using, and it will even calculate the range you have remaining so you don't have to think twice before pushing that throttle button all the way.
However, keep in mind that Mule Elite can also come with a Hunter Package. Hunter Package includes a trailer of your choice, trail-side repair kit, dual pannier bags, headlight,  fenders, and tire liners.
Conclusion
Mule Elite electric hunting bike is the perfect fit for a hunter or anyone who loves off-road adventures and is ready to give this eBike the adventure it is built for.
With so many features, these are just some of the most important ones. These can directly benefit you, yet for all other benefits, you would just have to experience riding the Mule Elite firsthand.
What is your favorite thing about Mule Elite and why did it catch your attention?