Backcountry is one of the top hunting eBike manufacturers and the chances are you've come across some of their eBikes or even had the chance to try one.
If you've been looking into Backcountry eBikes or if you're interested in getting a Backcountry eBike, you're in the right place.
Down below, you won't only learn the latest information about the Backcountry which is now known as Bakcou, but you'll also learn more about the military discount you could use to get your new eBike.
If the military discount doesn't apply to you, keep on reading as you'll learn more about great financing plans anyone can use to purchase the next eBike!
About Backcountry

Backcountry is a company that's now known as Bakcou, and it's a company that specializes in electric hunting bikes that help hunters replace noisy quads with more versatile and powerful options that allow them to be stealthy.
Not only do they sell some of the most popular eBikes among hunters, but they dedicate the time to their own research, development, testing, trialing, and eventually marketing their successful electric hunting bikes
However, what most people don't know is that BackCountry eBikes is a brand made by hunters who understand the needs of hunters first-hand. The reason they're able to produce such specific electric bikes is that they have a lot of hunting experience which allows them to focus on the most common hunter needs.
Sharing the love for backcountry, desire to access remote areas, acquiring minimal disturbance while hunting, and even riding a non-pollutant vehicle are just some of their basic principles as a company.
Other than their basic principles, every hunter will love their most important principle which is to design and build the most durable and efficient, but affordable eBikes suitable for handling the roughest terrains.
Hauling hunting gear might have been the biggest problem every hunter's faces – however, that's another thing BackCountry eBikes have solved.
They're a really innovative brand which has a very bright feature and we are excited to see what they have in store for us in the near future.
Benefits of Backcountry eBikes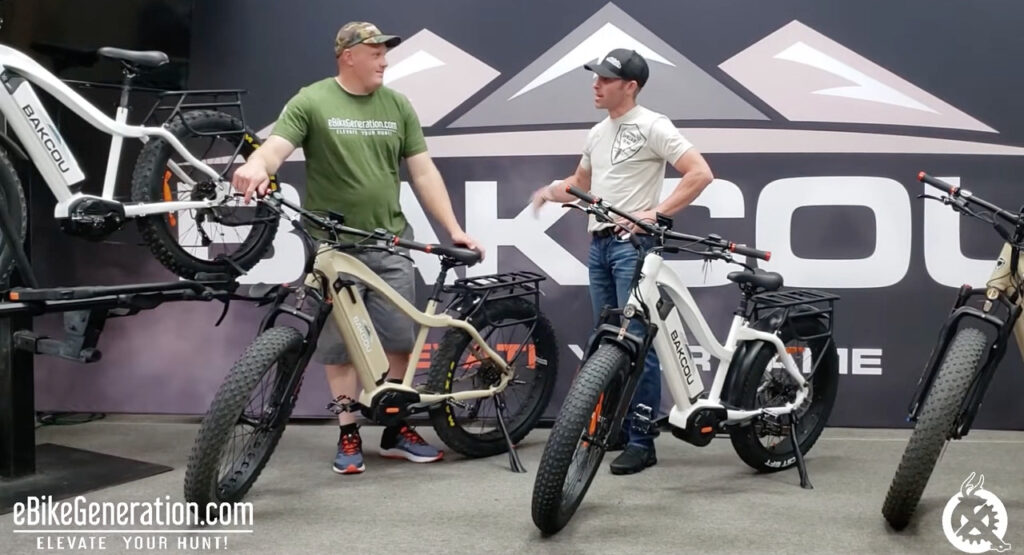 Backcountry is known for some of its best eBikes such as Flatlander, Mule Elite, Storm G2, but they're also known for producing some of the best accessories for hunting eBikes.
Accessories such as compact gear trailer, hunting cargo trailer, folding deer trailer, or folding hunting trailer help improve the storage space while still allowing eBike riders to explore any location.
Benefits of Backcountry eBikes include making stealthy moves, recovering game easily, ability to carry lots of gear, handling difficult terrains without a problem, and even having a lot of fun when hunting with one of the Backcountry eBikes.
With the durable frame, wide fat tires, and a couple of other high-end components made for these hunting eBikes, Backcountry eBikes are ideal for all-terrain types, all weather conditions, and all purposes (even if you're not a hunter).
And when you combine Backcountry eBikes with the military discount you can take advantage of, you can get a really high-quality eBike for a lot more affordable price!
That's exactly what we'll be writing about next. Therefore, keep on reading so you don't miss it!
Things You Should Know About the Backcountry Military Discount
In case you've heard of the Backcountry military discount, the chances are your interest in Backcountry eBikes is suddenly a lot better.
Yes, you can get a military discount for a purchase of the Backcountry eBike. Even though Backcountry (Bakcou) doesn't directly provide the military discount for the eBikes, one of its best retailers eBikeGeneration provides a military discount.
eBikeGeneration partnered with GovX to provide you a military discount for the purchase of any eBike in their store, including the Bakcou eBikes.
You can save up to 7% which might not seem a lot at first, but considering the prices of top hunting eBikes, this discount can help you save a lot of money.
Anyone who's a current or former U.S. military personnel, military spouse or a dependant, or first responder (includes law enforcement, fire, and EMS), is eligible for the military discount and can apply for the discount directly through the eBikeGeneration.
How to Get a Backcountry Military Discount

To get a military discount, all you have to do is visit the eBikeGeneration's GovX ID military discount page.
From there, you'll be able to learn if you're eligible for the discount, but also how it works and everything you would need to apply for the discount.
The process is very simple and you won't have to fill out dozens of forms, so don't get overwhelmed just yet.
You should click on the "Save up to 7%" button to claim the discount. Then, you'll need to verify your affiliation with GovX. It's a real-time and secure verification.
However, if you already have the GovX account that you might have used for other discounts in the past, you can simply log in at this step.
After the verification, you'll get a single-use discount code you can apply at the eBikeGeneration's checkout page.
For every next purchase, you can log in to the GovX account and get a new discount code you can use at the next check out.
However, keep in mind that there's a limit of only one discount code use per day.
Also, if the military discount doesn't apply to you, eBikeGeneration offers 0% interest financing plans too, so we recommend you to check that out!
Conclusion
We hope that this article wasn't too long, but two main things you should know is that Backcountry is now known as Backcountry when it comes down to the eBikes, and military discount is fairly easy to obtain.
The only thing is that you will need to purchase the eBike through one of the best eBike retailers which is the eBikeGeneration. With that being said, you can use the discount code to purchase any eBike you like as the discount code isn't strictly limited for use to purchase Bakcou eBikes only.
What is your favorite hunting eBike? Is the military discount code going to help you save money on your next purchase?