You might love the benefits of hunting bikes, however, electric hunting bikes might feel like they're out of your price range.
It's clear that electric hunting bikes are a great investment, but if they're out of your budget, there's one other option you might have thought of.
Getting a cheaper hunting bike. But are cheap hunting bikes worth the investment and do they provide the same benefits you expect to receive from quality hunting eBikes?
These are just some of the questions we'll answer in this post so keep on reading! As a bonus, you'll also learn how to purchase a high-end hunting eBike without breaking the bank so don't miss out on that!
Should You Purchase the Cheapest Hunting Bike You Find?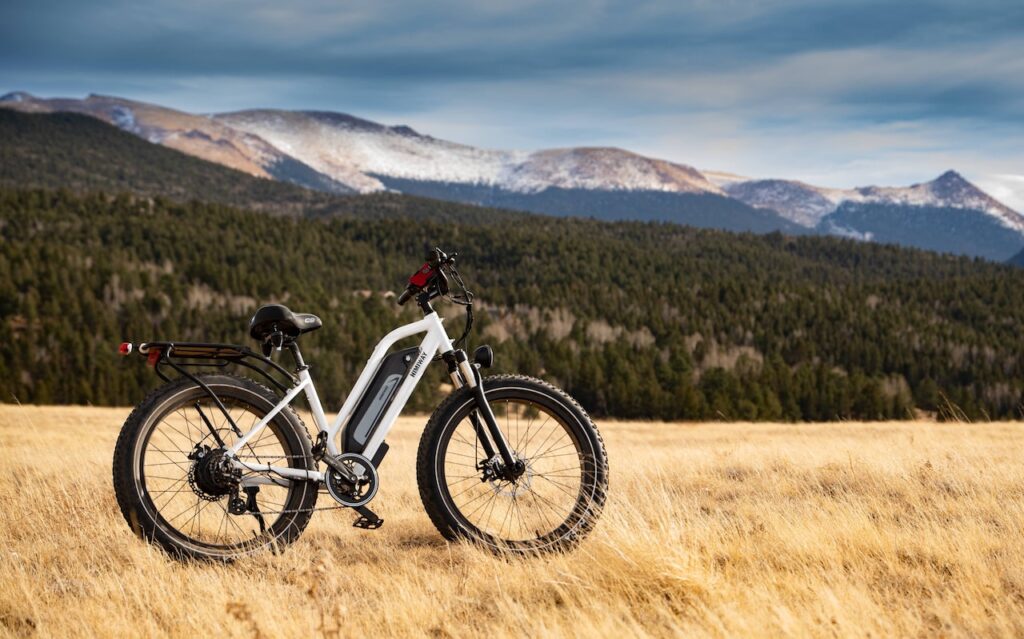 You don't need to purchase the most expensive hunting eBike, but does this mean you should purchase the cheapest hunting bike you can find? Definitely not.
Cheapest hunting bikes might seem cheaper in comparison to quality hunting bikes. However, you're still paying a lot of money for hunting bikes that aren't made to provide the level of quality you might require as a hunter.
Therefore, you won't be saving any money in the long run, yet you'd be doing more damage to your hunting experience and to your wallet.
Electric hunting bikes are made for reliability as well as meeting the most demanding needs hunters face.
Every eBike might look nice when it's unpacked from the box. But you don't need an eBike that you'll have to constantly fix, won't enjoy using, and worst yet, an eBike that will leave you stranded.
Hunting eBikes are built in a way to help you recover your game, and you won't be able to do that with an eBike that will require recovery itself.
Negative Side of Cheap Hunting eBikes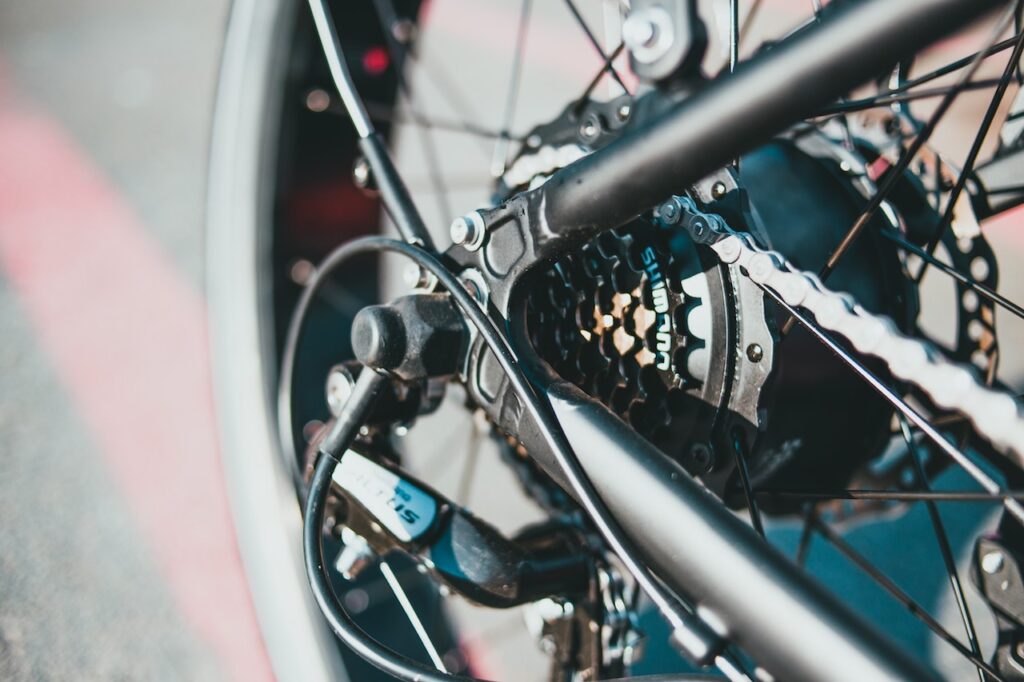 Cheap hunting eBikes can definitely make your hunt miserable and ensure you don't ever want to sit on any eBike, no matter how good or bad it is.
The biggest downside of cheap hunting eBikes is that they drastically cut costs on parts and components only to lower the price of the whole eBike.
This isn't a good thing since each component is wisely chosen to support the needs of a hunting eBike. Cutting costs on a single component can make it the weakest link and cause issues for the whole eBike.
Now imagine a whole hunting eBike built with components that aren't made to support the demand and purpose of hunting and such terrains.
As a result, reliability is the big issue. On top of that, you won't ever feel safe riding such an eBike, taking it further than you've ever been, pushing it to the limit, or using it to recover the game.
Cheaper hunting eBikes still might not be very cheap. They might only seem cheaper when compared to quality hunting eBikes. Therefore, you'll still be paying money for a hunting eBike that might not be worth the price at all.
What to Look Out For in a Quality Hunting eBike?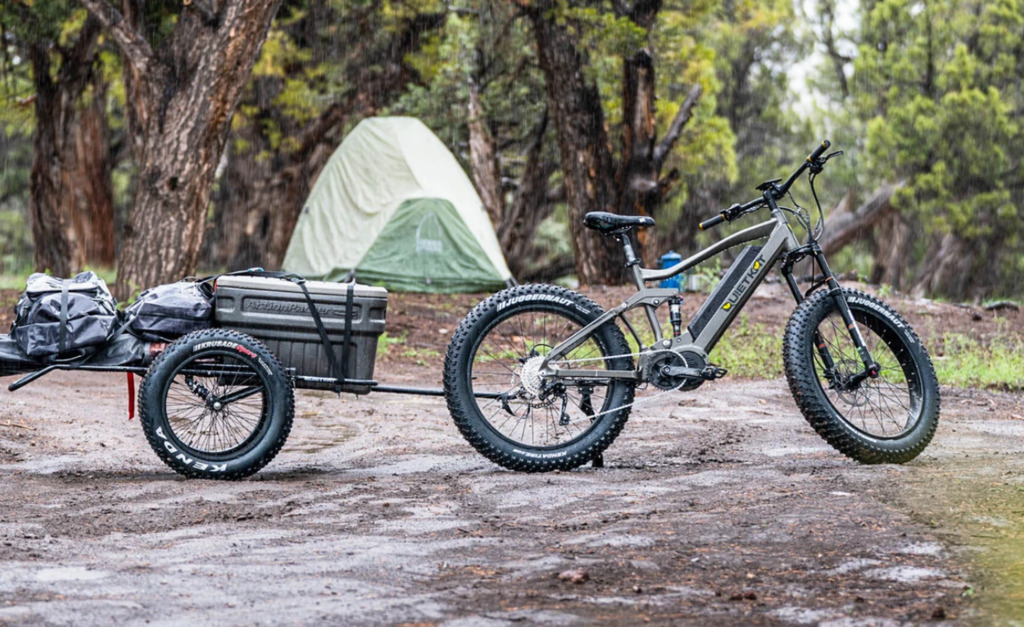 What you should be looking out for is the combination of things that ensure the highest-level quality at all times.
Everything starts with the frame. Quality brands redesign mountain bike frames to create a similar yet totally new type of frame that will support the weight capacity, durability, and all additional components such as the motor and the battery.
That's why most quality hunting eBikes have a weight capacity of up to 300 or even 350 lbs while they weigh about 60-70 lbs on average.
From there, the motor and battery tell a lot about the quality of an eBike. This relates to the power and the range a hunting eBike can achieve.
After that, you should look into the components. What gearing system does it have, what are the tires like, what additional accessories does it come with, and what are some additional accessories you can find and purchase for that specific eBike?
These are just some of the questions that will help you determine the quality of both the manufacturer and the eBike.
Lastly, comfort is of huge importance so check for features that will help improve the comfort such as the ergonomic saddle, handlebar type, grips, pedal type, and more.
Learn How to Finance a Quality Hunting eBike and Benefit in the Long Run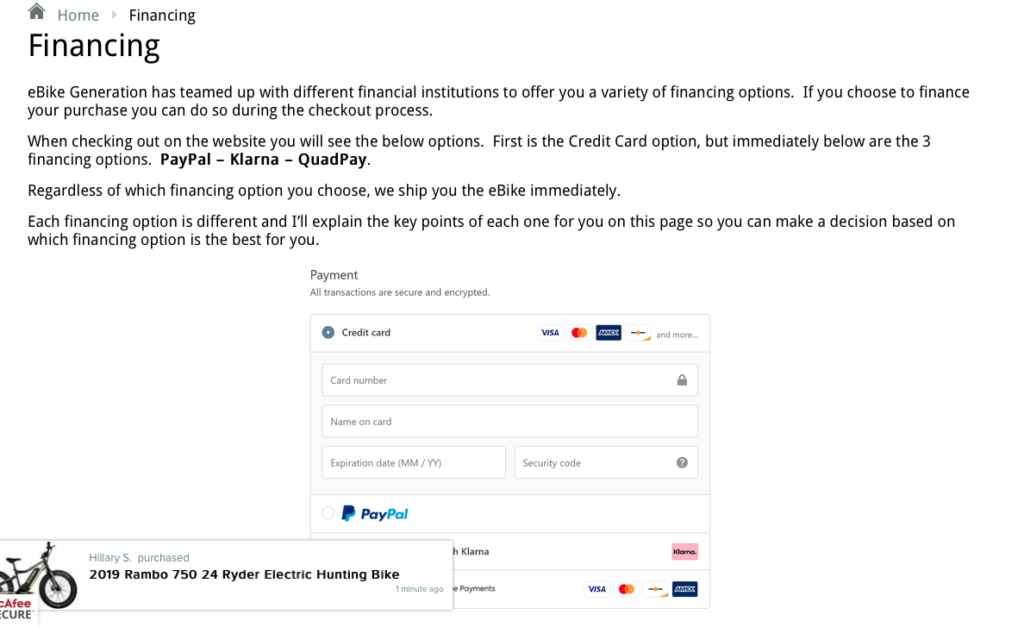 Quality electric hunting bikes can be really expensive. However, it's better to find a way to purchase a quality eBike than to spend money on cheap hunting bikes, thinking you're saving money and getting a good deal.
The truth is that quality hunting eBikes can cost thousands of dollars. However, it's not only important to find a good hunting eBike, but you should also take your time and find a quality eBike retailer.
Why?
eBikeGeneration is one of the top hunting eBike retailers and they have partnered up with financial institutions to help its customers finance hunting eBikes.
Therefore, no matter which eBike you purchase through eBikeGeneration.com, you will be able to finance it with a 0% interest plan and pay monthly for the eBike, yet have it delivered right to your doorstep in only days.
This is the best option for everyone who doesn't have a big budget and yet can pay off the eBike monthly. Even if you have the budget, you can still save money in the long run if you pay monthly since there's 0% interest if you pay off the eBike without being late on your payments.
Conclusion
Cheap hunting bikes don't do any good, no matter how tempting the offer might look. Always consider the pros and cons of both quality and low-quality hunting eBikes and you'll see that spending any money on lower quality eBike is not worth it at all.
With a quality retailer, proper financing plans, and many eBike reviews we have available here, you can make a great decision, hunt with a quality eBike, and never regret the decision!
What is your favorite hunting eBike and why? Will the financing plan help you purchase it?