Electric bikes are a game-changer and it surprises us that they weren't invented earlier. Not only they're convenient, but they're also taking hunting to another level. In this article, you'll find the top 10 electric bikes, but we'll also help you how to find a perfect eBike for your needs.
The truth is that electric bikes aren't cheap and that's why it's important to select a good eBike. That's why we combined this review article with a quick guide that will help you learn how an eBike can help you, but also how to choose an eBike for your needs.
Therefore, keep reading as at least one of the options will be a good fit for your hunting needs!
Benefits of Top Electric Bikes
Top electric bikes are considered the best for a couple of reasons. The main reason is the build quality.
Some of the best electric bikes cost a lot, but they're built using the top components while having the users in mind.
With that being said, some of the best electric bike benefits can help you in your everyday life, when being active, or even when you're hunting.
The biggest benefit of electric bikes is their convenience. You can cruise at about 25 MPH without breaking a sweat. However, you can still get your much-needed recreation as eBikes come with pedals too, and even a system that helps double your energy and improve the speed and range of your eBike.
If you're commuting for work, you won't ever be late again, and you won't ever be so sweaty that you need to change your whole outfit the moment you step into the office.
On top of that, an electric bike can save you a lot of money if you replace start using an eBike for your commutes. Also, if you wisely finance your eBike purchase, you can have the eBike pay itself off!
How to Choose The Best Electric Bike for Your Needs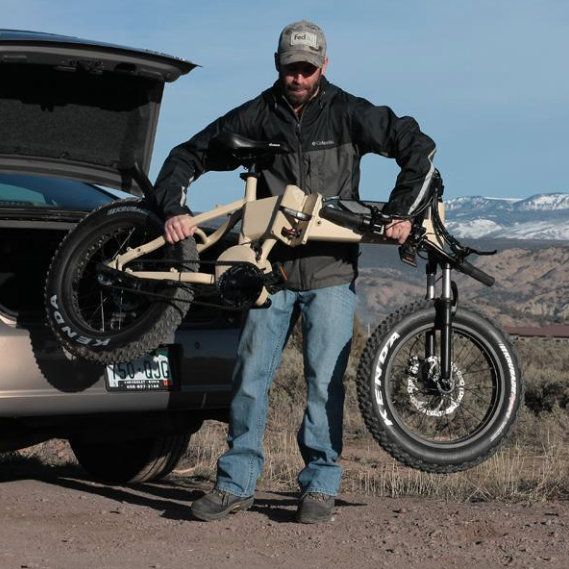 As we've mentioned earlier, electric bikes are pricey. That's why it is important that you make the best choice possible.
With that being said, here's what you have to take into consideration when choosing your new electric bike:
Build and size
Power & range
Accessories
Storage
Price
Build and size will depend on the manufacturer, but most quality eBikes are based on the regular bike frames yet are reinforced for better strength. On top of that, they're built to last longer, and even though they're a bit heavier, they're a lot more stable.
Power and range depend on the motor power and the motor placement. There are mid-drive motors, rear-hub motors, but also all-drive motors. We wrote a full guide on how to select the preferred motor type so we recommend you to read that.
Also, we wrote a full guide on how to choose the power of your motor. But if you're in doubt, going for the  750W is more than enough for most situations.
The range will be determined by a combination of things such as the type of terrain you ride, your speed, weight, weather conditions, and more. However, each manufacturer will always predict the minimal range you can achieve with their eBike.
If not, you can always calculate the range of an eBike with this simple calculator.
Almost all electric bikes will come with accessories so pay attention to what you're getting included in the price. Most hunting eBikes will come with fenders, a convenient display, a rear rack, and even lights. Some hunting bikes are sold as a part of a hunting package where you will get absolutely everything you need.
However, it's also a good idea to check out all of the accessories provided by the manufacturers as you can always purchase them separately and give your eBike an upgrade.
Most hunters love to have a lot of storage so some hunting eBikes are built for that. They include a rear rack, panniers, and can even haul a trailer.
By attaching a trailer to your eBike, you will have lots of space without having to worry about the storage ever again.
And lastly, price is important but keep in mind that good retailers such as eBikeGeneration provide great 0% interest financing plans. This means that you can pay for your eBike monthly at a 0% interest rate. We explain more about this later in this article, so don't miss it!
Top 10 Electric Bikes for Hunting
Electric bikes aren't cheap so your choice has to be spot-on. However, saving on an eBike purchase is something you shouldn't do because it can do more damage than good in the long run. Investing in a quality electric bike is always the right decision and down below, you have 10 of the best electric bikes to choose from!
2021 Quietkat Ranger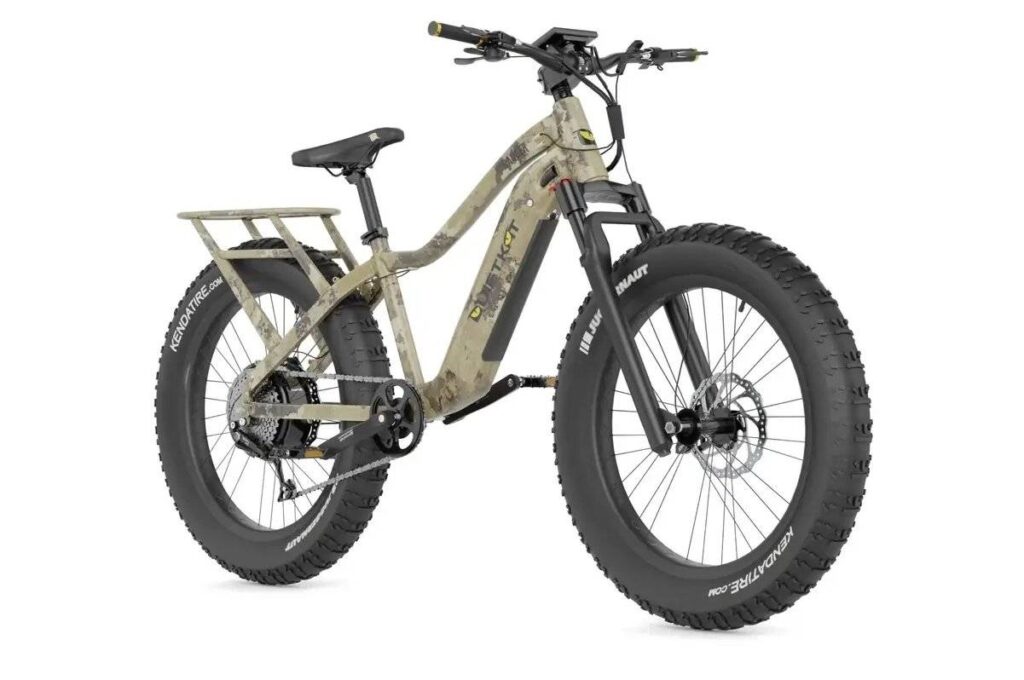 The latest electric bike from Quietkat is the Ranger which is at the top of our list for many reasons. It is a minimalistic yet quality hunting eBike that's built on a reinforced mountain bike frame.
You get the choice of powering option and your choice is between 750W or 1000W motor. The battery is a long-distance Panasonic 11.6Ah 48V battery. Such a combination provides a very great range which allows you to cover at least 35 miles on a single charge.
For better comfort, front fork coil suspension in combination with fat and wide tires will ensure that you have lots of fun riding the Ranger anywhere you wish.
Ranger is there to take you to unexplored wildlife areas and SRAM drivetrain and gearing that will take you up any hill. For the fast descends, two-piston mechanical disc brakes will ensure more stopping power than you actually need so you're always on the safe side.
What's also great about Ranger is that you can switch between gearing or a single-speed version in just a couple of minutes.
There are 3 frame sizes and two finishes so considering the price, you really get a lot of value from the Ranger.
2. Jeep by Quietkat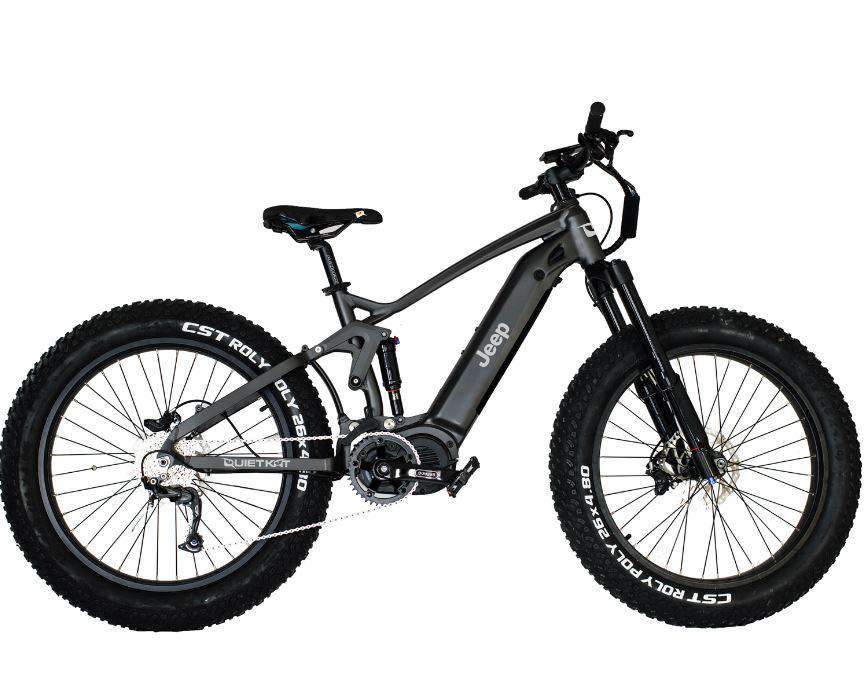 Everyone knows Jeep, right? Well, did you know that Quietkat partnered with Jeep to create one of the best electric bikes in the world?
That's right, and the final result is right in front of you! Jeep by Quietkat is based on either a 750W or a 1000W motor with an unrestricted upgrade kit so you can truly experience the power of the Jeep. Also, to comply with the class type and local eBike laws, Jeep eBike comes with a removable throttle so you'll always comply with the rules.
With a Panasonic long-distance 14.5Ah
48V battery, you can cover up to 58 miles. Of course, the range will also depend on your driving style and even the weather.
What's great about the Jeep eBike is the full suspension that's well combined with ultra-fat and wide anti-puncture tires. This means that the Jeep eBike is made for off-road adventures and that it is ready to explore the wilderness.
Tektro 4-Piston hydraulic disc brakes are there to ensure the proper stopping power as you will be able to maximize the power of the motor and run it up to 1500 watts of power at its maximum.
3. Rambo Prowler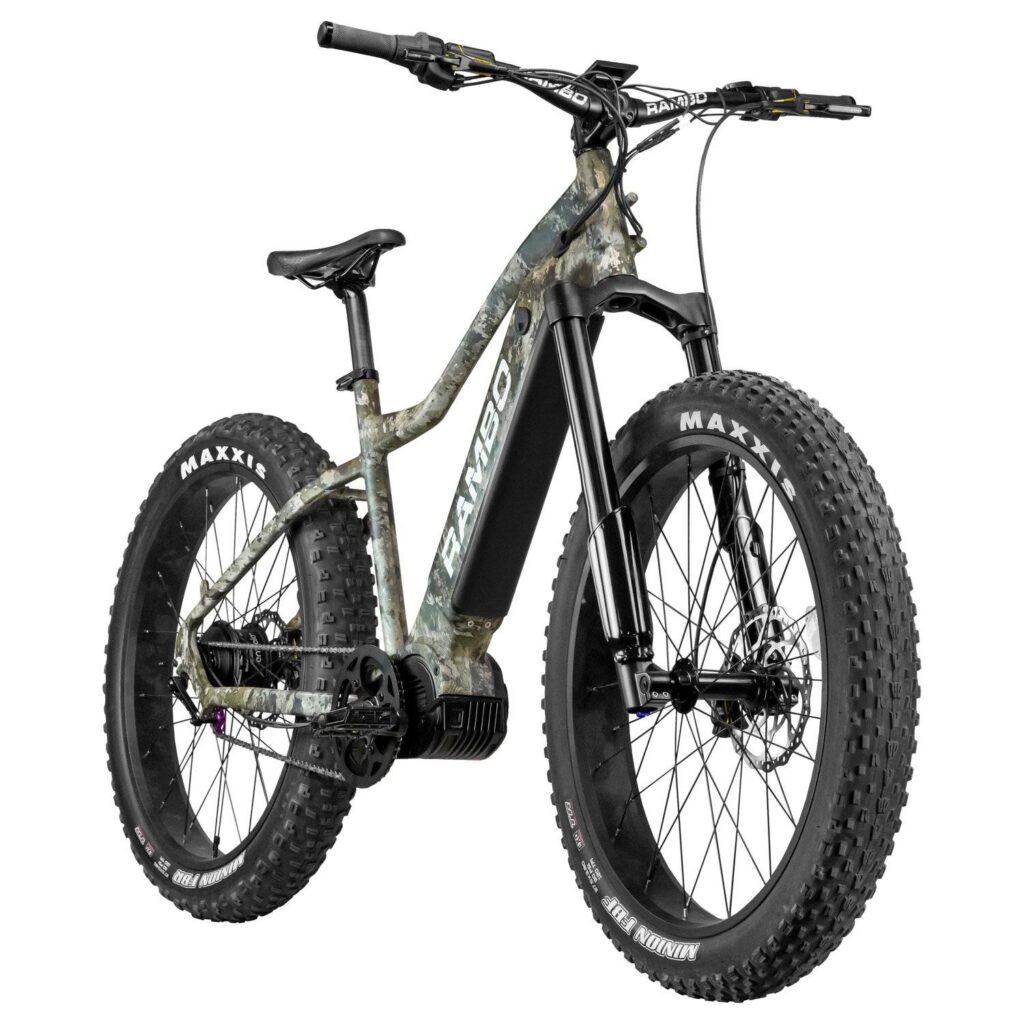 If you're looking for an eBike that combines comfort and stability, that's unstoppable – Rambo Prowler is a great pick.
Prowler is an eBike based on Bafang's 1000W mid-drive motor in combination with a Samsung 48V 17Ah battery. On a single charge, you can cover up to 40 miles, but keep in mind that the range will also depend on the way you ride the eBike.
The eBike weighs 70 lbs (with battery included) and yet it can hold up to 300 lbs of capacity. This is ideal for everyone who wants to invest in a cargo trailer and haul the equipment.
With a front air suspension, wide fat tires, and a thumb throttle – you'll be ready for action no matter what terrain you ride in.
What's also significant about Rambo Prowler is that it's built with the Enviolo gearless technology that has a 380% gear range. Therefore, climbing hills or riding on flat surfaces of any type – you'll always have a great for it.
Also, keep in mind that with the purchase of Rambo Prowler, you'll also get free accessories such as the rear rack and front & rear fenders.
4. Bakcou Flatlander (Hunter Package)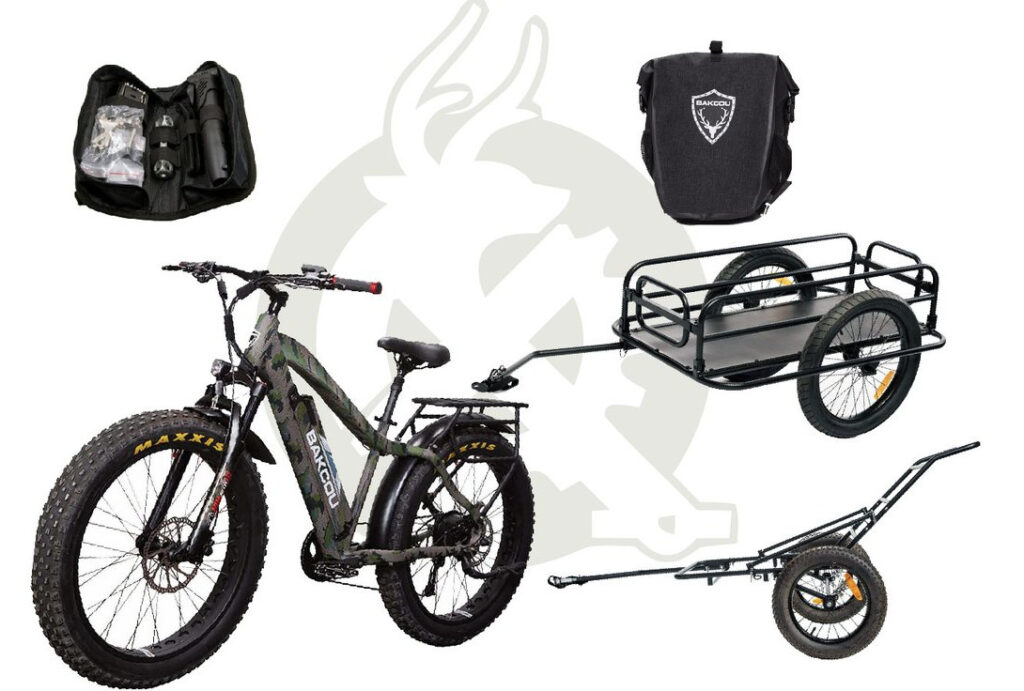 Flatlander is a great choice because it's very affordable and yet it comes with a hunting package. The hunting package adds a cargo trailer and all needed accessories such as the trail-side repair kit, dual pannier bags, rear rack, fenders, lights, and a display.
This eBike is based on a 750W rear hub motor that's combined with a Panasonic 48V 14.5Ah battery. Such a combination allows you to cover up to 40 miles on a single charge. The range can also be lower or higher, depending on the way you ride your eBike, the terrain you ride, and even weather conditions can play a role.
Even with equipped accessories, Flatlander is on the lower end of the weight, weighing only about 63 lbs. Still, since Flatlander is equipped with a thumb throttle and a hill-climbing Shimano 9-speed, you'll never have to worry about tackling down the hills, no matter the terrain type.
Wherever there's land that you'd like to conquer and explore, Flatlander is a great choice for the price it costs!
5. e-Cells Super Monarch AWD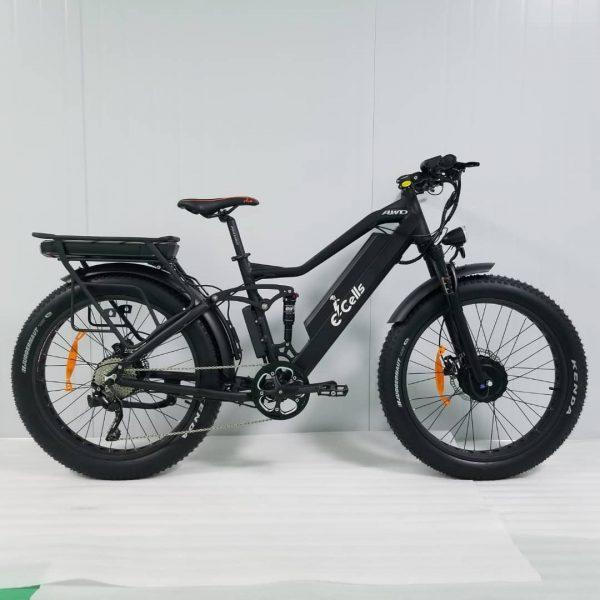 When you're looking for something extreme and you're all about getting the most power out of the electric bike – e-Cells Super Monarch AWD is the right pick for you.
Why?
e-Cells Super Monarch AWD is an all-wheel drive meaning that it comes with two motors and two batteries. With that being said, this eBike can unleash about 3000 watts of power onto the wheels.
With twice the torque, and yet two batteries, you can still achieve a great range of about 40 miles on a single charge.
Shimano's 10-speed gearing system comes with the new Dyna-Sys technology that stabilizes the chain during your rides as a bouncy chain can not only cause noise but also damage your drivetrain and other components.
With an 18 MOSFET controller, you can activate both motors, or only depend on one motor at a time. This is super useful to go out and have a blast but also preserve the range.
6. Bakcou Mule Elite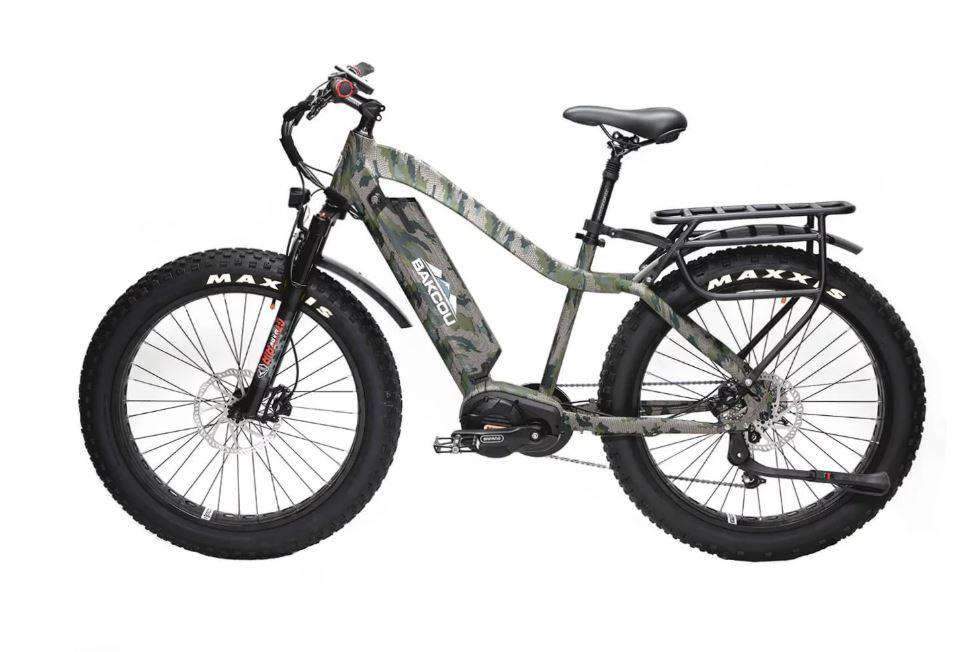 If you're looking for an advanced electric bike that's ideal for any terrain and is a great help for hunters, Bakcou Mule Elite is the right eBike to look into.
Bakcou Mule Elite comes equipped with a Bafang Ultra mid-drive motor that allows you to toggle between 750W and 1000W of power. The peak power it can produce is 1500W so if you're in dilemma or don't know which motor option to go for, this can save you time.
With a Panasonic 48V 17.4Ah or a 21Ah battery, you can easily cover at least 40 miles on a single charge.
There's only one frame size which is 18″ and which makes this eBike suitable for riders between 5'9″ and 6'4″. However, if this bike doesn't fit you, look into the same version yet with a step-through design.
When it comes down to gearing, Mule Elite is ideal for hill-climbing as it is equipped with a Shimano Alivio 9-speed, 40T front, and 11x36T cassette.
The weight of the whole eBike (including the battery) is only 68 lbs and yet the maximum capacity is up to 300 lbs which is ideal for hauling a cargo trailer behind.
7. Bikonit Warthog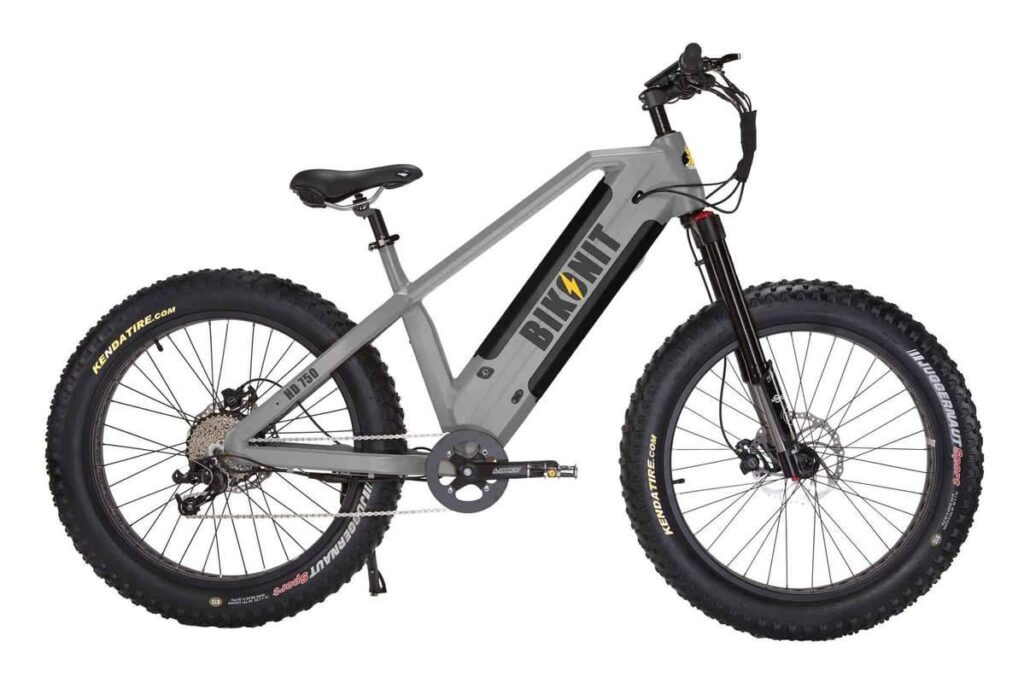 If you're looking for a reliable, durable, and robust electric bike that will take you to places you were never able to reach, Bikonit Warthog is the ideal eBike for you.
Bikonit Warthog is equipped with a 750W geared hub motor and an LG 48V 15Ah battery with the ability to upgrade to the 30Ah version. With such ability, Warthog can cover from 20 to 35+ miles on a single charge and if you upgrade the battery, you can cover anywhere between 60 to 85+ miles on a single charge.
Of course, the range will depend on your riding style, whether you use the pedal assist, weather conditions, and more.
For improved comfort, Warthog features a customized air suspension and Kenda Juggernaut 4.5″ wide tires that can take you almost anywhere you wish.
In combination with Velo grips and Promax low-rise handlebars, not only you'll have a comfortable riding position, but you'll also be able to maneuver and steer in any corner at the top speed without worrying about the wipeouts.
8. Delfast Top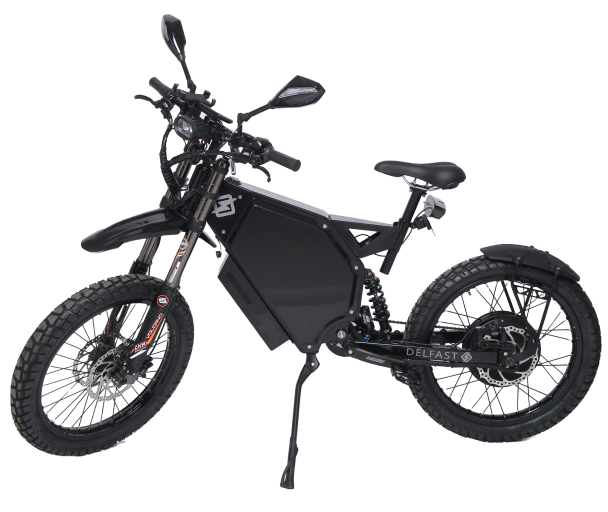 If you're looking for an extreme electric bike that almost works like a dirtbike, you're looking at the Delfast Top – the Guinness Worlds Record winner for the longest range on a single charge.
Delfast Top can cover up to 200 miles on a single charge which is 4 to 5 times the average eBike range!
This makes it a perfect city or offroad bike that won't require you to charge it on a daily basis and yet it can be a winning eBike for road trips.
If you're worried about the range and you're still in doubt if an electric bike is for you, there's no better choice than Delfast Top.
One battery can help you cover up to 600 000 miles on a single charge which is incredible and hard to believe, but Delfast Top didn't win the world record for anything!
We should also mention that Delfast Top is one of the fastest eBikes on the market too since it you can easily achieve 50 mph with the top speed being 62 mph.
You get to choose between 3 wheel options: moto, dirt cross 19″, and city 24″. Also, you get to choose between a bike seat or a moto seat.
For the added comfort, Delfast Top also comes with a 203mm stroke fork and a one-disc brake system that won't overheat no matter how much you use the brake and at what speeds.
9. Quietkat RidgeRunner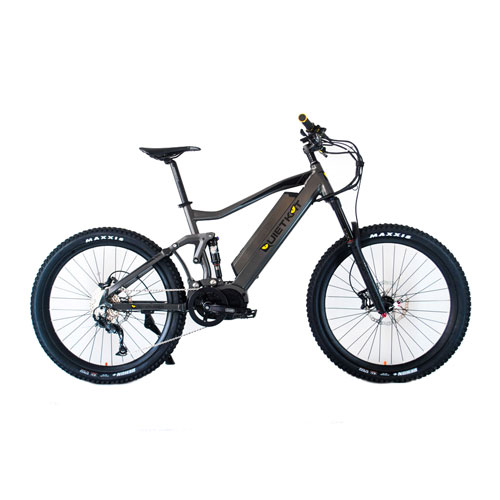 If you're looking for an electric bike with a full suspension system, Quietkat RidgeRunner is the right choice.
RidgeRunner is a mountain electric bike with a full suspension and a powerful 1000W motor that can produce about 1600 watts of power at its peak. This is perfect for off-road use, but if you have to comply with the eBike laws in your state, you can easily limit the power of this eBike electronically to meet Class 1 or 2.
With a 16Ah 48V battery, you can cover up to 64 miles on a single charge, depending on your riding style, weather conditions, and the type of terrain.
RidgeRunner also comes with 26 x 4.8″ wide fat tires, but you can also easily switch them for 29″ mountain bike tires for better flexibility as the frame allows it.
This eBike is also available in two frame sizes, 17″ and 19″ so it will fit almost any rider out there.
10. Quietkat Apex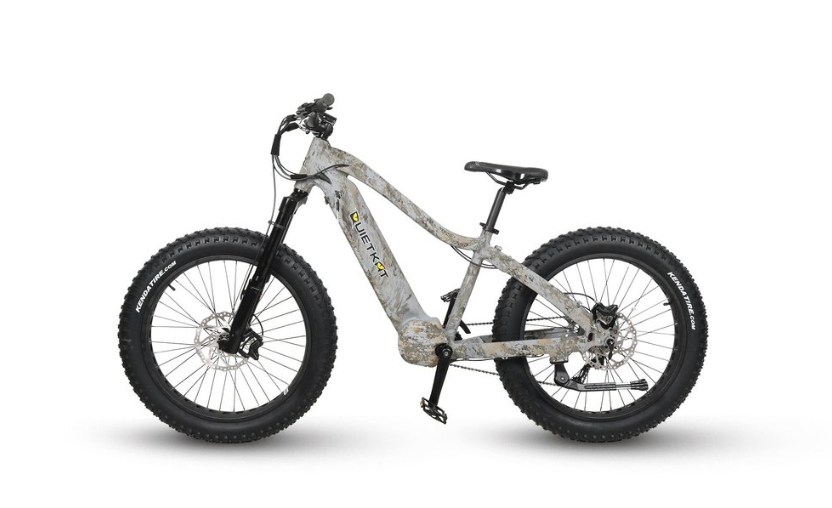 Last but not least important is another electric bike from Quietkat which is the Apex.
Apex is an electric bike for almost any rider as it comes in 3 frame sizes: 15″, 17″, and 19″. It also comes with different powering options and you get to choose between a 750W, 1000W, or even 1500W mid-drive motor.
It's no secret that Apex is one of only a few electric bikes that really give plenty of options to riders so you can also choose the battery. The choice is between a 17.5Ah 52V or a 14.5Ah 48V battery.
Needless to say, on a single charge, you can cover almost 60 miles with Apex eBike. For better manueverability, comfort, and better performance, Apex is also equipped with high-end components such as SRAM 9-speed gearing system, 4-piston hydraulic disc brakes, inverted air-suspension fork, and even Kenda Juggernaut 26″ x 4.5″ wide fat tires.
Apex is also one of the eBikes that offer higher load capacity than the average eBike as you can carry or haul up to 325 lbs on the Apex (including the rider's weight).
How to Afford an Electric Bike Without Breaking the Bank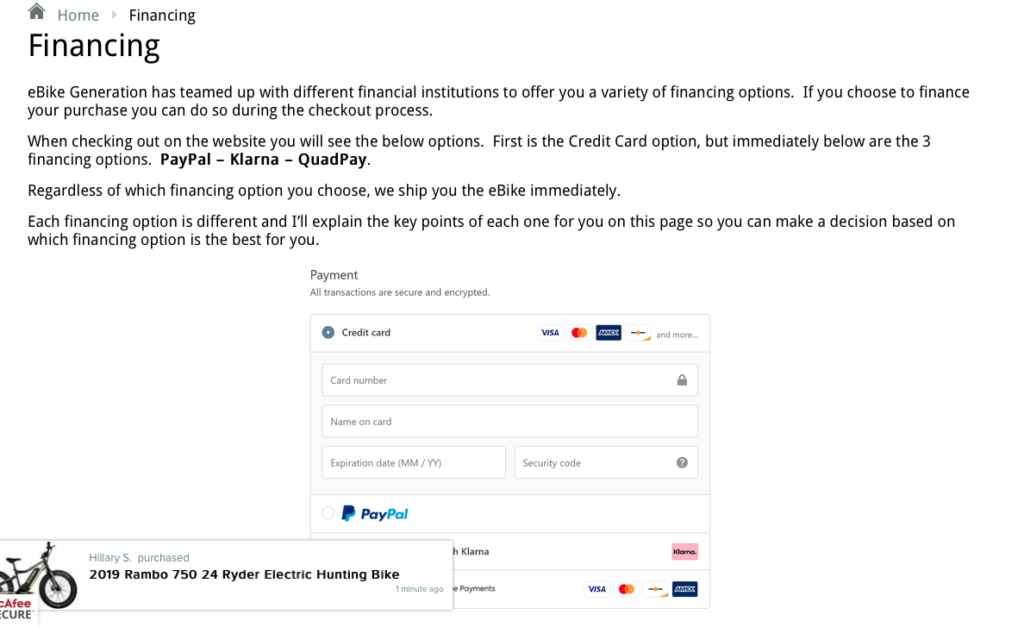 Not only is it important to find a quality electric bike, but you should also find a good retailer to purchase the eBike from.
Great retailers such as eBikeGeneration offer a great range of electric bikes at a very decent price. However, they have also partnered up with financial institutions to provide their customers with multiple financing plans to easily purchase the eBike.
eBikes aren't cheap, but paying for the eBike on a monthly basis can make things a lot easier, especially considering that there's no interest involved. And if you start commuting with an eBike instead of your motorized vehicle, you can save money on gas and have the eBike pay itself off!
Through the eBikeGeneration store, you can choose between financing plans from PayPal, Klarna, and or QuadPay. The acceptance rate is high and you only need to provide some information that won't take you longer than 10 minutes.
Conclusion
Looking for a new electric bike can be both exciting and exhausting time as there's some work you have to do even before making the purchase.
However, taking time to do your research, learn a couple of things, and find an eBike that will fit your needs shouldn't too much of your time.
And to help you out, our list of the top 10 electric bikes can help you narrow down your choice to a couple of electric bikes.
With the proper financing, you won't have any problems investing in an eBike and making a change in your life!
What do you like the most about electric bikes? Which eBike from the list do you like the most and why?