Electric hunting bikes provide many benefits, and what many hunters don't realize is that the sound of a quad bike or an ATV can really ruin your hunting game.
Instead, quiet eBikes for hunting provide the opposite, and can actually improve your hunting game since you can be stealthy and never tip off your game, no matter the time of the day or night.
Finding a good hunting eBike that's going to tick all the boxes and yet will provide one of the quietest experiences so you can focus on your hunting and never have to get distracted by the sound again can be tricky.
But down below, you'll find out exactly what to look out for to get a quiet hunting eBike, but also see the 6 best quiet eBikes for hunting!
How Come Hunting eBikes are so Quiet?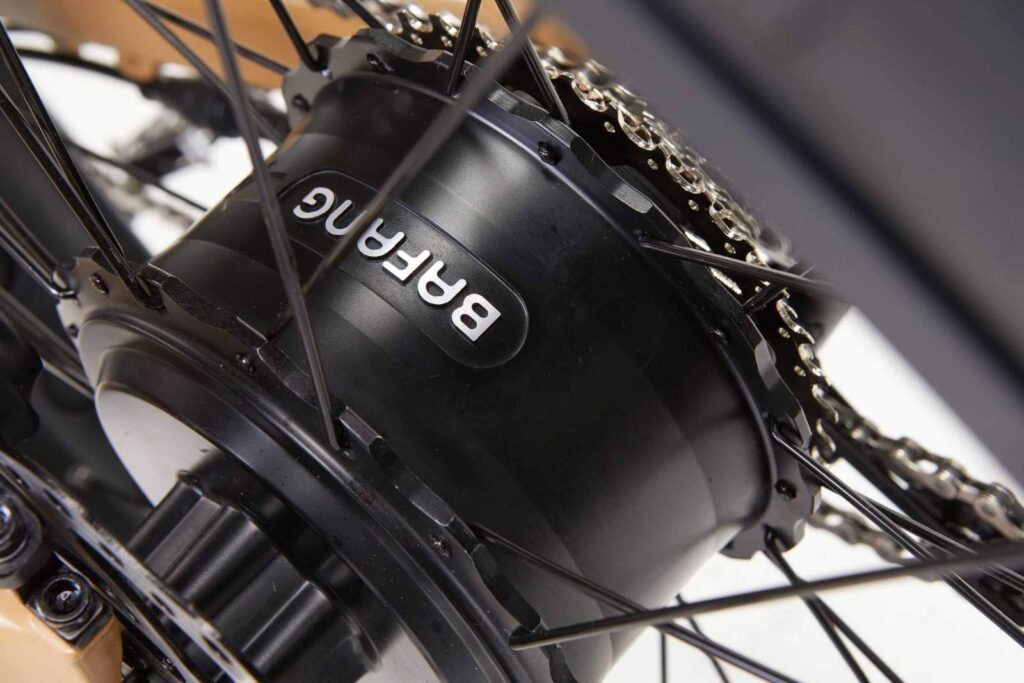 Hunting eBikes are powered by electricity and they utilize a motor that's often placed in the rear hub of the wheel or in the mid-drive of the eBike.
The battery generates electricity to power the motor, and if you've been paying attention to the electrical vehicles, you'd notice that even cars produce very little to no sound at all.
The same applies to hunting eBikes which are a lot lighter and require less power to run. As a result, hunting eBikes also produce very little and most often, no noise at all. All you get to hear is the noise of wheels plowing through any terrain you set it to.
Some eBikes really hide the battery and motor well that you wouldn't even notice that it's an electric bike at first. Of course, this all comes with benefits that you can read more about in the section below!
Advantages of Quiet eBikes for Hunting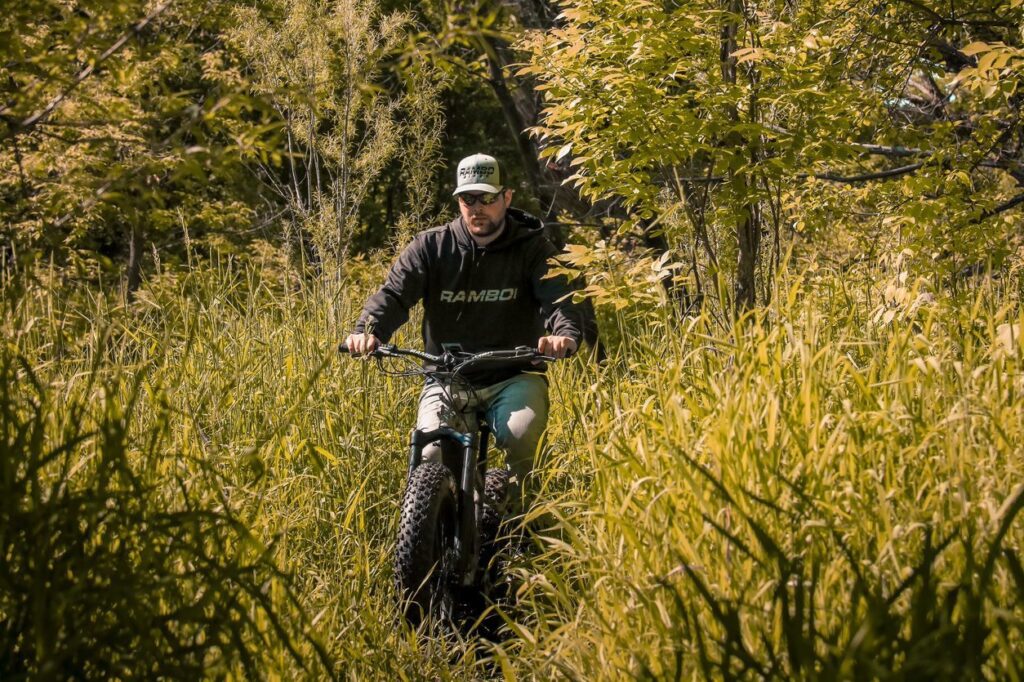 If you never gave an electric hunting bike a try, you would be surprised to know that hunting eBikes aren't any louder than regular mountain bikes.
The biggest advantage of quiet eBikes for hunting is that you won't produce any noise, therefore, you can be stealthy which provides additional benefits. Not tipping your game off, not making noise that can potentially ruin your hunting game by scaring your prey away, or even disturbing other fellow hunters.
This means that you can take hunting eBikes a lot further into the wilderness at any time of the day or night without being heard.
Even at the pitch dark night, your movement will make more noise than the motor that's powering a hunting electric bike.
Another great benefit is that it won't be a distraction to you or anyone you're hunting with, so you'll be able to focus on your hunting and aim.
Even when you carry a lot of weight, drag an eBike trailer, and go up the hill, you won't ever hear any noise produced by a hunting electric bike. You can even take full advantage of eBike's power and test its limits without hearing any change in the way your eBike operates.
Also, keep in mind that rear-hub motors produce slightly less noise than mid-drive motors, so all of the picks below are eBikes that are powered by a rear-hub motor!
Quietest eBikes for Hunting
Finding a quiet eBike can be tricky but it's not the hardest thing to do. However, if you're looking for the quietest eBikes for hunting that will also provide other quality advantages and benefits, the picks below won't let you down!
Bikonit Warthog 750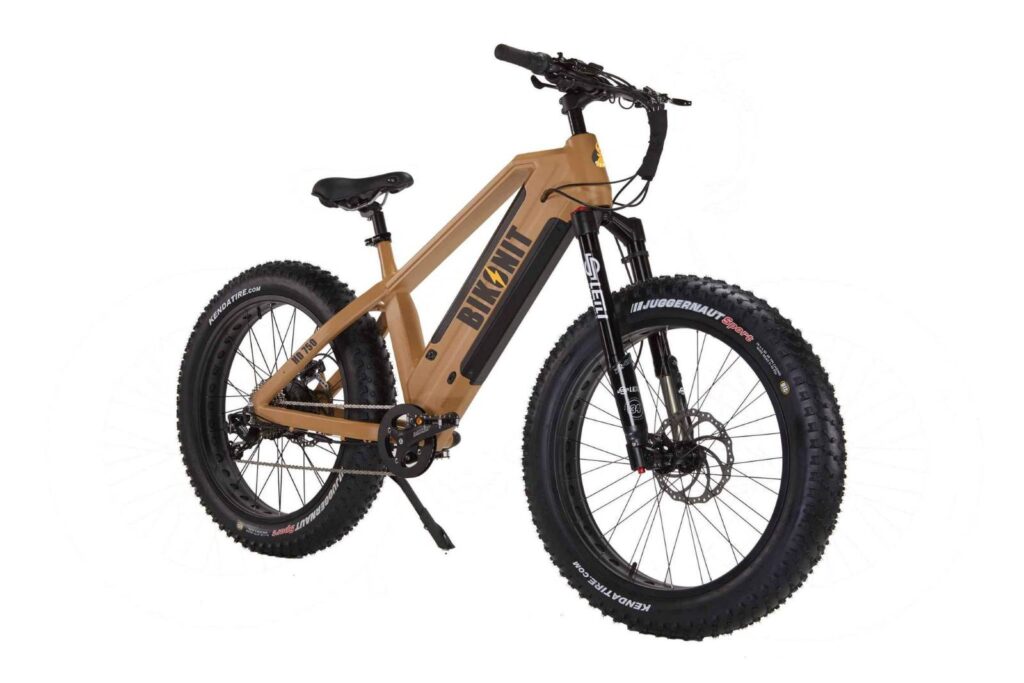 If you're looking for one of the quietest eBikes for hunting that won't break the bank and yet will provide silence to your ears, Bikonit Warthog 750 is a great choice.
This hunting eBike is powered by a rear-hub Bafang 750W motor in combination with an LG 48V 15Ah battery.
The motor is placed in the rear hub next to the gears which helps provide less noise than mid-drive motors, and on top of that, the noise of a wheel spinning down the trail also helps minimize any noise produced by the motor.
That's one of a couple of reasons why Warthog 750 makes a great choice. Other reasons include the ability to add a dual pack battery.
While with the standard range, you can achieve up to 35 miles on a single charge, if you opt-in for a dual battery, the range extends up to 80 miles on a single charge.
As you have a look at other components, you'll notice custom-built and integrated components such as Bikonit customized front-fork air suspension, Tektro piston hydraulic brakes with rotors that have the ability to cut the power off, and even Kenda Juggernaut ultra-wide (4.5″) tires.
Even though this hunting eBike weighs only 64 lbs without a battery, thanks to the reinforcements, it has a loading capacity of up to 300 lbs.
Quietkat Apex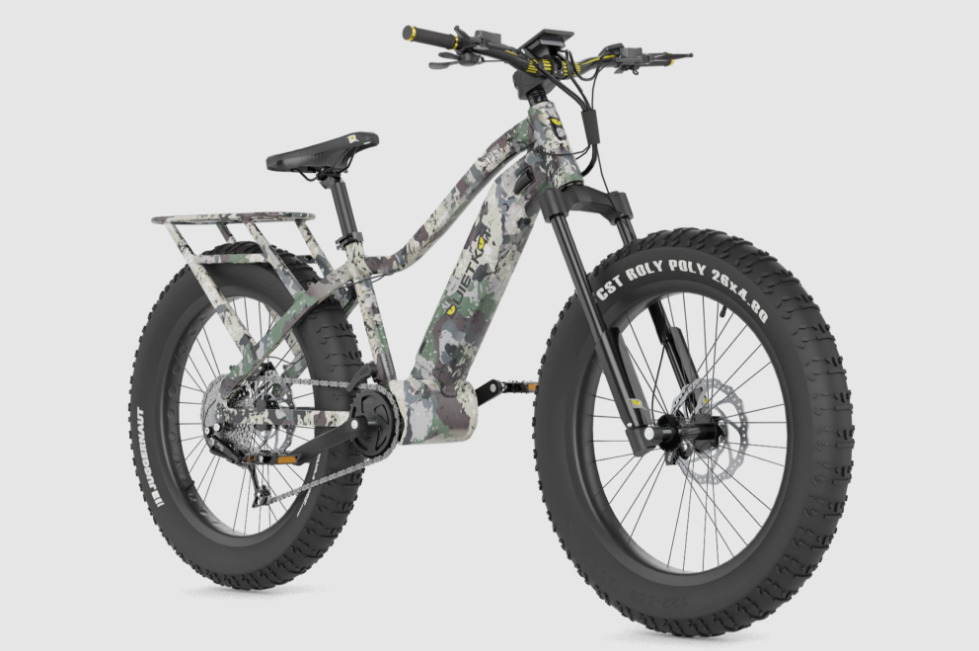 Quietkat Apex is a hunting eBike that's powered by a mid-drive motor, but it's still as quiet as eBikes powered by a rear hub motor.
This is thanks to the high-end mid-drive motor system that works well with the Apex' thru-axle on both rear and front bearings for an optimized and smooth ride in any condition.
In combination with a wide-range gearing system, this eBike is built for the toughest terrains out there but also for the highest hills and climbs. You can conquer them without hesitation to reach destinations you haven't reached before.
With SRAM 9-speed gearing system, Tektro 4-piston hydraulic disc brakes, and removable thumb throttle, you'll be able to ride Apex anywhere, without making any noise.
For comfort, Apex eBike comes equipped with QK inverted air suspension and Kenda Juggernaut wide 4.5″ tires.
When it comes down to battery and range, you can choose between the following options: 52V 17.5Ah or a 48V 14.5Ah battery. Therefore, the range you can achieve is up to 60 miles on a single charge with the larger battery pack, which is definitely above the average.
And with an integrated rack in combination with a great load capacity of 325 lbs, you can literally take Apex anywhere, get the game without making any noise, and recover it without trouble.
Rambo Venom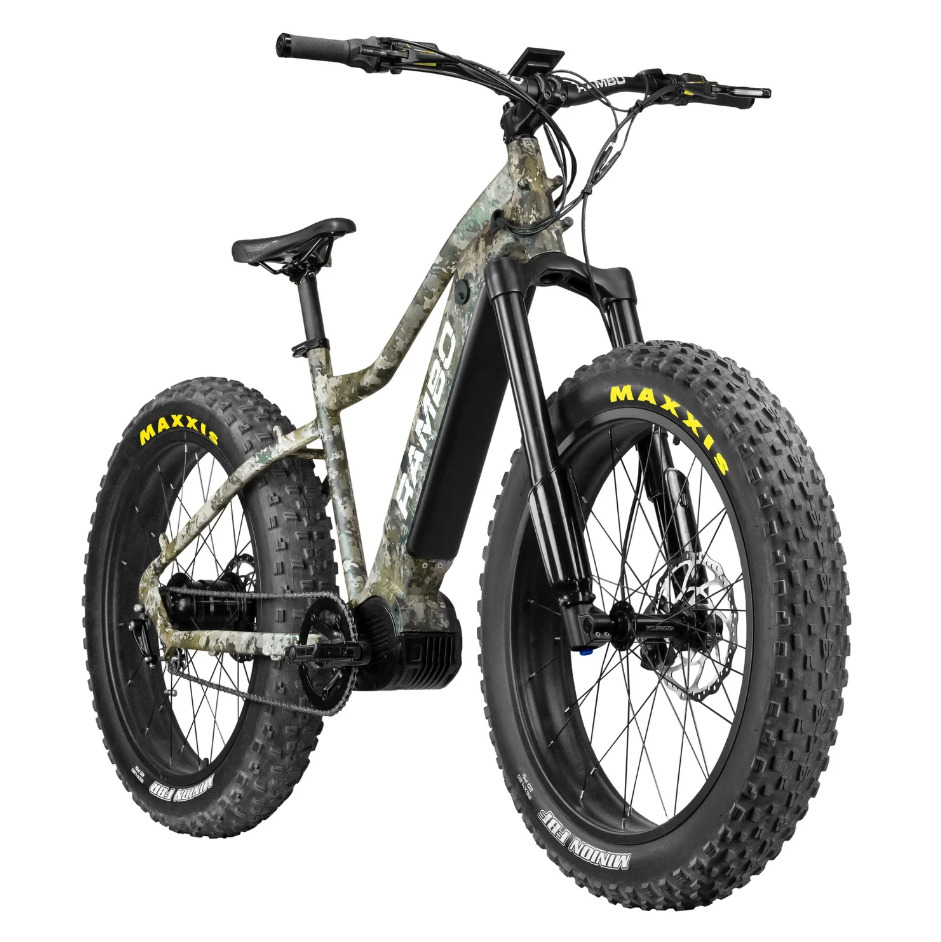 Rambo Venom is a quite pricey, but high-end quality hunting eBike that won't only ensure that you're quiet at all times, yet that you have everything you might need to improve your hunting game. On top of that, priceless reliability is Venom's top priority.
Venom eBike is equipped with a well-known Bafang Ultra Drive 1000W motor that can produce enough power to pull you and your storage up the hill, in any type of terrain, and in any weather conditions without much problem.
Along with the powerful Bafang motor, Venom eBike is equipped with a Samsung 48V 17Ah battery. Such a combination allows you to silently cover up to 40 miles on a single charge.
However, anywhere you look, you'll notice how Rambo Venom is built to last and it's built with quality in mind. Quality and robust aluminum alloy that integrates the battery for better protection, but also for a lower center of gravity ensures that you enjoy handling this eBike no matter how short or long your trips are.
With high-end components such as GT860 air force front-fork suspension, Rohloff 14-speed hub, Tektro hydraulic disc brakes, and most importantly, a custom Rambo 44T narrow chain, you'll be able to push through any obstacle on the way.
Bakcou Carbon Alpha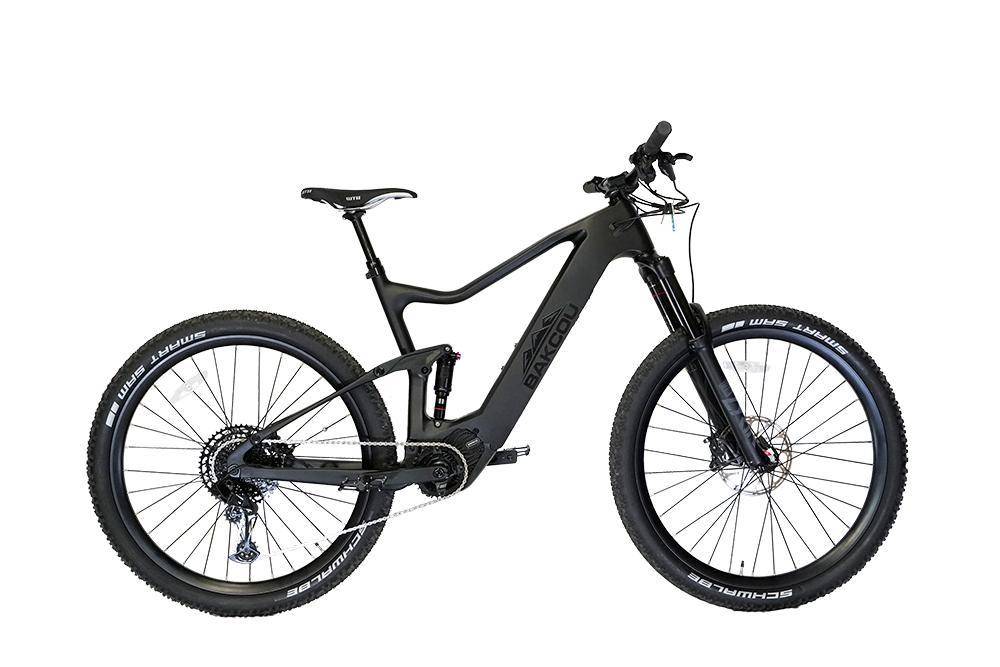 If you're a big fan of hybrid bikes and yet you'd like a hunting eBike that's built off of the hybrid bike frame and yet is fully customized to handle the rough terrains of the wilderness, Bakcou Carbon Alpha makes a perfect choice.
Bakcou Carbon Alpha is a sporty hunting eBike that comes in 3 different frame sizes, and it comes with plenty of power while retaining a good range, allowing a very comfortable and most importantly, quiet ride.
This eBike is powered by a Bafang M600 500W motor which comes with an advanced Triple sensor system that includes 1 torque and 2-speed sensors. These sensors help the motor provide immediate power output and exactly the amount of power needed, depending on the pedaling force.
Carbon Alpha eBike also comes with an extended distance 14Ah lithium-ion battery which in combination with the motor can help you cover up to 60 miles on a single charge.
Even though this eBike doesn't come with wide fat tires yet features more of a slick variation, you'll still be comfortable thanks to the full suspension system that's fully adjustable with DebonAir.
With a light carbon frame, you'll be able to blaze through the forest and ride your favorite trails without worrying about any obstacles on the way. Of course, you won't hear anything other than the wind in your ears!
Rambo Rooster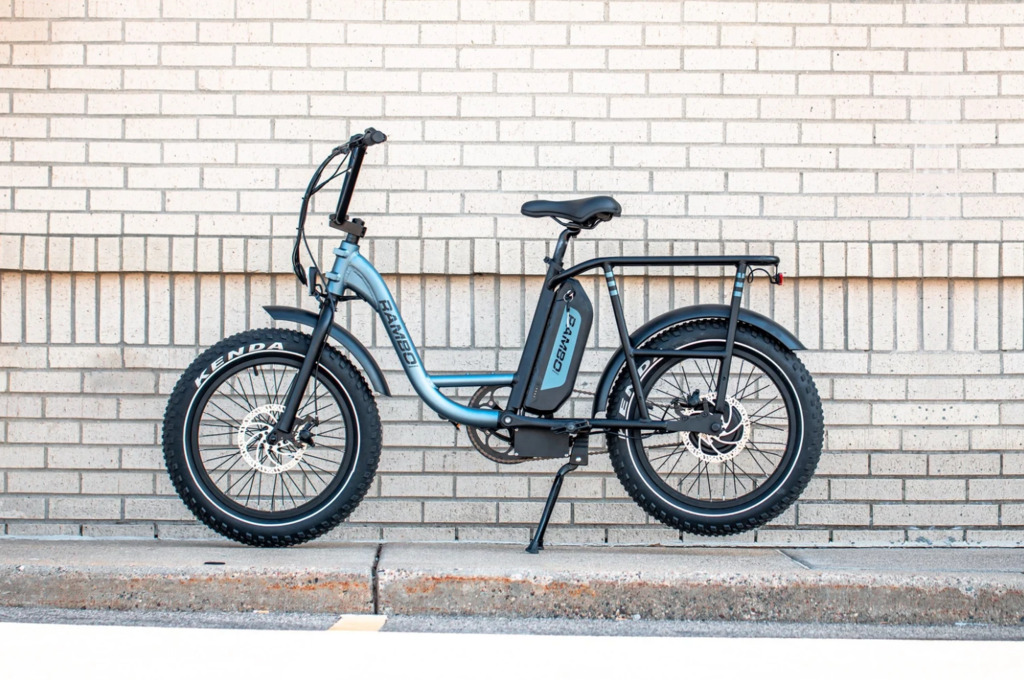 If you're looking for the most affordable yet quiet hunting eBike that will be easy to use, easy to transport, and even easier to enjoy, Rambo Rooster is the perfect pick.
Rambo Rooster is a hunting eBike that's based on a lower step-through frame which is as durable as the frames of other eBikes based on the mountain bikes.
This eBike comes equipped with a rear-hub Bafang 750W motor with the high-torque feature. In combination with the Samsung 48V 14Ah battery, you get to cover 35 miles without having to pedal at all.
If you decide to use pedals and help yourself out, you can extend the range up to 60 miles on a single charge.
Considering that this motor is super powerful as it can produce 80Nm of pure power on the rear wheel, knowing that it's still as quiet as others, a lot more expensive hunting eBikes is incredible.
Smaller in size yet Rooster eBike still comes equipped with wide 4″ tires that will plow through any trail, off-road path, and location you take it to.
On top of that, Rooster comes with an integrated rear rack, front and rear fenders, and a stand you can easily use even when seated on the eBike so you're always ready for a stop and to take a shot without having to get on or off the eBike.
Bakcou Flatlander Hunter Package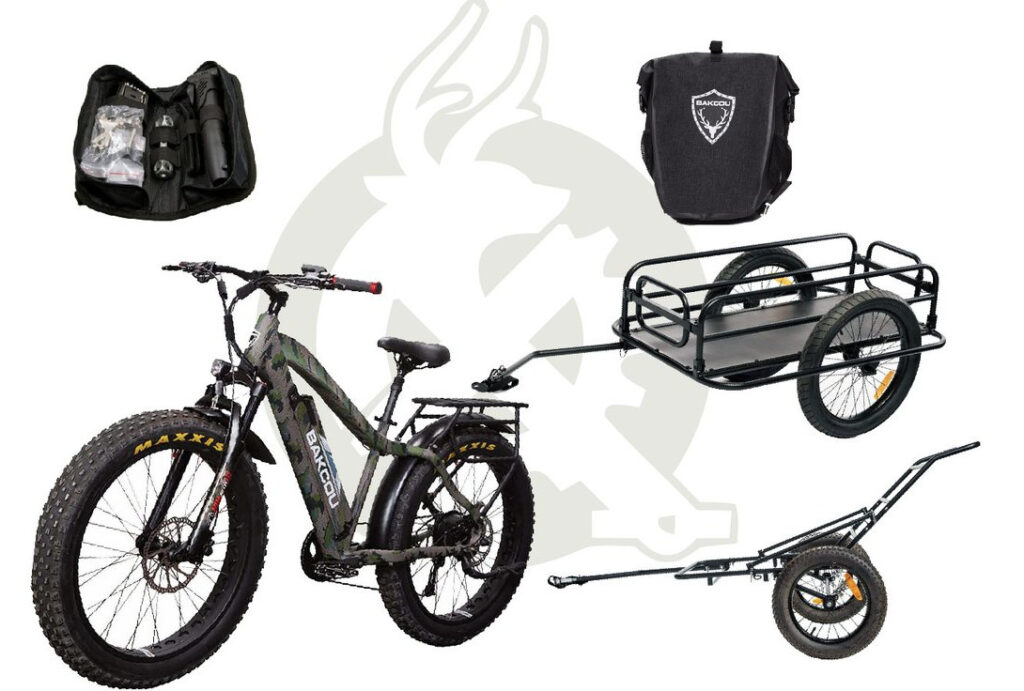 When you need a versatile hunting eBike yet you want a quiet eBike that you can take anywhere and that won't let you down, Bakcou Flatlander is a great choice.
Bakcou Flatlander comes with a rear-hub Bafang 750W motor and with a Panasonic long-range battery where you get to choose between 48V 17.4Ah, 19.2Ah, or 21Ah.
On a single charge, with the 17.4Ah battery, you'll be able to cover around 40 miles, while you can get a much better range.
Combine this with Maxxis Minion wide fat tires, wide handlebars that allow better manueverability, and an aluminum alloy frame that's tough and durable yet pretty lightweight, and you get a perfect eBike that can handle any type of terrain.
You should also keep in mind that this eBike comes as a part of a hunting package which includes additional accessories such as a trailer of your choice, trail-side repair kit, front and rear fenders, and dual pannier bags.
The eBike weighs only about 63 lbs and yet it can handle a load capacity of 300 lbs, which is incredible. Other than quietly closing in on your prey, you get to recover it easily by attaching a cargo trailer to the eBike.
Conclusion
Quiet eBikes for hunting are the future and not only are they quiet, but every component of the eBike plays a huge role in providing benefits and advantages that can improve your hunting.
Even though some of these hunting eBikes are pricey, keep in mind that they're high-end eBikes that are built to last and yet make a great investment.
No matter which eBike you choose, you won't go wrong and you'll enjoy peace of mind while you're cruising down your favorite off road paths and trails.
Which one of these quiet eBikes for hunting do you like the most and why?