Electric hunting bikes bring many benefits, yet the biggest fear of almost every hunter is whether or not eBike will provide enough storage space. That's where the mountain bike trailers for hunting come in place!
The rear rack is a great solution to expand space on a hunting eBike and most hunting eBikes already come with it. However, taking your hunt to another level or even recovering your game, you will need a trailer.
Even though bike trailers are an investment, you'll never regret making the investment. Why?
They improve the versatility of a hunting eBike and make it one of the best solutions you couldn't imagine your hunt without. Therefore, keep on reading as we won't only review some of the best hunting trailers but we'll also touch on the benefits and even the selection process!
Benefits of Mountain Bike Trailers for Hunting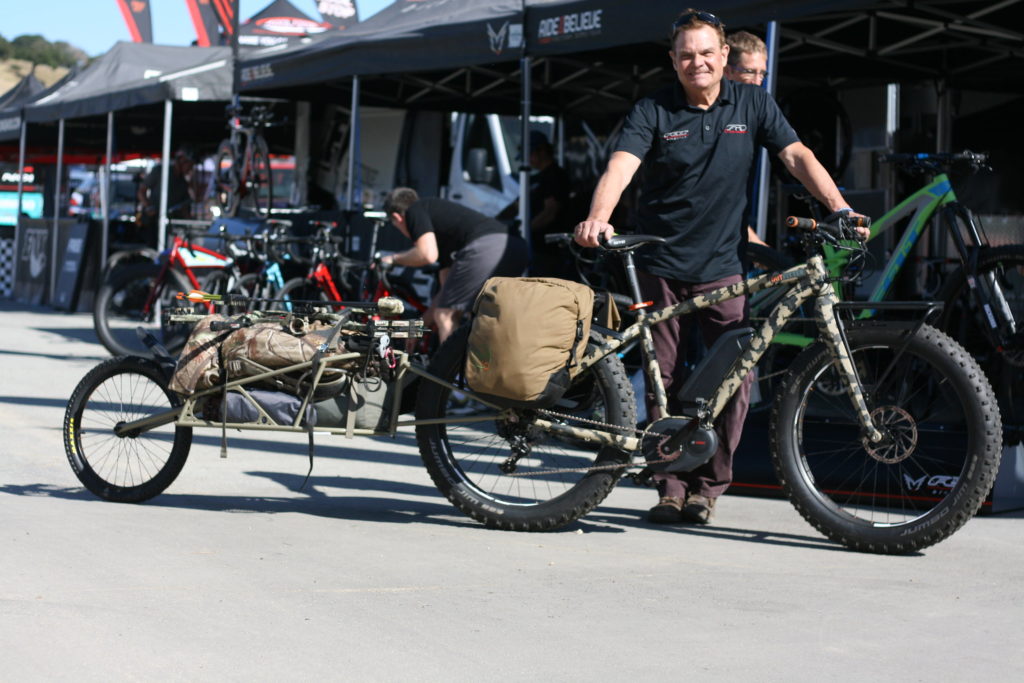 The biggest benefit of mountain bike trailers is the space. You will be able to completely rely on a hunting eBike without ever wanting to go back to any other hunting vehicle.
The trailer will allow you to carry extra gear, equipment, and even recover the game after a successful hunt.
With that being said, hunting eBike trailers are very compact and they won't take much space. This means that you'll be able to easily transport it and even store it when you're not using it.
Some hunting trailers are so well designed that they won't sacrifice any benefits of hunting eBikes. What we mean by this is that hunting eBikes are super useful for finding and riding narrow trails. Hunting trailers are compact and won't stop you from finding new paths you haven't explored before.
Almost all hunting eBikes are designed to haul a decent weight capacity so you won't have to worry about overloading the trailer or your eBike.
One thing is for sure, space won't be an issue anymore!
How to Choose a Mountain Bike Trailer for Hunting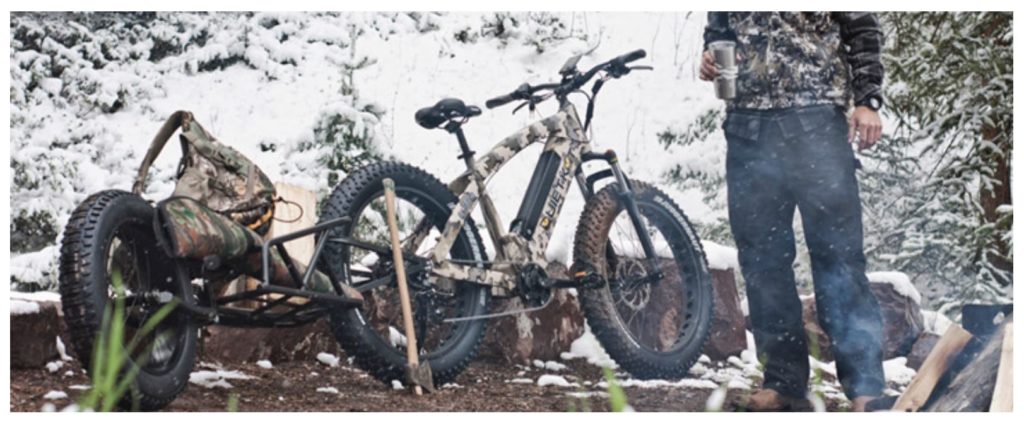 By browsing our reviews below, you'll notice that there are many different trailer types – but how do you know which one is a great fit for you?
We recommend you to check out available trailers from your eBike manufacturer. If you've purchased your hunting eBike from some of the best and most known hunting eBike manufacturers – this will pay off.
Why?
These manufacturers also produce specific and custom accessories (including eBike trailers) that will fit your hunting eBike like a glove.
From there, you will have a couple of different trailer types. It's important to find out which trailer would provide you the volume you require and also the size you'd be happy to haul behind your eBike.
Some trailers come with only one wheel and are super narrow which is useful for very narrow paths. On the other hand, cargo-type trailers come with two wheels and they can wide yet provide a lot more volume.
It's important that you find out what needs are you solving by getting a hunting bike trailer before you make the selection. We believe that this will really help you in the process of selecting "the one".
Best Mountain Bike Trailers for Hunting
Down below, we'll review 6 of the best mountain bike trailers for hunting, and yet each one of these trailers is different.
Therefore, have a closer look, consider the features and options, and then make a decision on which one would work the best for your hunt!
Bakcou Folding Deer Trailer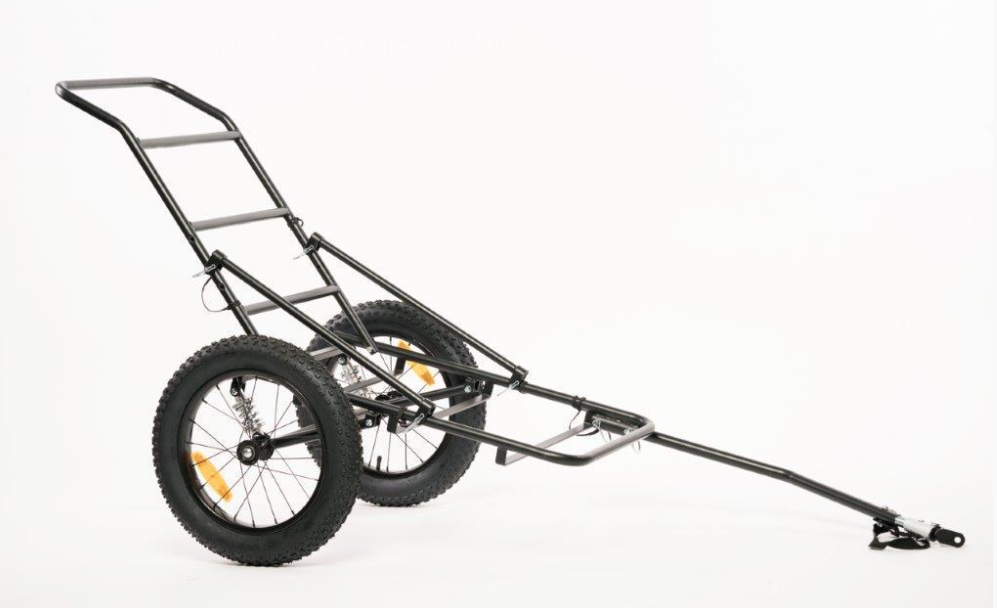 Are you a type of hunter who's looking for the ideal solution to recover your game after a successful hunt?
If that's a yes, Bakcou might have a great trailer for your needs. This trailer is a folding deer trailer that can be pulled by an eBike, but it can be even used as a handcart.
The space it provides measures 18″W x 48″ L and the outside wheelbase measures 27″. If you're not looking for the most narrow trailer, this might be a great choice for not only recovering the game but also carrying gear to and from the stand.
The trailer only weighs 25 lbs and it can handle anywhere from 150 to 200 lbs of loading capacity depending on the trail.
When you attach it to your eBike, the total length will be 72″ which is only 60″ from the back tire of the eBike.
The great thing about this trailer is that it will fit Bakcou hunting eBikes, but it can also fit any other eBike as long as you have a KID axle installed on your eBike.
Bakcou Hunting Cargo Trailer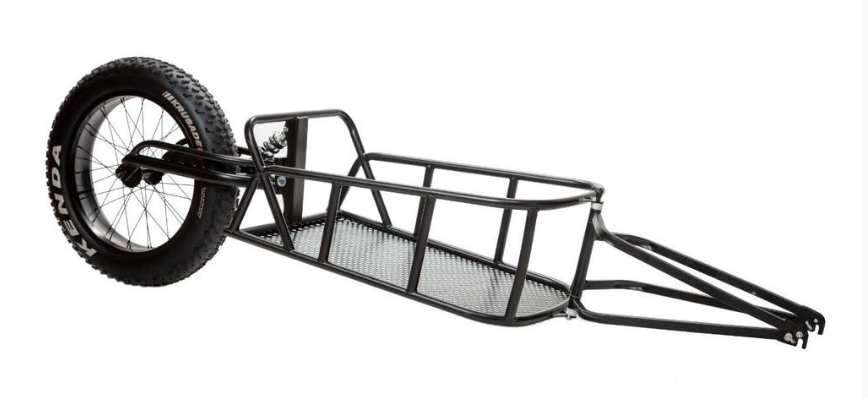 If you're looking for the most compact hunting trailer that will still allow you to ride through supper narrow paths, this is the trailer you're looking for.
This is yet another quality trailer from Bakcou and yet it's a cargo trailer that is designed on only one wheel.
Therefore, width is sacrificed and yet length is improved to ensure that this trailer isn't wider than your hunting eBike.
However, you'll still have plenty of storage space since the cargo dimensions measure 16.5″ W x 28″ L X 12″ H.
The total trailer length is about 80″ which is only 64″ from when it's attached to your eBike.
The weight of this trailer is only 29 lbs and yet it can handle weight up to 90 lbs. 3″ fat-tire might not be as strong as your hunting eBike tires, but it's made to cope and survive the roughest terrains well.
Therefore, if you own a Bakcou hunting eBike, you will be able to attach this hunting trailer to any hunting eBike as long as you have a BOB axle installed on the rear rack of your hunting eBike.
Bakcou Folding Hunting Trailer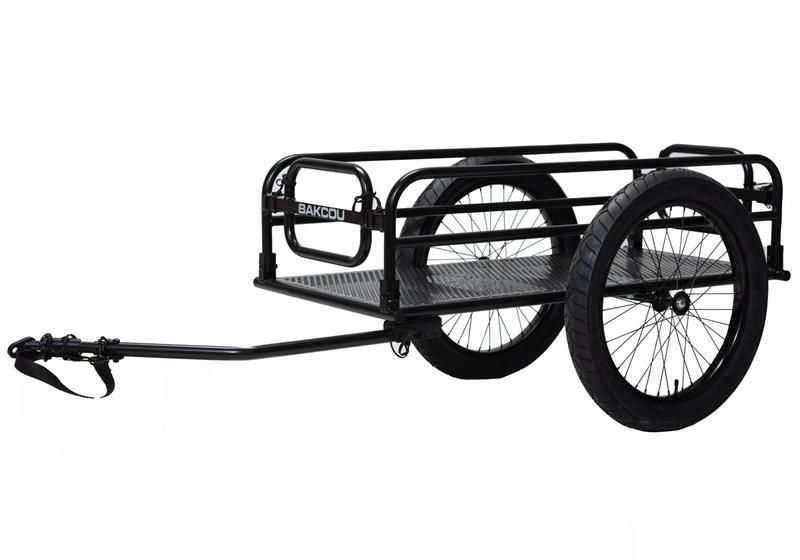 Needless to say, Bakcou is one of the best hunting brands that produce some of the best mountain bike trailers for hunting.
If you're looking for a trailer that will provide a great loading capacity, enough space for all your hunting gear and accessories, and yet will be compact – this folding hunting trailer is what you need.
The cargo area measures 16.5 W x 40.5 W x 10″ H and the length are only 70″ which is 50″ when measured from the rear eBike tire.
The outside wheel width is 30″ which might not be ideal for narrow paths, but if that's not an issue – you'll benefit from the extra space available.
Even though this cargo trailer only weighs about 42 lbs, the weight capacity it can handle is extremely good and it's in the range between 150 to 200 lbs. However, the weight capacity also depends on the terrain so this is something to keep in mind.
However, the biggest benefit of the trailer is the foldability which can help you transport the trailer and even reduces the space you'd need to store this hunting trailer.
Just like other Bakcou trailers, you can use it straight away with Bakcou hunting eBikes, but you can also fit this trailer to any other eBike as long as you have a BOB Axle installed on your eBike.
Bakcou Compact Gear Trailer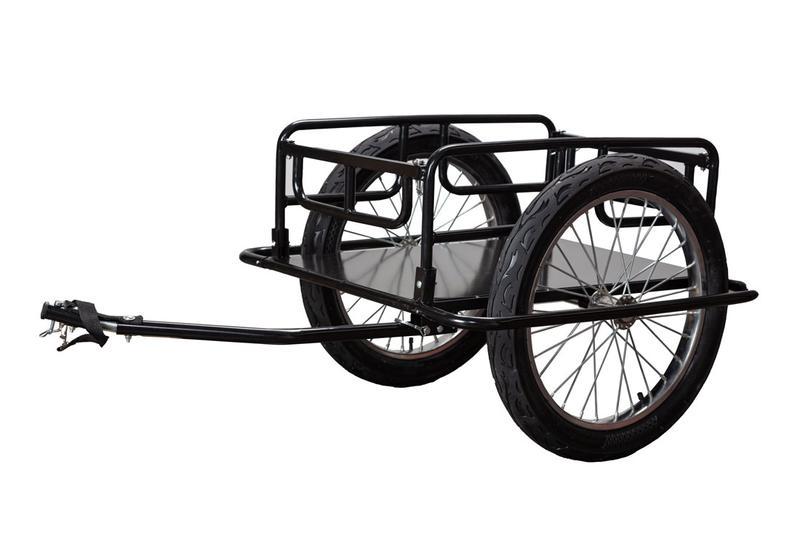 Transporting all your gear to and from the blind is never easy but with a great hunting eBike and this compact gear trailer from Bakcou, your search stops here.
This compact gear trailer provides a great area of 19″ W x 26.5″ L x 11″ H. The outside wheel area is only 30″ which is decent for a wide cargo trailer.
When attached to a hunting eBike, clearance is 10″ which is decent. But what surprised us the most is the weight and weight capacity ratio.
This compact gear trailer weighs about 38 lbs and yet it can support a loading capacity of up to 200 lbs. No matter how much gear you have, you won't have to worry about overloading this trailer.
The tires are a great benefit as Bakcou equipped this gear trailer with two 20″ tires that are 3″ wide. This is more than enough to follow your robust hunting eBike on any surface and terrain.
What's also great about this trailer is that it even comes with a top cover so once you load your gear, you can protect it from rain or other elements with the simple cover installation.
Just like any other Bakcou trailer, you can install this trailer straight onto a Bakcou eBike. However, you can also install it to any other eBike as long as you have a KID Axle installed.
Quietkat Cargo Trailer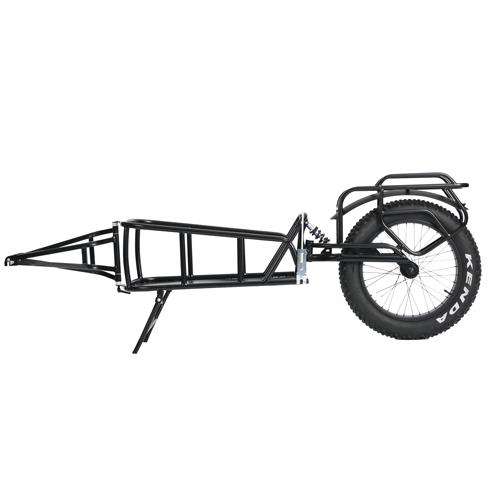 This cargo trailer looks more like a chair that's ready to haul anything you want to haul. Whether it's gear, recovering your game, or anything else – this cargo trailer by Quietkat is all you will need.
It's a two-wheel design which makes loading and unloading very simple, especially since there's no frame around the trailer.
The rack is angle-adjustable so you can adjust it to three different angles, depending on what works the best for you.
What's also great about this trailer is that it comes with great suspension that's ready for you to take off the road. Even the tires will match your hunting eBike tires as they are 20″ tires that are 4″ wide and come ripped effect to handle any type of terrain.
The trailer measures 47″ L x 18″ W and it's more than what most hunters might need to haul anything.
The great thing about this trailer is that it doesn't only fit Quietkat eBikes, but it can also fit any type of mountain bike (regardless of whether or not it's powered by electricity). All you will need is a standard axle or a full suspension axle (for Quietkat Jeep or Ridgerunner eBikes).
Rambo Canoe/Kayak Trailer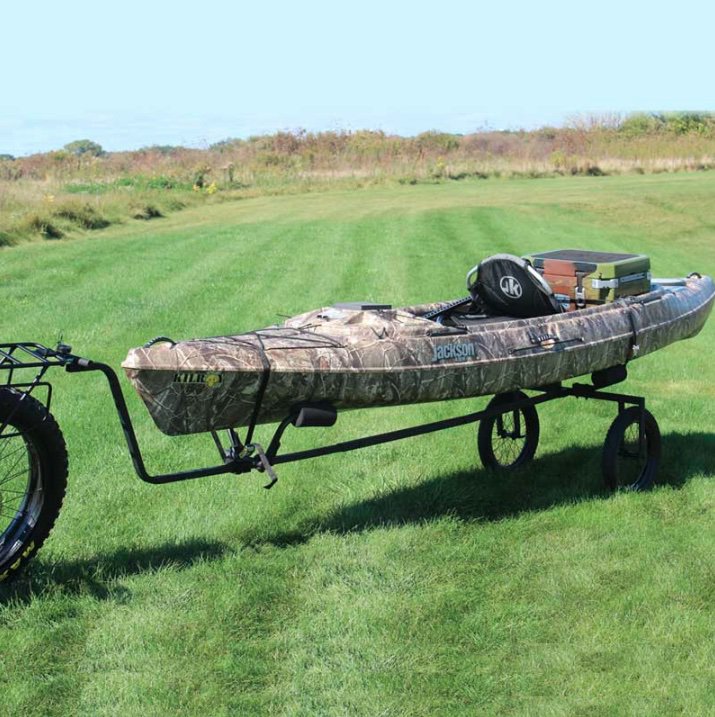 Did you think that you can only carry gear and game using a trailer for an eBike? With Rambo's trailer, you can even transport a canoe or kayak!
All you will need to attach this trailer to your hunting eBike is an R150 rear rack that will fit most likely any hunting eBike out there.
If your launching destination is often remote and inaccessible by any other vehicle, this trailer is a perfect solution.
It comes with padded contact points that will protect your canoe or kayak and yet will improve the lifespan of the trailer.
Mounting a canoe or kayak is very simple and once you get it on top of the trailer, you will secure it with the ratchet straps to secure it tightly into space.
The dimensions measure shortest being 8″ and longest being 10″ while the total weight of the trailer is only 3″.
The trailer is pretty lightweight and even though it's long, you can easily store it by lifting it up and storing it vertically instead of horizontally.
Considering the quality of this trailer and the ability to haul your kayak or canoe only using your eBike is very well worth the price. Needless to say, this trailer is very reasonably priced and it might be everything you need to make the haul happen!
Conclusion
Whether you're trying to haul your gear, recover your game, have a convenient and yet compact trailer that will help you move everything you need to and from the stand – this is the post for you!
These are some of the best mountain bike trailers for hunting that will fit any hunting eBike out there (and even regular mountain bikes).
All you have to do is check out each one of them, find out what are some of the features you need the most, and then pick the trailer that fits your needs the most.
We recommend every trailer within this post, however, each trailer is different and works differently so you should definitely pay attention to the differences.
This will help you find out the best trailer not only for your eBike but also for your hunting needs.
What is your favorite hunting trailer and why? What are you looking forward to taking with you on the hunt?