If you've ever been elk hunting, you'd know that this type of game will require your hunting game to be on the next level.
Elk are not browsers, so they'll only rely on high quality food they can find, and this happens usually at dawn or dusk.
What's also significant is that this type of high quality food is often found in flatter, low-lying, and remote areas which is why the top electric bike for elk hunting is the Quietkat Ranger which comes as a part of a hunting package.
And if you're in a need of the best hunting vehicle for your elk hunting, this is the review you shouldn't miss out on!
Top Electric Bike for Elk Hunting
Quietkat Ranger fits the needs of a hunter that's all on the mission to hunt down some elk, and not only will it help cover the great distance without being spotted, but it'll also help you recover huge elk with ease. Keep on reading to find more about Ranger's advantages.
Innovative Frame Geometry
Quietkat Ranger is based on a very innovative frame that utilizes wise geometry to help make this hunting eBike a lot more efficient.
With that being said, weight distribution is well optimized to improve riding quality, even in the rockiest terrains. On top of that, you can get Quietkat Ranger in 3 different frame sizes (15.8″, 17″, and 19″) so anyone can take advantage of this innovation.
Combined with other high-end components, Quietkat Ranger is built to not only perform well in any type of terrain but also to be reliable and handle anything you put it through.
Ideal for any Type of Terrain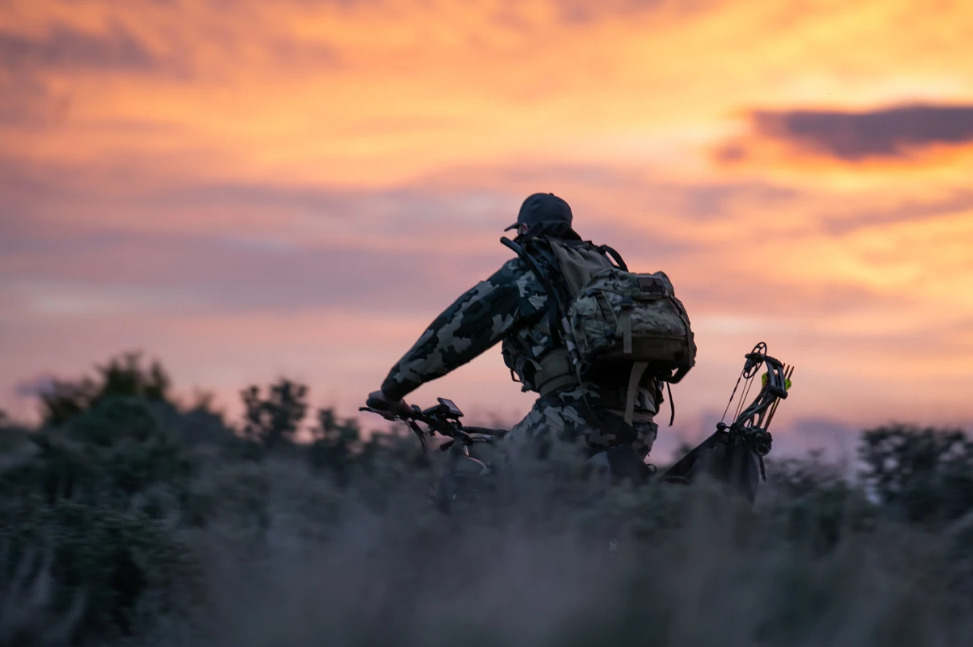 Smart and innovative frame geometry is well combined with an adjustable front air Mozo coil suspension and Kenda Juggernaut 4.5″ wide tires. You can always adjust the suspension firmness by hand to adjust this eBike for the type of terrain you'll ride.
While the ultra wide tires will help you get over any obstacles without even feeling much shock in your steering wheel.
With the battery being lower to the ground and Ranger being able to distribute weight better, you can expect ultimate traction, even in the worst weather and terrain conditions out there.
Perfect Power to Range Ratio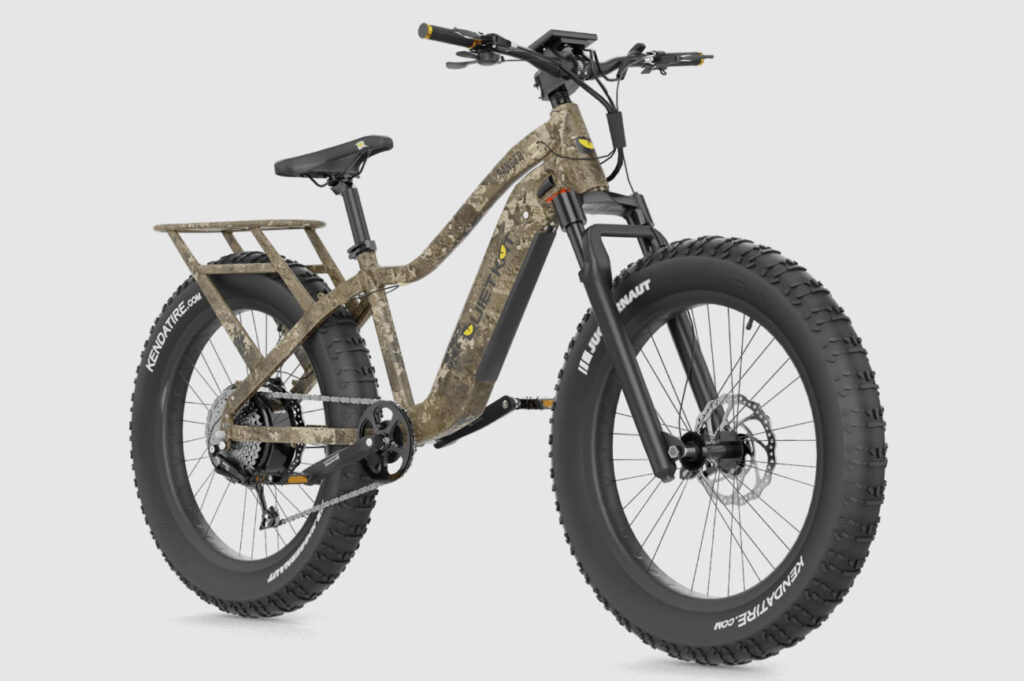 Quietkat Ranger comes equipped with a powerful Bafang mid-drive motor that also helps keep the weight in the middle of the eBike, but also lower to the ground.
You get to choose between two power options; 750W or 1000W. No matter which motor you choose, you will be able to fit in all eBike class types by removing the thumb throttle when you want to legally use the eBike on the road.
In combination with the motor, Ranger eBike comes with an 11.6Ah, 48V Panasonic long-range battery. On a single charge, you'll be able to cover about 40 miles, and if you take advantage of pedal assistance, you'll be able to get even further.
Therefore, you won't ever have any issues tracking down and following elk no matter how far they get.
Performance Build Kit
Quietkat Ranger isn't only made to help you cover a great distance in the most comfortable, easiest, and reliable way. It's also built with performance in mind and that's why you could notice that Ranger is one of rare Quietkat eBikes that comes with a performance build kit.
The performance build kit includes adjustable front suspension, mechanical disc brakes, and most importantly, an 8-speed drivetrain where the hub-drive motor provides power directly to the rear wheel, independent of the chain.
This way, you get top performance and power in all gears at all times.
Hide Under Any Circumstances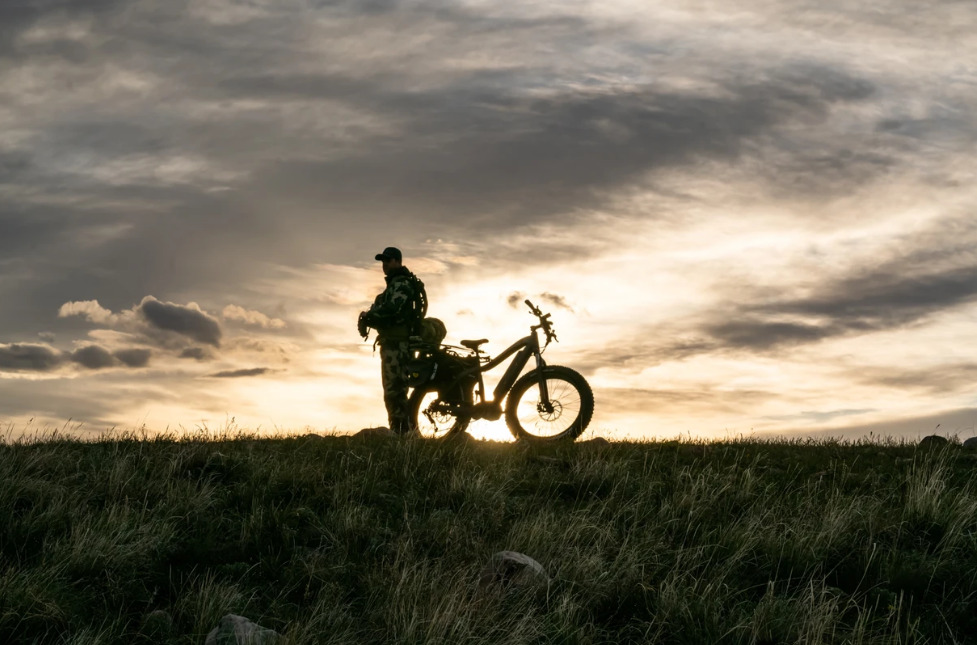 Quietkat Ranger is so versatile that it even comes in three different finishes you can choose from, to ensure that you fit in any background, no matter where you hunt for elk.
Three finishes you can choose from including True Timber camo, Veil Poseidon Dry camo, and Sandstone color.
Depending on where you hunt, one of these finishes will help you blend in so you never have to worry about tipping yourself off. This, in combination with a silent yet powerful motor gives you a great advantage over using any other type of vehicle for hunting.
Versatile Gearing System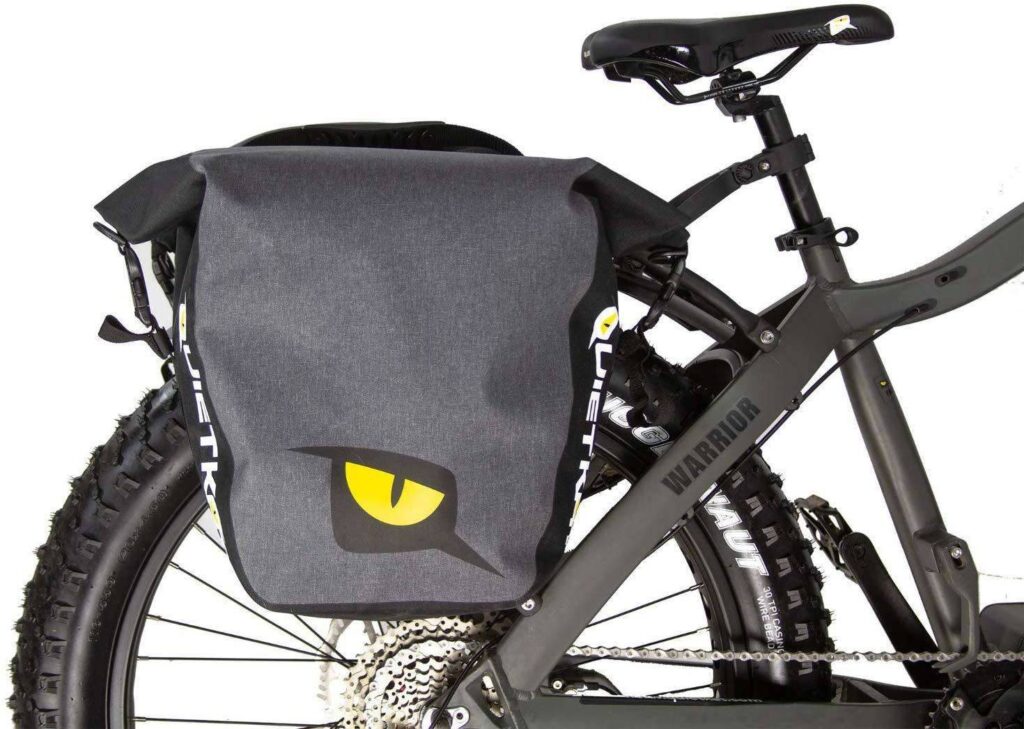 What's so unique about Quietkat Ranger is that it comes with a very versatile gearing system so while you can conquer hills and downhills with SRAM 7-speed gearing system, you can also use this eBike as a single speed bike.
This gearing system converts from a geared system to a single-gear system in only a couple of seconds so you can take advantage of one-speed efficiency on flat terrain. This can help improve the efficiency of the battery and power as it is a lot more stable, helping you cover more ground by making your eBike work easier when the conditions allow it.
Hunter Package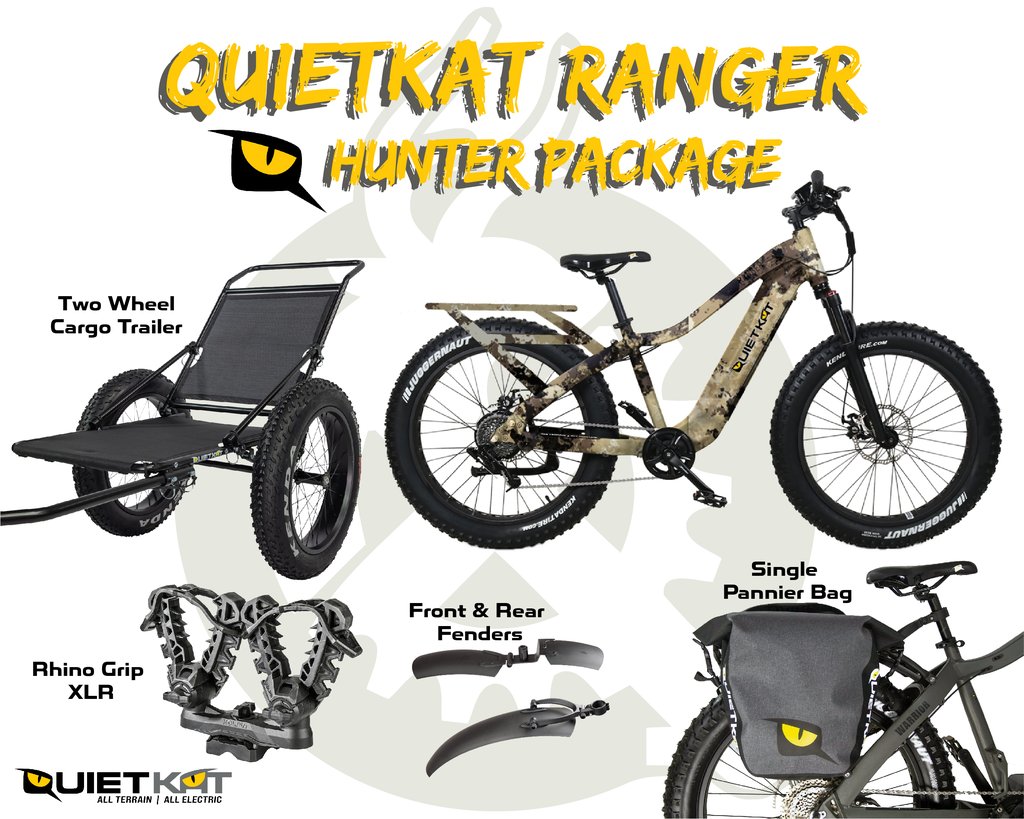 Quietkat Ranger is an amazing hunting eBike, but if you're already investing in such a quality eBike that will boost your hunting game to another level, you should also consider getting a hunter package.
This hunter package includes additional accessories you could use to improve your hunting experience. By default, Ranger eBike comes with a rear rack.
On top of that, the hunter package includes a trailer of your choice, fenders, gun or bow holder, and even a single pannier bag.
This will expand the storage, and with a quality two-wheel cargo trailer, you'll even be able to recover elk with ease using the Quietkat Ranger.
Conclusion
Elk hunting is exciting, but it can be difficult as it takes a lot of preparation, knowledge, luck, and even effort after you score.
However, having a quality hunting eBike such as Quietkat Ranger will ensure that you can strictly focus on hunting without having to worry about transportation since Ranger will always be there to meet your demands and needs.
With all of the features and advantages mentioned above, it's clear to say that Quietkat Ranger is the best electric bike for elk hunting, without a doubt.
What is your favorite feature about Quietkat Ranger and why?