Rambo electric bikes are one of the best hunting eBikes that are specifically tailored for the hunting needs so they fit the needs of hunters and yet provide reliability that's on the next level.
With a huge increase in popularity of hunting eBikes, the chances are you've come across Rambo hunting eBikes.
They have quite a great lineup of high-end hunting eBikes that are definitely worth the investment. And if you're looking to find one of their best 1000W hunting eBikes, you're in the right place.
Down below, you'll learn everything about the best Rambo electric bike (1000W).
Rambo Electric Bike 1000W Review
For the best Rambo electric bike 1000W, we chose Rambo Venom as it fits all the hunting needs, comes with high-end features and components, and it's one of the most reliable Rambo's eBikes that will let you go further without worrying about a single thing.
Ultra Powerful Combination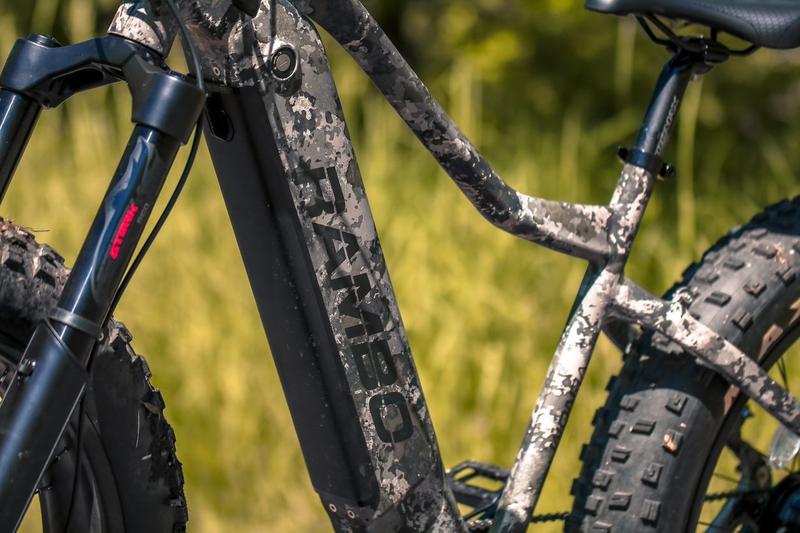 Rambo Venom wouldn't be one of the best Rambo 1000W hunting eBikes without a powerful combination of a motor and a battery.
The motor this eBike comes with is the Bafang 1000W Ultra Drive mid-drive motor. This motor isn't only able to produce up to 1500W of power at its peak, but it is also sophisticated enough to feature 3 sensors that sense the speed and pedal assistance to match the motor's output to match hunting needs.
This well-equipped motor provides more comfort while riding and yet ensures that rider gets exactly the amount of power they require in real-time situations.
All of this happens in virtual silence so you won't ever spook your game and yet you'll be able to quickly get to almost any remote location you have in mind.
You won't even have to worry about the range since Rambo Venom comes equipped with a Samsung 48V 17Ah battery that is integrated into the frame of the eBike for better endurance and yet it is also placed lower than usual to provide a better center of gravity.
On a single charge, you can expect a range of about up to 40 miles, and yet depending on the way you use pedal assistance, you can get a much bigger range than that.
Built for the Toughest Standards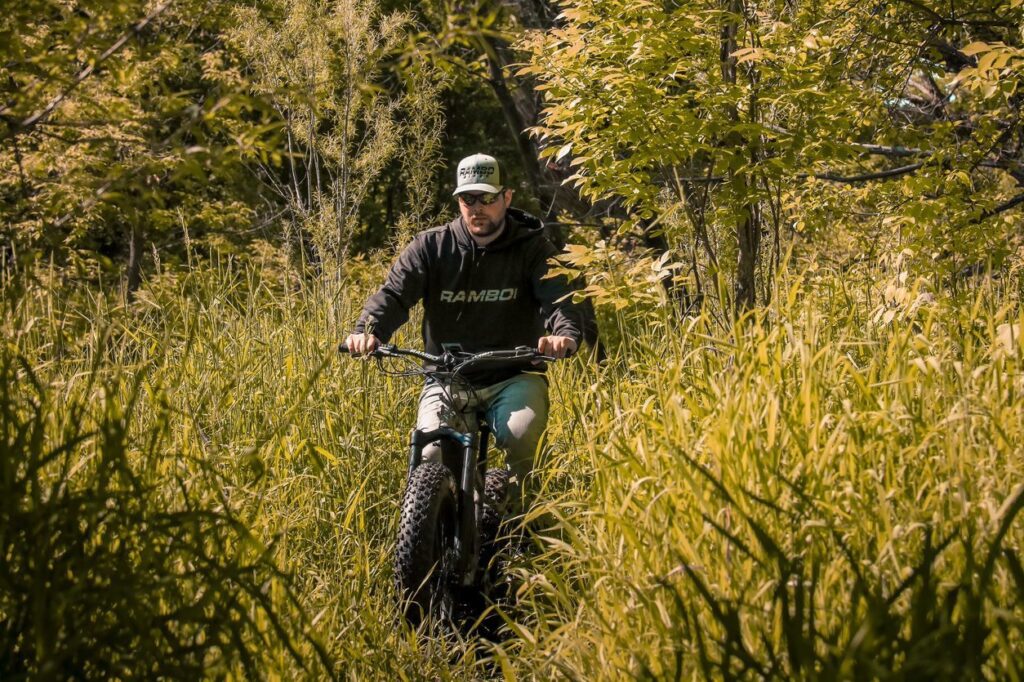 Not only does Rambo Venom come with a powerful motor and a battery, but it also comes with a reinforced frame that's tough and ready to withstand the roughest terrains.
There are no weak spots on the frame and yet all components are wisely chosen and installed so they don't get in the way. No matter how rough the terrain gets or how narrow are the paths you take, you'll be able to reach destinations you never reached before without much hassle.
On top of that, reliability is guaranteed and with very few maintenance requirements, you'll love everything Rambo Venom provides.
High-End Components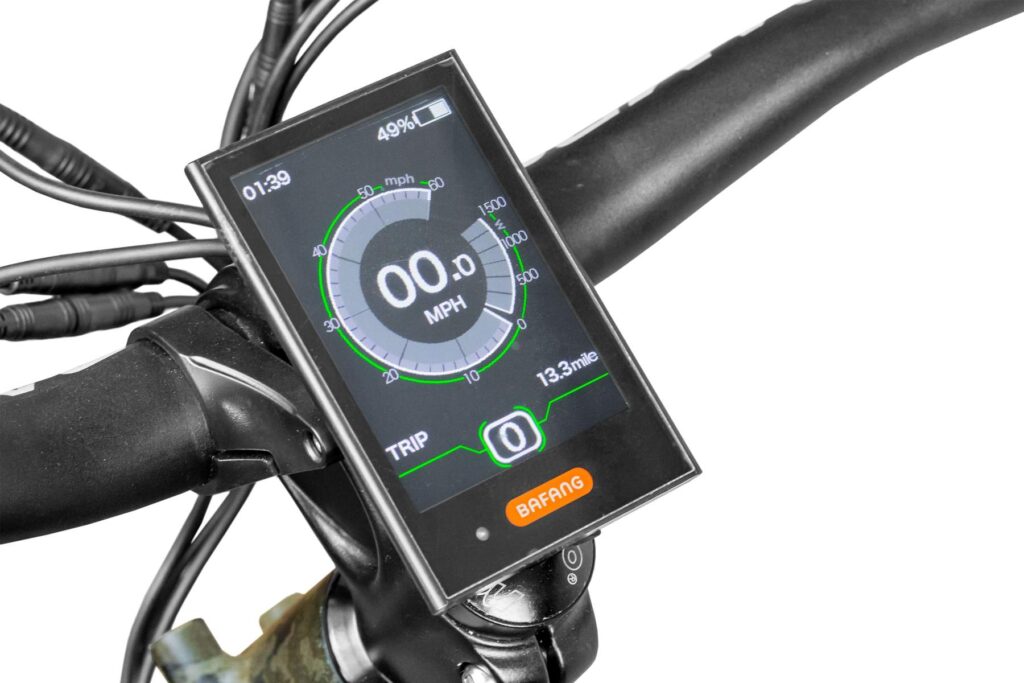 For the best performance, Rambo Venom is built using only high-quality components that match the durability and reliability of the whole eBike.
With a DP C10.UART digital display, you'll have an insight into your bike's heart and soul no matter where you are.
Yet components such as GT860 Air fork, Tektro piston disc brakes, custom Rambo chain ring (44T narrow wide), and double wall rims that come equipped with Maxxis Minion 4.8″ wide tires, you'll be able to go anywhere you wish without struggle.
Venom eBike is by default designed to provide better traction thanks to the lower center of gravitation, it still comes with Promax 730mm handlebars with a Promax MA-50 stem that improves manueverability and lets you easily swerve from path to path on any type of surface.
Additional Accessories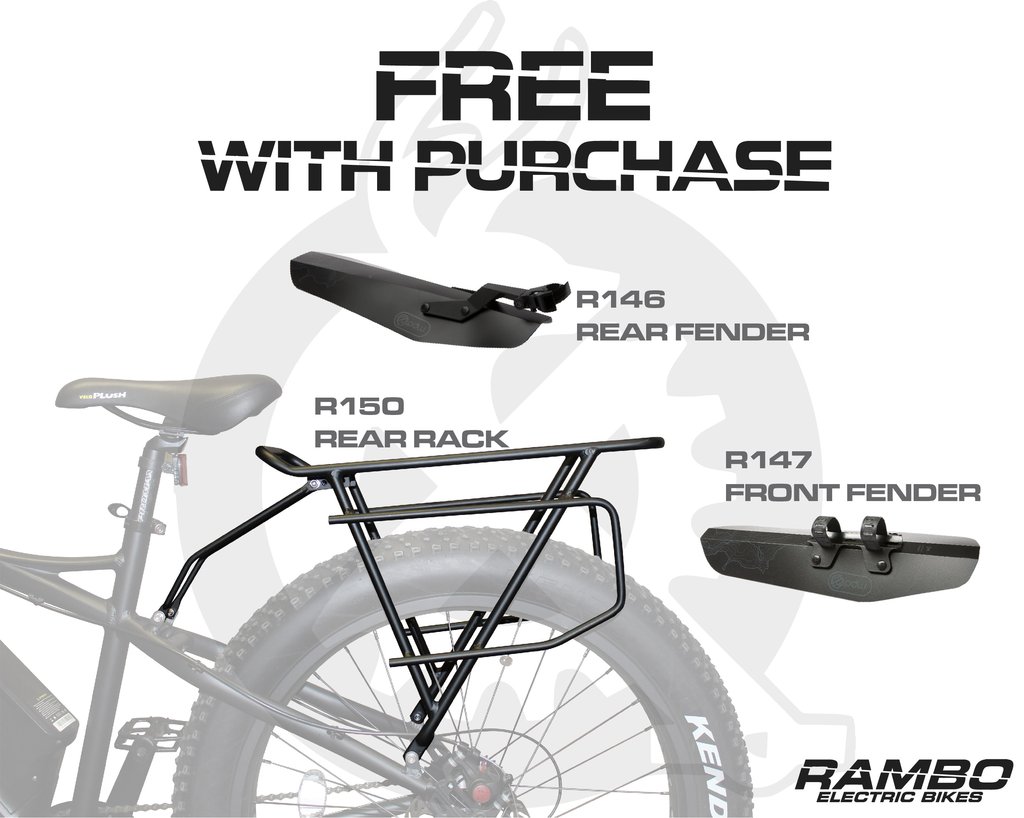 If you purchase Rambo Venom hunting eBike, not only will you get everything mentioned above, but you'll also get a rear rack that you can use to expand storage space, add pannier bags, or even haul a trailer to recover your game.
Also, you'll get front and rear fenders so you don't even have to worry much about cleaning your next best hunting eBike after every use. Needless to say, Venom is an all-in-one eBike that comes with everything you need to successfully hunt and even elevate your hunting game.
Extreme Comfort
Even though Rambo Venom eBike might look intimidating, robust, and like a lot to handle, it's actually very easy to use, handle, and maneuver around.
For improved comfort, this hunting eBike comes with a front air suspension that will minimize shock and improve comfort, Velo grip, larger wheels, and ultra-wide 4.8″ tires that can go anywhere you wish.
No matter the speed, you'll always feel confident riding Rambo Venom since you'll feel the efficiency of hydraulic brakes that will be able to stop the eBike at any given time.
Weight VS Loading Capacity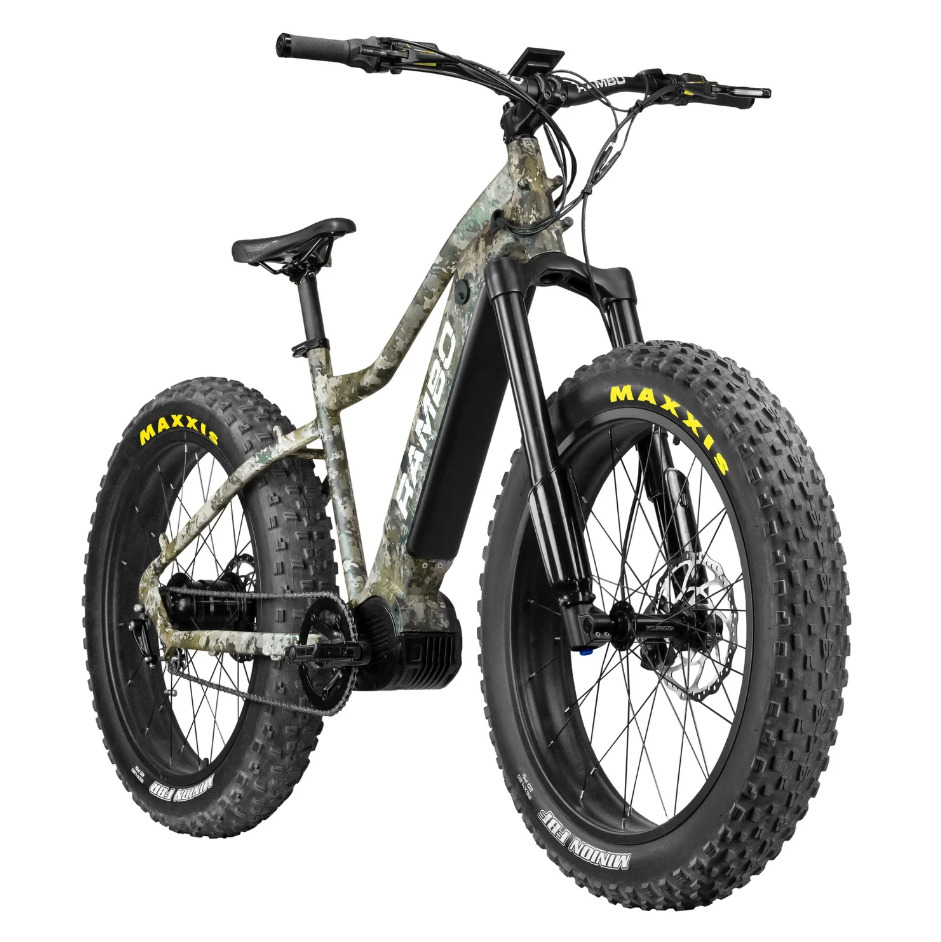 Rambo Venom electric hunting bike weighs only 71 lbs which is fairly good for a hunting eBike of these specifications.
Yet, on the other hand, it has a huge loading capacity of 300 lbs. This includes the rider's weight, but also any additional weight you can put on the eBike.
Of course, this means that you can attach a cargo trailer to increase the storage haul it behind you with Venom eBike, or you can even use it to recover your game.
That's how durable the frame and all components are and that's why Venom might be a bit on the pricier side, but it is very well worth the money since it is the ultimate hunting machine.
Conclusion
Rambo Venom is the ultimate Rambo electric bike 1000W that provides many more advantages that not only other hunting eBikes do, but also advantages that quad and ATVs can provide.
Even though the price is high, it's a great investment that can improve the way you hunt, and yet pay itself off since it doesn't take much money to run Venom eBike.
From the structural point of view to the components and up to the whole build, it's clear that Venom eBike was built with one purpose in mind which was to meet every hunter's needs and elevate their hunting game.
What is your favorite thing about Rambo Venom and why?