Switching to an electric hunting bike is a wise choice since you can experience a variety of benefits other hunting vehicles don't offer.
However, it's true that eBikes aren't known for offering the most space. Nevertheless, hunting eBikes are still increasing in its popularity and use – and the main reason for this is the support from the brands who do their best to make eBikes specifically for hunters.
So what is the one accessory that hunters with an eBike require? They require cargo hunting trailers which increase doesn't only increase the space for storage of equipment, but they also increase the stability of the bike.
And don't forget – we are still talking about electric-powered bikes so you don't have to worry about pedaling up the hill with a cargo full of your equipment or maybe even a trophy.
To find out how to choose the best cargo trailer and what are some of the best ones on the market right now – keep on reading as you will find everything you need to know by the end of this post!
How to Choose a Cargo Hunting Trailer for an eBike?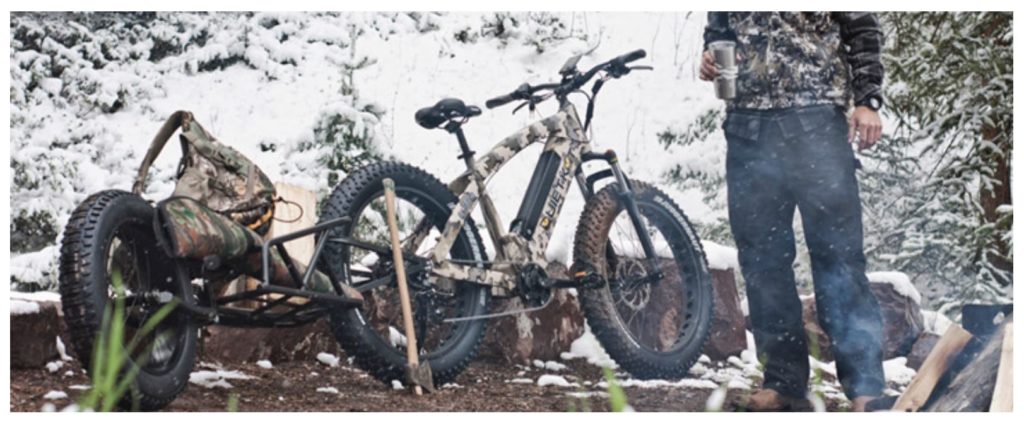 Most eBike manufacturers made it very simple to purchase cargo hunting trailers from other brands and still fit them to their eBikes.
Therefore, compatibility is not a big of a problem – however, going for the trailer offered by the same company of your eBike is a smart choice.
There are a couple of details to consider before making the decision – so here's what you should look out for:
Dimensions
Capacity
Tires
Weight
Compatibility
Dimensions
Dimensions are important because they will determine the sole purpose of the cargo trailer and the amount of equipment you can haul. However, dimensions can also determine how wide your bike will be once you attach the cargo trailer.
This might be important for hunters who are handling rough and narrow terrain so you better consider the dimensions before you regret it.
Capacity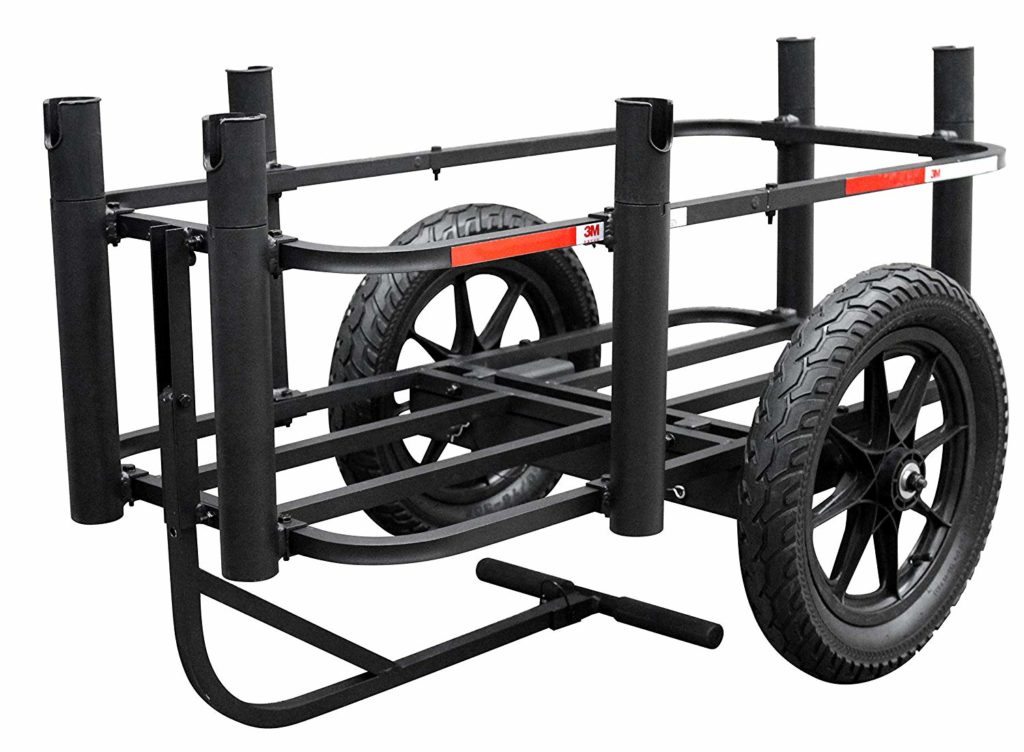 Most hunters overlook capacity and solely rely on the dimensions when capacity can tell you a lot more than just dimensions. Capacity will determine how much of a load you can haul with you. Believe it or not, sometimes dimensions can trick your mind, and yet you might get a bit more of capacity with a smaller cargo trailer.
That's something to keep in mind and that's why this makes it a second thing to look out for.
Tires
Just the way hunting eBikes come equipped with rugged tires, cargo trailers should come with rugged tires as well. In case your cargo trailer gets a flat – you can't just leave your equipment over there which means this will immobilize you.
Therefore, matching your cargo trailer tires to your hunting eBike is a good way to know that your cargo trailer will be as safe as the eBike.
Weight
Since you'll be attaching the cargo trailer to your eBike, you have to understand that it might "slow" you down just a bit.
However, depending on the power of your eBike and the weight of the cargo trailer, some hunters might not even feel the difference. Believe it or not, if you combine a powerful hunting eBike and you attach a cargo trailer – some eBikes will still power through some of the steepest hills without a problem.
Therefore, taking weight into consideration is as important as considering the capacity, dimensions, and tires.
Compatibility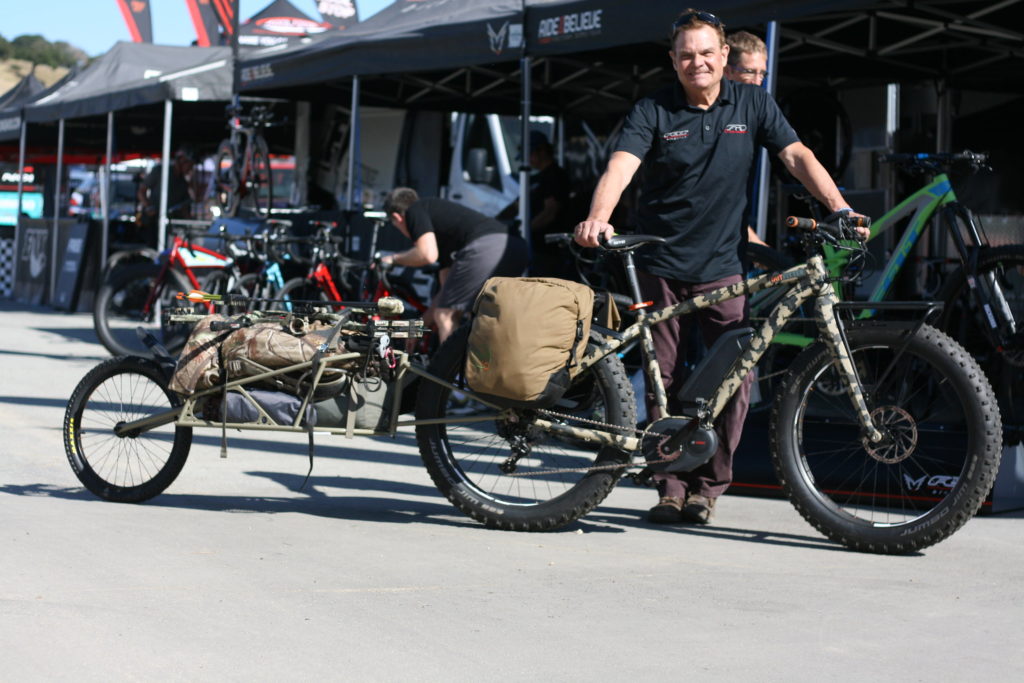 As we've mentioned earlier, most cargo trailers are compatible with most hunting eBikes. However, if you have the opportunity to go with the same brand as your eBike – we highly recommend going for it.
This will ensure you don't have to worry about compatibility at all which eliminates one of the things you should keep in the back of your mind at the time of purchase.
Best Cargo Hunting Trailers for Your eBike
Bakcou Folding Deer Trailer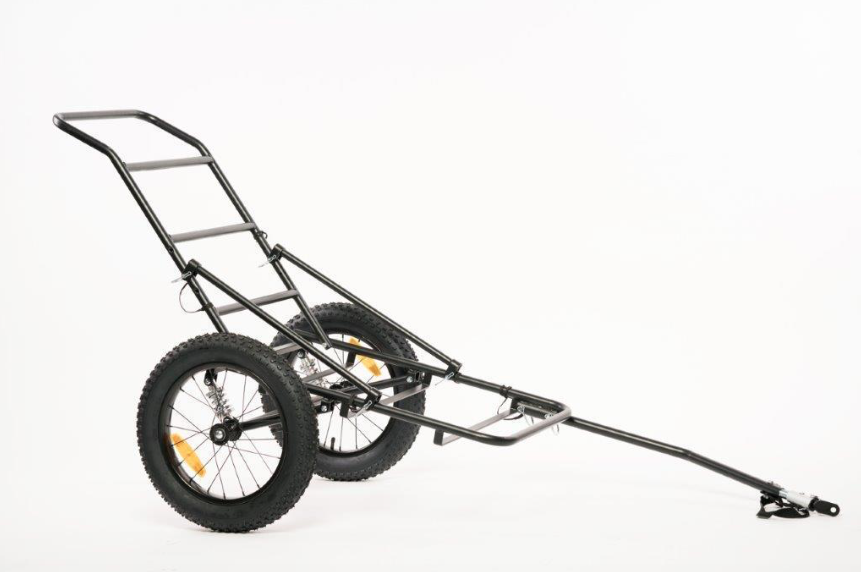 You're probably familiar with some of the best Bakcou hunting eBikes, however, they also offer plenty of accessories which are ideal for hunters who chose eBike as their main vehicle.
This folding trailer is ideal for transporting deer, but it can also serve you as a way to haul your equipment around. Other than deer, it can be used for other species, making it ideal for both small and big games.
It quickly attached and detaches thanks to the quick-release system that attaches to the rear axle of an eBike, and yet it's hauling capacity is about 150 to 200 lbs.
Its dimensions are 18″ width x 48″ length", ensuring the ability to handle rough terrains by featuring fat tires. However, the total length is 72″ where it features precisely length of 60″ from the back tire where it's attached to.
However, what most hunters find hard to believe is the weight of this trailer. If you had to guess – you would have a hard time guessing it right. Bakcou trailer weighs only about 25 lbs.
This shouldn't raise suspicion and yet leave you impressed with the Bakcou quality. However, you haven't even heard the best feature yet.
The best feature, in our mind, is the foldability. When you aren't using this cargo, you can simply fold it and store it almost anywhere.
It doesn't get better, does it?
Rambo Single Wheeled Cart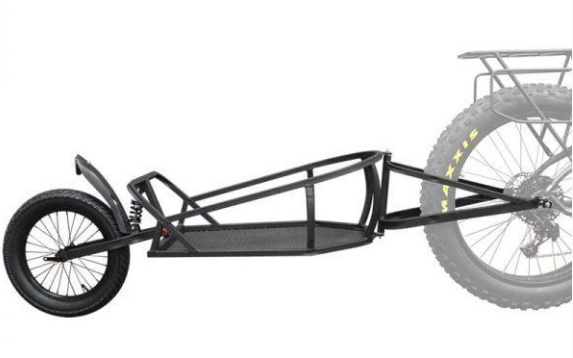 When you're trying to stay as light as possible and as compact as possible – Rambo comes in action with one of the most compact single-wheeled cart trailers.
If you have to pass through some narrow paths and trails even when riding in rough terrains, you can rest assured that this is the right cart for your eBike.
Even though its dimensions are 18.75″ width x 25.25″ length x 11.25″ tall – it's all about using the space the best way you can. Some hunters might think that this cart isn't worth it, but try fitting all your equipment in there and you'll see how that won't be a problem at all.
The suggested weight this cart can handle is 50 lbs which is a pretty decent limit when you consider the shape and design.
It's ideal to be used with Rambo bikes, but it's also compatible with some other hunting eBikes. However, keep in mind if you own a Rambo eBike – this cart isn't compatible with the R350 model.
QuietKat Hunting Cargo Trailer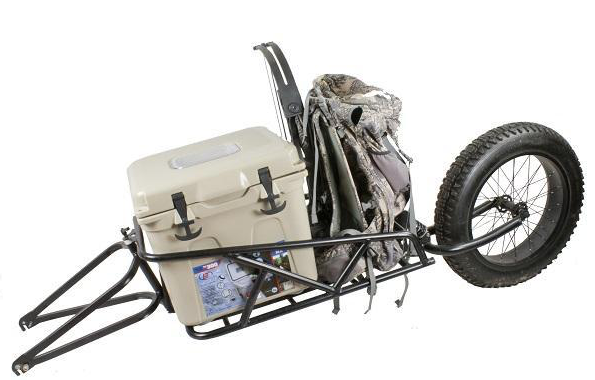 If you're looking for a hunting cargo trailer that can transport almost everything – QuietKat features one of the most versatile trailers.
It's a cargo trailer made to pack and transport large items which is great for carrying your whole set of equipment with you, but it's also ideal for transporting the prize.
One of the biggest benefits of this trailer is that the cart is only as wide as the eBike is so you won't have to think twice before making a turn or choosing a narrow path.
Even though QuietKat decides to go with a single-wheel design, it still provides plenty of stability and maneuverability. We really like the off-road suspension which ensures the safety of anything you're transporting in the trailer.
The carrying space features dimensions of 14″ x 24″ while the trailer itself has dimensions of 20″ x 4″ with the maximum load weight capacity of 100 lbs.
Bakcou Folding Hunting Trailer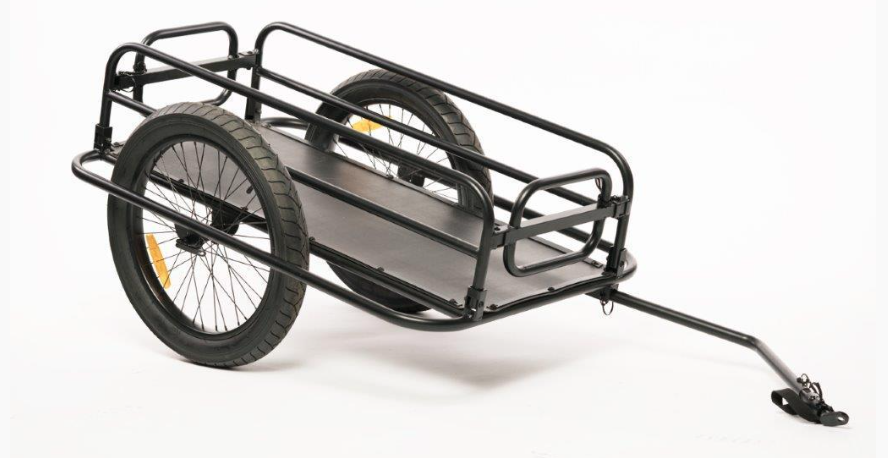 When you aren't a big fan of single-wheeled trailers and you'd like to have as much space as possible – Bakcou features a perfect hunting trailer.
This is a two-wheel hunting trailer which also features a folding ability that can be handy when you would like to transport the trailer in your car.
You won't have to worry about the stability of the trailer since it has a great off-road suspension which is combined with two 20″ x 3″ fat tires that will go anywhere your hunting eBike can go.
The total length of the trailer is 70″ (50″ from the back tire when a trailer is attached to the bike), and its total weight is only 42 lbs.
However, you will benefit from the 150 to 200 lbs loading weight capability with a cargo area of 16.5″ width x 40.5″ length x 10″ height.
Therefore, if you're looking for that perfect hunting cargo trailer that will cut your trips to a single trip where you can carry both the prize and hunting equipment – this is a must-have cargo trailer.
Rambo Hunting Bike & Hand Cart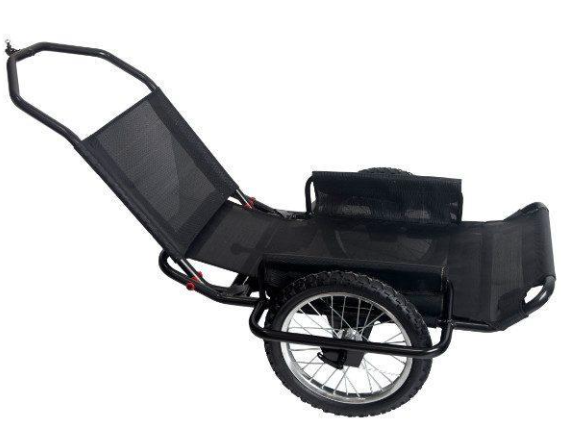 If you own a Rambo hunting eBike and you'd looking for a simple and yet compact way to increase the storage – this bike & hand cart is an ideal option for hunters who like to stay versatile when they're on the go.
It's a cart which is easily attached and detached and since it's also made to be a hand cart, this benefits the hunters by allowing them to push the cart to the prize so there is no need for carrying.
When you have loaded your prized trophy, all you have to do is attach the cart back to the bike and off you go!
It is ideal for hauling gear and equipment, or even treestands – which makes this cart as one of the favorite carts for hunters who are preparing for the hunting season.
Weight capacity is 300 lbs while the cart itself weighs only 25 lbs. Thanks to the wise design and manufacturing by Rambo, this cart is made out of aluminum alloy material that is very durable and yet is light.
This cart is compatible with almost all Rambo eBikes but also with plenty of eBikes from other brands.
Bakcou Hunting Cargo Trailer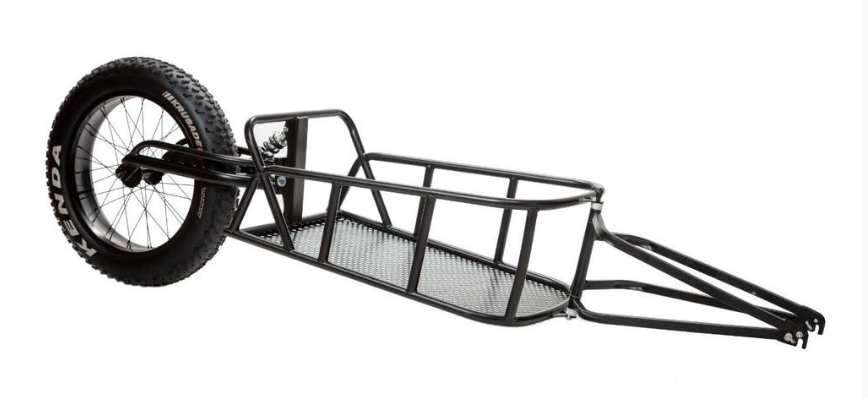 Durability is the number one factor every hunter looks out for when they're searching for a quality trailer that will match their hunting eBike.
Bakcou is known for its quality bikes but also quality accessories such as the cargo trailer. For instance, this hunting cargo trailer only weighs 29 lbs and yet it features the loading capacity of 150 to 200 lbs over the cargo area of 16.5″ width x 28″ length x 12″ height.
Not only you will increase the space with a trailer, but you won't have to constantly look behind your back to see if your equipment is still there.
Along with the fat tire, Bakcou equipped this cargo trailer with an off-road suspension that will ensure whatever you're transporting doesn't get damaged by being bounced around, no matter how fast you're going.
Single wheeled cargo might not be everyone's favorite, but if you've decided to give it a try – this is the trailer we highly recommend.
Rambo Aluminum Fishing & Hunting Cart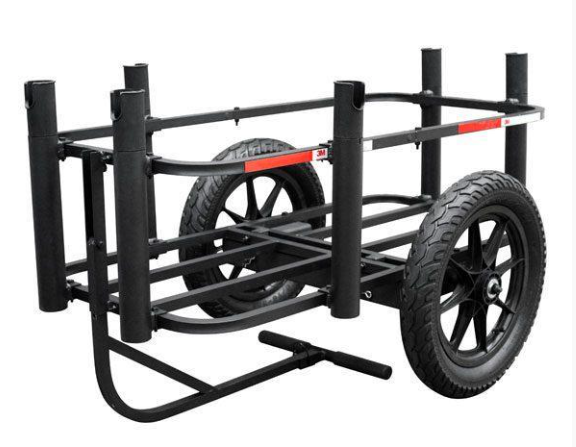 Rambo is not only one of the top hunting brands that provide only the best to their loyal hunters – but they're a company that's extremely innovative and this fishing & hunting cart is a perfect example.
Therefore, you will notice the fish-cart design here, but it's improved to the hunting standards and therefore, you will get more space as you haul less weight.
It's fairly easy to attach and detach this cart, however, once you attach it to the bike and you take it off-road – you won't even notice it's behind you. Rambo equipped this hunting cart with a quality off-road suspension and 24″ fat tires that can tackle and surface.
Once this cart is attached to the rear axle of your eBike, it is long only 65″ and yet you will get the space of 24″ wide x 25″ tall space.
Since this trailer is a lot taller than standard hunting trailers and carts – this only works in the hunter's advantage. Not only you can haul all of your gear, but you can also haul a big game along with most of your gear.
If you never want to worry about space anymore – this is the right hunting cart you have to get.
Conclusion
Choosing an electric bike might have been an overwhelming experience for you, but choosing accessories such as the cargo hunting trailers shouldn't give you any trouble!
In this post, not only you found out how to choose a cargo trailer and what to look out for in a cargo trailer – but you've seen some of the best-hunting trailers that come from the top manufacturers.
All of these manufacturers mentioned in this post are closely involved in the development and improvement of electric hunting bikes and that's why they are one of the best brands on the market to manufacture specialized accessories such as the cargo trailers.
Nevertheless, no matter which trailer you go for – you won't be disappointed!