Hunting eBikes offer many benefits and many hunters are still about to explore them. However, what if you would like to take someone hunting with you?
If you're thinking of taking your wife, sister, mother, or even a friend – you're in the right place. Down below, you'll find the best hunting eBikes for women (yes, they exist!).
On top of that, you will also find a guide on how to choose the best hunting eBike as a woman, and even how to finance it so you don't break the bank and yet still grab a quality deal!
How to Choose the Best Hunting eBike for Women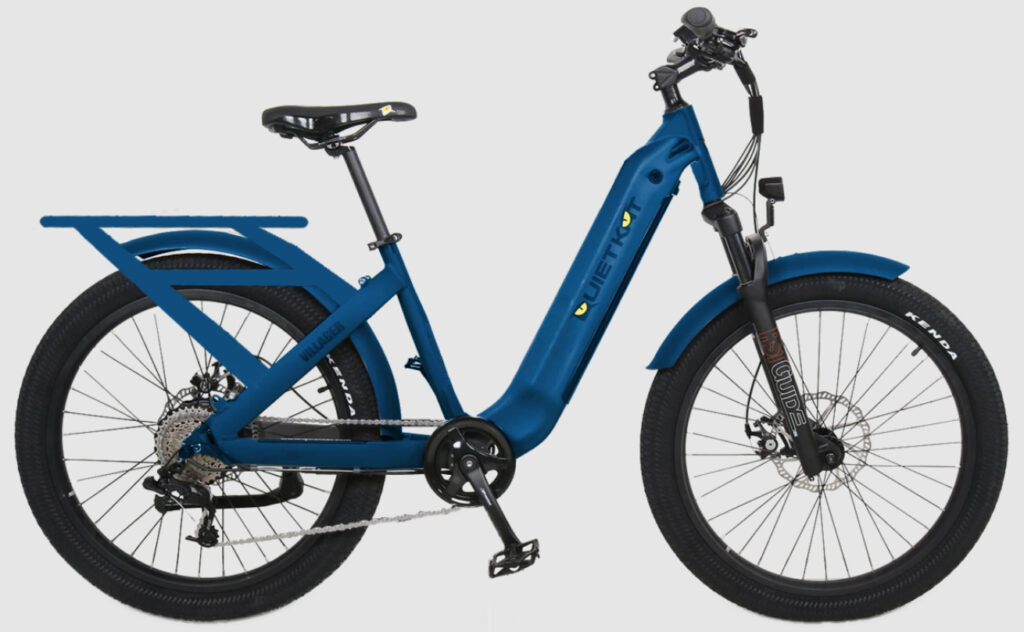 As a woman, you'll have to pay attention to a couple of things that are different from men's eBikes. However, with that being said, you will also have to pay attention to the regular aspects of any eBike when choosing one.
Therefore, here's a quick list of the most important things to pay attention to when choosing a hunting eBike:
Frame type and size
Weight
Power
Handlebar reach
Comfort
Additional accessories
The most important thing to pay attention to is the frame. Just like any other bike on the market, hunting eBikes for women feature a step-through frame that's easy to get used to. On top of that, eBikes with such frames are also lower to the ground which makes it easy to get on and off the eBike at any moment.
On top of that, this also improves stability and maneuverability.
When you ensure that the eBike features a great frame type, you have to ensure that the size will fit your height too. Most manufacturers provide a couple of sizes of the same eBike frame that are combined with an easy-to-read chart so you can find out which one fits your size.
Weight can also be an important factor as some eBikes can weigh a lot more than the others and if you think you might not handle very heavy eBikes, looking for lighter models is always a smart choice.
When you ensure that the eBike will fit your needs, that you can have a good handlebar reach, and that you think the eBike will be comfortable – it's time to check out the power.
You don't have to be worried about buying a too powerful eBike as the speed is often limited and the only visible power difference is in the amount of torque. Therefore, you won't have any issues handling even a 3000W eBike.
Lastly, additional accessories can help increase the storage space, improve safety, and provide a more comfortable ride. Sometimes, accessories come included, and sometimes you might have to purchase additional accessories separately – so that's something to keep in mind!
Best Hunting eBikes for Women
Now that you know exactly what to look out for, it's time to check out some of the best hunting eBikes for women.
Down below, you'll find a variety of different hunting eBike models that won't break the bank!
Villager Urban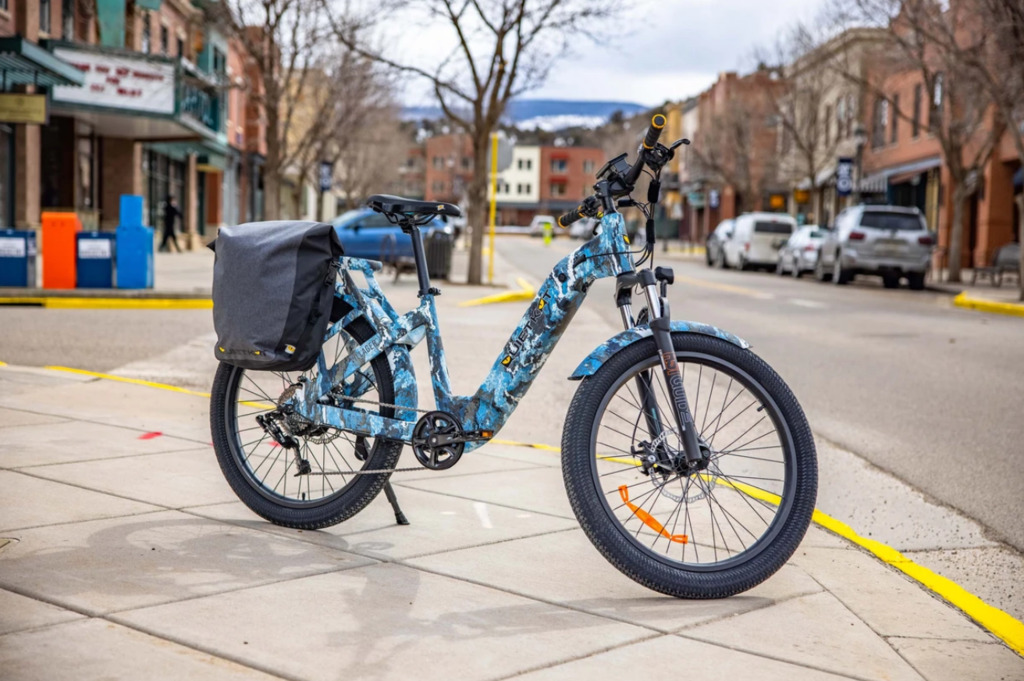 Villager Urban is the eBike with a very low step-through frame design and yet is equipped with a great motor, lots of quality components, and is ready to tackle down the off-road challenges or it can be used as a city eBike.
500W rear-hub motor in combination with 11.6Ah 48V battery that only weighs 10 lbs makes this eBike pretty lightweight when compared to other hunting eBike models.
On a single charge, this eBike can cover about 40 miles and while it fits the Class 2 specifications, the thumb throttle is removable so you won't have problems complying with the rules in your state.
For comfort and to improve the ability to conquer trails, Villager Urban comes equipped with an RST coil suspension fork and wide Kenda 26 x 3″ tires.
This eBike weighs only 50 lbs and yet it has a maximum loading capacity of 325 lbs which is slightly above the average for other heavier hunting eBikes.
With an integrated rear rack, all you need are pannier bags to attach and you're ready for a hunt. From other accessories, you'll get a bright LCD display included, a comfortable & wide seat, high-quality handlebar grips, and front and rear fenders.
Two piston disc brakes are paired with 203 mm rotors that provide enough stopping power so after Villager helps you conquer the hill, you won't have to worry about going down the hill again.
Bakcou Mule Step-Through (Hunter Package)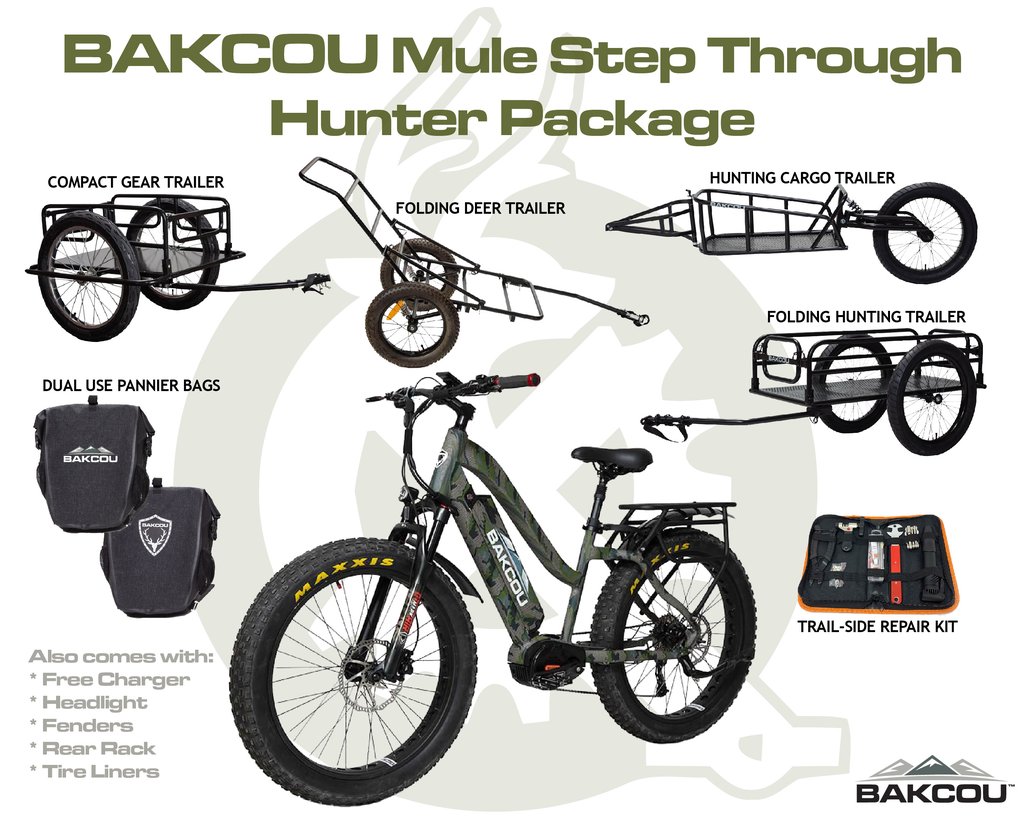 Bakcou Mule is a very well-known eBike among hunters and the best thing they did after releasing the Mule was to introduce a step-through edition too.
With a powerful motor that can output anywhere between 750W and 1000W of power (max 1,500W), Bakcou ensured that you never have a hard time getting on or off the eBike.
On top of the high-end Bafang Ultra mid-drive motor, the Bakcou Mule step-through comes with a smart motor sensor that will adjust the torque for you. Therefore, you won't have to think of anything and yet the only thing you'll have to think of is how fast would you like to go.
When it comes down to the battery, you can choose between a 14.5Ah, 17.4 Ah, or 21Ah battery so you won't ever have to worry about the range. On a single charge, this eBike can cover at least 40 miles.
Another special thing about Mule is that it comes with a custom gearing in place (Shimano Alivio) which is a 9-speed gearing system that excels at hill-climbing.
If you're looking for a sophisticated and easy to maneuver yet powerful hunting eBike, Mule is the right choice.
Not only you won't have to think twice before getting on and off the eBike, but you will also get Mule with the hunter package that includes almost all additional accessories you would ever need, such as a trailer of your choice, dual pannier bags, trail-side repair kit, headlight, fenders, rear rack, and tire liners.
BAM Power Bikes Step-Through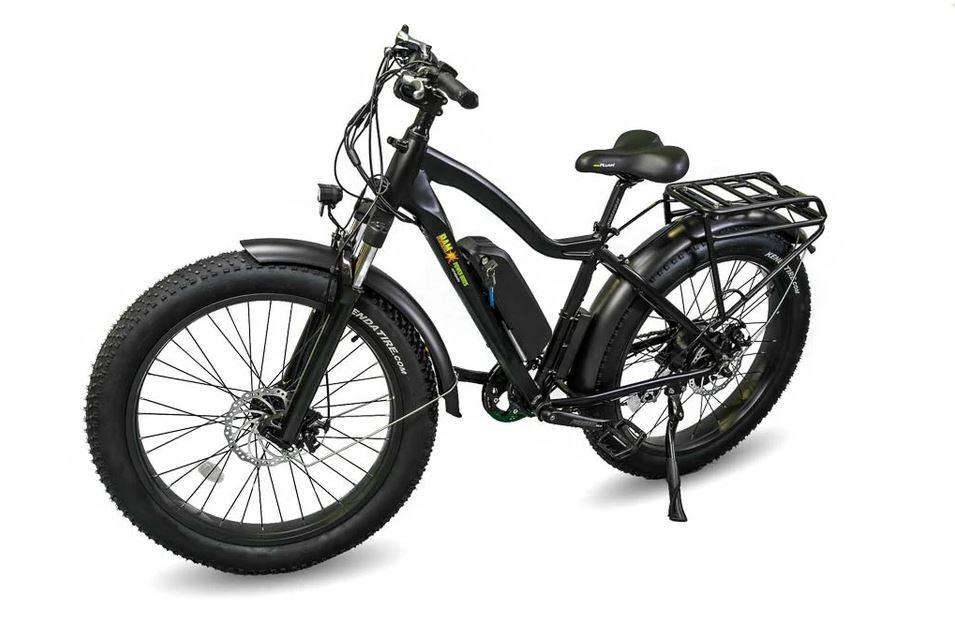 If you're not worried about getting on and off the eBike and yet you'd like a bit lower frame, BAM Power eBike is a great choice.
BAM Power eBike is based on the typical woman-style mountain bike frame that's slightly lower than the regular frame.
The whole eBike weighs only about 68 lbs while the maximum capacity is 275 lbs which is just under the average capacity.
When it comes down to power, BAM Power eBike comes equipped with a 750W motor and a long-lasting Samsung 48V 14Ah battery. The average range is between 25 to 40 miles (depending on the way you ride).
For comfort, BAM Power eBike comes equipped with wide Kenda Juggernaut 4″ tires that are ideal for tackling down any obstacles you come across off the road. Not only you won't have to worry about punctures, but these tires will keep a great grip on any surface no matter how fast you're going.
One of the greater features is the adjustable stem so you can adjust it to achieve a preferred riding position so you don't feel any strain on your shoulders or your back. You'll also love the super-comfortable Velo Plush seat that's very easy to adjust.
Rambo Rooster 750W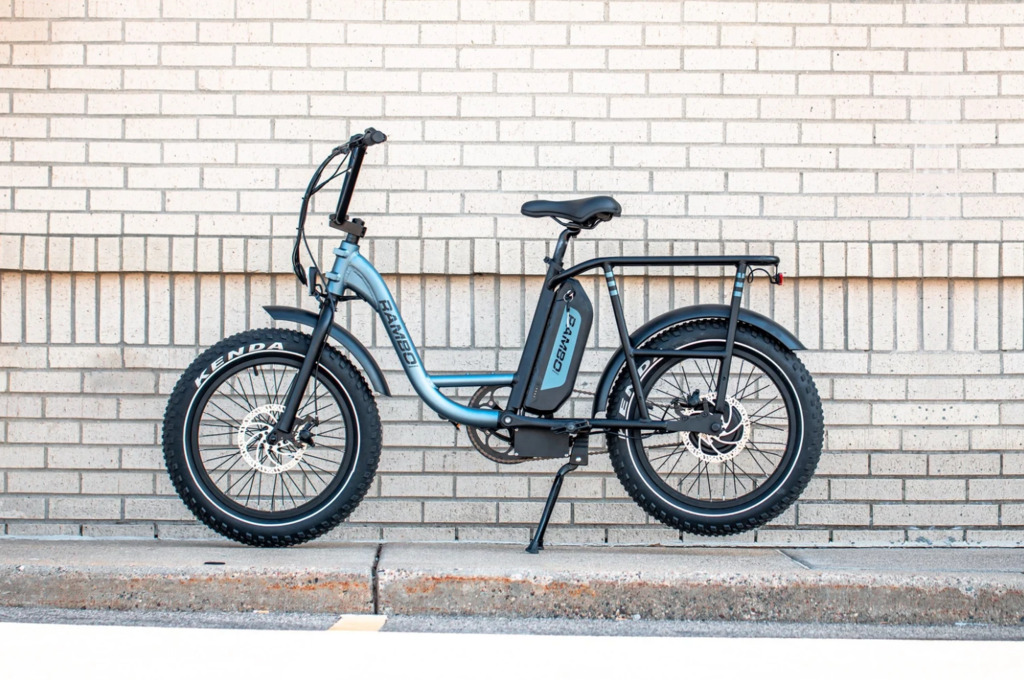 Rambo is one of the most known hunting eBike manufacturers and it never stops to amaze with the innovation.
Rooster is one of the most innovative hunting eBikes on the market with a unique frame that provides one of the lowest step-through designs but is also one of the lowest hunting eBikes on the market. The standover height is just over 16.5″.
With only 20″ wheels with wide Kenda tires on, this eBike is more than ready to conquer off-road obstacles just like any other hunting eBike.
Being powered by a rear-drive high-torque 750W motor and a Samsung 48V 14Ah battery, Rooster eBike weighs only about 61 lbs. This improves the maneuverability, makes off-road riding easier, but here's what surprised us the most. On a single charge, you will be able to cover at least 35 miles, depending on the riding style, weather conditions, and the type of terrain.
Rambo Rooster provides the same maximum weight capacity just as the bigger hunting eBikes on the market, which is amazing.
But the biggest surprise came after checking out the handlebars. With this unique bike frame, Rambo introduced a 50mm BMX stem and 9″ high-rise BMX handlebars.
It's really interesting to see such a combination produced by one of the world's leading hunting eBike manufacturers. However, it's a great fit for this article and for anyone who doesn't want a bigger hunting eBike.
Bigger is not always better and Rambo Rooster proves this!
Emojo Ram Sport Step-Through
Emojo Ram Sport is a sports eBike that is ideal for hunters who are looking for a very low step-through frame design. On top of that, this step-through hunting eBike is foldable which adds another great aspect to this frame choice.
This eBike shares similarities with Rambo Rooster, but it is an eBike that's ready for action, adventure, and even hunting while providing optimal performance without sacrificing comfort.
Even though the eBike might seem small, it is definitely packing some great power since it comes equipped with a 750W motor that will pull you up the hill unlike any other eBike of this size.
With a 48V 10.4 Ah battery, you will be able to cover at least 30 miles on a single charge. The range increases with the use of pedal assistance that comes integrated into the eBike.
But what surprised us the most was the weight. With the integrated motor, battery, and foldability design features, this eBike weighs only 55 lbs which makes it probably one of the lightest eBikes suitable for hunting.
We should also mention that the maximum weight capacity is only 230 lbs which is below the average weight capacity for a hunting eBike. However, that's still a decent weight capacity considering the size and weight of the whole eBike.
Most importantly, you won't have issues pulling a hunting trailer behind you even if you go up the hill.
Best Way to Finance Your Next Hunting eBike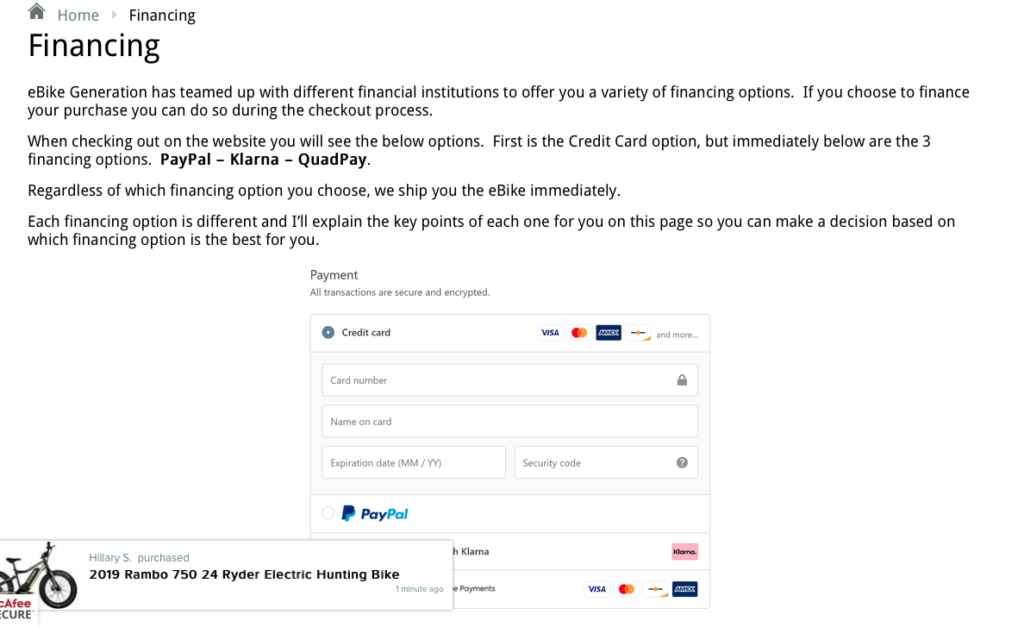 Even though hunting eBikes can seem like an expensive purchase, they're made with quality in mind and are specially designed and crafted for hunting needs.
Of course, you can always try and find a cheaper hunting eBike, but in the long run, a cheaper hunting eBike might end up costing you much more than if you invested in a quality hunting eBike.
All of these hunting eBikes come from valued and recognized hunting eBike manufacturers and they're actually a great deal.
However, if it seems hard to spit out the exact amount of money to invest in a hunting eBike and make a change, here's a better way to do it.
Reputable stores such as eBikeGeneration partnered up with financial institutions to provide decent financing plans with a 0% interest rate.
With the low entry barrier, almost anyone can qualify for these financing plans. With that being said, you can get any of these eBikes for only a couple of hundred dollars per month!
Conclusion
As long as you check out all available options, know exactly what you need to look out for and you know exactly what you need, this post will provide at least one good option.
With so many hunting eBikes on the market, these are some of the best hunting eBikes for women due to the way they're built.
And if the frame size or shape is what worries you the most, we hope that this article helped you make the right decision, but also learn something new.
What is your favorite feature of a hunting eBike? Do you like the step-through hunting eBike designs?