Hunting eBikes are incredible and they offer a wide range of benefits, not only to hunters but also to everyone purpose they fill and every rider who relies on an electric bike.
However, if you're short, you might have noticed that not all hunting eBikes might be a good fit for your size.
And if that's the case, there's nothing to worry about! Luckily, manufacturers are paying attention to this issue and they have electric bikes that will fit almost everyone's size.
So if you're looking for the best hunting eBike for short people, you're in the right place! Keep on reading to learn how to choose one, but also see the top 5 eBikes we chose for this review!
What's the Average Standover Height of a Hunting eBike?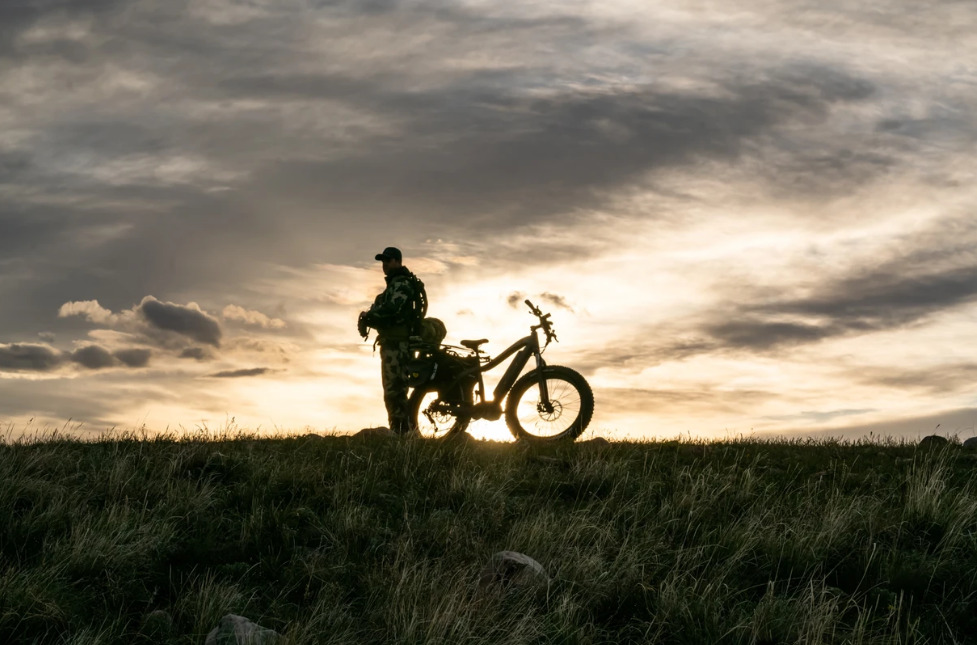 Sometimes, the manufacturer will display the standover height of a hunting eBike. This is a great way to know if a hunting eBike will fit your size even without testing it.
All you have to do is measure the inseam of your leg and compare it with the advertised standover height.
However, not all manufacturers provide the standover height information. Yet instead, they rely on the frame size instead.
Since hunting eBikes are built on mountain bike frames, you can easily understand if a hunting eBike will fit your size by checking out the mountain bike sizing chart.
These charts often include the frame size, ideal rider's height, and even leg inseam.
But not only does the frame matter, but so do the wheels. Larger wheels increase the standover height. Therefore, there's no average standover height you can refer to. Instead, you'll have to measure either the eBike (or try the eBike), learn the eBike's standover height, or find the eBike's frame size to compare it to your leg inseam or height.
How to Choose a Hunting eBike as a Short Person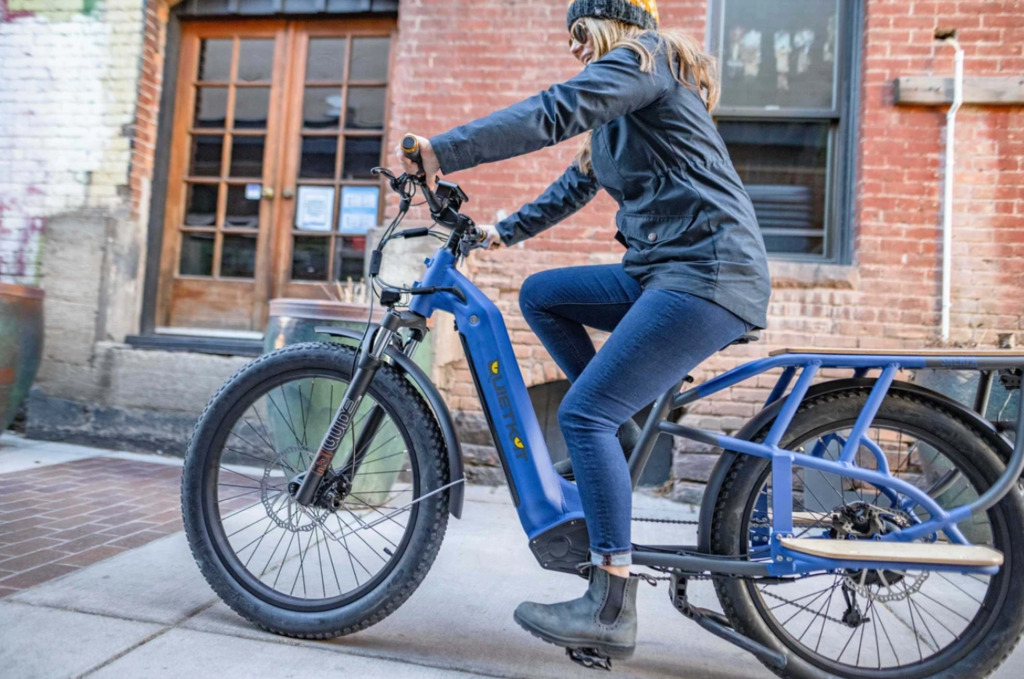 As a short person, there are a couple of important factors you will have to pay attention to when choosing a hunting eBike.
Apart from the power, battery & range, suspension, or any additional features, these are some important things to consider:
Frame size and type
Wheel size
Tires
Handlebar reach
If you can find the standover height, that's great. But if not, frame size is often the best factor to understand if a hunting eBike can fit your size. When it comes down to the frame type, some of the most ideal hunting eBikes for shorter people often have a low step-through frame type.
This frame type allows easier getting on and off the eBike, no matter the height of the person.
Wheel size also plays an important factor in determining the standover height of an eBike. The bigger the wheels are, the higher the eBike will be from the ground. Tires can also play a small but important role. The more threads a tire has, the higher eBike will be (on top of the wheel size).
Handlebar reach is the last yet not least important thing to consider. You want to ride comfortably and not feel stretched over the eBike.
Best Hunting Bikes for Short People
At times, you might feel like you'll never find a quality hunting eBike that will fit you perfectly. However, you're in the right place because the chances are high that the 5 eBikes below will be a great fit!
Bakcou Mule Step-Through eBike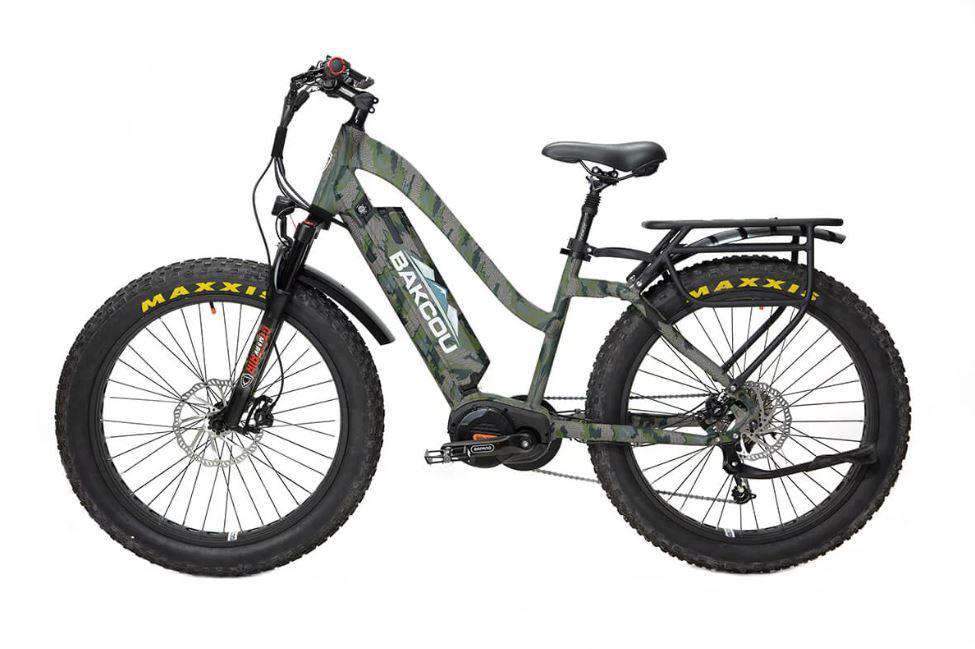 Bakcou is one of the most reputable hunting eBike manufacturers and this is the ideal model for short people since it's built on a step-through frame type.
This frame type allows for easier getting on and off the eBike which isn't only ideal for short people, but also for every hunter who finds himself in the middle of the action. Also, the frame size is 18″.
The standover height of the Mule is 26 inches and it comes equipped with 26″ tires. Performance-wise, Bakcou Mule is powered by a Bafang Ultra mid-drive motor and you get to choose between a 750W or a 1000W version.
Mule also comes equipped with a Panasonic battery and you get to choose between a 17.4Ah or a 21Ah model. With such a combination, you can achieve at least 40 miles on a single charge.
Of course, we should also mention that Mule eBike comes with a throttle, but also a smart torque sensor that won't drain your battery yet will provide you with just as much power you need at certain moments of your ride.
With Shimano Alivio hill-climbing 9-speed gearing system, no obstacle will be too big for the Mule. You should also keep in mind that Mule eBike weighs only 68 lbs and yet it has a pulling capacity of up to 300 lbs.
Quietkat Voyager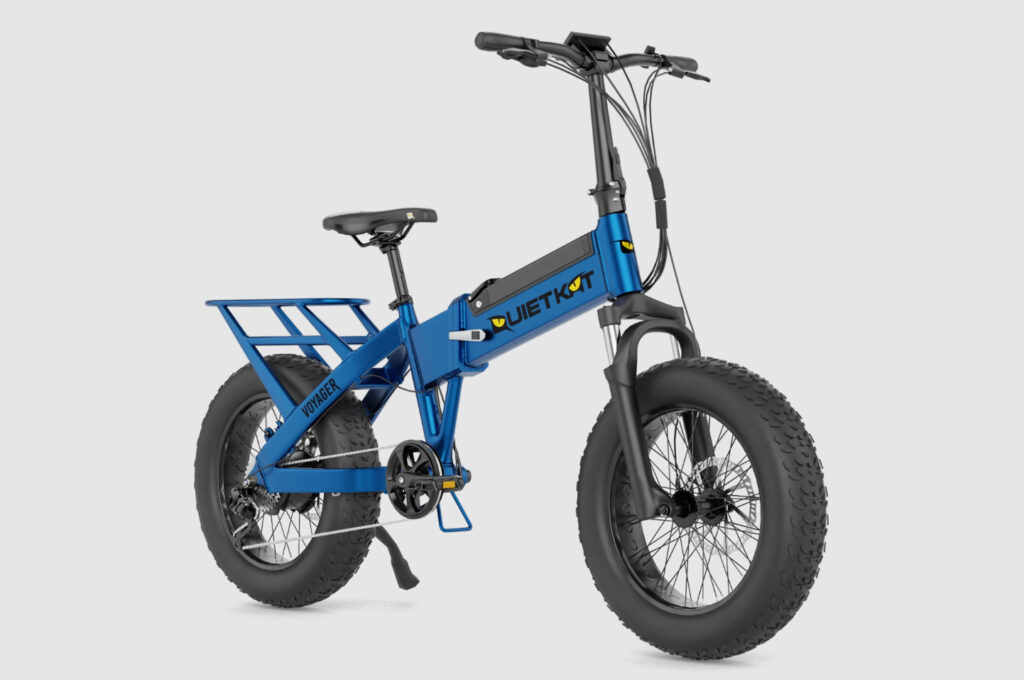 If you're a fan of folding electric bikes, Quietkat Voyager might be a great fit for your needs. Voyager is a foldable electric hunting bike that's based on the folding bike frame yet it's reinforced for better durability while still keeping the standard low-frame style.
What's also great about Voyager is that the steering wheel column is adjustable to different heights so you can adjust the Voyager eBike to your fit.
With the reinforced 15″ frame and 20″ wheels that come with 4″ wide off-road tires, Voyager is built for everything from off-road errands to hunting and exploring the wilderness.
Powered with a 750W hub motor and an 11.6AH 48V battery, Voyager can cover up to 48 miles on a single charge.
What's also great about Voyager is that you can additionally choose an NCX suspension seatpost for even better comfort. This seatpost upgrade combines well with the front fork air suspension.
For the stopping power, this foldable eBike comes with mechanical disc brakes, and while the Voyager comes with the throttle, it fits class 2. If you face any issues with using a throttle eBike on the road, Quietkat gave you the option to easily remove and add a throttle button.
Voyager is also one of the lightest hunting eBikes on the market since it weighs only 54 lbs and yet it can haul and handle a weight capacity of up to 325 lbs.
Rambo R350 Compact G3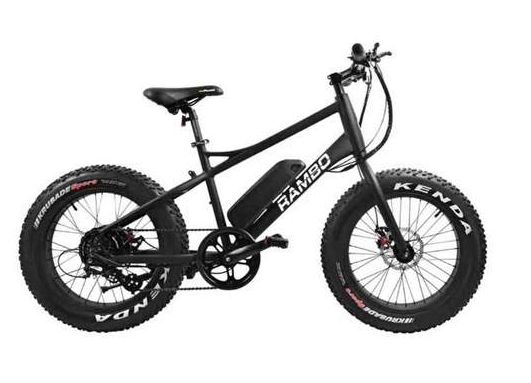 If you are not looking for a way too powerful hunting eBike and yet size might be an issue as well, Rambo R350 Compact G3 is a great choice.
This hunting eBike is a compact version of Rambo hunting eBikes. Even though it only comes with a 350W motor, it is equipped with a 36V battery that helps you achieve at least 20 miles on a single charge.
R350 Compact G3 eBike is based on the 17″ frame and even though it's a compact eBike version, it comes with a full-sized motor that is used for standard eBikes.
But what's even more interesting is that this eBike's frame is based on the BMX bike frame. Of course, Rambo reinforced the frame to improve its durability without increasing weight.
On top of that, this can be one of the lightest hunting eBikes (if we consider compact eBikes) since it weighs only 50 lbs and yet it supports the weight capacity of up to 300 lbs.
With 20″ wheels with Kenda fat tires, this compact eBike is ready to conquer off-road paths, trails, and even unexplored wilderness.
With comfortable components such as a Velo saddle, Promax handlebars, and even premium components such as the digital display, R350 Compact G3 might be a very great choice considering its standover height.
Quietkat Villager Urban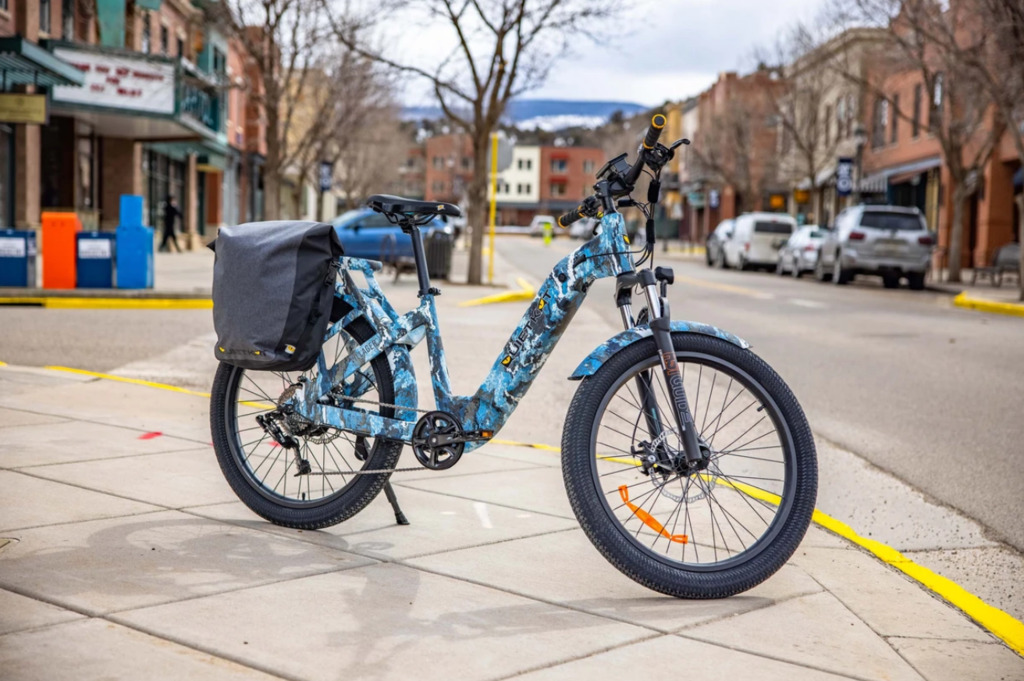 When you're interested in a full-sized hunting eBike and yet the standover height is the main thing that worries you, Villager Urban eBike can be a great choice.
Villager Urban is an eBike with one of the lowest step-through frame designs which ensure that standover height is never a problem.
With a very decent 500W motor that fits a Class 2 category, and is equipped with a Panasonic 11.6Ah 48V battery. On a single charge, you can cover up to 40 miles and even though Villager is considered a cruiser that you can use for multi-purpose, it's ideal for hunting and heading off into the wilderness.
While Villager only weighs about 50 lbs, it can carry and haul up to 325 lbs. With a Shimano 7-speed and Tektro mechanical disc brakes, you will have enough stopping power to handle rough terrains and both uphills and downhills. Also, with 3″ wide street tread tires, you can do anything with Villager, from doing off-road errands to hunting and even recovering the game.
Not only the Villager eBike is a proper eBike that fixes the sizing issues, but it is also one of the best-looking eBikes thanks to the Veil Poison / Blue Camo finish.
Rambo Rooster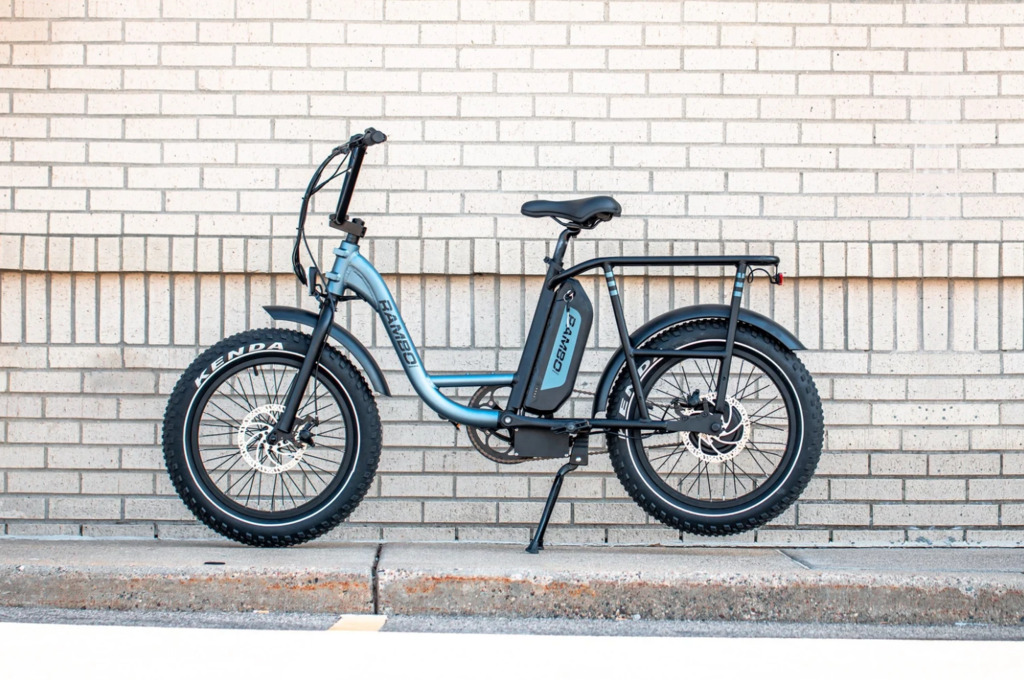 When you need a hunting eBike and yet you'd try to stay away from regular mountain bike eBike frames, Rambo Rooster is a great choice.
This eBike is built on a very unique bike frame that is well combined with a step-through design. Thanks to such a unique frame, standover height is 16.5″ which is ideal for almost all riders.
With the unique frame, Rambo equipped the Rooster eBike with 20″ wheels. However, don't underestimate the eBike because of its size. Rooster is still equipped with a pretty powerful Bafang 750W rear hub motor.
Along with the powerful motor, this eBike is equipped with a Samsung 48V 14Ah battery. Such a combination allows you to cover 35 miles on a single charge without using the help of pedal assistance.
With the pedal assistance, you can expand the range and cover a lot more ground.
The eBike only weighs about 61 lbs and yet it can still hold and haul up to 300 lbs of weight. And if you can't get enough of this unique eBike that can take you hunting without a problem, you'd be even more surprised to learn that the handlebar is a BMX handlebar.
Best Way to Finance a Hunting eBike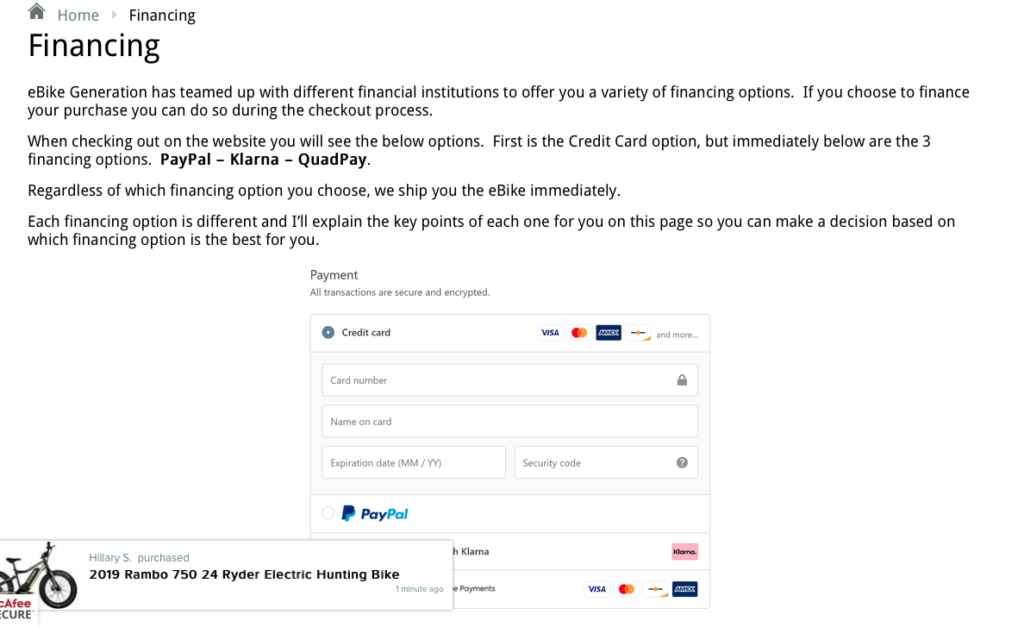 No matter which hunting eBike you go for and what its standover height is, the truth is that hunting eBikes can be pricey.
They're not overpriced, but they're actually really well priced according to the value and quality they provide.
However, the biggest mistake that you can make is trying to save money when purchasing a quality hunting eBike. Saving money and going for cheaper eBikes can only do more bad than good in the long run.
But we know that paying the price can be a huge investment and even though it's totally worth it, if you're on a tighter budget, it can be really difficult.
That's why it is super important to choose a quality eBike retailer. Quality retailers such as eBikeGeneration have partnered up with financial institutions to provide financing plans.
For example, eBikeGeneration provides a couple of different plans with the help of PayPal, Klarna, and others so you can purchase an eBike and pay monthly.
Of course, eBikeGeneration offers these financing plans at 0% interest so you only pay what the eBike costs (if you keep up with your payments).
Yet the best thing is if you replace a motorized hunting vehicle with a hunting eBike, you can save money and even have the eBike pay itself off in the long run.
Conclusion
Best hunting eBikes for short people do exist and these are the top 5 picks that will fit almost everyone's needs!
With a couple of different frame types, standover heights, and great adjustability, you won't have any issues hunting with a quality hunting eBike.
Of course, there are a couple of different power options so you even have the ability to choose a motor, battery capacity, which eventually gives you an approximate range.
And even if you don't have enough savings to purchase any of these quality hunting eBikes, financing plans are a perfect lifesaver!
What is your favorite hunting eBike with a lower standover height and why?