Starting the New Year with a new upgrade is the best way to get ready for the next hunting season – so if you're checking out this Rambo 750W 3750XP G3 combo electric bike review, you know exactly what you need.
Whether you're familiar with the Rambo brand or not – in this article, you'll learn why is Rambo one of the best hunting eBike manufacturers but also what options you have available.
We'll also review the 750W R750XP G3 Came model as it's one of the most popular electric hunting bikes on the market right now.
Are you ready to learn more about one of the newest electric hunting bikes from Rambo?
Things You Didn't Know About Rambo

Rambo is one of the dedicated brands that is all about taking the regular mountain bike apart and building a hunting eBike that's tailored for hunters.
Their eBikes are made for all-terrain types, powerful, and yet stealthy enough not to tip off the game.
Whether you'd like to scout the land, carry your gear to the blind, or travel further than ever before – it's all about experiencing the freedom on one of the Rambo eBikes.
All Rambo eBikes are suitable for hunting, you get plenty of choices when it comes down to the most important components such as the battery, motor type, and power.
Therefore, Rambo hunting eBikes help you:
Go farther
Leave no scent trail
Move stealthily
Carry extra gear
Stay out longer
Reach unspoiled remote locations
Stay safe
Keep your ride environmentally friendly
What we personally like about Rambo is that they use one of the best motors on the market. With a choice between mid-drive or rear-hub powered motor, you will have a lot of flexibility without having to sacrifice reliability.
Rambo 750W 3750XP G3 Combo Electric Bike Review
Rambo Nomad 750W is one of the best investments you can make in 2021 as this is the ultimate hunting vehicle that won't let a sound and yet it will get you to places you haven't discovered before!
Powerful Mid-Drive Motor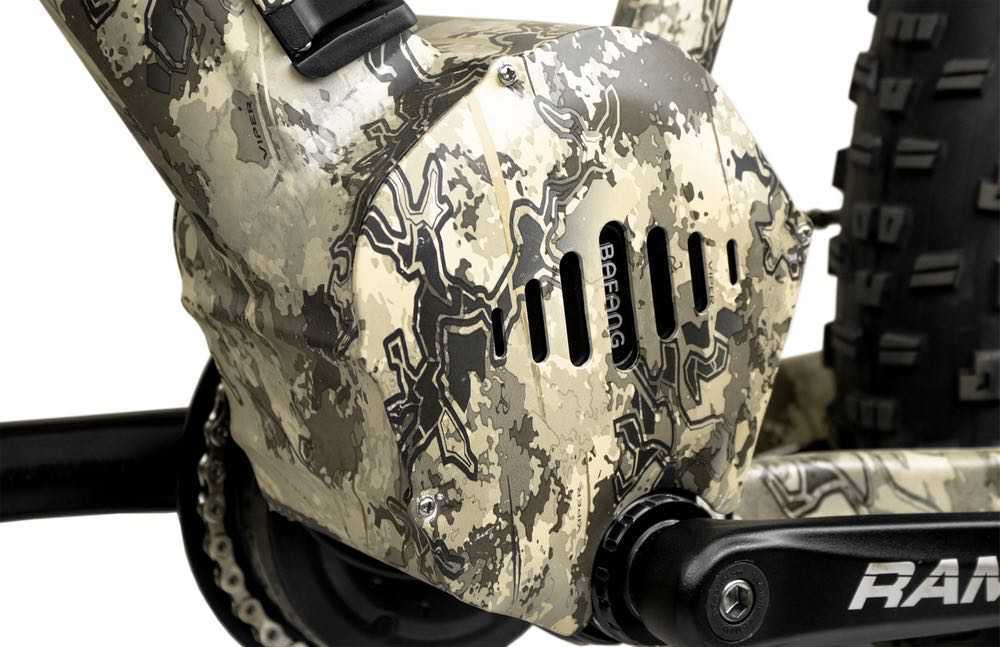 Rambo Nomad comes with a 750W mid-drive motor that's combined with a derailleur drivetrain. At the touch of a thumb throttle and activation of pedal assist – you'll cover a great range with very little effort.
Bafang mid-drive motor is ruggedized in a metal casing so it won't get damaged even in the most extreme weather or situations. The same applies to the battery which is the long-distance Panasonic 48V 14Ah that provides a great powering rate while still being able to provide a long-range.
Pure Throttle Covers Long Range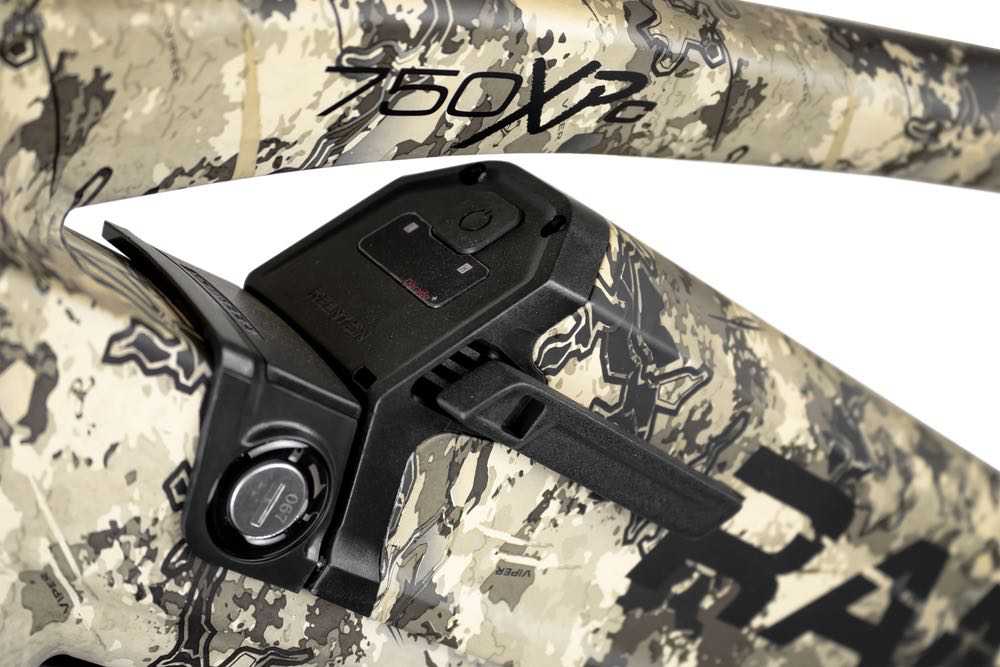 Bafang mid-drive motor is combined with pedal assist to protect the motor, get most out of the motor, and yet find the perfect balance between high speed and long-range.
In combination with the Panasonic long-range battery, you'll be able to cover up to 38 miles on a single charge.
Of course, the weather conditions, the way you ride your eBike, and even the storage weight you carry might change the predicted range – but 38 miles is definitely an average.
You won't have to worry about the range and you'll be able to enjoy the newly discovered area you can cover with the Nomad.
Made for Bad Weather
While bad weather might bring many hunters down and even ruin their hunting game, Nomad features a strong but lightweight frame that is rustproof.
All of the components are well protected and the whole eBike is suitable for riding in excessively humid areas. Therefore, you won't have to think twice before letting your hunting eBike take you somewhere.
If you're scared of riding over rocks or brush – you'll be safe with double-wall rims that lessen the possibility of punctures, but also provide better endurance no matter the surface type.
Going way off-road won't feel like a risk anymore.
Premium & Reliable Components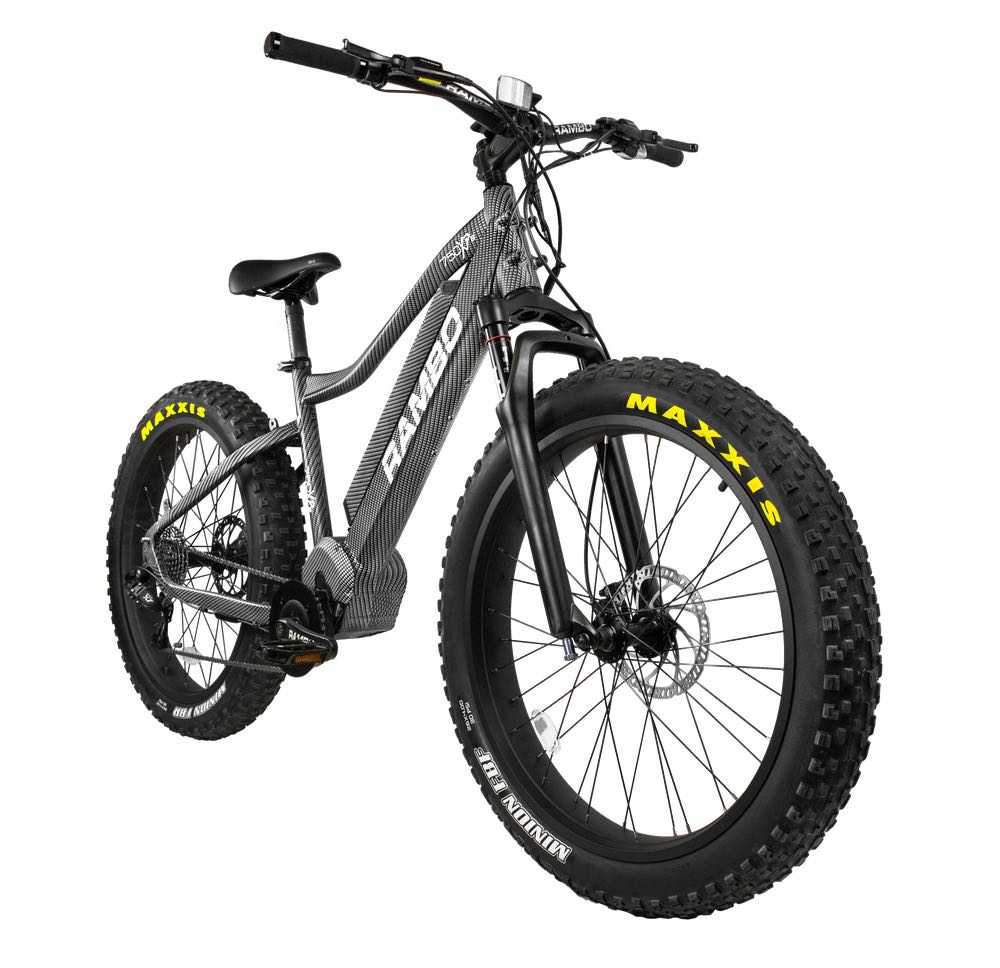 Rambo didn't cut corners and that's why every component on Nomad is a high-quality component that exceeds the build standard, but it even beats the hunters' expectations.
One of the special components that caught our eye was the 36T narrow chain which provides even smoother operation and improves durability. Such components being installed on a bike of this type definitely show how serious Rambo is at providing only the best to its customers.
Another crucial and convenient feature is the high-contrast LCD display can is made to provide clear information even under the brightest sun. It'll accurately show your top & average speed, speed you ride at, distance traveled, remaining battery left, and more.
Perfect Finish Selection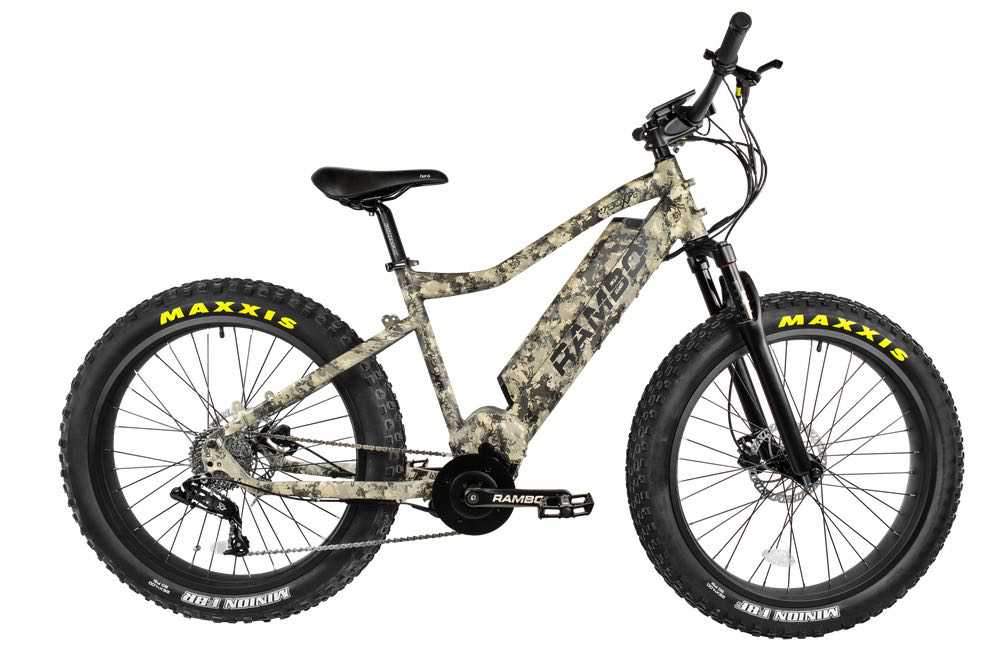 Even though Nomad comes only in two finishes – we believe that Rambo really chose the correct finishes as the final finishes of the Nomad.
The first finish is Carbon and the second finish is Truetimber. Depending on the area you hunt in – at least one of these two finishes will be more enough to keep you stealthy whether it's on the go or when stationary.
Additional Accessories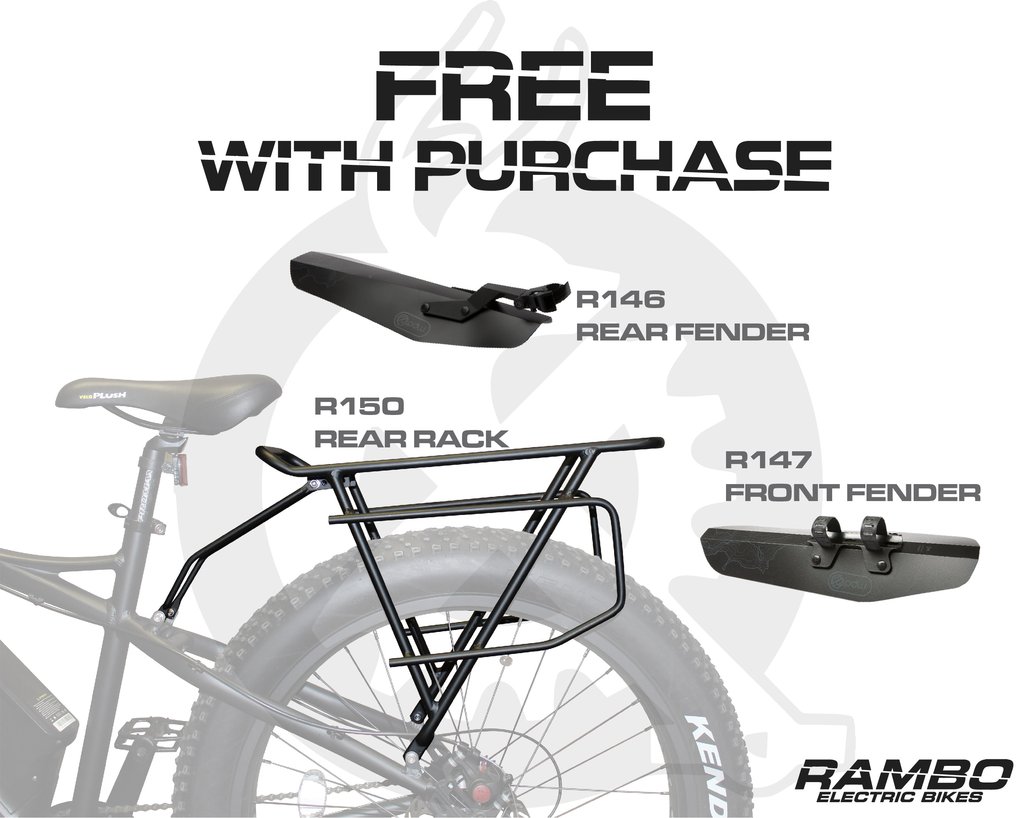 Depending on the place you purchase the Rambo Nomad from, you'll be able to receive a decent number of accessories that will provide almost everything you might need for an efficient hunt.
The accessories we've mentioned include Rambo R150 rear rack and a front fender.
While the rear rack might be more than enough for some hunters, others might prefer pannier backpacks.
However, you'll never lack space on Rambo Nomad as you'll always be able to additionally purchase one of the Rambo trailers.
They're fully compatible with the Nomad and you'll be able to carry both your storage and game home.
Conclusion
Rambo 750W 3750XP G3 Combo electric bike is definitely one of the most popular eBikes in 2020 and it'll continue its popularity in 2021 for many different reasons.
Considering the Nomad's price – it's definitely a pricey investment with a correct financing plan. However, we also believe that every dollar will pay off in the long run as this hunting eBike is made to last and made to stay & even out beat its future competitors.
What is your favorite feature of Rambo Nomad (750W)? Where would you test out this electric hunting bike from Rambo?
Feel free to share the post, leave a comment below, ask questions – or ask for help if you need any! We'll do our best to get back to everyone who reaches out!