If you're a hunter, you must have felt cold at least one time during your hunt. Most hunters consider this as a normal thing – but actually, you should stay warm while hunting.
It might seem like something that's easier to say than do – but maybe you aren't doing everything in your power to protect your body from losing temperature.
Did cold ever stop you from hunting any further?
Regardless of the answer to the previous question – we believe that this is the right post for you.
Why?
Because, down below, you won't only find tips & tricks on how to keep your body warm for longer – but you'll also see some of the most recommended clothing products & accessories that can help out in the long run!
Are You Struggling to Stay Warm While Hunting?
As we've mentioned earlier, there are many hunters who believe that cold is inevitable and that there's not much you can do about it.
Suck it up and deal with it in your own way, right?
Well, that's not how it should be done – regardless of how big of a man you are!
It's important to keep the core of your body warm at all times. If you don't – you will start shivering which is a natural body reaction to cold which is pretty hard to stop unless you get warm.
Therefore, if you reach this point and you aren't able to get yourself warm – you might have to end your hunting trip for good, and no one would like that, right?
There is nothing worse than cold preventing you to enjoy your hunting – but you're in the right place.
You won't have to break your head and try to figure out what might work out. Instead, keep on reading to find out some of the not-so-obvious tips that could help out!
How to Stay Warm When Hunting?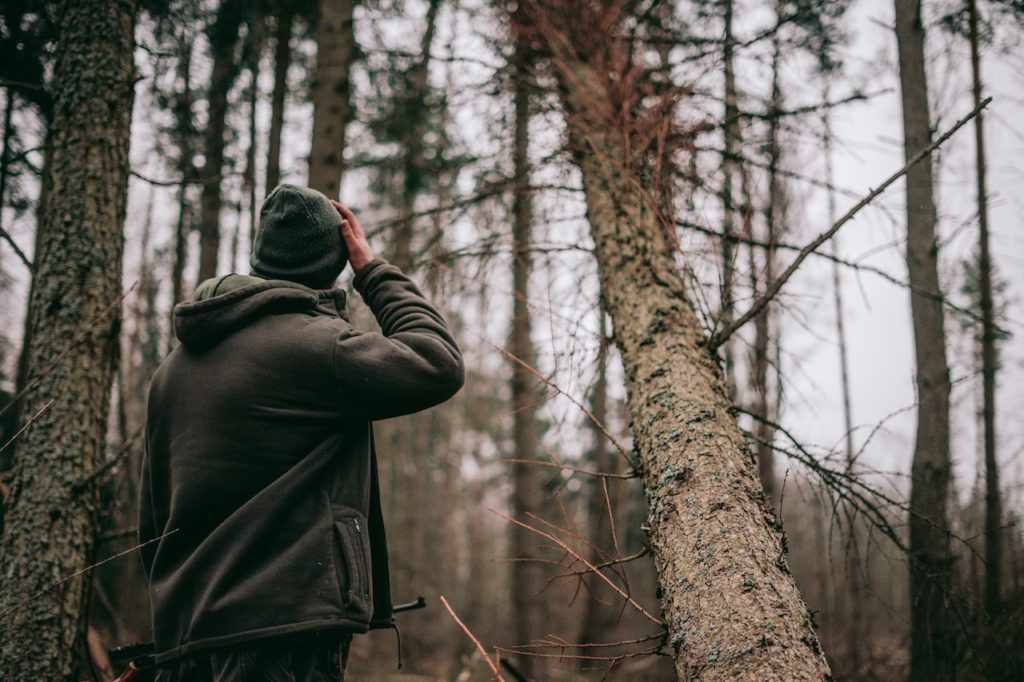 One of my favorite tips for hunters who rely on hunting blind is the following.
Place cardboard underneath your feet as this will block out cold from below and most importantly – it will prevent your soles from getting cold.
Not only cardboard can be a really good friend – but you can even use it to fill out cracks or holes of your footwear to ensure that no air is passing through.
But no matter how well protected your feet are – some hunters might still get pretty cold. Doubling up on hats is a great way to ensure that your head stays warm.
However, if you still get cold no matter how many layers you wear – you should consider investing in heat packs.
Heat packs are designed for large body parts which help keep the temperature of your core steady without drawing your body heat away from your extremities.
Apparently, some hunters even stay warm by drinking hot water. Most of us are used to cold water, but drinking hot water actually can help you stay hydrated and still keep you warm inside out.
Other than paying attention to the beverages you drink, you should also pay attention to the food you consume. You should avoid spikes in blood sugar as this can make you feel cold regardless of your body temperature.
It's important to pack high-protein food with you even if you're going for a quick hunting trip.
We believe that you could try out all of these tips and still feel cold.
How come?
Clothing. It's important to wear quality clothes that will help you keep your body warm and stop the escape of your body heat.
Down below, you can find some of the best hunting clothing & accessories that could ensure that cold never stops you from hunting again!
Best Hunting Clothing Accessories That Will Keep You Warm
All the way from your head to your little toe – we'll ensure that you never feel cold again. This comprehensive list features some of the best products you'll need for staying warm when hunting.
Whether you decide to go for a few of them or you decide you need all of them – results are guaranteed!
Ergodyne N-Ferno Mask
It's important to protect your head and a single hat might not do much. Did you notice that we recommend doubling up on the hat?
Ergodyne N-Ferno isn't exactly a hat but it's a face mask which covers the face and goes all the way to the neck.
Combine this with a warm hat and you will not only have a warmer head, but you won't be losing as much temperature in the neck area.
But the N-Ferno mask won't only be protecting your body heat yet it will protect your body from losing heat due to the outside factors such as wind.
N-Ferno mask is wind-resistant thanks to the fabric paneling over the interior. We were surprised how easy it is to breathe inside when wearing the mask.
Therefore, you won't find yourself pulling the mask down to catch fresh air.
But are you ready to hear about the best part? This mask can be worn in 3 different ways. It features a hinged design which allows you to wear it as open face balaclava, neck gaiter, or full ski mask.
N-Ferno mask is available in 6 different colors, but we are sure that you'll be most interested in the camo finish. It also features reflective accents for increased safety during hunting.
Carhartt Flannel Lined Camo Active Jacket
Another one of our tips was to ensure that you keep your body core doesn't lose temperature. No one likes shivering that you can't stop, right?
Therefore, it's important to have a hunting jacket for the coldest days out there. Carhartt has quality jackets of all types.
However, this flannel-lined camo active jacket is probably one of their warmest choices that will keep your body temperature up and high even in the cold snowy days.
It's made out of 100% cotton and you can easily wash it in the washing machine. However, what we like the most is the adjustable closure and quilted flannel lining throughout the jacket, even in the sleeves.
Two large front pockets are always good benefits to have and you will even have two inside pockets for the smallest items you usually carry with you.
The real tree camouflage pattern is very realistic and it will even help you increase your concealment.
ZLTFashion 5V Heated Vest
Are you one of those hunters who could never be warm enough?
It's a very common problem among hunters, and that's why we believe that this product will be ideal for you.
This isn't any vest. It's a 5V heated vest that will constantly keep you warm since it's powered by a 5V portable charger.
Of course, since it's a battery-powered vest, the heat won't last forever – but you will be able to easily heat your body core, prevent shivering, and stay warm at all times.
If you have a couple of batteries – you can easily replace them and keep yourself warm throughout the whole night.
This vest has 2 heating panels at the front and 3 heating panels at the back of the vest. Regardless of the panels – this vest is still pretty lightweight and is easy to wear.
There are 3 heat settings you can choose from and this vest comes in 5 different sizes. Ideally, you should wear it under your hunting jacket – this way, you will stay warm and you will conceal your movements!
Itiebo Men's Heated Jacket
If you are in the need of a new hunting jacket and you could use an electric heater technology – Itiebo offers an ideal way to get both at the same time.
This is a heated jacket that is camouflaged and is made for hunters. On the inside, it features a battery system that works with 2 heaters at the front and one heater in the back.
Your body will be warm all around and yet you won't have to worry about safety. There are 3 heating settings that will keep you warm even through the longest & coldest days.
Depending on the heating setting you use – the battery can last anywhere from 8-10 hours to 3-4 hours.
The heating panels and battery packs are very lightweight so you won't have a problem wearing the jacket. Also, since the jacket is breathable and is made out of quality material – it's very easy to fold it and carry it with you.
This is a great choice as a hunting jacket for the coldest days out there.
Hot Shot Thinsulate Insulated Hunting Gloves
It's important to keep your hands warm because no matter how warm your body core is – sometimes it can feel like you aren't warm at all if your hands are cold.
Therefore, hunting gloves are needed – but not any gloves will do well in the coldest times.
So why are these gloves recommended for the extreme cold weather?
Hot Shot hunting gloves are lined with 40 grams of 3M Thinsulate insulation along with 2 mm foam that's backed up with poly-fill.
This is something you won't find in any hunting gloves out there and that's the main difference.
Along with all of that, these gloves are waterproof and offer two camouflaged finishes: mossy oak break-up country and Realtree edge.
Finger positions are pre-curved which improves mobility and a non-slip grip ensures that you never experience troubles in the most important hunting moments.
Another thing worth mentioning is that the gloves are made out of 100% polyester and are machine washable so you won't have a single thing to worry about.
Kryptek Lined Camo Hunting Beanie
If you already have a hunting hat or you have a face mask – beanie is an ideal way to listen to our advice and double up on the hat.
Kryptek focuses on providing the best equipment for hunters who hunt in extreme conditions. And that's exactly what you can expect out of this beanie.
This hunting beanie might seem thin at first, but the inner insulation really does its magic by keeping the heat inside and yet resists wind and weather conditions.
But is this beanie really good enough for extreme temperatures? Yes, it is. If you went hunting at 30F degrees, your head and ears would be warm and safe.
However, if you went hunting at 40F degrees – your head would start sweating. This just shows how good this beanie is and how well it preserves your body temperature but also how it ensures that no outside weather can affect your body temperature that easily.
HeatMax Hot Hands Handwarmer
But what if it seems like no matter what you do – you can never get warm enough?
Maybe you are doing everything correctly and you are paying attention to your hunting clothes for the worst weather out there.
However, you could use a bit of help from gadgets such as the handwarmer.
In a box of HeatMax handwarmer, you receive 40 pairs of safe, natural, and long-lasting heat that is odorless and easily disposable after it runs out of the heat.
Each pair can last anywhere from 15 to 30 minutes, and everything you need to do to activate the hand warmer is to shake it.
Even though they're ideal for hands, they can be placed inside the pockets (ideal for inner jacket pockets) to keep your body warm as well.
No matter how low the temperature gets – you will never have to worry about a single thing since you will have a direct source of heat just waiting for you to activate it.
If you combine it with any of the heating jackets/vests – you'll never feel cold no matter the outdoor temperature.
Conclusion
We bet that just by reading this post, you can imagine your next hunt being a lot warmer.
Staying warm when hunting is a big issue that's rarely discussed among the hunting communities. However, you shouldn't think that feeling cold is okay.
It can affect you in many different ways, and yet investing in the quality & warm clothing items and accessories is the right way to ensure healthy future hunts!
Where do you feel cold the most? How do you stay warm while hunting?
Feel free to leave a comment down below, ask questions, or leave feedback with more tips & tricks on how to stay warm when hunting!