Himiway features a wide range of eBikes in its lineup that are versatile, convenient, and ideal for any type of purpose and use.
But not only this, but Himiway eBikes are also a lot more affordable than its competitors, and yet the quality standard is as high.
So if you are looking for an eBike that is versatile, ideal for almost any height, easy to use, and yet can be used in any type of terrain, Himiway Escape Pro is an ideal choice.
And in this Himiway Escape review, you'll learn everything there is about the eBike so you know exactly what to expect, how it can benefit you, fit your needs, and more, so keep on reading!
Himiway Escape eBike Review
Himiway Escape Pro is a versatile eBike that's suitable for busy city life, but also for off-road adventures thanks to a combination of versatile components and features that fit both needs.
Powerful Motor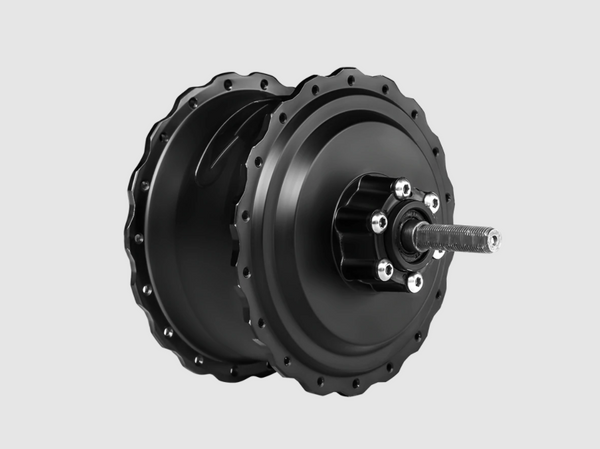 Escape Pro eBike is powered by a brushless gear hub motor (750W) which is more than enough power to enjoy Escape Pro for almost any purpose.
It's more than enough power to pull you up the hill, and yet it's just the right amount of power to have a lot of fun on flat sections no matter the type of terrain.
At its power peak, this eBike can generate about 80Nm of torque power at a twist of a throttle twist, so you can really get moving quickly. This also means that you will be able to get the most out of the eBike in any type of terrain.
Long-Lasting Battery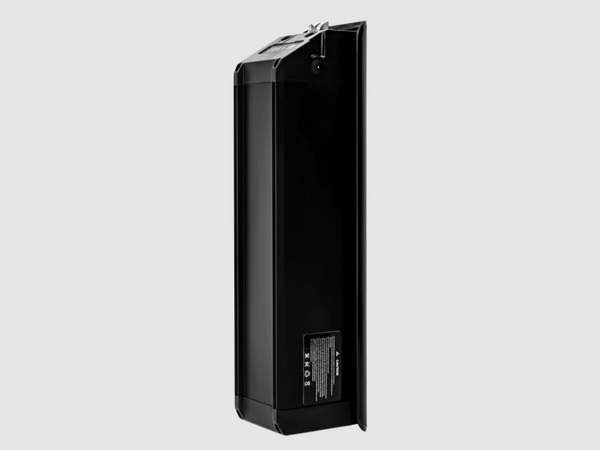 Besides quality and powerful motor, Himiway Escape eBike comes with a long-lasting battery that can help you cover at least 45 miles on a single charge.
Of course, the range will depend on the way you ride the eBike, how much pedal assistance you use, and what type of terrain you ride on.
With the help of pedal assistance and preserving the battery, you can get at least 60 miles on a single charge which is more than enough to cover a great distance, and still have enough battery to ride back home.
All Himiway eBikes, including Escape Pro, come with a 48V 14Ah battery from Samsung or LG, that's built on lithium-ion technology to ensure a long lifespan. Yet keep in mind that Himiway still offers a 2-year warranty on the eBike's battery alone.
Comfort and Efficient Gearing System
Escape Pro comes with a quality Shimano 7-speed gearing system that makes riding this eBike easy and effortless under any conditions.
You will be able to efficiently climb any hills, safely descend downhill, and even ride easily even when you help yourself with pedal assistance.
Thanks to such a gearing system, you can take advantage of pedal assistance to expand the range, and yet you won't break a sweat.
For the most comfort, Himiway Escape eBike comes with a moped-style design, 4″ fat tires, 180mm mechanical disc brakes, Promax stem, dual suspension, and hydraulic lockout front fork.
Therefore, no matter the type of terrain or surface you ride on, you'll never lack comfort or stability, even if you decide to push this eBike to its limit.
Wise Step-Through Design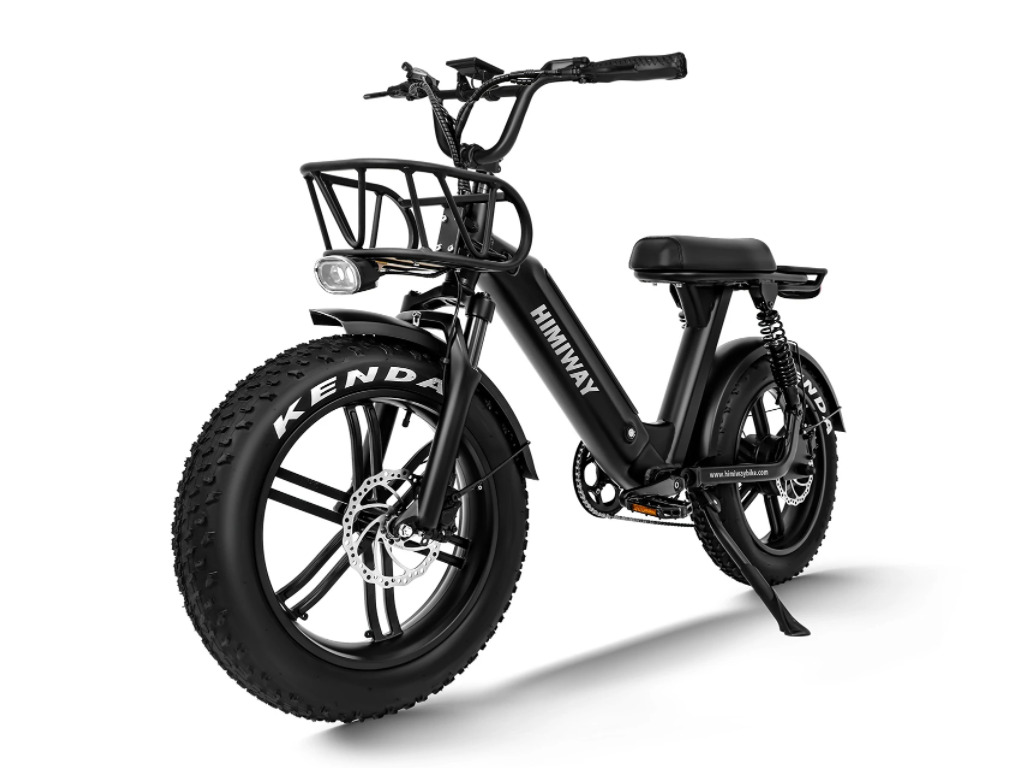 Escape Pro eBike is based on a moped-style frame that is built from a durable 6061 aluminum material. With such a design, you can easily get on and off the eBike at any time, which is especially ideal for hunters who decide to use Escape Pro for hunting purposes.
This also makes this eBike ideal for riders of height between 5'2″ to 6'4″.  With the wise placement of the motor, you get a lot more stability and control over the eBike.
Also, with the weight that sits lower to the ground and is evenly distributed, you won't have to worry about whiplash even when descending on the rocky terrain types.
High-Quality Components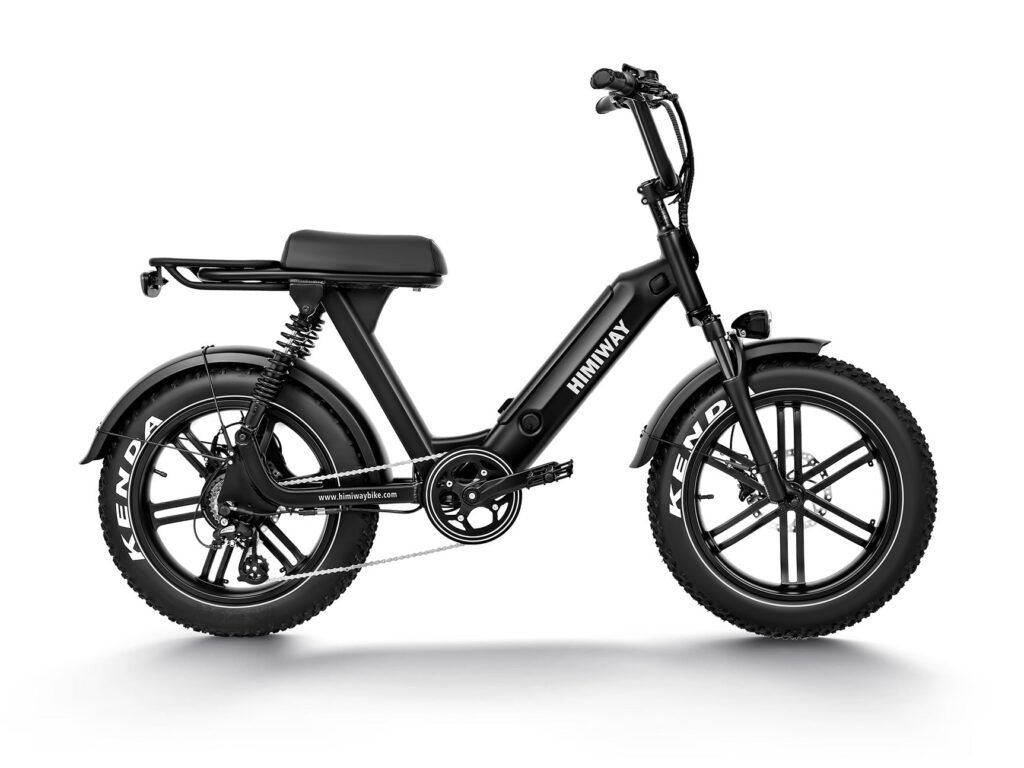 Except for the main high-end components that power the Escape Pro, this electric bike comes with additional components that represent the same quality level.
These components also include aluminum alloy levers that provide a comfortable grip. These brakes automatically cut off the motor switch so you never get in a situation where both your throttle and brake are used at the same time (to prevent any potential damage).
KMC chain, forged alloy 170mm crank, half twist throttle, durable alloy pedals, Velo soft saddle, heavy-duty aluminum stand, and alloy wheels are just some of the components that mean durability and long-lasting.
On top of that, you also get full fenders and a rear rack included so you can protect yourself from mud and wet tracks, but also have storage space that you can even use to attach a trailer to this eBike.
What's also great is that this eBike weighs only about 92 lbs and yet its weight capacity it can handle is 330 lbs which is above the average for such eBikes.
Convenient LCD Display With a Charging Port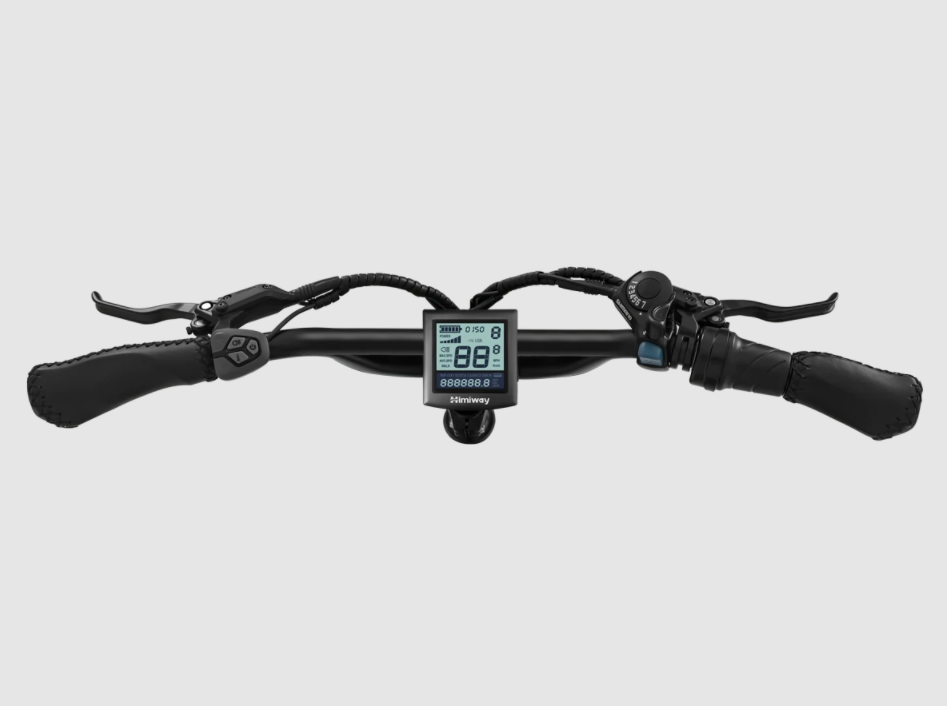 Along with the purchase of the Himiway Escape eBike, you get a convenient LCD display that is integrated into the eBike and yet provides the most useful information such as estimated range, battery percentage left, pedal assist level, odometer, speedometer, wattmeter, and more.
But what's even more important is that it includes a USB port that you can use to charge your smartphone or any other device you can charge through the USB port. This is a small but significant feature that can help you charge your smartphone in emergencies.
The display is easy to read so you can quickly get an insight into the most important aspects of the eBike when you're on the go.
Conclusion
Himiway Escape eBike is one of the most versatile yet affordable electric bikes that comes with plenty of quality components and is built to last.
With high versatility, Himiway Escape Pro is even used for hunting purposes since it can handle off-road and rough terrains well and yet is good enough for any type of purpose.
Along with a moped-style design, it is very convenient not only to ride but also to store.
What do you think of the Himiway Escape eBike and what do you like the most about it?