If you are not worried about the speed, power, or suspension that will help you overcome any type of terrain, yet all you want to do is have an eBike you can take for a chill ride without having to worry about the range left, then you're in the right place.
In this review, you'll find everything you need to know about the Himiway Cruiser electric bike, which is one of the best cruiser eBikes in its price range, and yet no quality is sacrificed which ensures a great riding experience and durability.
You'll also learn how to finance an eBike in a smart way and even what retailer you can use to wisely make purchase your next eBike, so keep on reading!
Himiway Cruiser Electric Bike Review
When you need an eBike that will effortlessly help you cruise on the beach, go grocery shopping, or even take you from A to B while still providing versatility, Himiway Cruiser is the best eBike from the line up for the job.
Even though it's not the typical cruiser, it is definitely an eBike that's as comfortable and yet even better for many more choices.
All Terrain Cruiser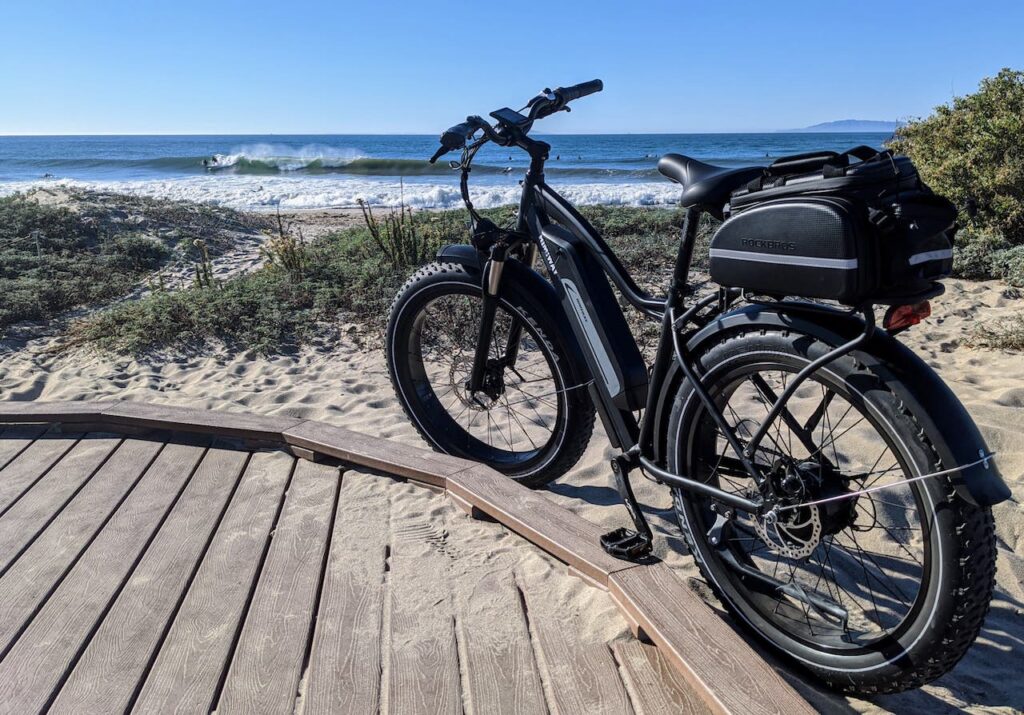 Usually, cruisers aren't made for riding in all types of terrains, but that's exactly what's so special about Himiway Cruiser.
It comes equipped with a front air suspension, fat tires, and hydraulic brakes. All of this will allow you to keep moving even when the trail stops, enjoy off-road rides, but also have enough power to stop at any time in any type of terrain without sacrificing your comfort while riding.
On top of that, 7-speed gearing system from Shimano will help you conquer any type of terrain, overcome any obstacles, and even get to the top of that hill without doubting if this eBike can make it.
Brushless Gear Hub Motor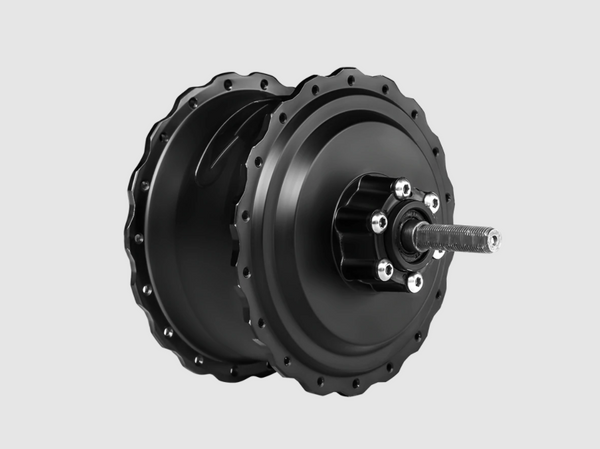 Even though Himiway eBikes are known for their affordability, they're also known for never sacrificing quality which means that this eBike comes equipped with a high-end Bafang brushless mid-drive motor.
This is a 750W motor that adapts well with the whole concept of a cruiser that can take you anywhere. It is ideal for complex cycling situations where a top torque power of 80 Nm can take you out of any situation and help you conquer any type of terrain more easily.
Since the motor is placed in the middle of the eBike, this also helps improve the overall stability and balance of the eBike since the motor is sitting lower to the ground. This evenly distributes the weight of the eBike and allows you to travel at higher speeds in any type of terrain without having to worry about losing control.
Long Range Battery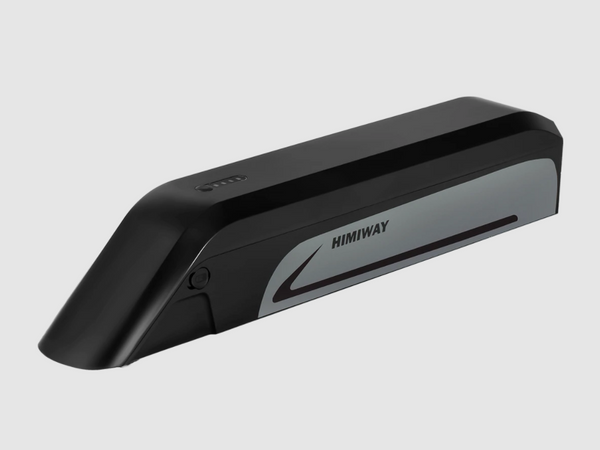 Along with the powerful high-end motor and a couple of other quality components, Himiway Cruiser eBike comes equipped with a Samsung or LG lithium-ion long-range battery that helps you achieve a range of up to 60 miles on a single charge.
Of course, the range will depend on the weather conditions, the type of terrain you ride in, and even the way you ride the eBike. If you also help yourself with the use of pedal assist, you can expect a range of up to 80 miles on a single charge.
But if you only rely on the throttle, in the worst-case scenario, you will be able to only achieve a range of about 30 miles.
High-End Components
Himiway doesn't cut corners when it comes down to quality so Cruiser eBike is still equipped with other high-end components that maintain a high quality of the eBike in general.
This includes components such as 180mm mechanical disc brakes, KMC chain, Promax stem, Shimano gearing system, alloy pedals, Velo ergonomic saddle, and even aluminum alloy levers that provide excellent comfort and grip.
Believe it or not, this also includes a heavy-duty kickstand made from aluminum that will keep this eBike steady on any type of surface.
Additional Accessories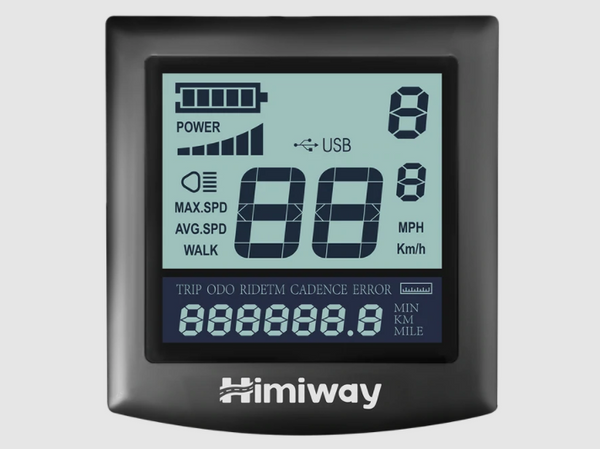 From additional accessories, Himiway Cruiser comes with one of the most important accessories, which is the LCD display.
This display is integrated with the eBike and it provides some of the most useful information such as speed information, remaining battery percentage, estimated range you can cover, odometer, pedal assist level, wattmeter, and other useful options.
This display also includes an integrated USB port which can help you charge your smartphone or any other USB device when you're on the go (ideal for emergencies).
Best Way to Finance the Himiway Cruiser Electric Bike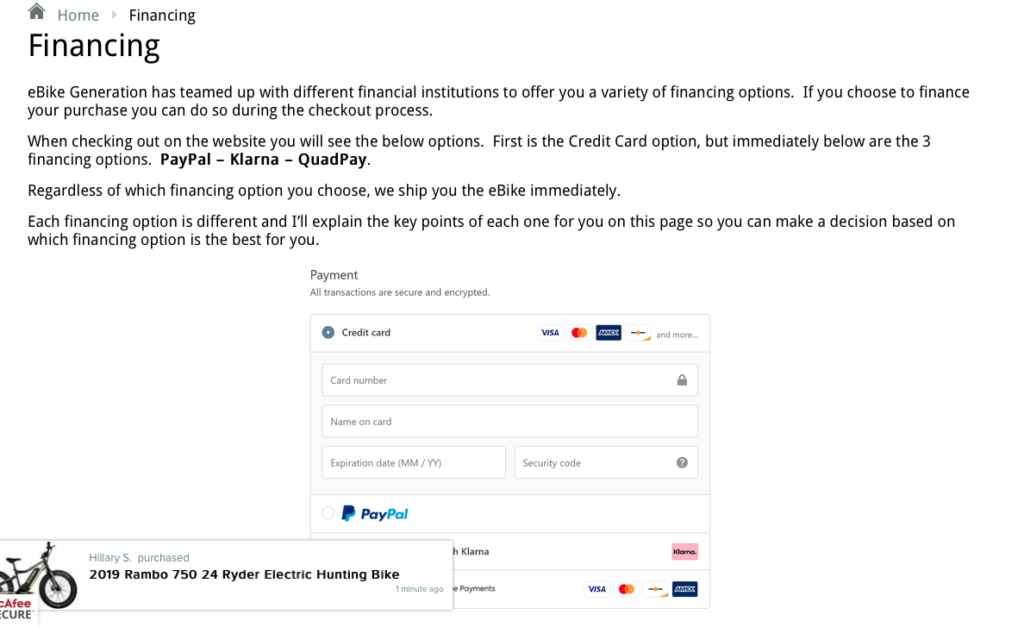 Himiway Cruiser electric bike is full of advantages and it's built with quality components, so there's no guarantee that it is a durable eBike that can last for long.
But even though it's one of the most affordable eBikes of such qualities, it can still be a lot of money to part ways with at once.
Therefore, taking advantage of eBike financing programs that can help you buy your eBike today and yet pay it off monthly in installments is a great way to wisely make your next eBike purchase.
Quality retailers such as eBikeGeneration have partnered up with buy now pay later platforms such s Klarna, Quadpay, and PayPal Credit so you can purchase this exact Himiway eBike or any other eBike with a 0% interest financing (if paid off in time).
Conclusion
Himiway Cruiser is one of the best cruiser-type eBikes on the market because it's not a typical cruiser bike, but it can be a cruiser and yet so much more.
With such a versatile approach, this electric bike can fit many needs and even help you in many different scenarios and situations you might not even be aware of yet.
It's definitely well worth the price since it's wisely built without compromising the quality and yet providing a lot more than the competitors within the price range, and even in the higher price range as well.
What is your favorite feature of Himiway Cruiser eBike and why?