If you're a big fan of electric hunting bikes and you're constantly looking for an upgrade or the best hunting eBike you can get, chances are you've come across Christini Fat Ultra eBike.
It only takes you one glance at this eBike to realize that it is a very serious eBike for off-road use, ideal for hunters, especially considering how much storage space it comes with.
Even though the price tag might be a bit expensive, Christini Fat 5 Ultra is very well worth the price. And in this review, you'll learn everything you need to know about the eBike, but also how to finance it without breaking your bank – so keep on reading!
Christini Fat 5 Ultra Review
With so much going on from the moment you have a first look at Christini Fat 5 Ultra eBike, you won't be able to look away without noticing things such as a big battery pack, racks, ultra-wide tires, and so on. Down below, you'll find the most important things you shouldn't miss checking out on Christini Fat 5 Ultra.
Bafang Ultra Mid-Drive 1500W Motor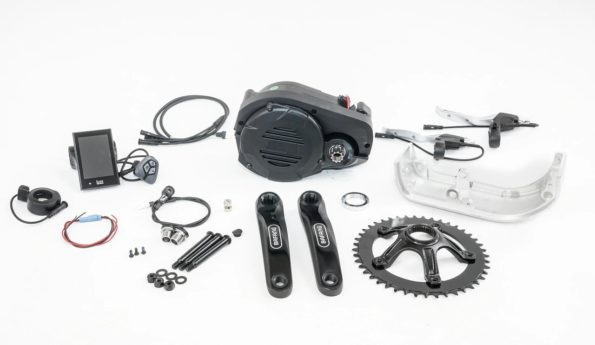 Christini Fat 5 Ultra eBike comes with one of the top-notch motors which is a Bafang Ultra 1500W mid-drive motor.
This motor can output a max torque of 160 Nm at the press of a button and it is designed to handle the highest load capacity while providing a very quick acceleration at all times, even up the hills.
Bafang Ultra comes equipped with a torque sensor which allows you to have full control over the eBike and power but also has assistance so you get the most out of the motor at all times while still achieving a great range.
Ultra Large Battery with Above-Average Range
Just by looking at the Christini Fat 5 Ultra eBike, you'd notice how big of a battery is as it takes quite a bit of room in the mid of the frame.
However, this is good since the battery equipped is a Polly-02 52V 15Ah, one of the most giant batteries on the market any eBike can come with.
Therefore, on a single charge, you can cover up to 60 (or even 80) miles, depending on the riding style, weather conditions, use of pedal assistance, and other factors.
Durable and Robust Build with All-Wheel-Drive System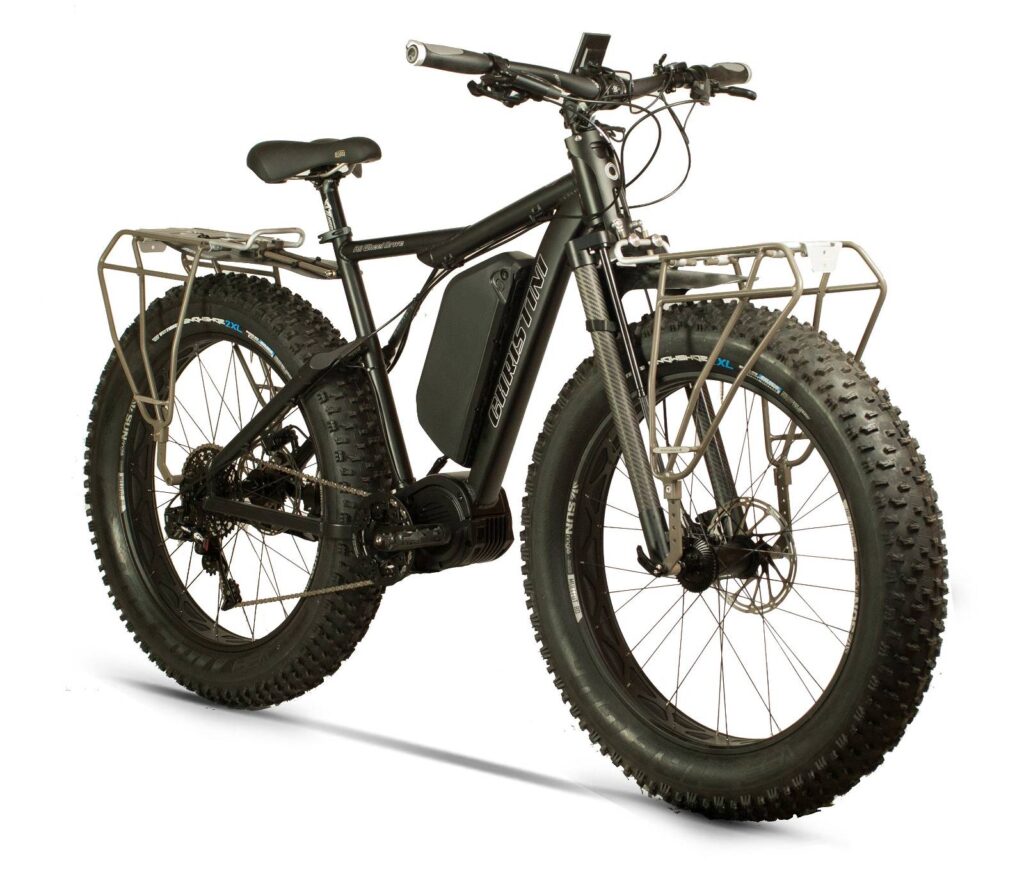 From the moment you lay your eyes on Christini Fat 5 Ultra, you'd notice how robust the build is. Christini eBike is definitely built with a mission to provide one of the toughest electric bikes ideal for hunters.
It is based on a reinforced 6061 T6 aluminum frame, and most importantly, it integrates an all-wheel-drive system into the eBike.
This way, the full power is transferred to both wheels at the touch of a throttle which gives better stability, and manueverability improves safety and helps you tackle down any type of terrain with ease and without struggle. This even applies to muddy conditions where other one-wheel-drive eBikes would get stuck.
On top of that, with a high-end design on the MTBs frame style, you won't have to worry about overcoming any obstacles since you'll be able to go hard and push Christini Fat 5 Ultra eBike anywhere you ride without worrying about the damage or durability.
Equipped for Adventures and Most Demanding Terrains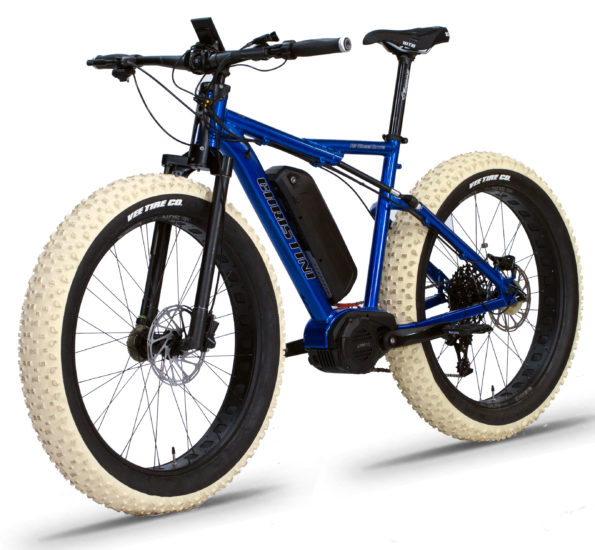 Christini Fat 5 Ultra is equipped with a front carbon fork suspension and the next thing you'll notice are the ultra-wide tires that make one of the widest tires you'll ever see on a hunting eBike.
Vee Tire Snow Avalanche tires are 4.8″ (almost 5″) wide, and in combination with an all-wheel-drive system, they can dig deep and push you forward in any type of terrain. Of course, these tires will also improve comfort and yet will also make you feel safer on the eBike.
Punctures are also something you shouldn't worry about, yet instead, you'll be able to focus on adventures where you'll really be able to push Christini Fat 5 Ultra eBike and conquer any type of terrain.
High-End Components and Additional Accessories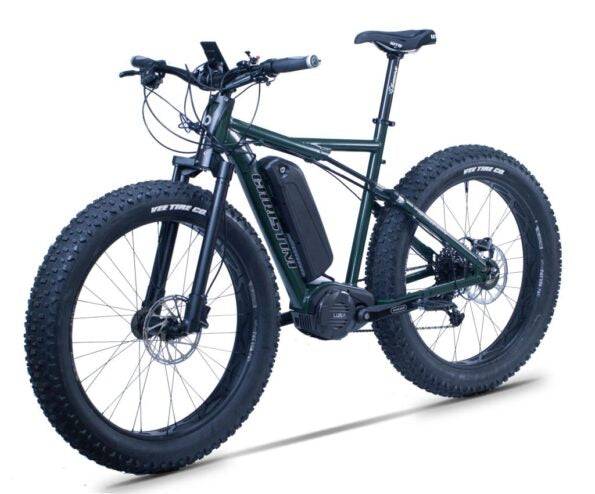 From additional accessories and other high-end components, you can find on Christini Fat 5 Ultra eBike, SRAM Level Hydraulic brakes are worth mentioning as they'll provide safe and powerful stopping power at any time in any type of weather conditions or terrain.
For improved comfort, this eBike also comes integrated with a WTB Speed Gel pro saddle, Ergon GP1 grips, and Race Face Chester pedals.
And for the most accurate insight into the eBike, you'll also get an integrated Bafang color display. On this display, you'll be able to find the estimated range left, battery percentage, time and distance traveled, mode, pedal assistance use, and other useful features.
There are also two racks to which you can also attach a cargo trailer to even recover your game when hunting!
How to Finance a Christini Fat 5 Ultra eBike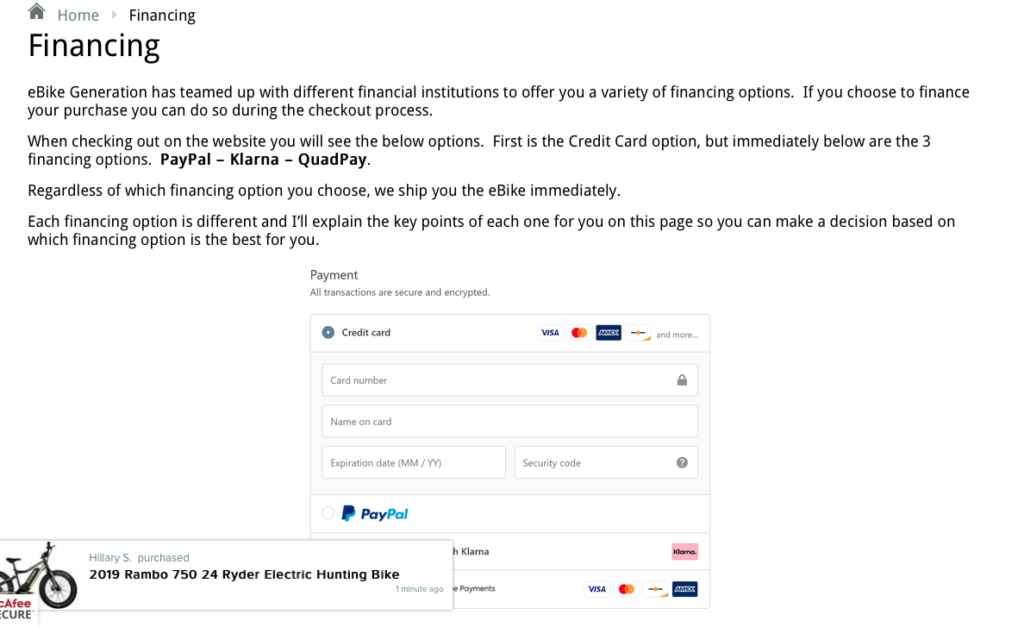 Christini Fat 5 Ultra definitely comes with a price tag that might surprise most, but it is an ideal investment since it provides an incredible value that justifies the price.
Luckily, there's a way to purchase Christini Fat 5 Ultra eBike today without breaking the bank and yet have it delivered straight away so you can start taking advantage of it on your new hunting adventures.
Quality hunting eBike retailers such as eBikeGeneration have partnered up with fintech institutions that provide 0% financing plans. You can purchase this eBike today and pay it off in monthly installments.
If you pay your monthly installments on time, you won't ever get charged any fees or interest and you'll only pay the price of the eBike. It's simple as that.
Conclusion
Christini Fat 5 Ultra is top of a line electric hunting bike that won't let you down and yet it will pay off as an investment since you'll be able to take it anywhere with you and reach places you have never got.
On top of that, reliability is not going to be an issue, and even comfort is fairly decent for an eBike that doesn't come with a full-suspension system but is designed in a way to provide the most comfort as you push it on rocky terrains.
What is your favorite feature of Christini Fat 5 Ultra eBike and why?