If you're looking for an adventure and you're thinking of an electric bike to help yourself out in the most demanding adventures, you're in the right place.
And if you've been searching for such an electric bike so far and you've come across Ubco, you're on the right path!
Finding one of the world's toughest electric bikes for any type of adventure can be tricky, but luckily, you're here.
In this post, you'll find out everything there is to know about Ubco, but also their own electric bike that's hungry for demanding adventures, and is also considered the world's toughest electric bike on the market, so keep on reading!
What are Ubco Bikes?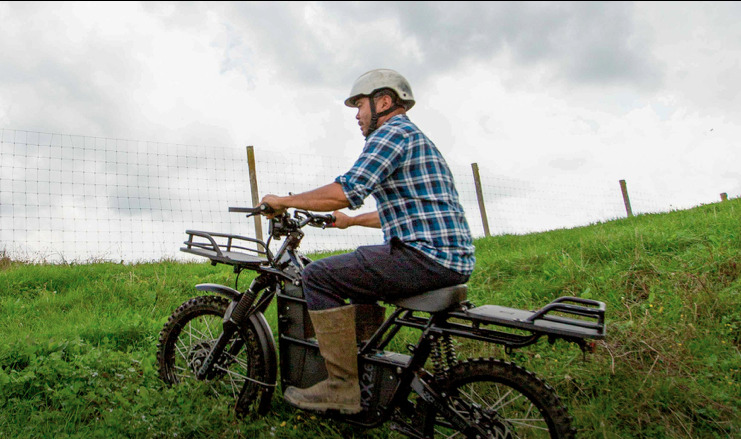 Ubco bikes are electric bikes built on the idea of rugged utility electric vehicles (UEV) with the purpose of transforming the way people ride and use electric bikes.
Not only electric bikes can be used to help with the commute, but with so many specifically built and designed electric bikes, they can allow you to enjoy adventures like never before.
Therefore, Ubco isn't only focused on providing the best electric bike on the market, but it is also focused on combining the technology behind the production of batteries for electric vehicles, providing on and off-road electric transport, helping create portable power, accessories, and even has a subscription software.
Ubco is far from just an electric bike manufacturer, yet it is a whole solution for individuals who want to become connected with the UEV world and harvest all the benefits without breaking the bank.
And even though Ubco is relatively a new company (at the time of writing, a 5-year-old company), it is already making big moves and is spreading globally with the aim to innovate and change the industry for the better.
Benefits of Ubco Electric Bikes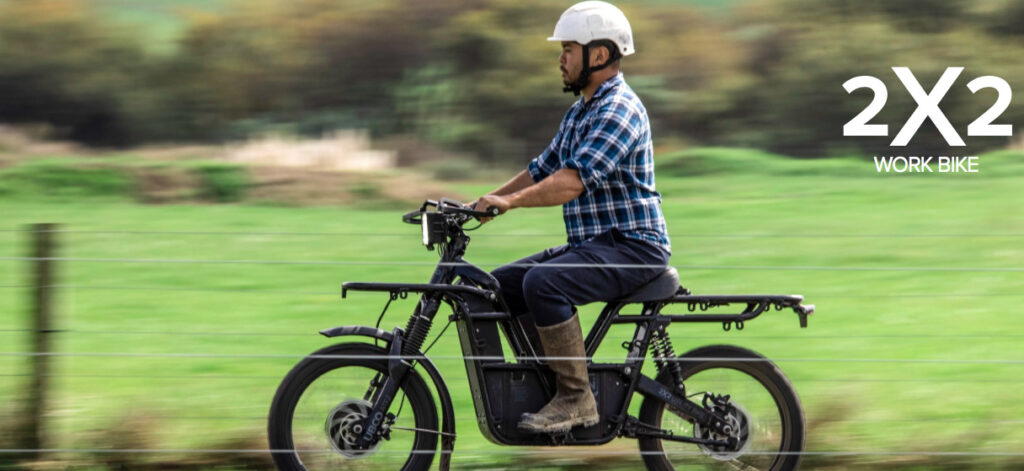 Ubco electric bikes are built in such a way that they're full of benefits and can do things other electric bikes on the market just can't.
Their flagship electric bike is the Ubco 2×2 which is street legal, can be used in almost any country, and is also registrable.
With that being said and the way Ubco eBikes are built, it is safe to say that Ubco 2×2 can benefit users by taking them on inspirational journeys, helping them explore the planet, and reaching places and destinations you otherwise couldn't with other vehicles.
All this while saving the planet, saving money you'd spend on gas, and helping even locally to save parks. However, Ubco's eBike can also be used to deliver goods, work smarter, and stay safer. No matter what your purpose is, Ubco eBike is versatile and it can fit many different needs at once thanks to its wise and rugged design that's able to withstand almost anything and help you overcome any obstacle in your way.
What's even better yet is that Ubco is listening to feedback and reviews from customers to help improve their electric bike to match even more needs and purposes, making it an all-around electric vehicle.
What is Ubco Electric Bike Good for?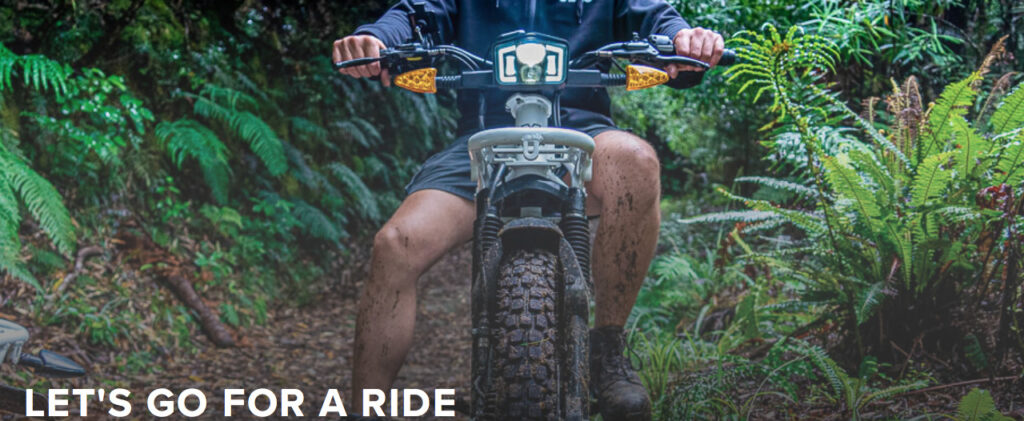 Ubco 2×2 electric bike is built in such a way that it fits many different needs and purposes. Therefore, we can say it is good for almost anything you have in mind.
With a decent amount of power, quick charge time, decent achievable range, and all-wheel drive motor system, Ubco 2×2 is an all-purpose mud-ready workhorse that will even pull you out of the deepest mud.
It's built-in a way to match the needs of the most demanding off-road riders, so it can be used for anything from commute to farm-use, or even the most fun off-road adventures.
With such components and build quality and style, Ubco 2×2 eBike can help you easily climb gradients of up to 30% with ease, never get stuck in the mud,  accelerate quickly even in the slippery conditions, and handle off-road conditions with ease so you still enjoy the off-road adventures.
With very low maintenance requirements, no noise, smoke, or even a clutch, you can stealthily ride without disturbing anyone. Needless to say, Ubco 2×2 is a favorite electric bike for hunters who are looking to improve their hunting game, take it to the next level, and move closer without disturbing the game.
Therefore, with such build quality in mind, Ubco 2×2 eBike is good for anything you can think of!
Ubco 2×2 Review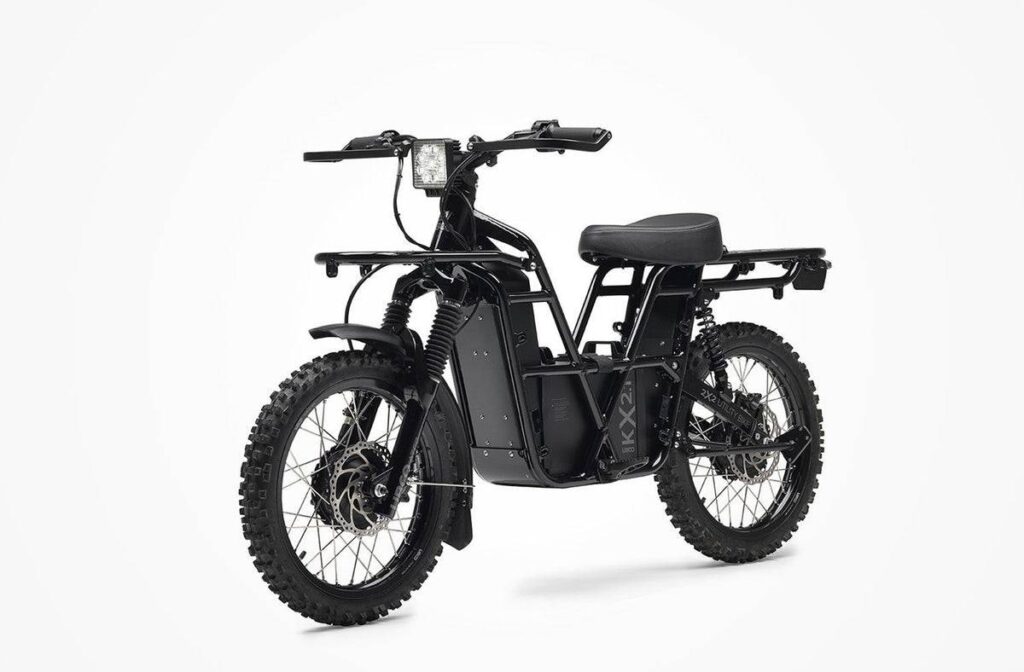 With so many things going on at once with Ubco 2×2, in this Ubco 2×2 review, you'll find out everything about even the tiniest details that make this eBike one of the best rugged electric bikes on the market that can fit any purpose and need you to have in your mind!
Power Options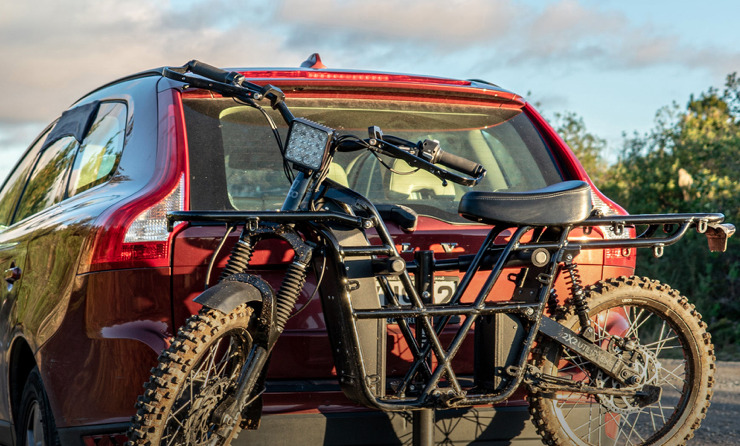 Ubco 2×2 comes with two power options to choose from and it's either a 2.1 kWh or 3.1 kWh motor.
The power options also make difference in the total weight of an eBike, and it even means battery options as well.
2.1 kWh means 2100 watts while 3.1 kWh means 3100 watts. This makes the Ubco 2×2 one of the most powerful electric bikes on the market since two motors have the chance to produce all that power on both wheels.
Flux motor is placed in each wheel which means that the same amount of power is projected on both wheels at the same time at a touch of throttle. Also, these motors come with a killswitch option for convenience and safety which is rarely seen in electric bikes.
Battery Options and Fast Charging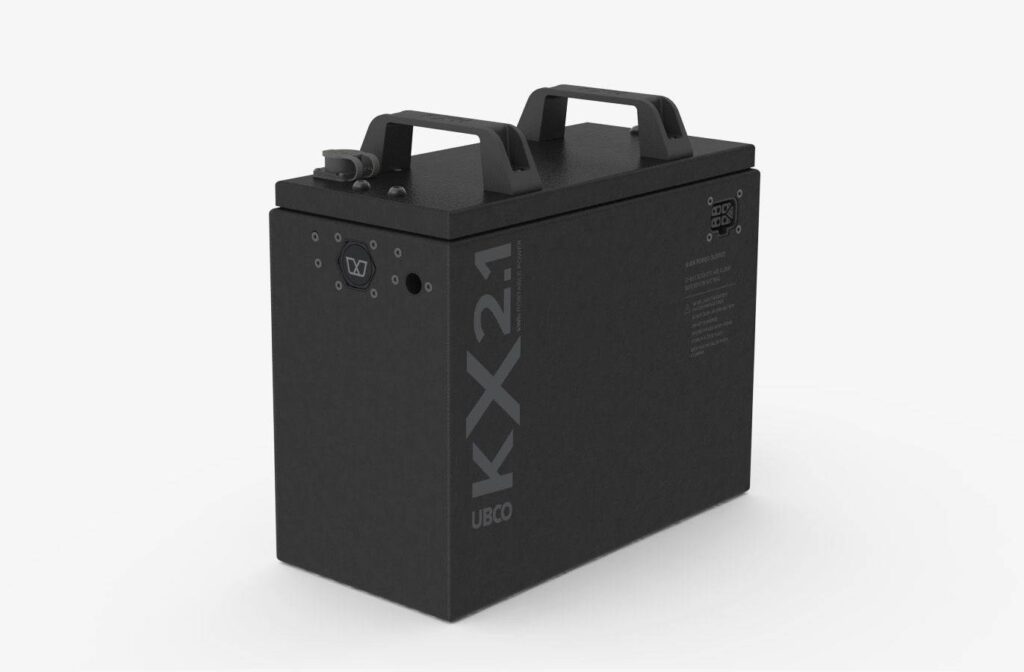 Depending on the motor option you choose, you'll be able to get a larger or a smaller battery pack.
A 2.1 kWh eBike will provide an estimated range of anywhere between 40 to 52 miles on a single charge, while a 3.1 kWh eBike will provide an estimated range of anywhere between 65 to 78 miles on a single charge.
The battery is integrated into the frame but it locks into it which means you can easily remove it so you can charge it wherever it is most convenient for you.
This also means that the battery can't be stolen or removed from the eBike without the key so you can rest assured knowing your eBike will be safe wherever you leave him.
But one of the best features yet is the quick charging time thanks to the fast charger that comes included with the Ubco 2×2 eBike. With this battery and this charging system, you can fully charge this eBike in 4 hours (or 6 hours for a 3.1 kWh version).
All-Wheel Drive System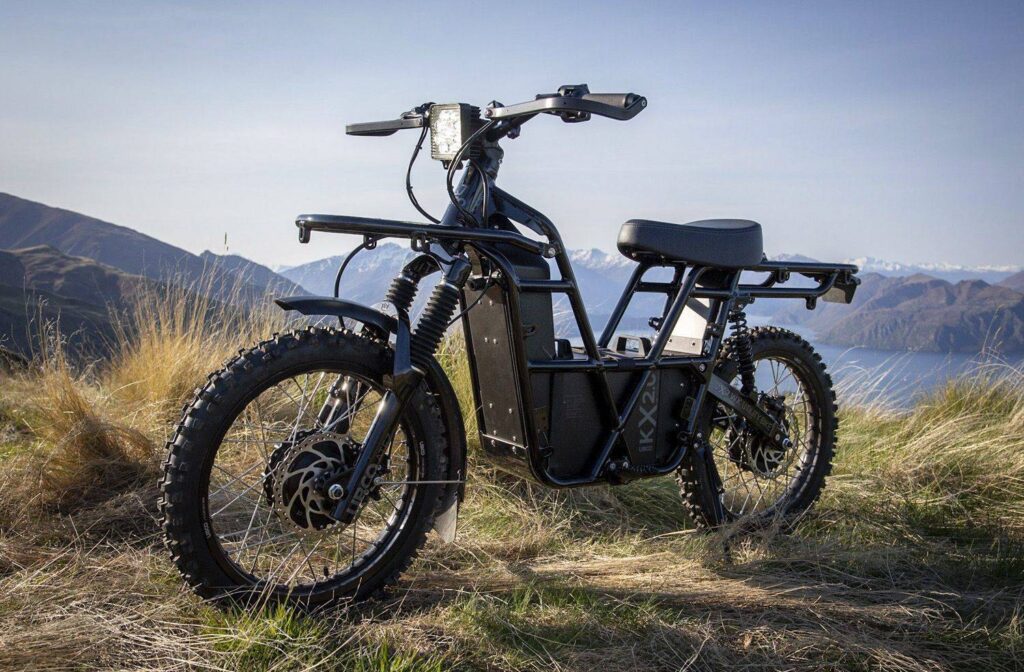 Since there are two motors, one in each wheel, that makes Ubco an all-wheel-drive electric bike. It's one of only a couple of high-end quality electric bikes that can produce so much power equally on both wheels.
Both motors are Flux motors that are integrated into the wheel hub and yet are reinforced so they can't be damaged no matter how fast you ride or where you take the Ubco 2×2 eBike.
Also, both motors work in sync so upon the throttle request, this eBike will output the same amount of power on both wheels.
All-Terrain Purpose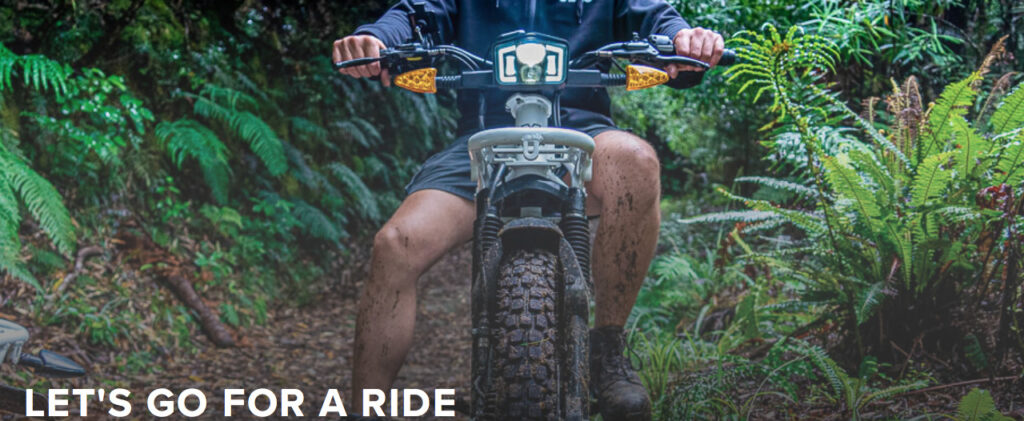 Just by one look at Ubco 2×2, you'd notice that this electric bike is built for off-road adventures and any type of purpose.
Thanks to a full suspension, where the front suspension has 130mm travel and the rear suspension allow 120mm travel, comfort is guaranteed, as well as exceptional riding capabilities.
Greater control of the eBike, faster tracking of terrain, and a much more comfortable ride in any conditions is guaranteed.
Combined with knobby tires that are specifically designed for off-road use and 9-gauge spokes wheels that provide extra strength and durability, coming across any types of obstacles won't be a worry and you will have the confidence in the eBike to take you to locations you otherwise only dreamed of reaching.
Safety and Comfort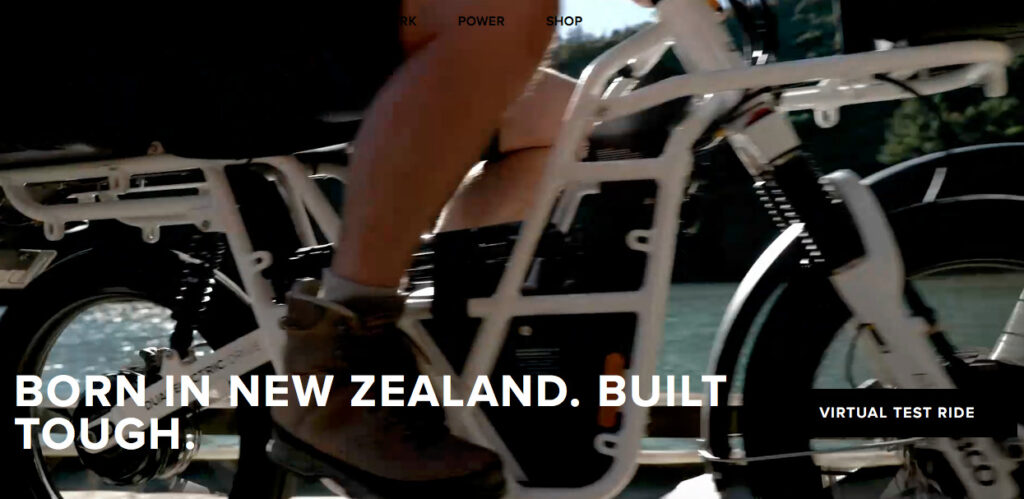 For safety and increased comfort, Ubco 2×2 eBike comes equipped with two-stage regenerative braking system.
This braking system helps improve the battery's range by regenerating with the use and help of pedal assistance.
Both brakes are independent and they are efficient enough to help maintain control and traction even in the rain, snow, muddy, and other terrain conditions.
For better comfort, this eBike is based on a SuperX step-through frame which isn't only convenient for riders who want to get on and off the eBike easily, but it's also helpful in providing more comfort to riders.
With the lower center of gravity, you can expect more stability and better balance which makes rides a lot more comfortable, but also a lot safer in the rocky conditions.
Ubco 2×2 eBike is so easy to maneuver which is just one of its many strengths that also result in better comfort and can improve the rider's overall safety.
High-End Components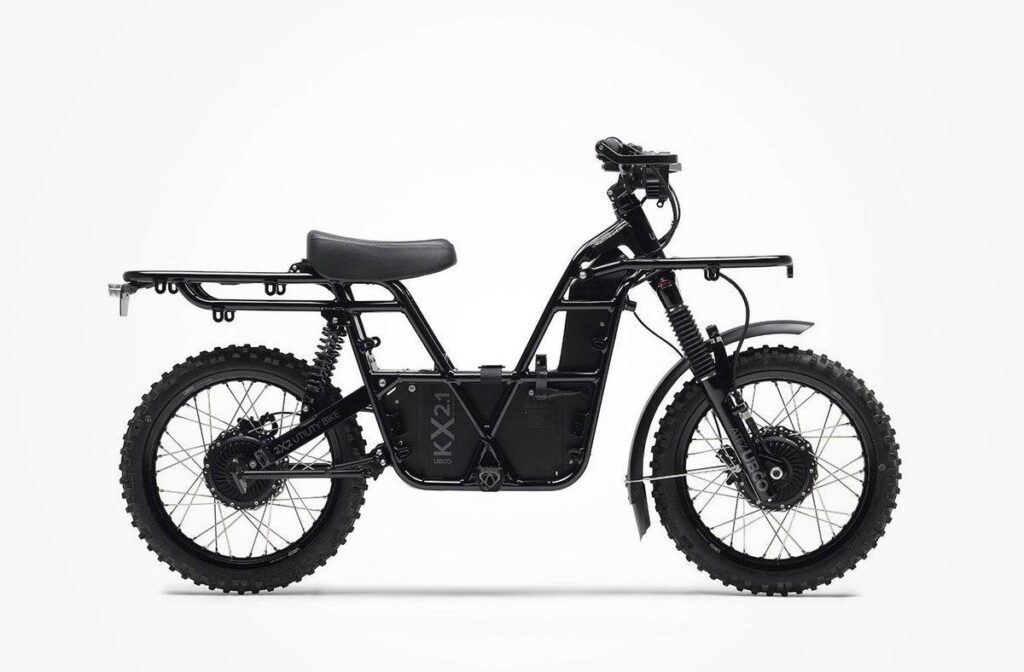 Apart from the most important components such as the motor and the battery, Ubco 2×2 is equipped with only the best components, no matter how small or big they are.
Everything starts from the strengthened 7027 series alloy frame which is super rare to find in the eBike industry. This itself helps riders load the eBike up to 330 lb including the rider's weight, without overloading the eBike.
Dual kickstands can help riders lean the eBike in any direction and thanks to large-quality pads, this eBike can be left on a kickstand in any type of terrain, even when it's uneven.
Additional Accessories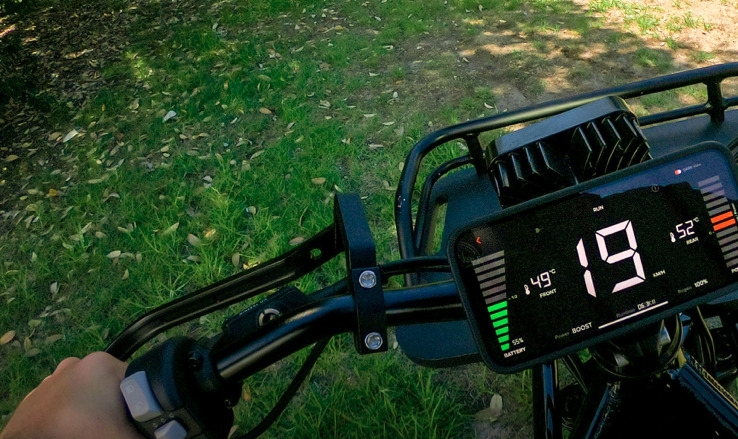 Ubco 2×2 eBike comes with accessory lugs that are strategically integrated into the eBike. This helps riders carry whatever they need and the way they prefer on the eBike. With the strategic placement of these lugs, riders can customize the eBike and even connect/attach industry-specific items.e
If you're interested in expanding the storage, you can attach Ubco original storage accessories or any of your own storage accessories.
Ubco also makes eBike well connected with the rider by providing riders with important key stats directly through the Ubco user app. Within this app, you can also control the important aspects of the eBike, customize certain things for your preferred ride, and even utilize Bluetooth 5.0 connection for communication control purposes.
There's also LED lighting that's powerful and yet is environmentally sealed so it can last for long and shine bright in any weather conditions.
How to Finance the Ubco 2×2 WRK eBike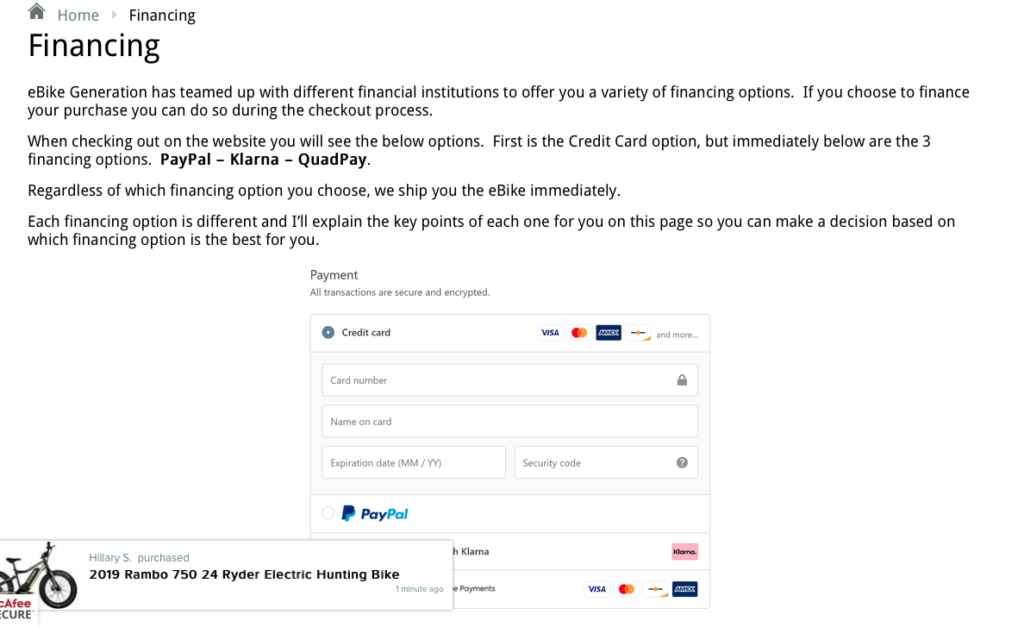 Ubco 2×2 WRK is one of the best all-terrain electric bikes on the market, but it comes with a price tag that might not be easily affordable for everyone.
But don't get us wrong, Ubco 2×2 eBike provides so much value that there's no doubt it is worth the price it costs.
However, if you might need a bit of help to purchase the Ubco 2×2 eBike, you're in the right place as that's when financing plans come in place.
Top electric bike retailers such as eBikeGeneration partner up with fintech companies that provide financing plans to the customers.
These financing plans can help you buy the Ubco 2×2 eBike today, and pay it off in monthly installments. If you make all payments on time, these plans have 0% interest so you can actually buy the eBike for the price it costs, have it delivered right today, and yet pay it off over the course of a couple of months.
You can apply and get your application result in minutes, and these financing plans don't affect your credit score so they're not only helpful, but the whole process is simple and effortless!
Conclusion
Ubco bikes are some of the most serious electric bikes that can easily match any type of purpose you might have in your mind.
Ubco 2×2 is a very versatile electric bike that's built differently from the ground up to provide users with the much-needed versatility, customizability, and power/range options.
Even though Ubco 2×2 eBike isn't cheap, it provides an extraordinary value that is hardly matched in the industry. However, combine Ubco 2×2 eBike with proper financing and you will be able to buy Ubco eBike today, enjoy it as soon as it's delivered, and pay it off monthly with a 0% interest rate.
What do you like the most about Ubco 2×2 eBike? How would you like to use it?