Solar energy has been around for a long time now, but what is a solar charger for electric bike?
Did you ever see a home with a roof full of solar panels? No, your eBike won't be equipped with a lot of solar panels for you to ride in the sunshine.
There's something even better.
A couple of manufacturers in the solar-energy industry have been able to produce a portable solar panel and turn it into a charging station for electric bikes.
The cost?
It's not as expensive as you'd think and yet it can ensure that you are never left stranded – no matter how long are your eBike trips.
Why Everyone Needs a Solar Charger for an eBike?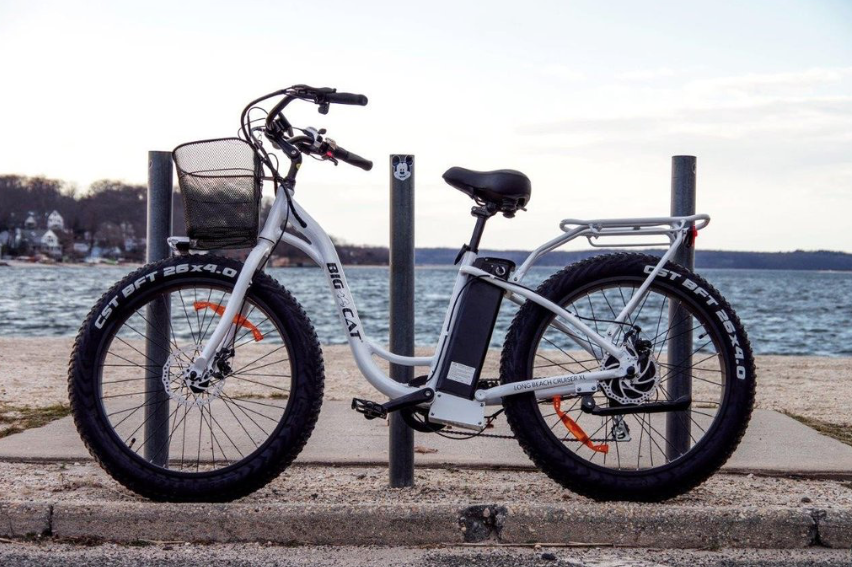 Investing in a solar charger is a no-brainer decision if you aren't on a tight budget. It's very portable and lightweight that you can carry it with you even on the shortest trips – and yet it provides a sense of safety.
Being able to recharge your bike while you're camping deep in the wilderness is one of the biggest benefits. This means that you will never be left stranded or left having to pedal your fully-loaded eBike.
Not only it's far more economical than charging your eBike every night at your home but it's also a green way to go and do your best to contribute to saving the planet.
Of course, the solar charger won't be as efficient as it is when you place it under the brightest sun – but you will be surprised how much charge you can get even in the gloomy weather.
Down below, you'll find one of the most reliable solar panel chargers that will work with any eBike out there. Even though it's produced by one of the best eBike manufacturers – it's suitable for all types of eBikes out there.
Best Solar Charger for Electric Bike – Bakcou Solar Panel
Blanket Panel Design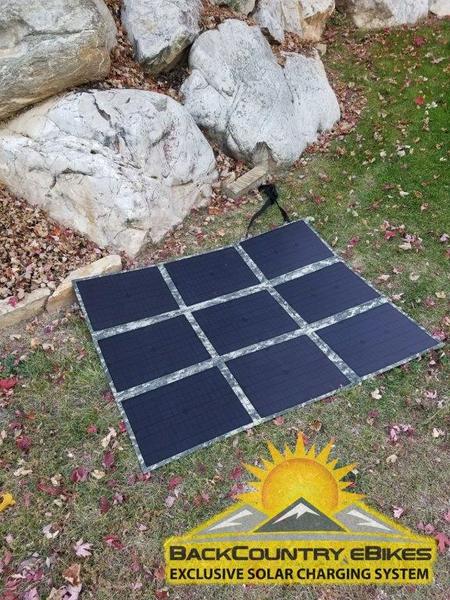 Bakcou solar panel is based on a blanket-type design which features a big panel of 9 smaller solar panels. This design gives users a couple of advantages.
The biggest advantage is the foldability which means that you can fold this solar panel up to the size of a briefcase and take it anywhere with you.
This wise design also features a hook for easy carrying and even a pocket for carrying the charger required to take full advantage of the solar panels.
Therefore, you can either carry it on its own, put it into your backpack, or put attach it somewhere to your eBike.
Natural Way of Charging your eBike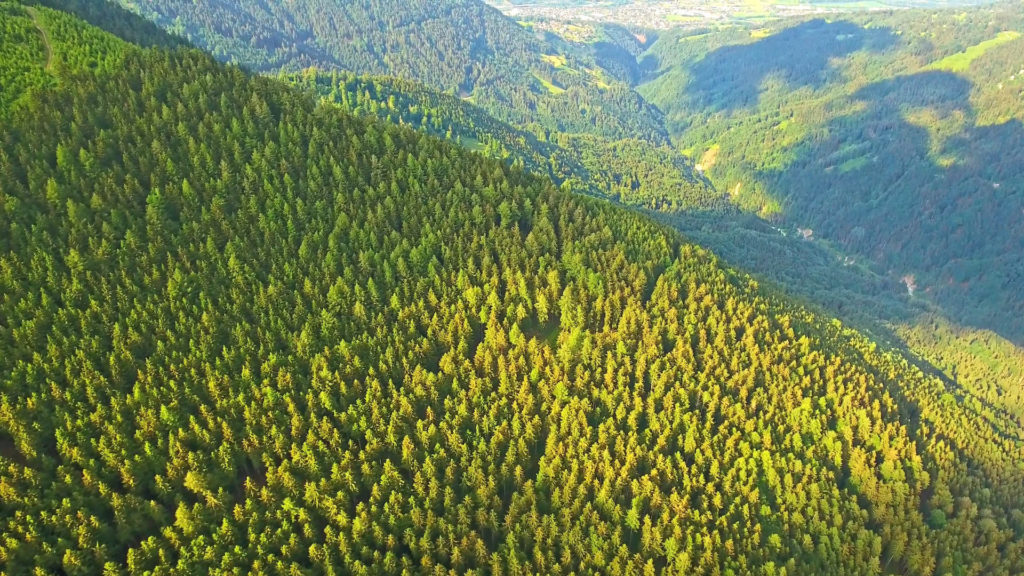 Unfortunately, this solar charger for eBike is made to only charge the eBike directly and it can't store any energy into the charger itself.
However, you wouldn't be able to have this solar panel spread open while riding – so we understand why it's only made for direct charging.
But what's most important is that this simple and neat looking solar panel charger for your eBike can provide clean and renewable energy out of nothing.
All it needs is a bit of sun and it will do its magic. When you think of solar energy – no one ever imagined being able to take advantage of such advanced technology in order to charge an electric bike.
Portable & Lightweight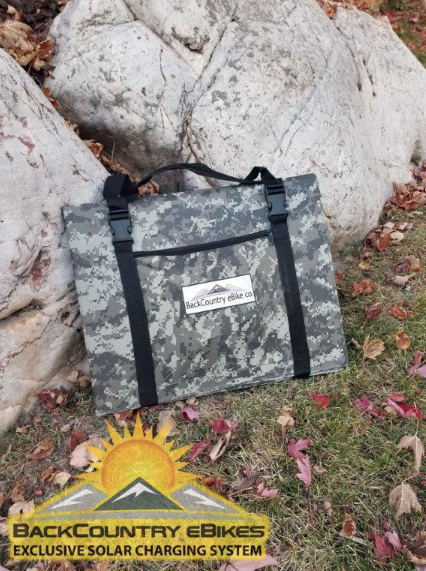 You're pretty much familiar with the simple and easy design that won't go give you any troubles – no matter how the light of a rider you are.
The material used to put 9 panels together is lightweight yet durable. Bakcou also ensured that the material doesn't rip easily so you won't have to pay extra attention wherever you take the solar charger with you.
But what we really like is how lightweight both solar panels & its charger are. You can easily carry it in your backpack without it weighing you down.
Easy Installation
By now, you understand that this is a highly efficient solar panel charger for electric bikes – but how hard is it to use and is it ideal for anyone?
Bakcou definitely didn't cut any corners so the usage is straightforward and as simple as charging your eBike from a power outlet is.
When you're ready to charge your electric bike – all you have to do is open the solar panel, connect the charger to the solar panel, and connect the charger to your eBike.
Nothing else?
Yes, that's right. This is the most straightforward solar charger for electric bike you can find on the market.
Therefore, we believe that even though some eBike riders might find the price high – it's very well justified for everything it offers in return.
High Durability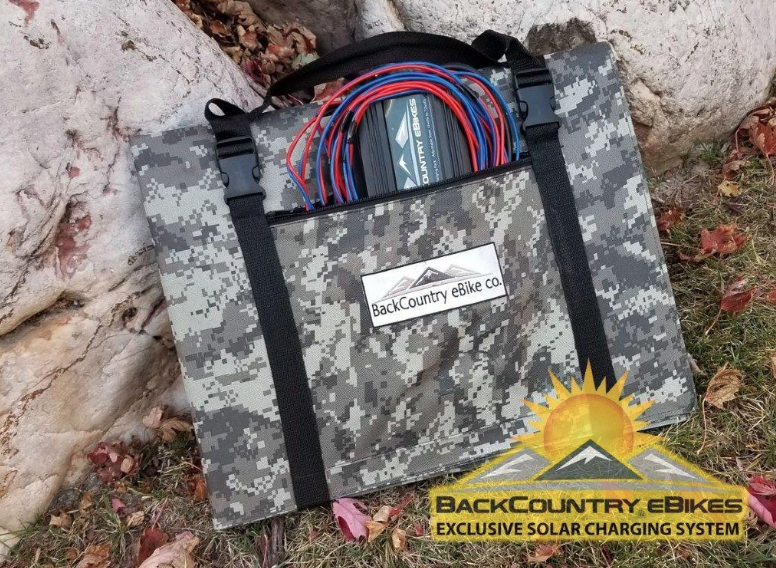 Having to carry 9 solar panels around seems like it's a disaster waiting to happen. But it's not.
Why?
Bakcou ensured that the panels are very well placed within the fabric and that the fabric itself is very resistant.
So you won't have to be extra cautious when carrying Bakcou solar panel around – but still, paying attention to such a quality product goes a long way.
But one thing is for sure.
You won't ever feel slowed down by this solar panel charger. Why?
Remember how we mentioned that this solar charger is manufactured by one of the best hunting companies?
So if this solar panel charger is good enough for hunters from all around the world – it's more than good enough for every other purpose.
Conclusion
Did you ever think you will be able to charge your electric bike using natural resources?
Even though this idea still seems like something that's too good to be true – there you have it, it's right in front of you.
Bakcou is one of the best manufacturers of electric bikes in the hunting industry so we can guarantee that you won't regret your purchase.
If you had a solar charger for electric bike – how often would you use it?
Feel free to leave any questions, feedback, or comments down below. We'd love to hear from you!