Electric hunting bikes might sound something from the future, but they've been increasing in popularity and are the next best thing you can own as a hunter.
It's never too late to switch from the old-style to modern-style hunting, and in fact, electric hunting bike will make wonders.
In this post, you'll find 5 best electric hunting bikes that won't only increase your hunting efforts but will help you actually have more energy for hunting than before.
No matter which model you go for – it's most likely it'll suit your needs since the bikes are pretty versatile and are specifically made for hunters.
There's no doubt that you'll be able to find the best off road electric hunting bike down below that will take you places where no ATV can go!
5 Best Electric Hunting Bikes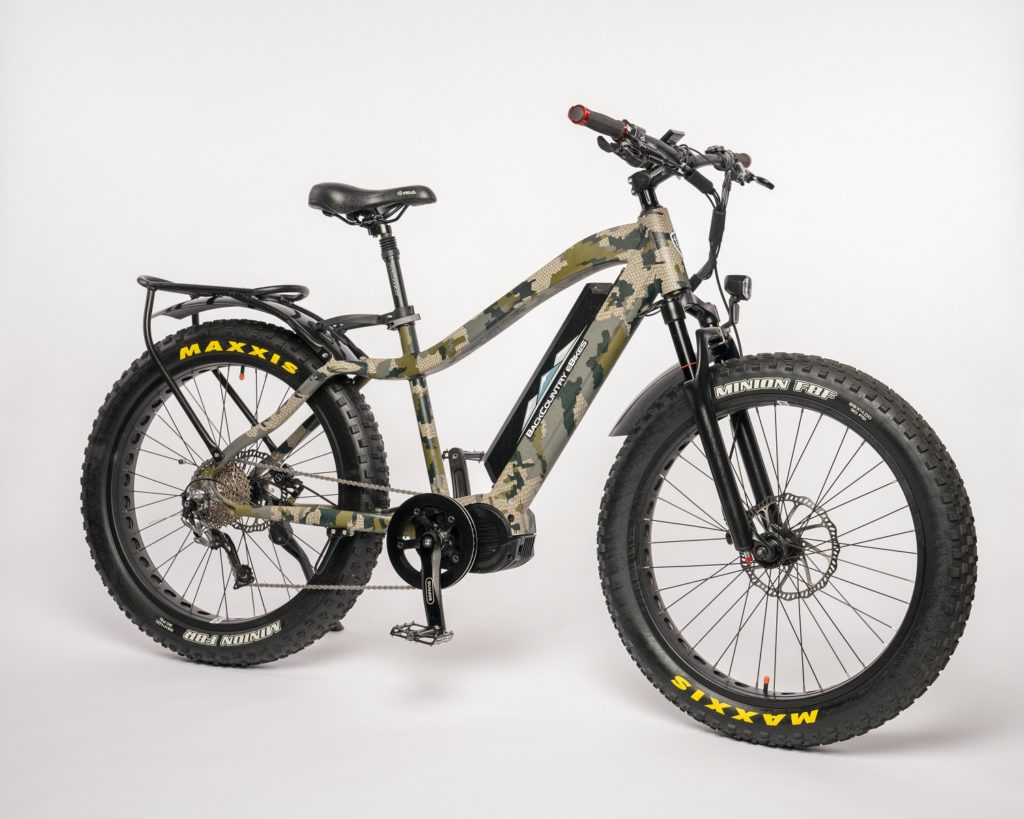 When you're looking for a hunting bike, why not go for the best of the best, right?
2019 Mule hunting bike is exactly that. It's an updated version of already one of the best hunting bikes by BackCountry eBikes, and even though it looks pretty simple – it's all in details.
Starting with the Samsung lithium-ion battery, you'll never be left stranded no matter how far you go. It's a battery that's the best in its class since it can power a high-torque motor.
It doesn't only matter how far you go, but it won't even matter where you go. 2019 Mule hunting bike will go through the deepest mud thanks to the Maxxis Minion tires that are made for perfect traction in the worst conditions.
Combine that with a GT Mark Air suspension shocks and you will definitely overcome any obstacles. On top of that, Alivio 9 speed is an improved gearing in the 2019 model that will power through anything.
What we really liked about this hunting bike are the wider handlebars that offer stability and control.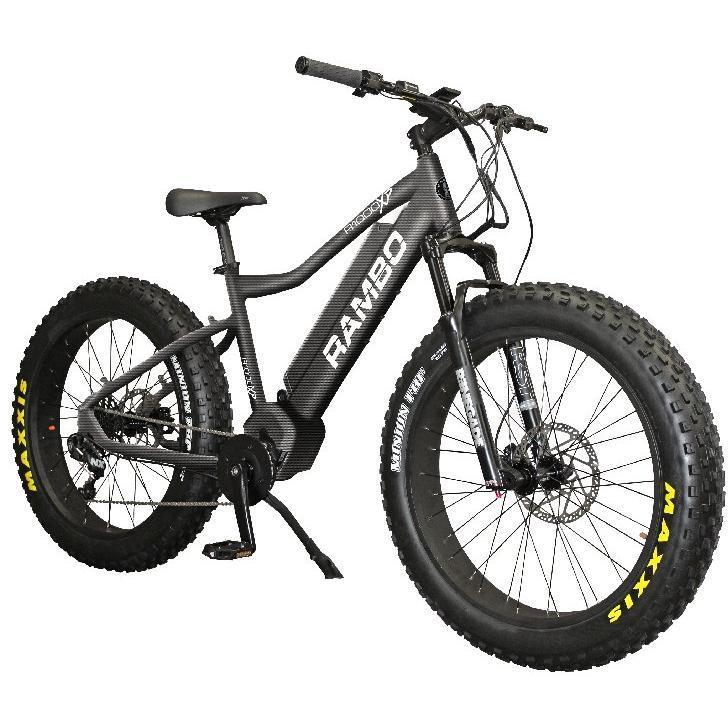 Rambo Bikes' newest hunting bike is the 2019 R1000XP which offers a high torque mid-drive that can help you achieve a speed of 28 mph.
What's so special about R1000XP hunting bike is that it's custom-built to the perfection to suit any hunter in any terrain and weather conditions.
The 1000-watt motor is being powered by high-capacity Panasonic battery and what we liked about this bike so far is that all electronics are ruggedized for better lifespan. How is that for an off road electric hunting bike? Not bad, right?
Even the bike frame has been ruggedized with a carbon paint known as Timber Camo Paint that will is a true pleasure to put your eyes on.
With a simple yet efficient thumb throttle, you'll have full control over the pure power that will help you cover some serious distance on a single battery charge.
11 gear settings in combination with an SRAM NX derailleur will help you choose perfect mix of speed and torque to tackle any obstacles along the way.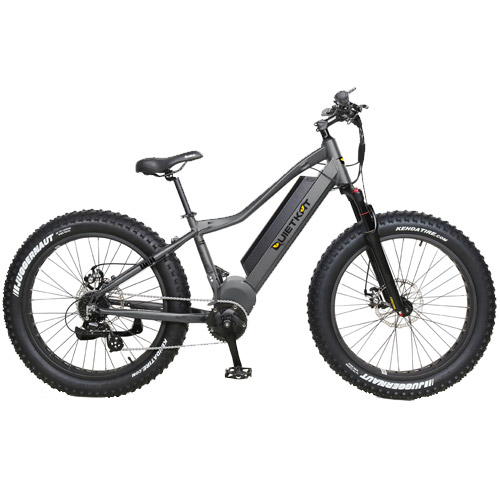 If you're not that very tall and driving such bulky bikes scares you, especially electric-powered ones – you'll love 2019 Canyon hunting bike by Quietkat.
What's so special about this electric hunting bike is that it's made to handle moderate to advanced terrain and trails, but what's even better is the lower stand-over height.
It also includes a shorter 17″ seat-tube that will fit shorter riders perfectly. It's being powered with a 1000-watt mid-drive electric motor that offers both power and versatility.
Such a powerful motor is being combined with proper safety equipment such as mechanical disc brakes and a coil-spring suspension for smoother rides.
8-speed gear system introduced is good enough to handle most riding situations. Needless to say, this electric hunting bike offers everything you need to hunt effortlessly and focus on hunting more than on anything else.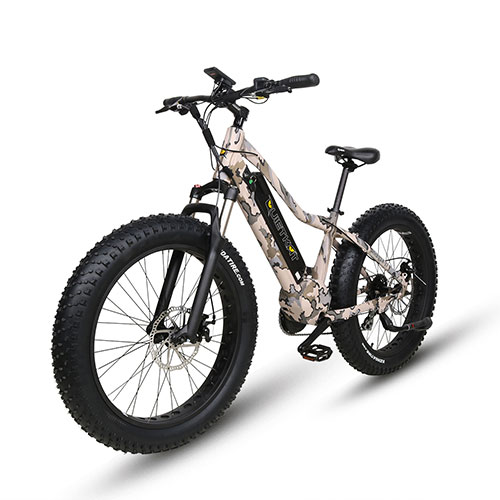 2019 Zion electric hunting bike by Quietkat is very similar to the 2019 Canyon model, yet it has some differences to suits various hunter needs.
Just like the Canyon electric hunting bike, Zion comes with lower stand-over and a shorter 17″ seat tube to fit shorter riders perfectly.
What's different with 2019 Zion is the combination of versatility and power that provides a great solution for riders crossing moderate off-road terrain.
Also, Zion electric hunting bike is a bit slower since it's being powered by a 750-watt mid-drive electric motor. But it also features mechanical disc brakes, a coil-spring suspension fork and the same 8-speed gearing system that has been used in Canyon model.
Even though this electric hunting bike is a bit weaker when it comes to the power, it is still a great solution to handle most riding situations, but as mentioned earlier, it's a bike that is made for slightly easier terrains.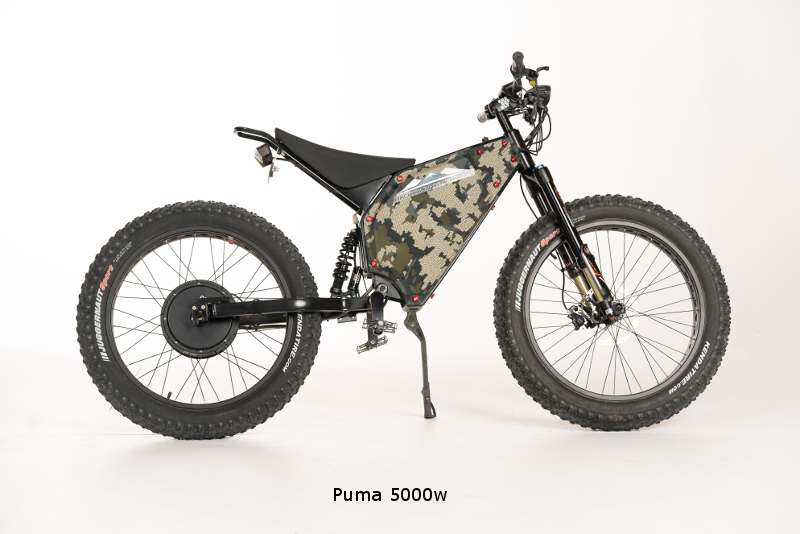 2019 Puma electric hunting bike is also known as a "Throttle Only" bike which might not look like a bike yet more like an off-road motorcycle.
But it's not only design that makes it look like an off-road motorcycle. It's also a geared-hub drive motor that offers 5000w power. It's by any means the fastest and most versatile electric hunting bike on the market, but we're not sure if everyone can handle it.
On a single charge, Puma can cover 40+ miles and with a Rockshox Air Forks suspension, there is no obstacle Puma can't overcome.
A great upgrade that sets apart other electric hunting bikes and Puma hunting bike are the tires. Puma features Kenda Sport Juggernaut 4.8 tires that are massive and bulky, yet won't have any problem overcoming any obstacle even when riding in the heavy terrain.
However, there are no gears. As mentioned earlier, this is throttle only bike. The brakes are provided by powerful hydraulic 203mm discs.
Conclusion
No matter which any of these hunting bikes you choose, you'll never make a wrong decision. However, we do recommend you to pay attention to your needs and make sure that the electric hunting bike is able to provide suitable power for your needs.
Depending on the terrain you ride in and even weather conditions, if you really need the most power, going for a bike such as 2019 Puma is a smart choice.
If you are lucky enough to ride in moderate terrain and weather doesn't cause you too much trouble, a bike such as 2019 Zion is an ideal choice.
But there's no doubt that any one of these eBikes is a great off road electric hunting bike that won't leave you stranded.