Switching to an electric hunting bike might have been one of the best choices you've lately made, but you're probably missing one thing. It's a bow holder for hunting.
If storage space worried you when you were approaching eBike hunting – there were many ways to solve this "issue".
But are there any solutions that will help you keep your gun and bow safely in transport?
Of course, there are!
And you could've guessed it by now, this post is all about the quality gun & bow holders for hunting eBikes.
If you keep on reading, you'll find some pretty decent options that are suitable for any hunting eBike type and yet they'll make a huge difference during the hunting trip!
Best Bow Holder for Hunting with an eBike
The greatest thing about these bow holders for hunting eBikes is that they're also made to fit guns too. So if you're not a bow hunter – no worries. You can easily transport your gun.
But we find these holders to be perfect for electric hunting bikes and everyone who has been having trouble with the transportation of their hunting weapon.
Rambo Gun/Bow Holder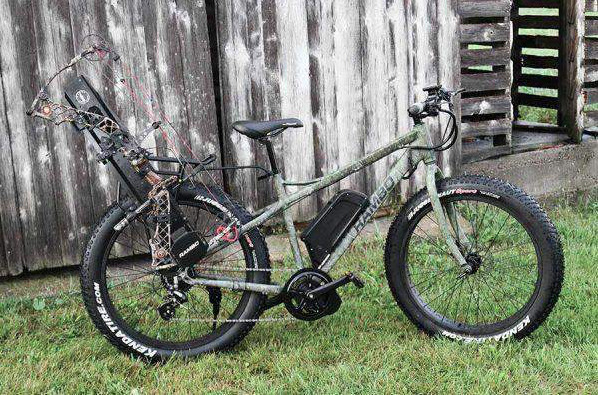 Rambo is one of the most known (and the biggest) electric hunting bike manufacturers, and if you've been browsing their Rambo eBikes – you could've come across Rambo accessories.
Rambo is also known for having a wide range of accessories suitable for Rambo eBikes. Some of their accessories, such as this gun/bow holder are suitable for almost any hunting eBike type.
This is a universal holder that fits either a gun or a bow which is very lightweight so you won't even feel it once you add it to your eBike.
However, it features a safe and secure attachment of any gun or bow out there, so you won't have to worry about matching this holder to your weapon of choice.
For an inexpensive investment, you will get the ability to transport your weapon of choice hands-free, no matter where you go.
Gator Gripp Gun/Bow Holder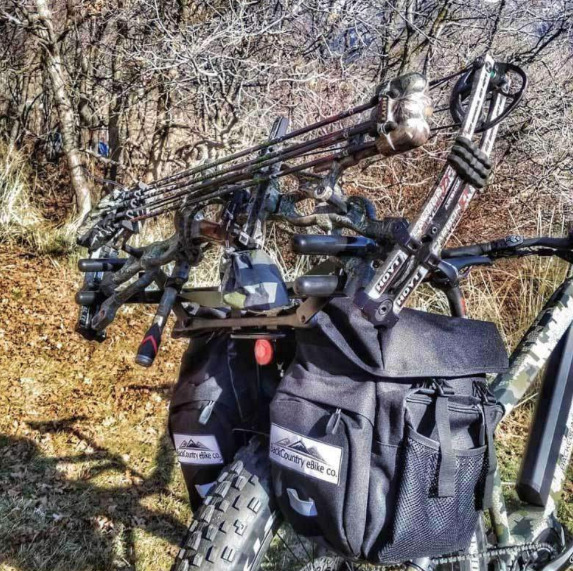 Gator Gripp is a very specific gun & bow holder that is universal, but it features a very unique grip.
With other bow or gun holders, you would need to secure your weapon of choice with either velcro, strap, or any other security feature.
However, with Gator, all you have to do is slide in your bow or gun and let it adjust according to your weapon automatically.
This way, you won't have to spend any extra time securing the weapon in the holder, and yet you'll have easy access to it whenever you need it.
All you have to do is pull the strap, and when the jaw opens, you just have to insert your weapon and let it secure itself in the holder.
We really like the rugged powder-coated steel construction which is durable and yet feels lightweight. Even if you drop your hunting eBike, you'll know that this holder will still protect your weapon to a certain extent.
QuietKat Pannier Rack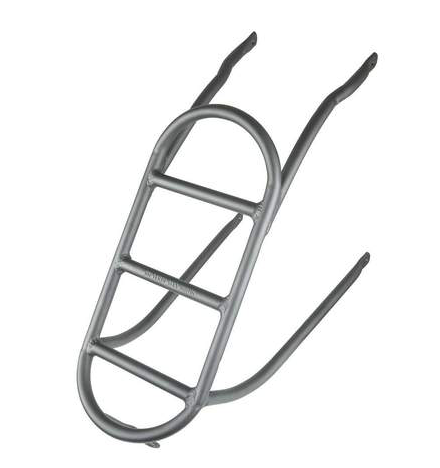 QuietKat is another well-known company in the electric hunting bike space. However, what we have here is not an actual gun/bow holder, yet it's a rack that can be used to attach the holder.
If you don't have an existing place to attach a holder to on your hunting eBike – this would be super handy.
It's a rack suitable for any electric hunting bike out there and yet it fits almost any holder type. It's even great for attaching custom-made gun/bow holders.
Pannier rack is available in two versions to fit both 17″ and 19″ eBikes and even though it's made of reinforced aluminum, it's pretty lightweight.
However, one thing you should keep in mind is that this rack is not suitable for full suspension eBike models.
All Rite Pack Rack
All Rite isn't one of the eBike manufacturers, however, they produce quality gun & bow racks that are very easy to attach to the eBike (or even other hunting vehicles).
They're a pretty universal choice that is suitable for all eBike types. We really like that the quality of the product is high, considering that the rack has internal steel cores.
On the outside, these cores are covered with a thick but soft rubber so your weapon doesn't get damaged.
With the help of heavy-duty resistant straps, you get to strap one end to the eBike's rack, and with the help of rubber straps on the other side, you can attach a weapon of your choice.
What's most important is that this is a custom fit rack since it features a 360-degree rotation ability so you can install it almost anywhere.
Kolpin Rhino Grip XL Roll Bar Mount
If you're struggling to find the best bow holder for hunting eBike – Kolpin Rhino might be your last option.
It's an extra-large holder rack that's originally made for the roll bar of an ATV. However, since hunting eBike racks are very similar in size – this is an ideal third-party option you can install on almost any hunting eBike out there.
It can hold medium to heavy-duty weapons which makes it ideal for rifle or a bow and yet its durable construction is pretty lightweight so you won't even feel it weighing your eBike down.
The base can rotate 360-degrees while the rack tilts up to 140-degrees in 40-degree increments. This allows a lot of versatility which is exactly what a hunter with an eBike requires.
Conclusion
There is no worse thing than falling in love with your new hunting eBike and yet having to struggle with weapon transportation.
If you were looking the perfect bow holder for hunting eBike – we're pretty sure that at least one of these choices is a great fit for your needs.
All of these racks are pretty versatile, are made of high-quality material, and are lightweight which ensures safety when transporting your hunting weapons but it also won't slow you down.
Which hunting eBike do you have? Did you ever struggle to find the right solution for carrying your weapon of choice?