Being on a budget and yet needing a hunting vehicle might make you feel like it's something you'll never figure out.
However, knowing how to find the best hunting eBike for the money can go a long way. And if that's exactly what you're trying to do, you're in the right place!
In this article, we'll show you how to find the best hunting eBIke you can get for your money, but also review one option that will most likely fit your needs – so keep on reading!
How to Find the Best Hunting eBike for the Money?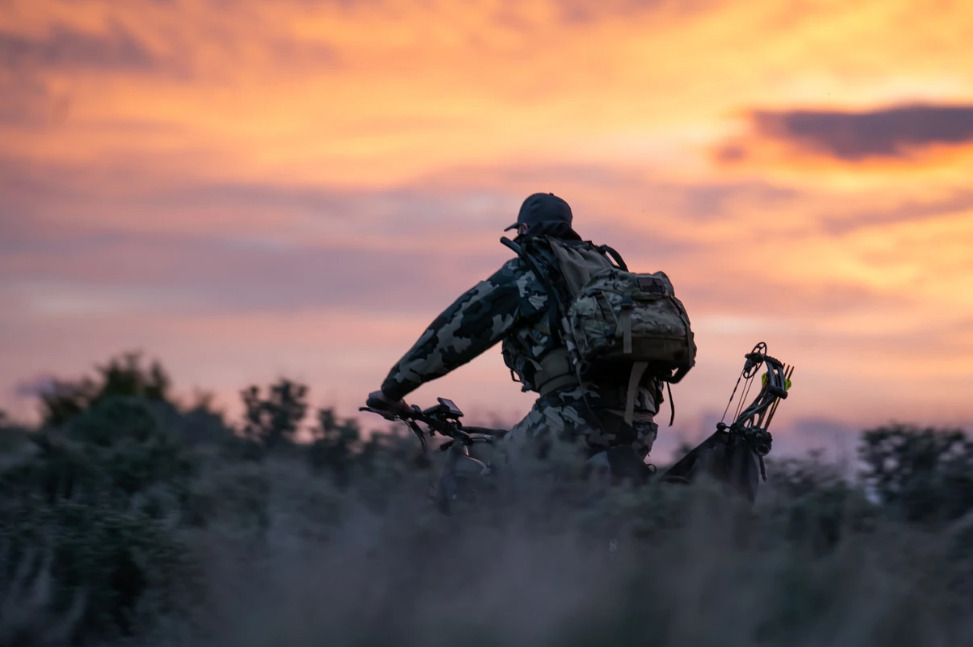 Even though you should watch your budget, you shouldn't immediately look for the cheapest option out there.
Sacrificing the quality and value of a hunting eBike can end up costing you a lot more in the future.
Therefore, along with the price, here's what you should pay attention to:
Power and range
Durability
Included accessories
Additional accessories available for purchase
The goal is to try and get an eBike with a well-known and decent motor and battery combination. While any design will do, it's important to choose one design you prefer (most hunters choose mountain eBikes) and ensure that it's well-built.
Checking the weight of an eBike and comparing it with the maximum weight capacity is another great way to determine how durable and quality the frame is.
Having included accessories is always good as it improves the value of the purchase. Most hunting eBikes come with fenders, lights, a rear rack, and even sometimes a pannier bag.
However, you should also check out additional accessories that are provided by the manufacturer as you can always make upgrades later on.
Best Hunting eBike for the Money (Bikonit Warthog HD 750)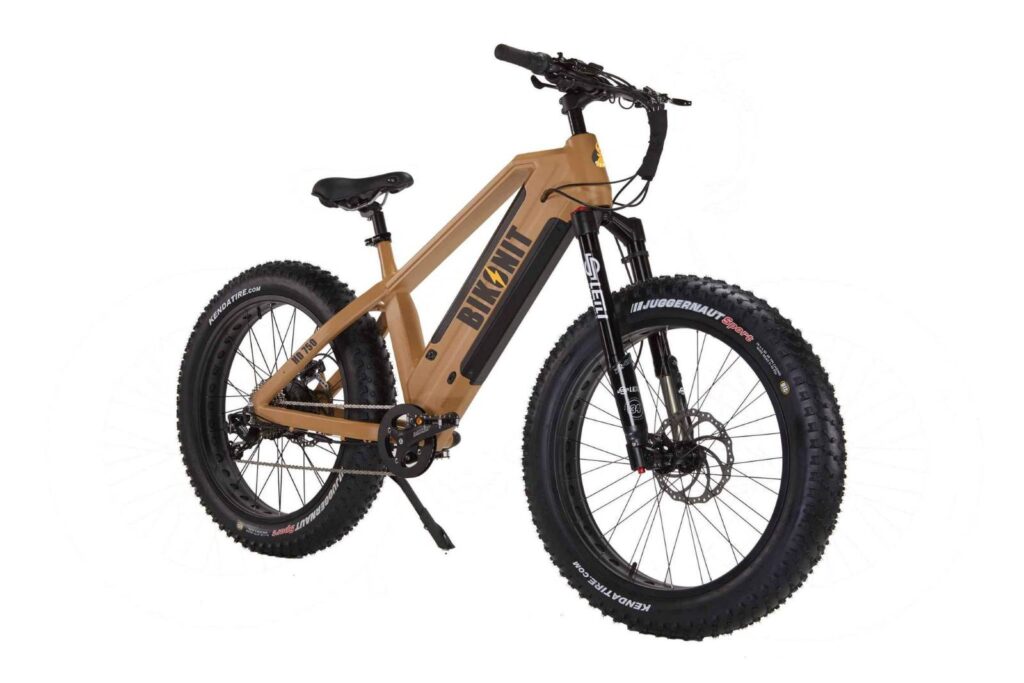 For the best hunting eBike for the money, I chose Bikonit Warthog HD 750 as it's one of the less known hunting eBikes and yet its value to price ratio is incredibly good. Keep on reading to learn all of its features that can benefit you in the long run!
Powerful Motor & Battery Combination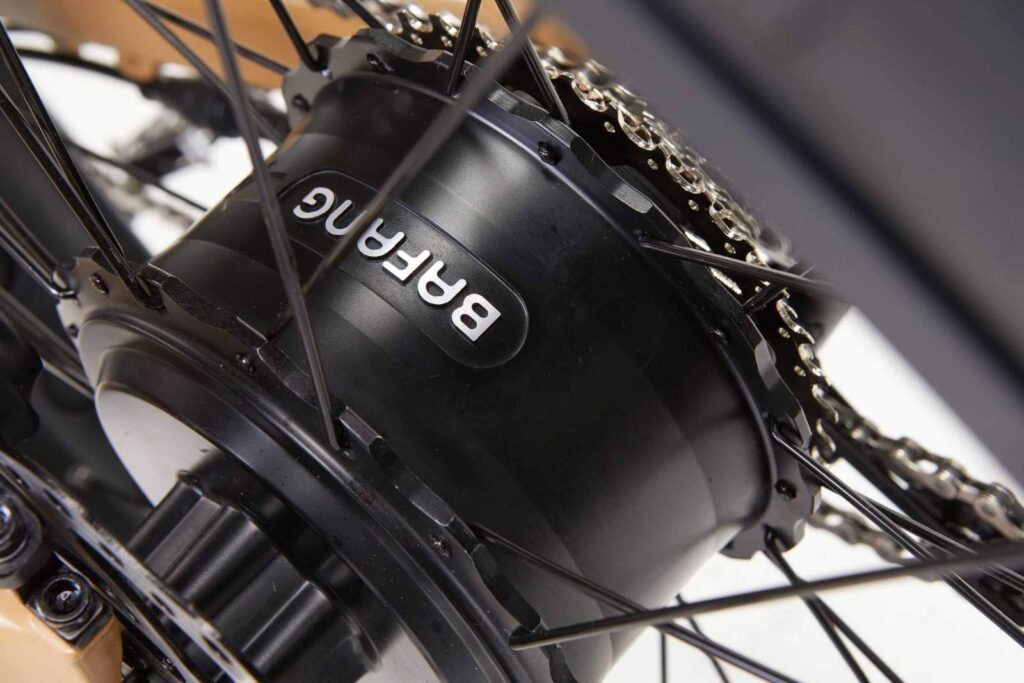 Wawrthdog HD 750 is equipped and powered by a well-known & powerful Bafang geared hub motor. It can output 750 watts of power at most but if that's not enough, you can upgrade to the 1000W Warthog model.
When it comes to battery, you can choose between having a model with one battery or having a model with two batteries.
One battery can give you a range between 20 to 35 miles on a single charge. On the other hand, a dual battery upgrade will boost the range up to 60 – 80 miles on a single charge.
Even though the upgrade costs a bit more, it is very well worth the range it can unlock as it pushes this eBike near the top of the list in the achievable range section.
Customized Air Suspension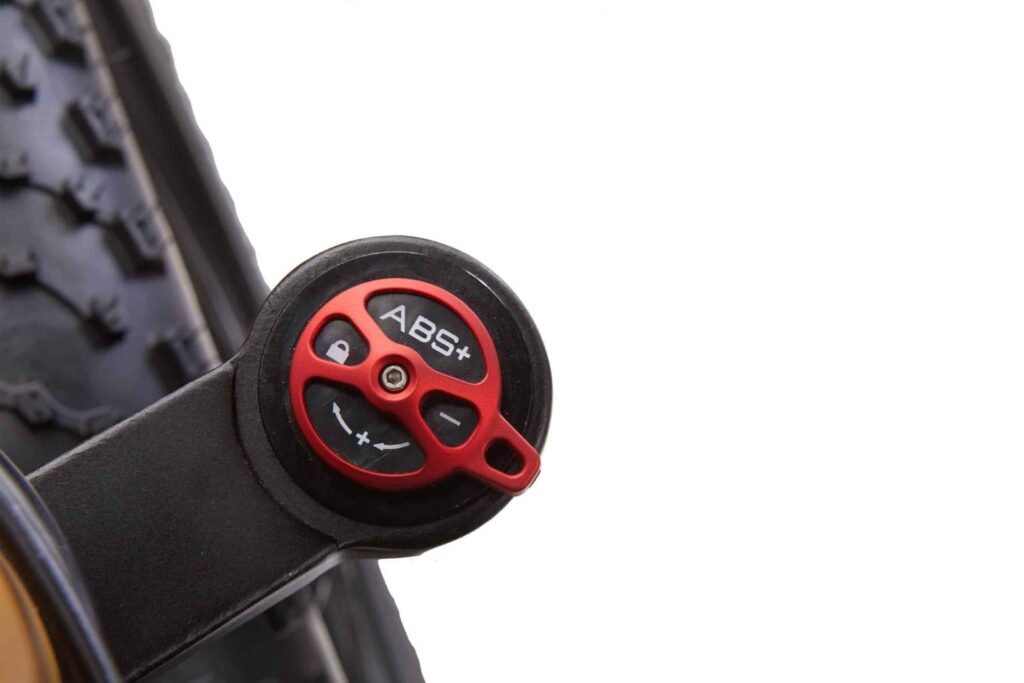 It's very rare to see a hunting eBike come with an air suspension, especially at this price point. However, this is one of the biggest benefits of the Bikonit Warthog HD 750.
The customized air suspension is a 120mm air travel type suspension that provides enough comfort so you don't feel sore after a bumpy ride.
However, this suspension also improves stability and manueverability, especially in the worst terrain you can imagine.
In combination with Promax aluminum alloy low-rise handlebars, you'll feel confident enough to maneuver this hunting eBike at top speed on any type of terrain.
Ideal for Climbing & All-Terrain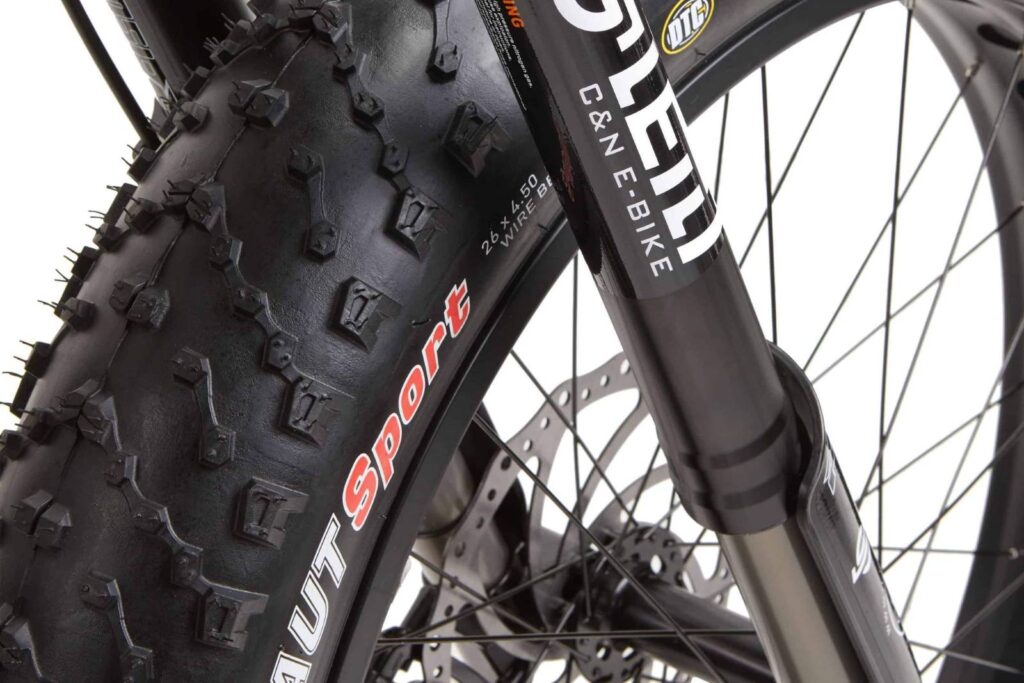 Warthog HD 750 is equipped with a DNP and SRAM rear sprocket and derailleur and with the SRAM 9-speed gear shifters, you'll be able to quickly switch through gears.
The gearing system is very versatile making this eBike a great fit for the steepest hills, but also for downhills and flat outs when you're trying to push it to its limit.
All gear changes are made by the right hand so you will have your left hand free to any other tasks during your rides.
Advanced Disc Brakes
This hunting eBike comes equipped with Tektro 2 piston hydraulic brakes (203 mm rotors). The advanced power cut-off technology ensures that you can't overwork the brakes which are especially important for downhills.
With the smart power cut-off, these disc brakes will work very similarly to the car's ABS braking system. Therefore, there's zero chance of locking the rear wheel or flying over the handlebars because you applied too much of the front brake.
Top End Components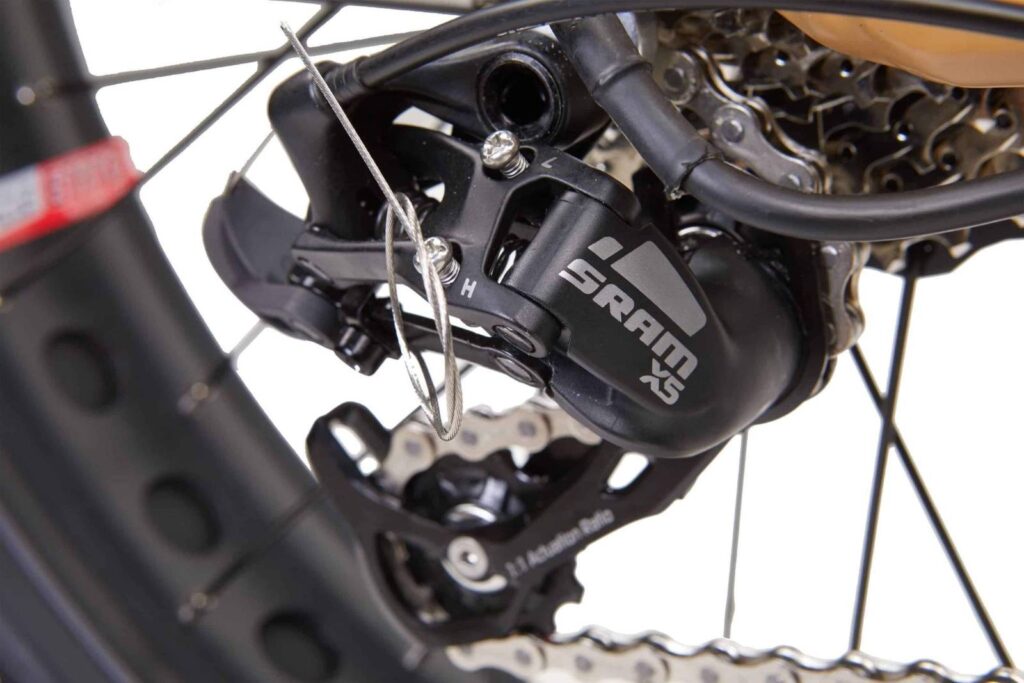 So far in this review, you could notice the quality of the Warthog HD 750 by just checking out the components.
However, that's not the end. Warthog comes with plenty more quality components such as Kenda Juggernaut 26″ fat and wide 4.5″ tires.
The frame design is made by the 6061 aluminum alloy that makes this hunting eBike light and yet durable. With battery included, this hunting eBike weighs about 72 lbs which is almost an average weight of a hunting eBike.
Three Finish Options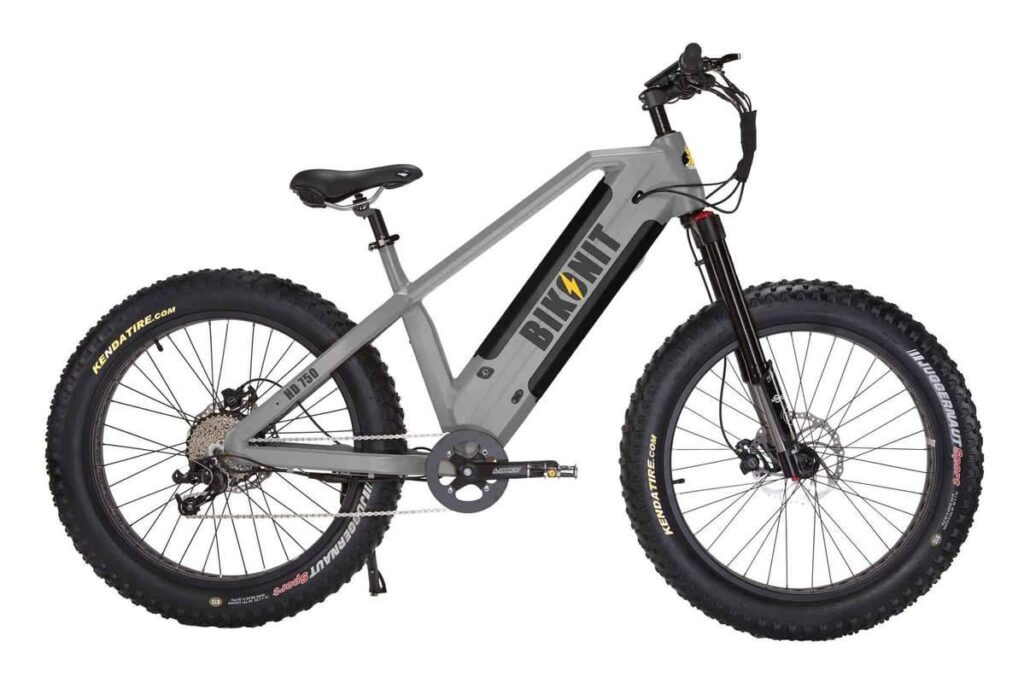 To match your new hunting eBike with your gear, hunting clothes, and even the type of terrain you work in, you will be able to choose between 3 finishes:
Sand Yellow
Matte Black
Matte Grey
These are neutral colors that won't give away your position when hunting and yet are making the Bikonit Warthog HD 750 look very attractive.
Even though it doesn't come in a full camo finish, these 3 options are a great fit and we don't believe that there's any huge advantage of camo over these neutral colors.
Conclusion
If you've been looking for the best hunting eBike for the money, Bikonit Warthog HD 750 is a decent choice.
With a great build quality and a great range of components, this hunting eBike provides an incredible value for the price it costs.
We believe that this is one of the cheapest hunting eBikes that still gives an incredible quality which is why we chose it as the best hunting eBike you can get for the money.
Even though it doesn't come with many accessories, they can be purchased additionally if you ever happen to need them.
What do you think about the Warthog HD 750? What do you like the most about this hunting eBike and why?