Hunting eBikes are becoming the number one vehicle for hunters. Not only they provide many benefits, but they're easier to use, cheaper to run and can last much longer without much maintenance at all.
And if you've been wondering what's the best of the best when it comes down to hunting eBikes, this is the post for you.
Down below, we'll share more on why fat tire eBikes are the best choice for hunters but we'll also review some of the top fat tire electric bikes so you know exactly what to expect!
Lastly, we'll also show you a super useful way of financing an eBike so you don't have to break your bank to grab a quality hunting eBike.
Why are Fat Tire Electric Bikes Perfect for Hunting?
If you've told your fellow hunters that you would be using a mountain bike on your hunt ten years ago, they would laugh right in your face.
However, rugged versions of mountain bikes equipped with a motor and a battery have become the new norm in hunting.
Not only they're easier to handle, transport, and use on almost any type of terrain, yet they're also quiet and help conceal the hunters' movements.
With a powerful motor, fat tires, and a rugged frame, there's nothing that can stop top fat tire electric bikes even from recovering the game.
Also, with so many custom accessories such as rear racks, pannier bags, and even trailers, you can carry all your gear and yet still ride the narrow off-road paths.
Lastly, they're very affordable to run, they require very little maintenance, and they're built to last!
Top Fat Tire Electric Bikes for Hunting
Now that you know the benefits and you're aware of everything that awaits you – it's time to find you a perfect hunting fat tire eBike for your needs.
Rambo Prowler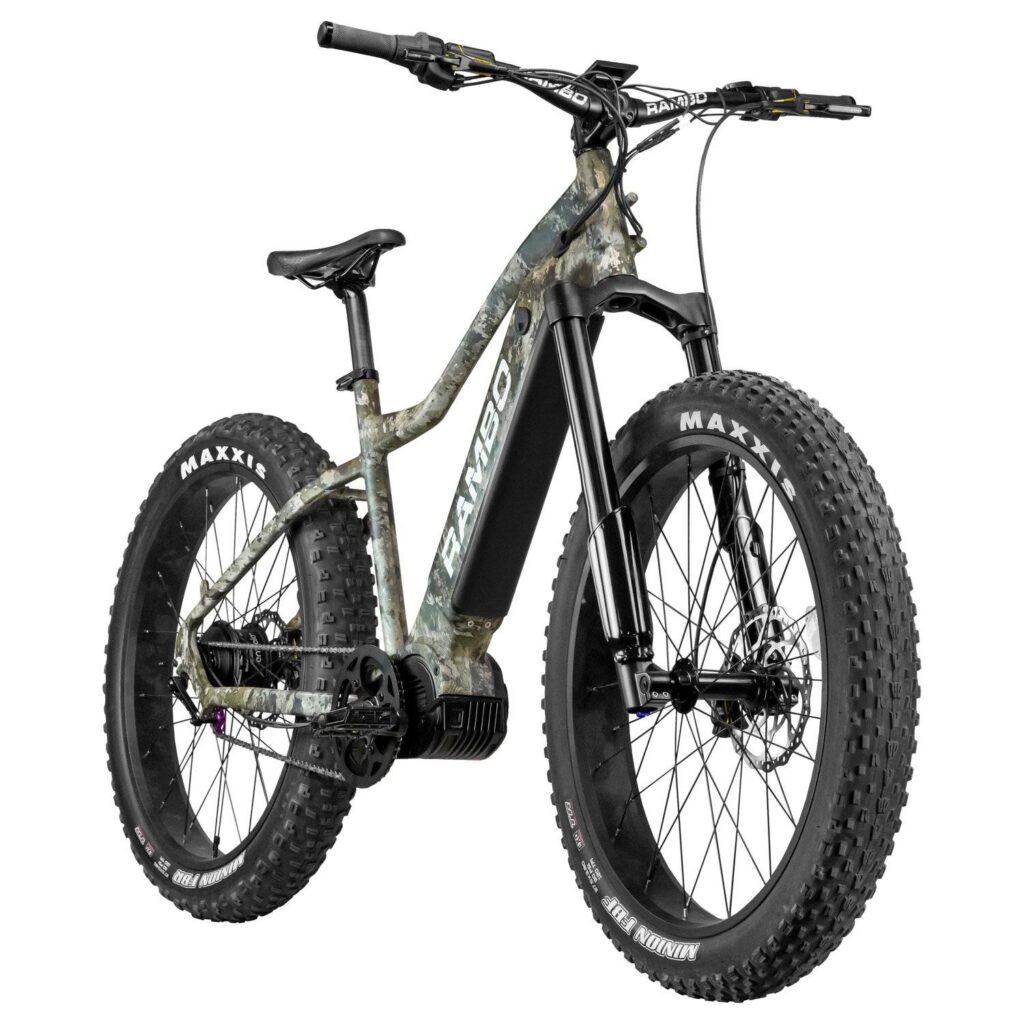 Rambo Prowler is one of the newest additions to the Rambo's hunting eBike line-up. Even though it features a 1000W Bafang Ultra mid-drive motor, it is deadly silent.
Combined with a Samsung 48V 17Ah battery, you will be able to cover at least 40 miles even in the worst conditions possible.
The battery is built into the frame and it is designed to sit lower to provide a lower weight center which improves the stability of the eBike. In combination with Maxxis Minion 27.5″ x 3.8″ fat wide tires, no road or path will be off the limit.
The biggest innovation on the Prowler is a large 380% gear range that makes this fat tire hunting eBike ideal for climbing hills even in the worst conditions you can imagine. Stability is never going to be an issue.
However, some of the benefits are indescribable and you'll only find out the true feeling of riding such a powerful hunting eBike when you test ride it.
But Promax 770mm handlebars don't only provide a great grip, but they are also wide enough to provide great maneuverability without being too wide so you can still move through the narrow paths with ease.
Quietkat Ranger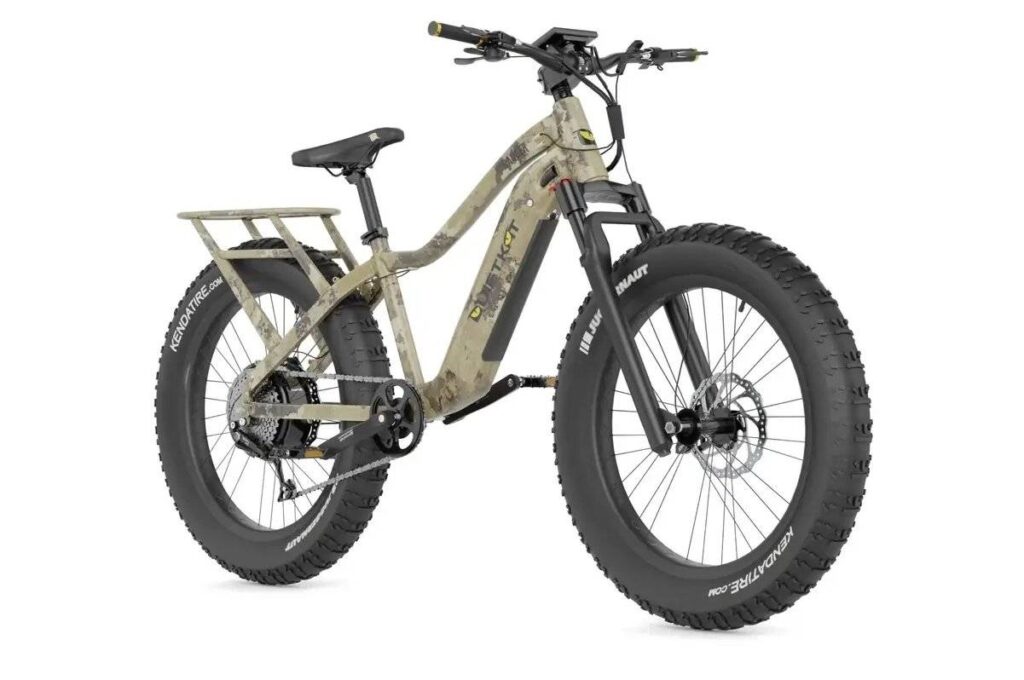 Quietkat Ranger is a fat tire hunting eBike that will give you confidence just by having a look at its tires. Ranger is equipped with ultra-wide Kenda Juggernaut 26″ x 4.5″ tires.
In combination with a 1000W motor (750W is also an option) and an 11.6Ah Panasonic long-range battery, you can cover at least 40 miles on a single charge.
With the reinforced frame and tires that can't wait to head down deep into the forest, you'll be able to easily tackle and handle any type of terrain you come across in your hunting expeditions.
Needless to say, Ranger is ready for the action and all you have to do is point it in the right direction.
The gearing system follows the design and intention of this eBike as you can use it as a single-speed eBike or switch on the gearing and use the full capability of the gearing system. With this gearing system on top of the durability, design, and ultra-wide fat tires – you can conquer any type of terrain and you won't even have to think twice before heading down a path you've never explored before.
For comfort during your adventurous rides, Mozo coil suspension fork in combination with focused weight distribution, you'll feel confident enough to corner this eBike at high speeds.
Bakcou Storm G2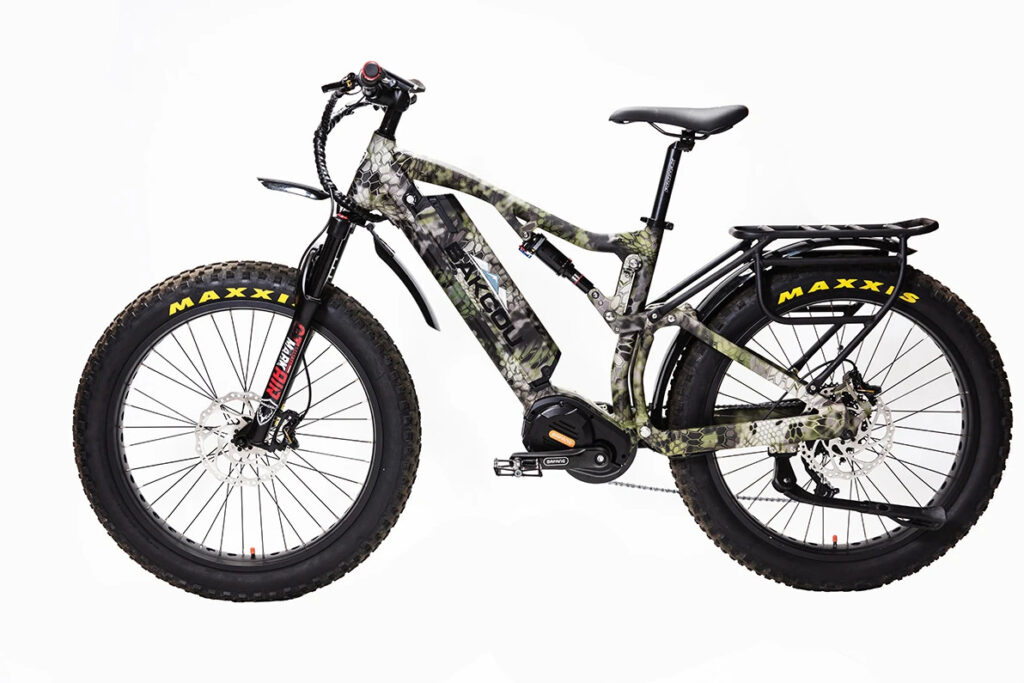 Maxxis tires seem to be one of the best options for hunting eBikes and Bakcou Storm G2 is just another eBike that is well equipped.
Bakcou Storm G2 offers unparalleled traction and control over the eBike thanks to its wide 4.0″ tires. This hunting eBikes is equipped with a Smart Torque Sensing motor which allows you to get anywhere from 750W to 1000W continuous power from the eBike.
With its power peak of 1500W and in combination with Panasonic 48V 17.4Ah (or 21Ah) batter, you'll be able to move quickly and effortlessly without worrying about stability or traction.
Tough and durable frame design that comes equipped with fenders, rear rack, rear pannier bag, and front and rear suspension, you won't ever feel sore after your rides.
However, if you ever come across hills while exploring areas you've never had the chance to visit, you'll be well equipped for hills with an SRAM hill-climbing 9-speed gearing system.
For increased stability and better comfort, wide 740mm handlebars improve cornering, maneuverability, and of course, stability.
Rambo Roamer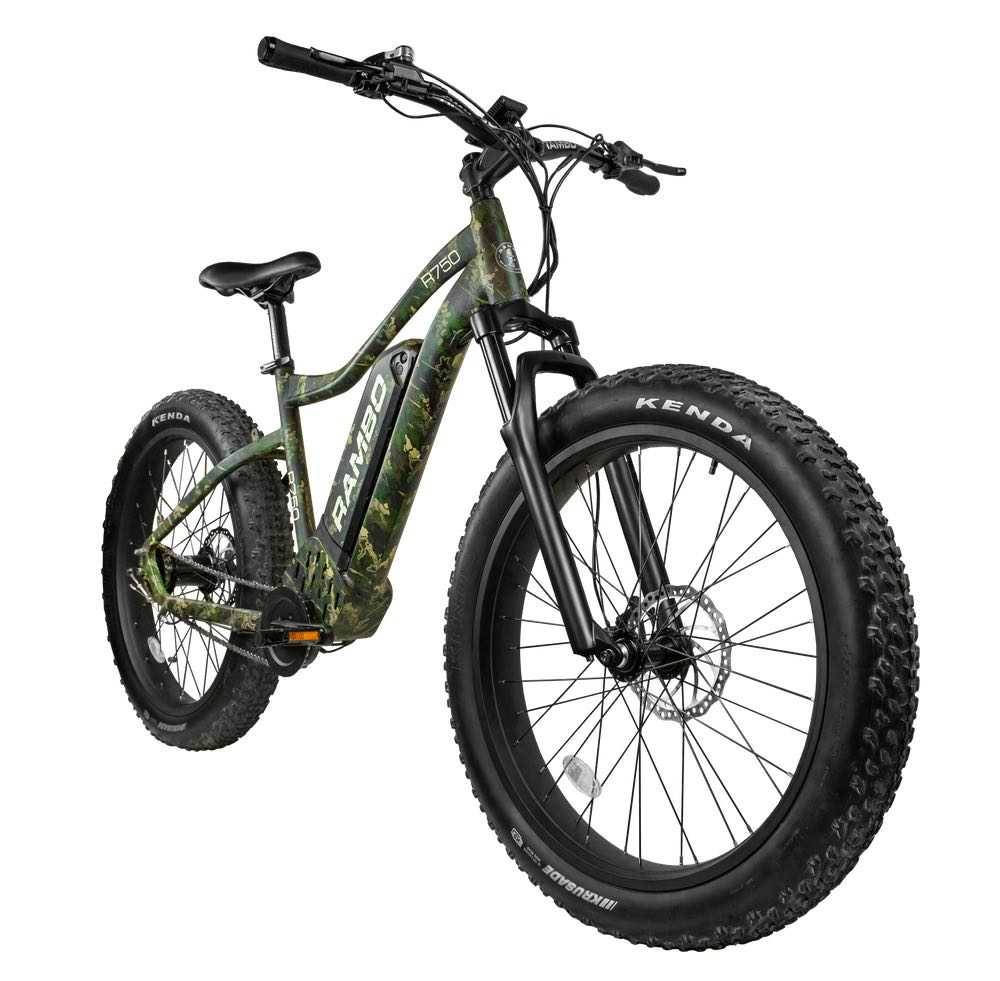 If you're looking for a solid hunting eBike that's equipped with quality fat tires and yet is in the mid pricing range, Rambo Roamer is a great choice.
It's an eBike built from a well-known and reputable hunting eBike manufacturer so it's definitely not here to disappoint!
Equipped with a 750W Bafang high-torque mid-drive motor and a Samsung 48V 14Ah battery, you'll be able to get a great amount of power at any given time without burning through your available range. However, on a single charge, you'll be able to easily cover about 35 miles.
When it comes down to maneuverability, stability, and comfort – Roamer is equipped with Kenda Krusade anti-puncture fat and 4.0″ wide tires.
Considering the weight of Roamer (63 lbs), it is a pretty light-hunting eBike that can carry or haul up to 300 lbs. With such a powerful motor, Velo ergonomic lock on handlebars, and comfortable Justec saddle – you'll never have to take a break.
Confidence is guaranteed even when riding up the hill, downhill, or in the high-speed corners, and for extra safety and comfort, the GT MRK fork is never going to make you slow down.
Even though it's only equipped with a 5-speed gearing system, you'll be able to get the most out of it thanks to the quick and effortless changes between the gears.
Rungu Dualie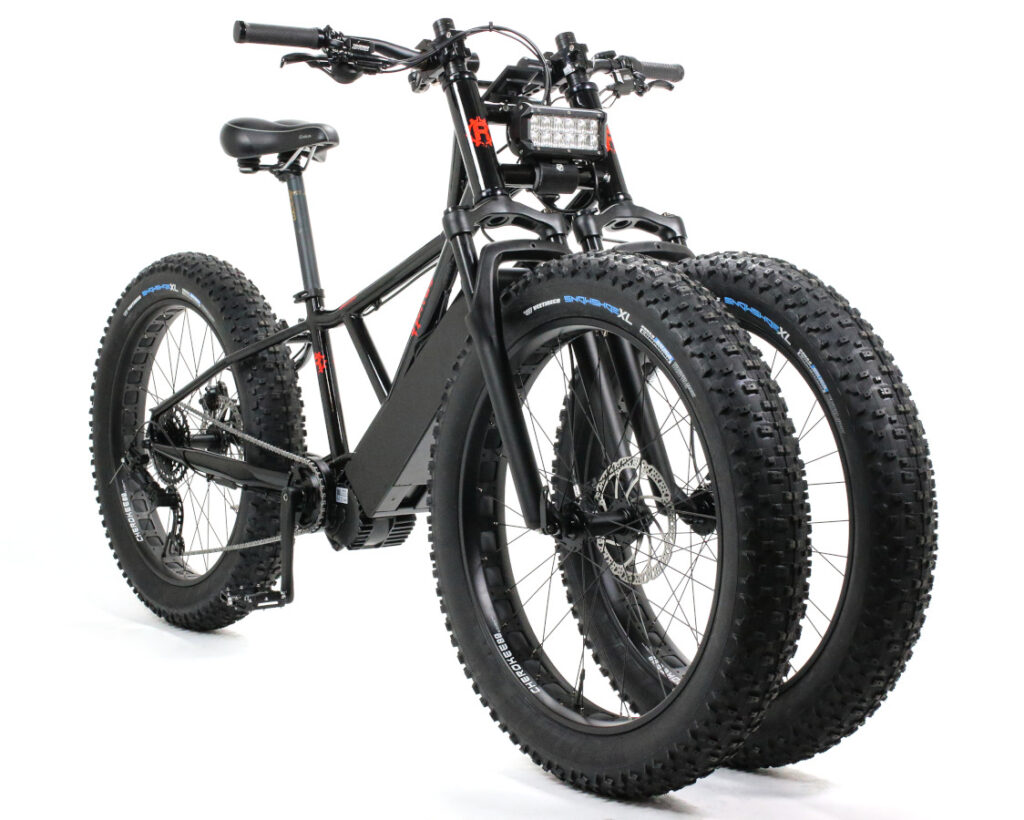 This top fat tire electric bikes list wouldn't be complete without Rungu Dualie.
Dualie is a one-of-a-kind hunting eBike that comes with 3 wheels, which means 3 wide fat tires! Not only Dualie looks like it's ready to conquer any type of terrain, but it's also very comfortable to ride.
Vee Rubber Snowshoe XL ultra-wide 4.7″ tires are well combined with a smart weight distribution patented by Rungu and known as "Total Control". This weight distribution helps put more traction to the wheelbase and much more traction on the front wheels than any other hunting eBike.
Powered by Bafang 1120W mid-drive motor and a 52V 15Ah battery, you'll be able to ride in the mud, snow, sand, and even on the most narrow downhill paths.
Why?
Because you'll have the traction you have never experienced on any other hunting eBike on the market. With that being said, you'll never lack the confidence to take corners at full speed or worry about wipeouts.
We should also mention that Rungu Dualie comes in a couple of different models so you'll most likely find a version that fits your needs the best.
Quietkat Voyager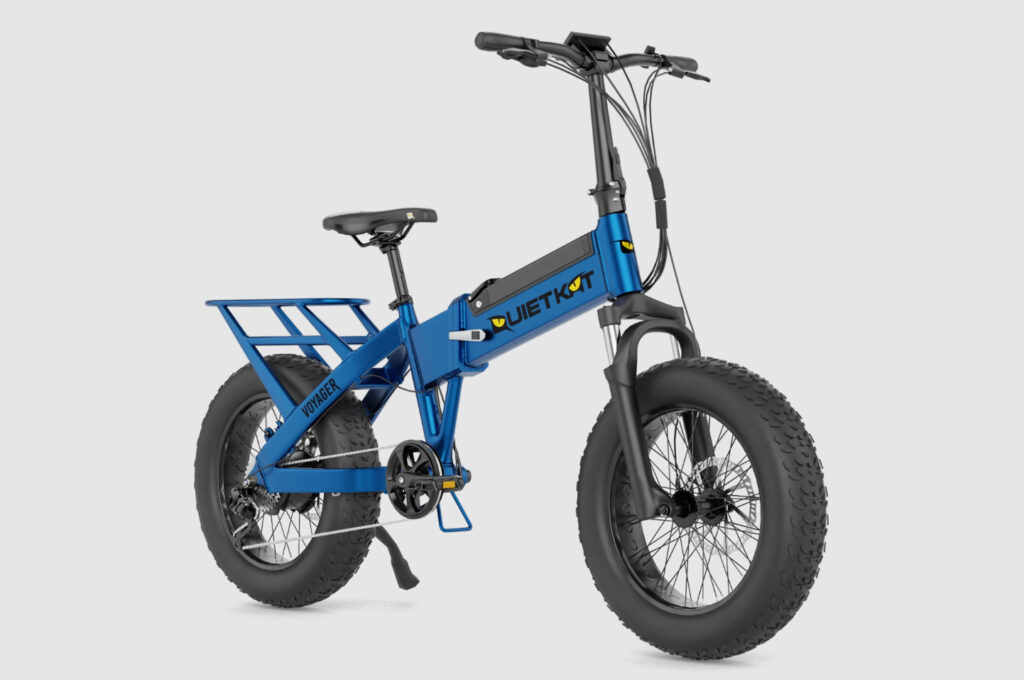 Voyager might not look like any other hunting eBike, but it is made by Quietkat who is one of the well-known hunting eBike manufacturers.
This hunting eBike is based on a folding bike frame that's reinforced (just like the mountain bike frame), is equipped with a front fork coil suspension and fat & wide 20″ x 4″ tires.
Powered by a powerful 750W motor and an 11.6Ah 48V battery that only weighs 10 lbs, you'll be able to easily transport this folding hunting eBike, or ride it in any terrain without stability or comfort.
Seat and handlebar height are easily adjustable and you can even upgrade the steam post to an NCX suspension seat post for even more comfort on rides that can go up to 48 miles on a single charge.
Needless to say, this is not only one of the most convenient hunting eBikes, but it's also one of the lightest hunting eBikes. It only weighs 54 lbs and yet its maximum weight capacity (including hauling) is 325 lbs.
With all aspects of a quality hunting eBike sized down to a different frame type that's integrated with a couple of different options, you'll love how easy and simple it is to hunt with Voyager. You can get on and off the eBike in seconds.
eCells Super Monarch Crown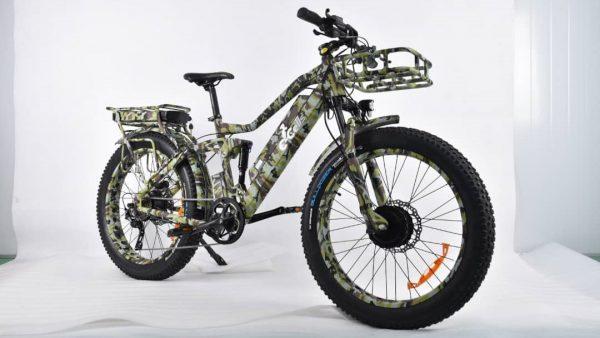 When you're looking for the most powerful as well as most rugged hunting eBike, there's no hunting eBike like eCells Super Monarch Crown.
This is one of the first all-wheel-drive hunting eBikes that comes equipped with custom Bafang motors.
Yes, you've read it right, there are two motors (each placed in the wheel hub) that can output together up to 3500W of power during the peak.
A good range is also guaranteed by two batteries (52V 17.5Ah & 52V 14Ah) that won't leave you stranded thanks to the smart battery indicator. Needless to say, you'll be able to have a lot of fun with such a powerful eBike without having to worry about getting back home.
With a half-twist throttle, you'll feel like you're riding a dirt bike, and 26″ x 4.25″ fat and wide Vee Bulldozer tires are there to confirm it.
And with such a combination, you won't ever have to worry about stability, manueverability, or heading down the path you've never gone down before.
Full suspension is there to provide extra comfort and safety as you make the most out of one of the top fat tire electric bikes.
Best Way to Finance a Hunting eBike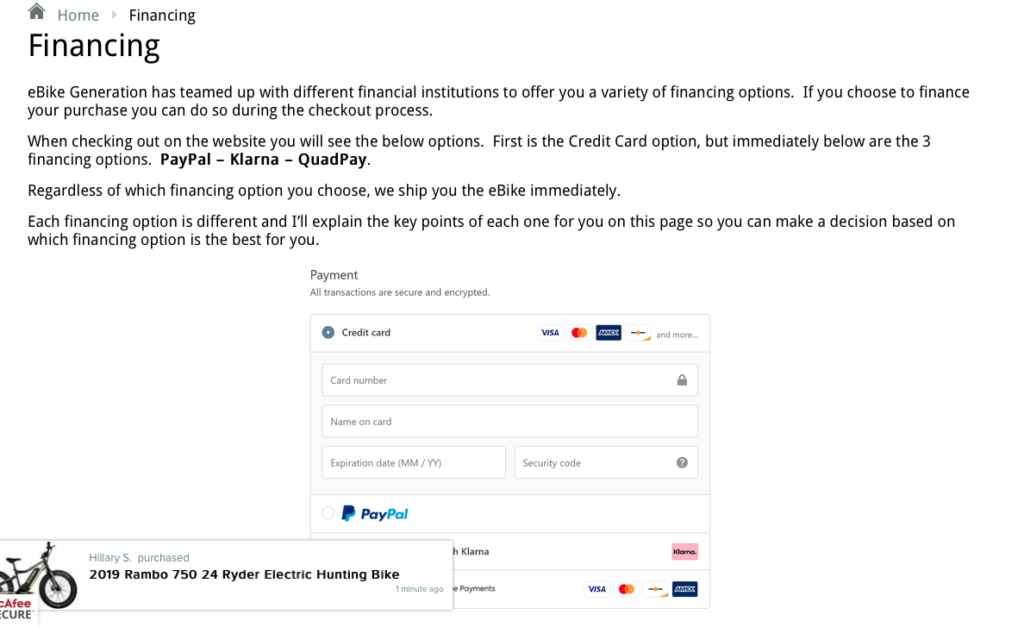 Top hunting eBikes aren't cheap and that's the truth. However, they're one of the best investments and you should never cut corners when it comes down to quality.
However, thanks to retailer stores such as eBikeGeneration who partner up with financial institutions, you can get a 0% interest financing plan.
With such a plan, you can purchase any of these hunting eBikes and pay monthly and yet take full advantage of the eBike as soon as it is delivered.
And with that being said, an average monthly rate will be around $250 and yet you won't have to pay any interest. There are also multiple financing plan providers so you will even get to choose the one you prefer the most.
Conclusion
Top fat tire electric bikes are really worth it when you consider the value and quality you get for a pretty decent price.
Cheaper hunting eBikes are always an option but they'll still cost you a lot and might not provide the same quality level – or even worse yet, they might end up costing you a lot more in the long run.
There's no doubt that the benefits of hunting eBikes are the reason why hunting eBikes are increasing in popularity, and if you're thinking about making the switch – it's a perfect time!
If you need help choosing your new hunting eBike, feel free to read our other articles and if you have any questions, don't hesitate to drop them down below!
What is your favorite fat tire hunting eBike from the list above and why?