So far, we have had a choice between mid-drive motors and rear-hub motors. Each one of them has its advantages and benefits but what if you could have both?
Is there anything better than having an all-wheel-drive electric bike? We don't think so!
So is an AWD electric bike something you really need or will it provide you a bigger advantage than any other eBike on the market?
In this review, we'll show you how you can benefit from an AWD electric bike, but we'll also review some of the best AWD eBikes on the market – so keep on reading!
What is an AWD Electric Bike?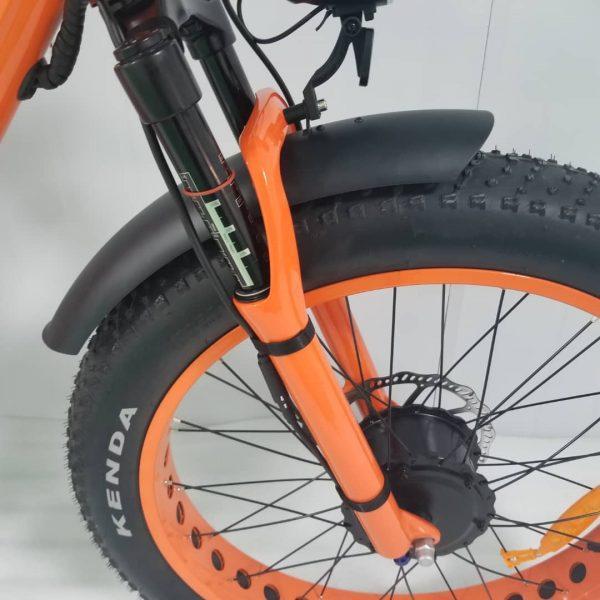 AWD electric bike is an electric bike that doesn't rely on either a mid-drive or rear-hub motor. Instead, it utilizes both motors to provide all-wheel drive.
This means twice more power, twice more the grip, and twice more the starting power. With the help of dual motors (one for each wheel), AWD electric bike has the ability to put the same amount of power on both wheels – instead of putting all the power into one wheel only.
The same applies to cars and the chances are you've driven at least one of the following types:
Rear-wheel drive
Front-wheel drive
Cars also come with an all-wheel-drive system which makes all 4 wheels spin at the press of a gas.
This is really popular to see among electric cars, and the same idea is taken to electric bikes – which we believe is really great.
Are you curious about the benefits an all-wheel-drive electric bike can provide? Keep on reading as that's exactly what you'll find out!
Benefits of AWD eBikes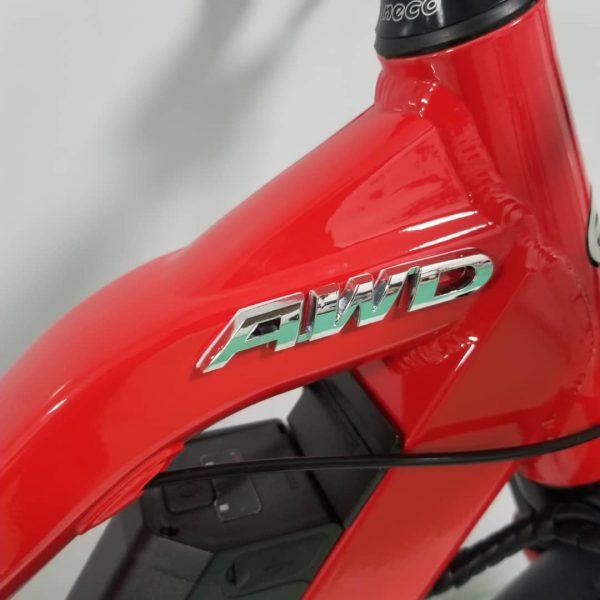 The biggest benefit of all-wheel-drive electric bikes isn't the power. That's what most people think of when they hear of an AWD electric bike.
Of course, that's one of the benefits – but we believe that the biggest benefit of all-wheel-drive electric bikes is the stability and comfort.
By spreading out the power on both wheels, rides become smoother and riders can feel more control on both of their wheels.
Yes, two motors instead of one can increase the weight of an eBike. However, that's not a downside. It's actually an advantage as the added weight on both the front and back helps stabilize the eBike more.
With the rider in the middle, a perfect distribution system is achieved and if you ever tried riding on an AWD eBike – you'd feel like an arrow on a straight path.
When it comes down to climbing, your eBike will have better capabilities thanks to more strength on both wheels. For hunters, you'll love having the ability to explore a broader terrain range.
While most terrain types were available for eBike hunters – now any limit that remained is lifted for the best benefits in the deep forest.
Best AWD Electric Bikes
While AWD eBikes are still a relatively "new" version on the market – there are still a couple of very decent models we picked up for this review.
Now that you know the benefits, it's time to meet the all-wheel-drive eBikes and learn everything they have to offer!
Eunorau Defender S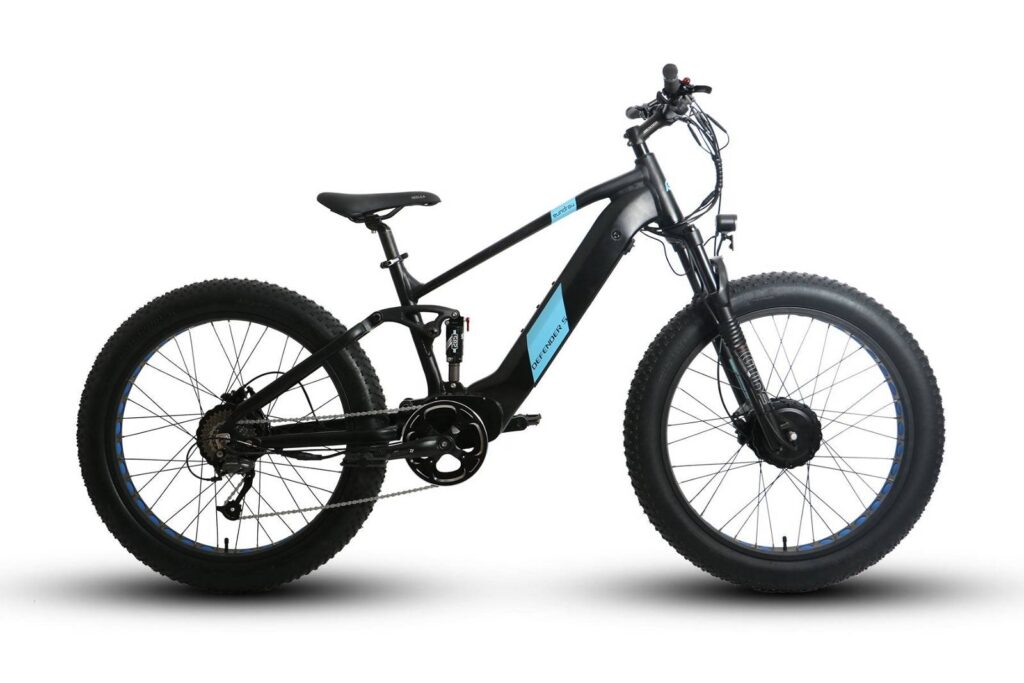 Eunorau Defender S is one of the most affordable all-wheel-drive electric bikes that come with dual suspension.
This electric bike comes in two sizes as it is based on a 17″ and a 19″ frame so you can choose between the two to ensure a perfect standover height, depending on your height. This way, Defender S fits most riders so you won't have to worry about the height and fit of the eBike. The best-estimated range of rider's height is between 5'3″ and 6'4″ which is a very decent range.
Other options available include 3 color choices where you get to choose from black, grey, and Forest Cobra finish.
When it comes down to the most important components, Eunorau Defender S is equipped with a dual 750W Bafang hub motor where each motor is placed in the wheel hub. Such a combination provides 1500W of power to both wheels, and its maximum peak power is 2000W at the maximum torque.
This is well combined with a 48V 17 Ah Samsung battery that comes with the eBike. Such a combination gives an estimated range of about 80 miles per charge. On top of that, you are also able to get an additional second battery as an option.
If you decide to go with the secondary battery, you can choose between a 14 Ah or a 17 Ah battery. Even though this is in addition to the price of the eBike, it can extend the range a lot and give you a better ability to go further, and never worry if you'll have enough range for the return trip.
For the best comfort, not only do you get dual suspension that will absorb any shock, but you'll also get Kenda Sport tires that are 4″ fat and rugged to give you the chance to overcome obstacles even in the rockiest terrains you can imagine.
This is well combined with Shimano Alivio 9-speed gearing system that is well balanced so you can climb the hills with ease but also push through trails, and off-roads, and even go deep into the wilderness to recover your game after a successful hunt.
Not only will you be comfortable on Defender S, but you'll also be well assured with the proper stopping power thanks to the hydraulic disc brakes that come with motor cutoff which makes the motor's health a priority while giving you enough stopping power to ride this eBike as wild as you wish.
Even though the eBike weighs 84 lbs, it has a great load capacity of up to 440 lbs which is one of the most competitive load capacities in the market.
From additional components and accessories, you'll enjoy an integrated LED headlight, LCD display, chain protector, and the ability to switch between the motors (you can use only one at a time or both at the same time for a full all-wheel riding experience.
Rambo Krusader 2x500W Dual-Hub eBike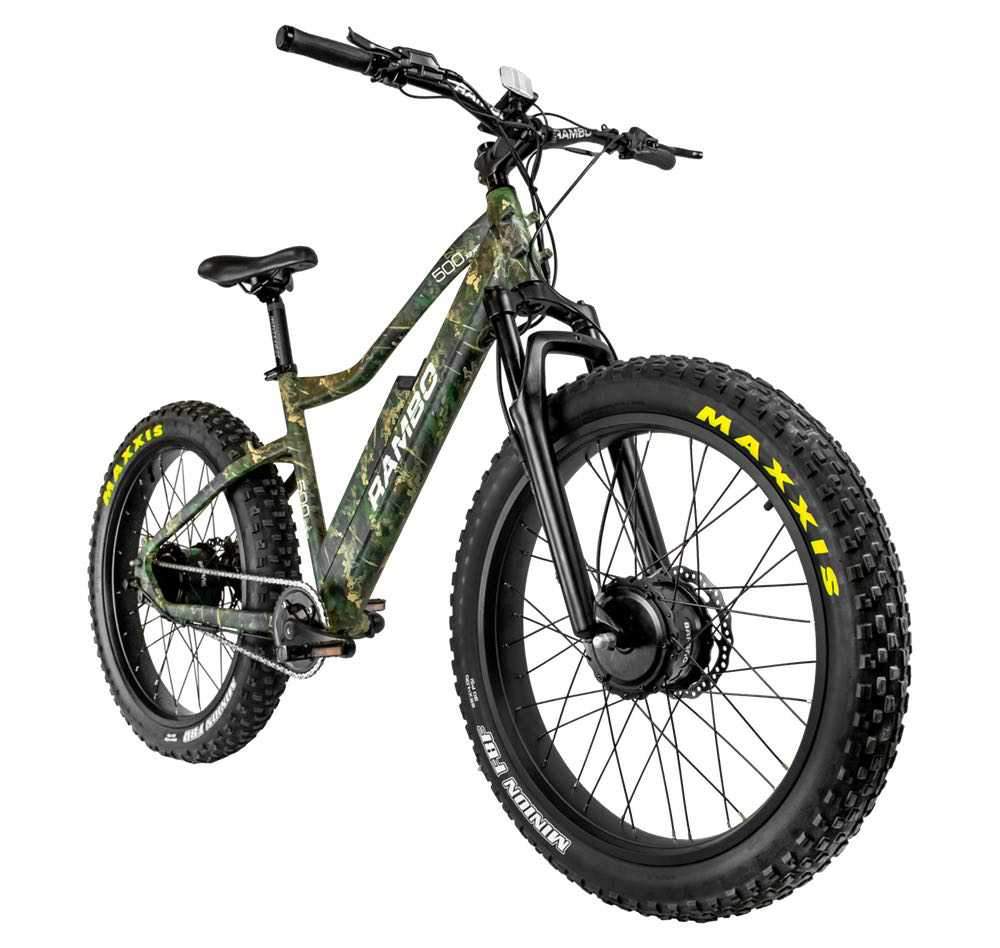 Rambo is one of the best hunting eBike manufacturers on the market and it's really great to see them joining the AWD eBike production early on.
They couldn't enter this part of the industry in a better way than by producing a Krusader. Krusader is a 1000W eBike with dual-hub motors with the sole purpose of providing even more power, stability, and freedom to hunters around the world.
The price is a tiny bit higher than the average Rambo eBikes we're used to – but considering all additional parts included in the production into a relatively new AWD eBike system, it's really well priced – making it very affordable, even for most average hunters.
Along with 2 Bafang hub motors, Rambo used the "good-old" Samsung 48V 14Ah battery that we can see in other Ramob hunting eBike models. In a combination of two Bafang motors and one Samsung battery – Krusader manages to cover a range of up to 38 miles on a single charge.
This is a pretty amazing result coming from a well-experienced eBike builder taking advantage of only one battery and two motors.
Therefore, with two 500W motors, Krusader can output 1000W on both wheels which makes it a hunting monster that has no rival on the toughest terrain while being whisper quiet.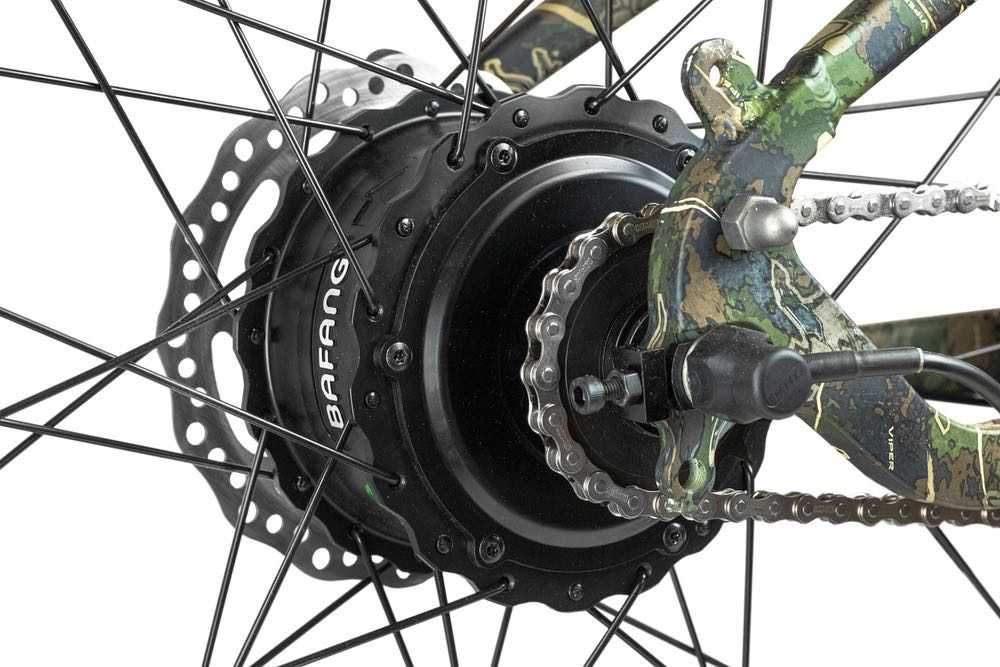 With the single gearing system and thumb throttle, riders have the chance to fully take the advantage of the power in the quickest way possible.
The drivetrain is "bulletproof", providing reliability with unmatched stopping power where safety is the number one priority.
However, one unique Rambo feature that we were able to spot is the battery placement. It seems to lay a lot lower than the batteries on other Rambo eBikes. This allows additional benefits that improve stability while weighing down the eBike in the center.
With all that being said, Rambo has the ability to outperform some of the best Rambo models and there's no question about outperforming competition.
No terrain will be hard to handle as Krusader comes equipped with 26 x 4″ Maxxis Minion tires that are puncture-proof and ideal to handle the distributed power on both wheels.
We believe that this is the perfect eBike that describes Rambo's motto of "taking you to places you've never been".
The frame is built from a quality aluminum alloy and its final finish is a camo finish that's perfect for deep-in-the-wood rides. On top of that, you'll get the standard Rambo eBike accessories such as a rear rack and fenders included with the purchase.
Therefore, we can only say one thing about this eBike. The price-to-value ratio is outstanding!
Bakcou Kodiak AWD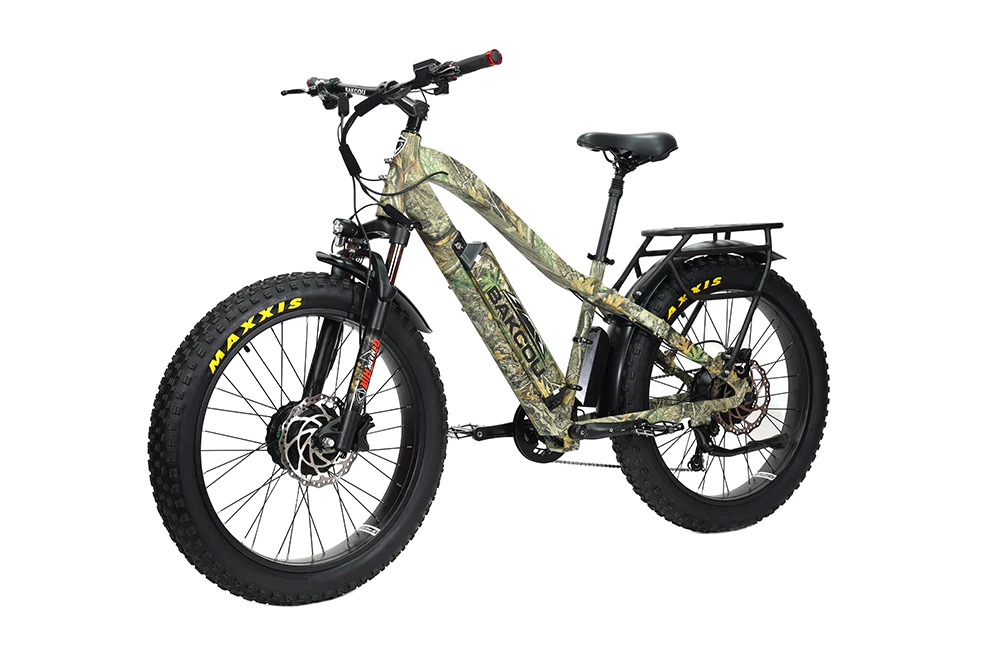 Kodiak is the first of Backou's electric hunting bikes that come with an all-wheel drive system, and yet it's definitely up alongside its competitors.
It provides one of the strongest batteries that can support dual motors which is a 48V 25 Ah lithium-ion battery. Therefore, you won't need two battery packs, yet one quality battery pack will support both motors so you won't have to worry about the range you can achieve.
In combination with two Bafang 500W hub motors, you will be able to get power onto both wheels, with 85 Nm of peak torque power at each wheel, giving 1000W of power onto both wheels.
In combination with the extra large battery pack, you can achieve an estimated range of about 50 miles per charge. Of course, this depends on the riding style, the choice of motor use, weather conditions, terrain type, and other factors. So at least 50 miles is guaranteed while you can definitely achieve a much larger range.
Kodiak eBike is equipped with a BCEB GT MRK coil spring suspension and Tektro quad-piston hydraulic brakes for comfort and safety. On top of that, Kodiak comes equipped with quality Maxxis Minion 4″ wide tires that provide better traction, control, and stability for the eBike.
With the Shimano Alivio 9-speed gearing system that makes climbing easier, you will also get better handling capability, as well as the ability to conquer any type of terrain since this combines well with other quality components of the Kodiak eBike.
Bakcou Kodiak eBike also includes additional accessories for the price which include a front LED light, rear rack, a heavy-duty kickstand, a shock-absorbing seat post, skid-proof wide stance pedals, ergonomic handlebar grips, and an LCD display.
With the integrated rear rack, you get the chance to store accessories and equipment, and another great thing about it is that you can use it to attach a cargo trailer to this eBike. This can help you recover your game out of the woods much more easily.
And with the LCD display, you get a clear insight into the important stats of the eBike such as the battery percentage, estimated range, covered distance, average speed, current speed, and many other stats. The great thing about this display is that it gives you a quick insight at a glance which is ideal when you're flying at full speed on off-road trails.
Conclusion
AWD electric bike might be one of the best upgrades hunting eBikes ever had. With all the additional features – they provide even more benefits than ever before.
We never predicted e-Cells to be taking the lead right there, but they're doing an incredible job. Also seeing Rambo taking the place and Bafang helping these brands produce exactly what they've visioned is incredible.
Therefore, when you have a look at the price, consider all the work that goes behind the scenes so riders can have eBikes that stand up to the potential and have no drawbacks at all.
Also, don't forget that with a proper financing plan – you can take full advantage of any of these eBikes and pay monthly!
What is your favorite benefit of AWD electric bikes?