With the modern technology we have available, rise in the electric transportation is huge and with so many electric bike manufacturers, there's a very wide range of choices customers have.
MTNBEX is one of the brands that specialize in producing not any type of electric bike, but all-terrain electric bikes that are ideal for off-road use.
Since their electric bikes are becoming very popular among hunters, in this post, you'll find out everything you need to know about MTNBEX electric bikes, but also check out 3 of their most popular eBike models.
Adventure is right ahead and any of the 3 MTNBEX electric bikes below will make a great choice, so keep on reading to find out which one would be the best fit for your needs!
What are MTNBEX Electric Bikes?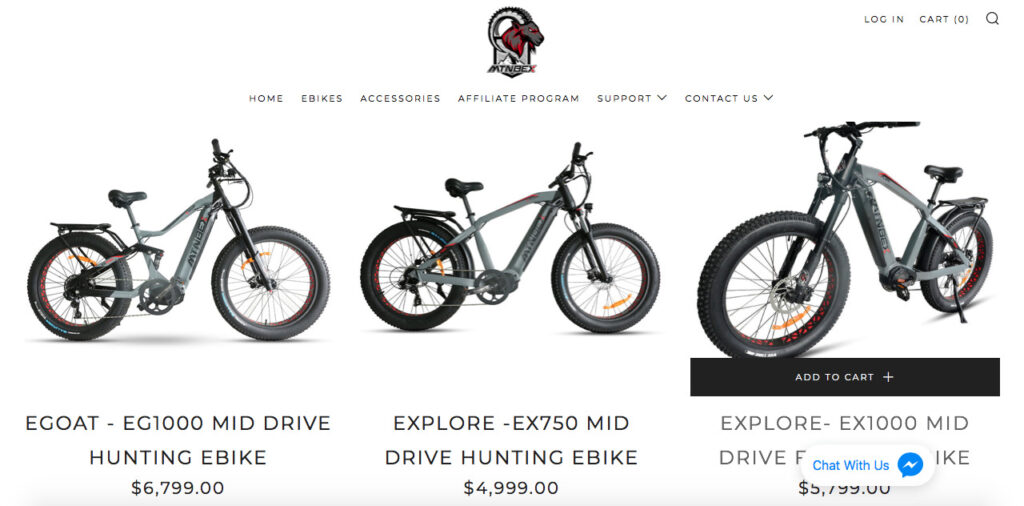 MTNBEX electric bikes is a company that produces mountain bike electric bikes for exploration. These electric bikes are an all-terrain type of eBikes that are built to handle any type of terrain and yet at the same time, they include enough power by default to help power your adventures.
They are made for people who have a love for mountain bikes, yet want to explore in the best possible way – by having an extra bit of power at the touch of a button.
All MTNBEX electric bikes come with a mid-drive motor, and they have a front fork suspension or even a full-suspension system. With a wide range of power and battery options, MTNBEX combines this with fat tires that allow riders to never worry about the type of terrain they're gonna ride on.
Benefits of MTNBEX Electric Bikes for Hunting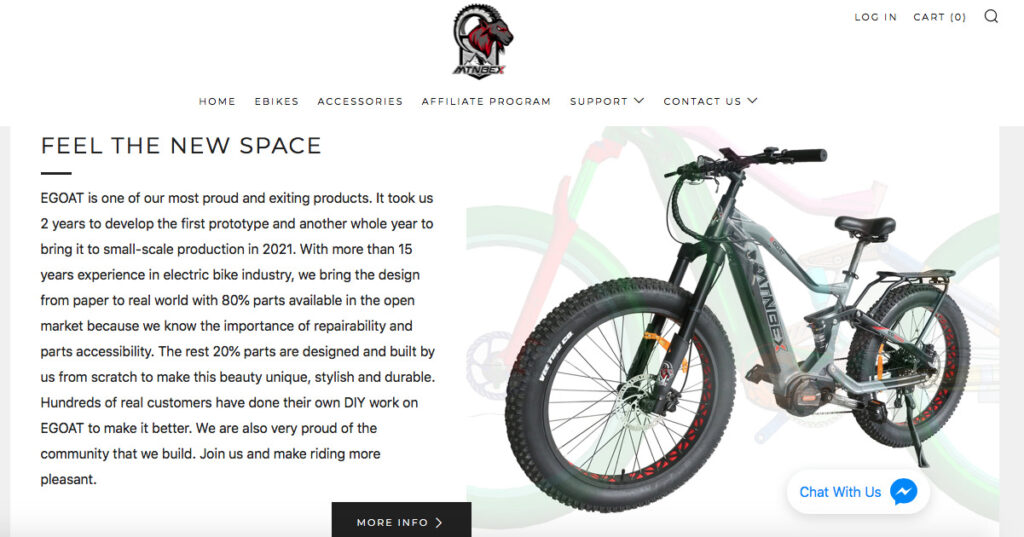 Needless to say, MTNBEX electric bikes have caught the attention of hunters who are looking for the next best vehicle for their hunting needs.
Since MTNBEX electric bikes are built in a way to conquer all-terrain, taking it to the woods is a possibility.
With wide fat tires, a very decent front fork or a full-suspension system, and even an integrated rear rack, plenty of power, and a very decent range, MTNBEX electric bikes are a perfect fit for hunters.
Getting to the blind, recovering game, or moving stealthily across in the woods is something MTNBEX eBikes can help achieve. With other high-quality components, incredible reliability, and a very decent price that matches the quality of these eBikes, MTNBEX eBikes have plenty of benefits for hunters who are still looking for their electric hunting bike.
One important thing to note is that all MTNBEX electric bikes come with a 2-year warranty, and 15-day return policy, and offer free shipping to 48 states in the US.
Best MTNBEX Electric Bikes for Hunting
Since MTNBEX are very popular among hunters, we'll review their top 3 electric bike models that are a perfect fit for hunting so you can find out exactly how these eBikes will fit your hunting needs!
MTNBEX EGOAT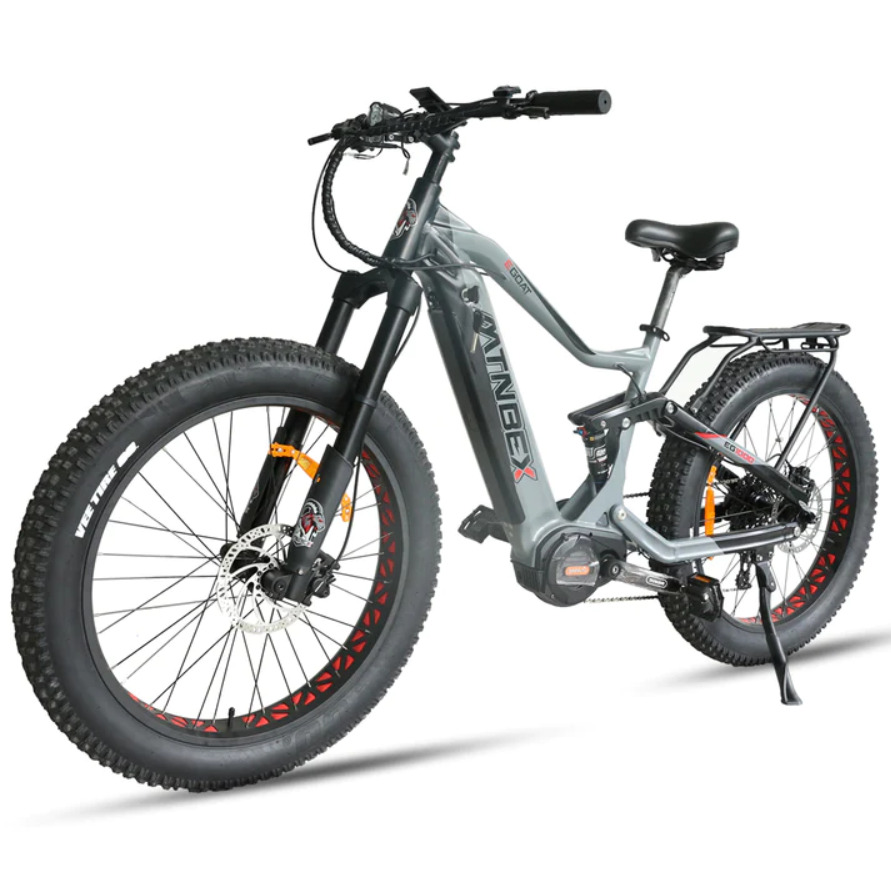 If you're looking for an electric bike that will take you anywhere you wish and imagine so you can explore areas you have never even thought about reaching before – MTNBEX EGOAT is the perfect ideal eBike for this adventure.
EGOAT is the top of MTNBEX's line of electric bikes, featuring a 6061 aluminum frame (with an integrated rear rack) based on the mountain bike and yet is equipped with a full-suspension system that will make sure you can come across any obstacle no matter where you are. Of course, at the same time, you'll be experiencing one of the most comfortable MTNBEX electric bikes they have on the market.
When it comes down to power, EGOAT eBike is equipped with a top-of-the-line Bafang commercial M620 mid-drive motor. It is a 1000W motor that can produce 160 Nm of torque and it has three sensors incorporated into a system.
One of the sensors is a torque sensor while two other sensors are speed sensors. These sensors help riders get immediate power at the touch of a button and yet ensure that the motor works brilliantly with the pedal assistance system.
Battery-wise, MTNBEX eBikes come equipped with an LG 17.5Ah 48V lithium-ion battery. Therefore, such a combination of a motor and battery allows for a range of about 55 miles on a single charge.
What's also interesting is that this electric bike comes with a couple of different modes which can make your rides more fun or more economic on the battery. Therefore, the settings you can expect to see include Eco-Assist, Sport-Assist, Walk-Assist, and Throttle, and you even get to switch between power options (750W or 1000W). This can further improve the range since you won't be relying on the maximum torque or power available.
SRAM 11-speed gear shift system provides a great balance for rides in any type of terrain, including uphill and downhill rides.
Just like every MTNBEX eBike, EGOAT also comes with a Bafang DP C18 display which includes some of the most important features of the eBike. This includes a battery capacity, pedal assist level, odometer, speedometer, and wattmeter.
This display even features a USB port ideal for charging USB devices in an emergency. This will reduce the battery range a bit, but it can be a lifesaver in situations where you have no other way to charge your dying smartphone.
MTNBEX Explore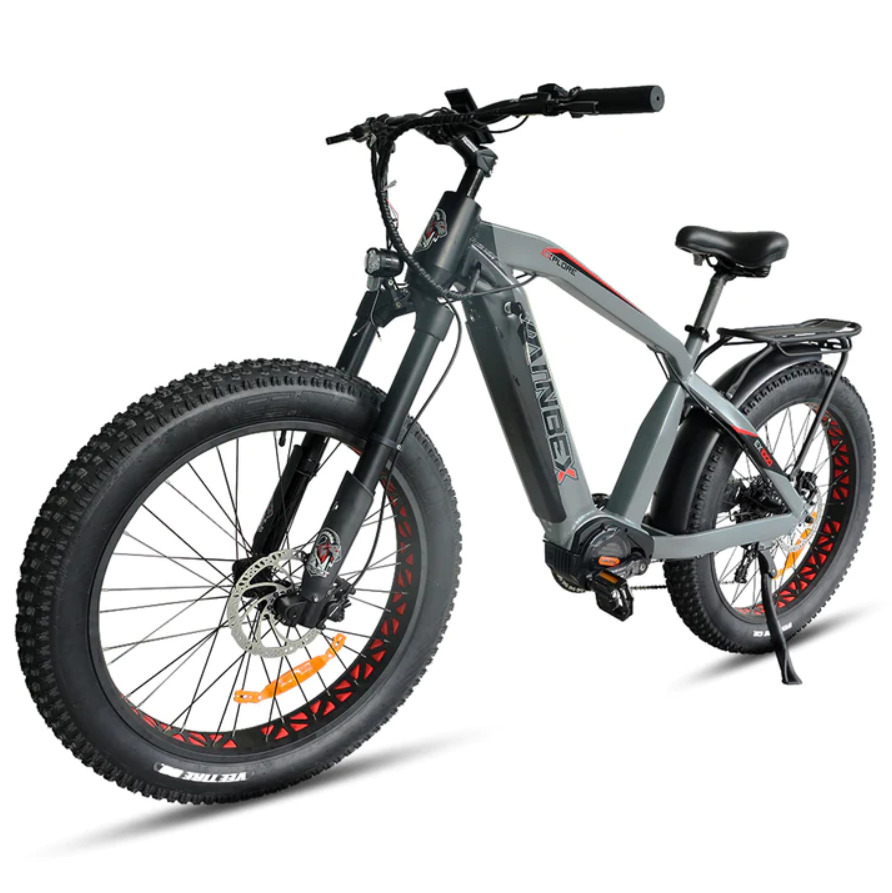 MTNBEX features two Explore electric bike versions and this version is a better version, which is priced right between the EGOAT and the Explore 2 models.
Therefore, MTNBEX thought this through and created an ideal all-terrain electric bike for everyone's budget. But if you still have worries about the price tag, keep on reading because, by the end of the article, you'll learn how to finance any of these electric bikes.
Just like EGOAT, Explore is also equipped with a Bafang commercial M620 1000W mid-drive motor. The same motor that can produce up to 160 Nm of torque and even provide more power if you take advantage of pedal assist.
When it comes down to the battery, it also features the same battery which is the LG 17.5Ah 48V lithium-ion battery with a capacity of 840Wh.
Therefore, such a combination allows you to cover up to 55 miles on a single charge. However, keep in mind that with the use of pedal assist, you can expand the range. But you should factor in the weather, riding conditions, and even the terrain you ride on as it all can have an effect on the range you can achieve on a single charge.
But to make this even more convenient, riders get to choose between 5 different modes. The modes include:
Eco-Assist
Sport-Assist
Walk-Assist
Throttle
Switch between 750W or 1000W power output
This way, you can adjust the torque and power output depending on the riding capabilities you require from the bike at a certain moment. This can help you preserve the battery, expand the range, or just flat out have more fun and acquire the top speed whenever you like.
The main difference is that Explore eBike doesn't feature a full-suspension system yet it only relies on the front fork inverted air suspension which is very decent at making bumpy rides more comfortable.
Combined with Vee fat tires that are 4.25″ wide, you'll be able to overcome any type of obstacle, ride in any type of terrain, and never worry about a puncture again.
The SRAM 11-speed gear shift system with a freewheel cog which helps you take advantage of the larger cog for easier climbs and the smaller cog for downhills and flat-out high-speed rides. Of course, this is ideal for use with pedal assist so you achieve more from your eBike, but it isn't necessary if you don't feel like riding a bike and just want to rely on the throttle.
MTNBEX Explore 2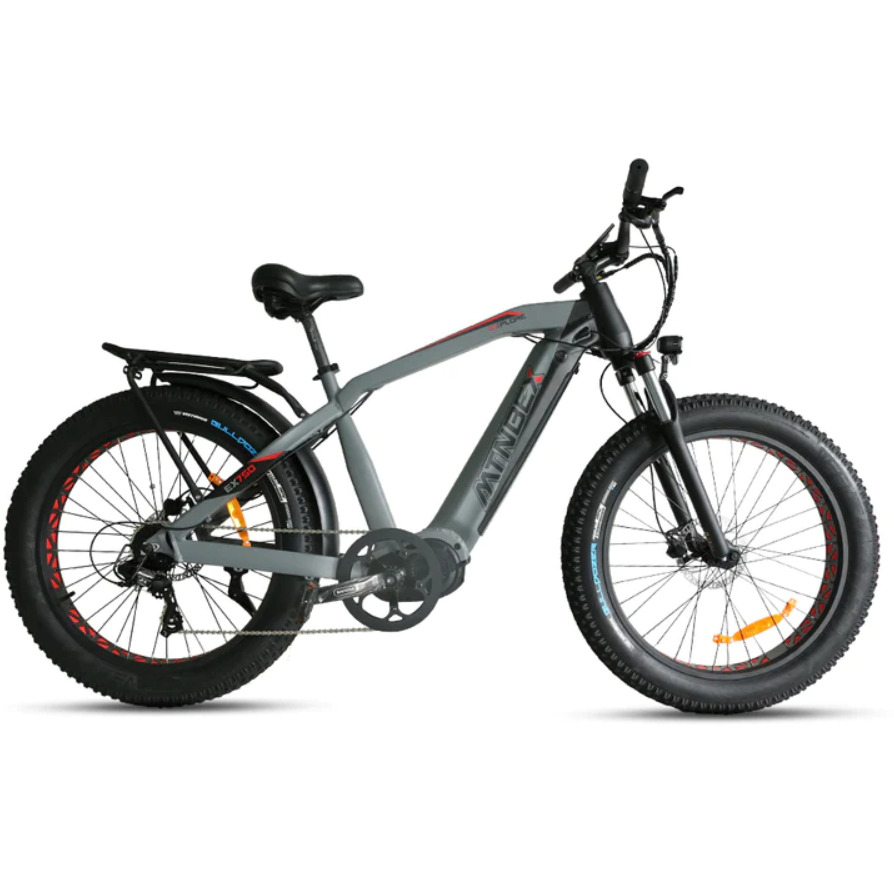 The most similar version to Explore is the Explore 2 eBike which is one of the most affordable MTNBEX electric bikes.
It is also an all-terrain electric bike that features very similar specifications. It's also built on the 6061 aluminum frame and it also features only a front-fork air suspension just like the Explore eBike.
The main difference is in the motor which is still a Bafang motor, but it is a 750W version. When it comes down to the battery, it also features an LG 17.5Ah 48V lithium-ion battery.
On a single charge, you can achieve up to 55 miles but it also depends on how much you use pedal assist and how much power you use at given moments during your rides. Of course, you should also factor in the weather conditions, type of terrain, and other factors that play a role in the range estimation.
Another difference is that Explore 2 comes with 4 modes instead of 5. You can still take advantage of Eco-Assist, Sport-Assist, Walk-Assist, and Throttle modes. However, since Explore eBike comes with a 750W motor, you can't change the power option between 750W and 1000W.
Explore comes with an 8-speed SRAM gearing system and it is very well designed so you'll love climbing up the hills with the help of pedal assist, but also have a lot of fun going downhill or flat out in any type of terrain.
The whole eBike weighs about 89 lbs with battery included, yet the load capacity is 350 lbs which mean that, besides the rider's weight, Explore 2 eBike can carry a lot of additional weight. Since it comes with an integrated rear rack, you can attach a cargo trailer and haul it behind you. This is ideal for hunters who are looking for a way to recover their game from the wilderness since no other vehicle is as narrow as an electric bike.
With VEE fat tires that are 4.25″ wide, you won't have to worry about punctures and for your safety, you'll always have the ultimate stopping power provided by hydraulic disc brakes.
And for your convenience, you'll be able to take full advantage of Bafang's integrated display which shows you the most important features such as the estimated range, battery percentage, speed, odometer, distance covered, and more. Using this screen, you'll also be able to change between the motor modes.
And even though Explore 2 doesn't come equipped with fenders, it does come with a front light which is well placed to lighten up your way during late evening or night rides.
Best Way to Finance MTNBEX Electric Bikes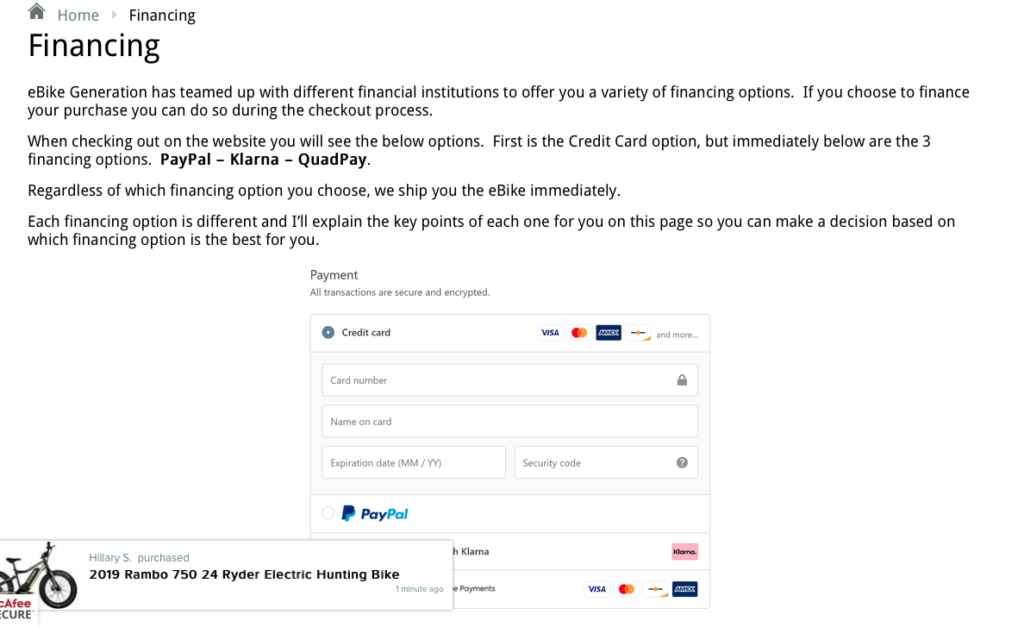 Even though MTNBEX electric bikes are very well priced considering the quality and value they provide, the price tag can still be a lot to pay at once.
Luckily, quality electric bike retailers such as eBikeGeneration have partnered up with financial platforms to allow you to finance the eBike at a 0% interest rate.
The application takes only a couple of minutes to fill out and you can choose between 3 different financing platforms. There is a 0% interest rate if you pay the monthly installments on time to pay off the eBike as agreed in the contract.
Even if you have money sitting in the bank, this can be a great way to purchase an MTNBEX eBike since you won't be paying any interest, and yet you'll be able to make smaller monthly payments that won't break the bank.
But even if you miss a payment, you won't have to worry since the interest rate won't be too high and yet you'd still be able to pay your eBike purchase with monthly installments.
Click Here to Learn More About Available Financing Plans!
Conclusion
Each one of these MTNBEX electric bike models is a great fit to cover hunting needs, among other niches and riding demands.
The main differences lie in power options, certain components, frame type, and additional accessories and benefits. This also dictates the prices, but all models are priced decently as they provide a lot more value so the price is justifiable.
And if you add on top of that the possibility to finance these electric hunting bikes directly through the eBike retailer such as eBikeGeneration – you'll be able to grab a great deal that won't break the bank and yet will help you take your hunting game to the next level!