Mini bike for hunting is probably every hunter's dream because it allows an easy way to get from point A to point B, get through the narrow paths, and reach places you otherwise couldn't if you used any other vehicle for hunting.
But what is a mini bike and is it a great fit for hunting? Mini bikes are based on a small bike and in this post, you'll find electric mini bikes that will help you keep moving with ease no matter the type of terrain.
Therefore, below, you can find some of the best mini bikes for hunting, but also we'll share a very efficient way to finance your next hunting eBike without breaking the bank!
Best Mini Bike for Hunting
Mini bikes are usually types of electric bikes that either come with smaller wheels or have a low step-through design that helps hunters of all heights take full advantage of the eBike, and below, you can find 6 of the best mini eBikes for hunting!
1. Rambo Rooster 750W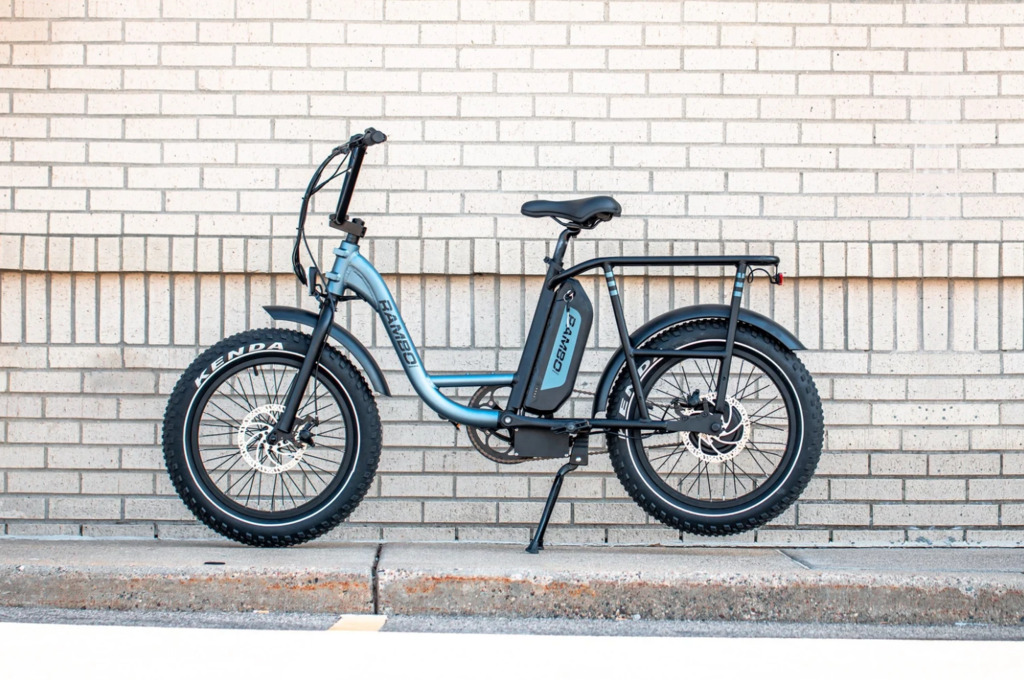 Rooster eBike is manufactured by Rambo, one of the most known companies that specialize in producing high-quality electric hunting bikes.
Therefore, Rooster is a 750W mini electric bike that's based on a frame that can fit riders of even the smallest heights. Also, getting on and off the eBike is super easy which is super useful when you're in the wilderness hunting for your favorite game.
Rambo Rooster is based on an aluminum mini frame and the whole eBike weighs about 61 lbs (including the motor and battery weight). Yet at the same time, this eBike has a loading capacity of up to 300 lbs which is incredible. Stand-over height is 16.5″ while the frame size is 17″.
It comes with a Bafang 750W motor that is reduced in size to fit smaller eBikes perfectly, and yet it still has a high power capacity that can deliver 80 Nm of pure power at the touch of the throttle. The motor is placed in the rear hub of the wheel and with 20″ wheels, the amount of power and traction you can get is incredible.
Combined with a quality Samsung 48V 14Ah battery, this mini bike for hunting can achieve a range of up to 35 miles (throttle only). Therefore, with pedaling and the use of pedal assistance, you can extend the range even further.
Even though this is a mini electric bike for hunting, it shouldn't be underestimated as it comes equipped with everything a standard hunting eBike is equipped with. This means that Kenda 4″ wide fat tires combined with high-rise handlebars for better manueverability and 180mm disc brakes help keep you comfortable, safe, and ready for adventure in any type of terrain.
Eunorau e-Fat-MN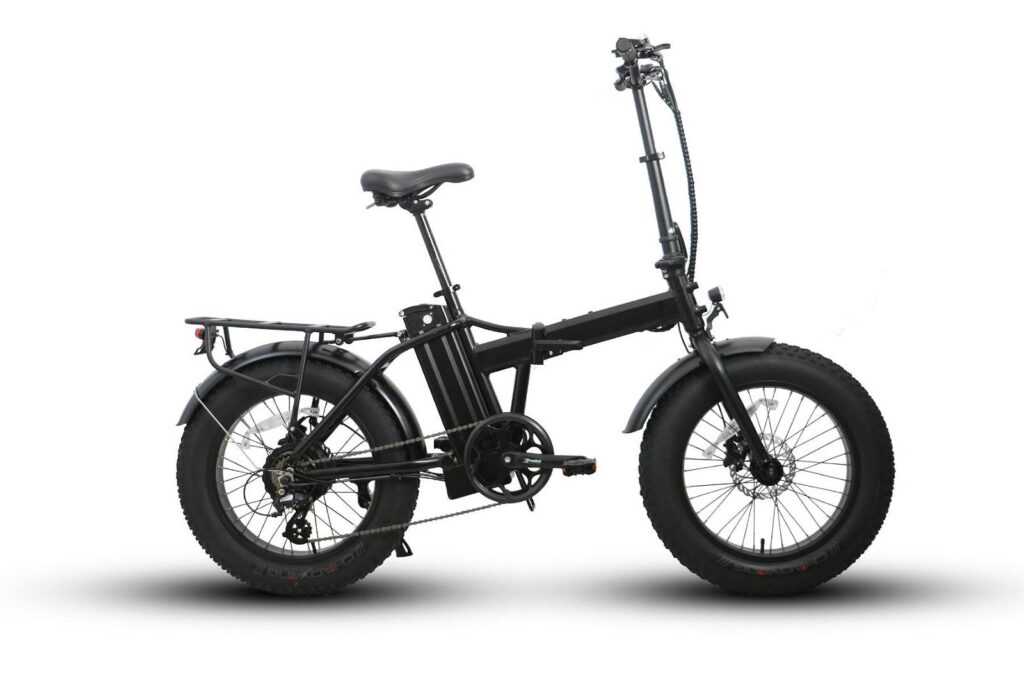 Eunorau e-Fat-MN is an electric mini bike that is based on a foldable bike frame which doesn't only provide a perfect eBike for riders of a smaller height but also improves the overall compactness, easier storage, and easier transport of the eBike.
Even though this mini eBike is based on the folding eBike frame, it comes equipped with top-notch components that make it one of the best mini bikes for hunting. The best example of those components is the motor which is a 500W brushless DC hub motor that comes with high torque output on the rear wheel.
When it comes down to the battery that's well combined with this powerful motor, you can choose between the 48V 12.5 Ah or a 48V 17.5 Ah battery. Therefore, the estimated range you can achieve on a single charge with these two batteries is about 40 to 50 miles on average.
With the battery being vertically placed right in the middle of the eBike, it provides a better balance, stability, and better manueverability even at higher speeds in slippery terrain conditions.
The whole eBike weighs 55 lbs while its total weight capacity (including the rider's weight) is 330 lbs which is incredible for a mini hunting eBike and it just shows that the standard of a mini hunting eBike matches the quality of regular hunting eBikes.
Equipped with Kenda Krusade Sport fat tires that are 4″ wide, Promax 160mm disc brakes, and a 7-speed Shimano Altus gearing system, you can go on adventures deep into the wilderness with the ability to overcome almost any obstacle that comes your way.
3. Himiway Big Dog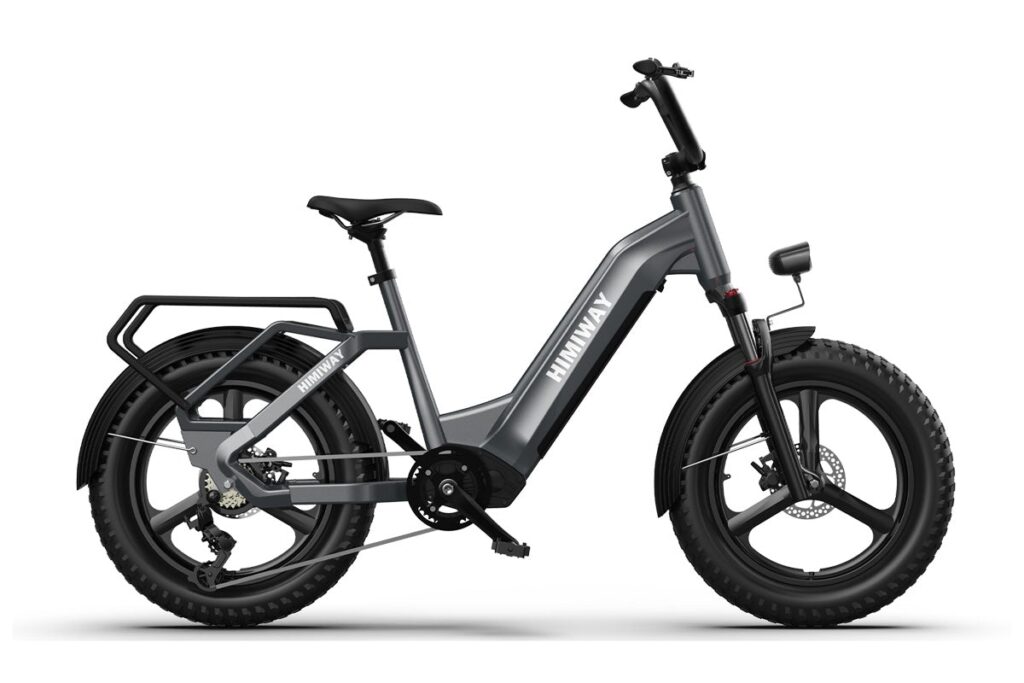 Himiway Big Dog is a mini bike that's based on the combination of a folding bike frame and a step-through bike frame, yet is reinforced and built with upgraded 6061 aluminum for better durability and quality.
It comes equipped with a powerful 750W geared hub motor that's combined with a Samsung or LG 48V 20 Ah battery. Such a combination allows enough torque and power to match your needs and demands even in the most demanding terrains, yet at the same time, you get to achieve a very decent range of up to 80 miles per single charge.
Big Dog eBike is also powered by a Shimano 7-speed gearing system which allows you to take full advantage of the eBike's power thanks to Kenda 4″ fat and wide tires that will provide great traction and stability in any type of terrain.
Therefore, this mini bike for hunting fits riders of height between 5'3″ to 6'4″ and even though it's based on a smaller bike frame, it is still as durable as bigger electric bikes, with a total weight capacity it can handle is 400 lbs.
One of the bigger advantages of Big Dog eBike is that it comes with alloy front fork suspension that will help you feel more comfortable and give you the confidence you need to overcome obstacles in the rockiest terrains out there.
4. Rambo Nomad Step-Through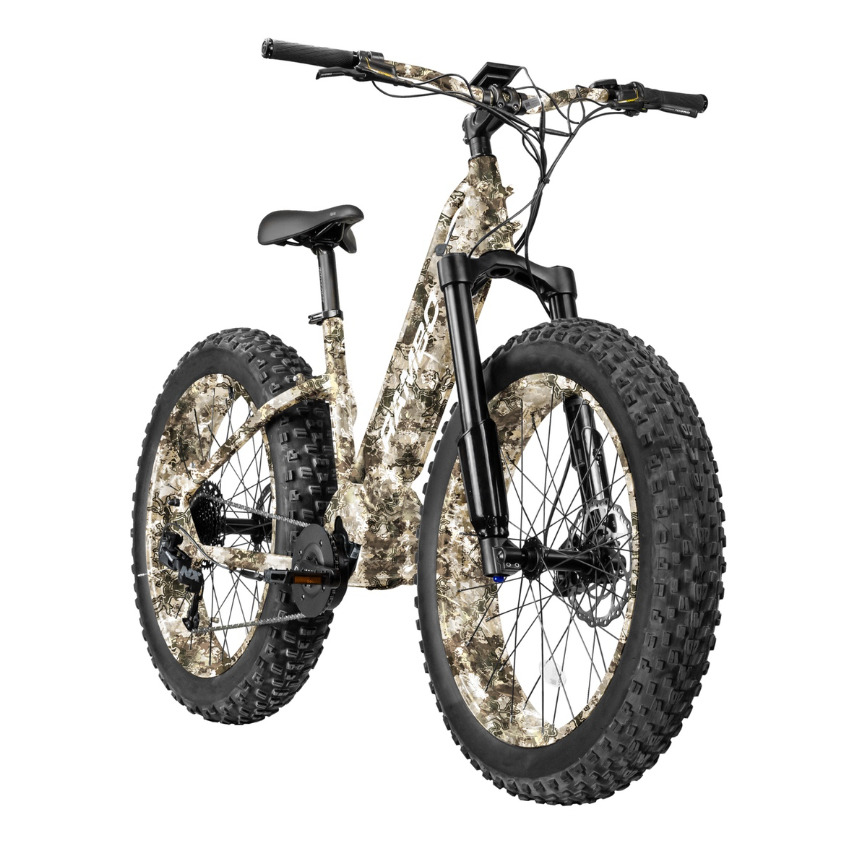 If you would like to keep the style and design of a bigger electric bike for hunting and yet ensure that you have the easiest access possible, the Rambo Nomad step-through eBike is the best choice you can make.
It is a hunting electric bike based on a larger bike frame and 26″ wheels, and yet its frame is designed to support riders of smaller heights that won't struggle to get on and off the eBike in any type of situation.
Nomad step-through eBike comes equipped with the expected high-end quality Rambo uses on all of its eBikes which means that it's powered by a quality Bafang 750W high-torque mid-drive motor in combination with a 48V 14 Ah battery.
Both motor and battery are integrated into the frame, providing better durability, but also better feel and control of the eBike since they're placed lower and in the center of the eBike, you will have more traction and improved manueverability/stability.
For the most comfort, this electric hunting bike comes with a front air fork suspension and 4″ fat and wide tires, while 2 piston hydraulic brakes will make sure you have enough stopping power to fully enjoy all of the power Nomad eBike has to offer.
Even though this is a 750W eBike, at its peak, it can produce up to 1000W of power and a maximum of 120 Nm of torque. And with the step-through design, you'll be able to easily get on and off the eBike even during your hunts when time is of the essence.
5. Himiway Escape Pro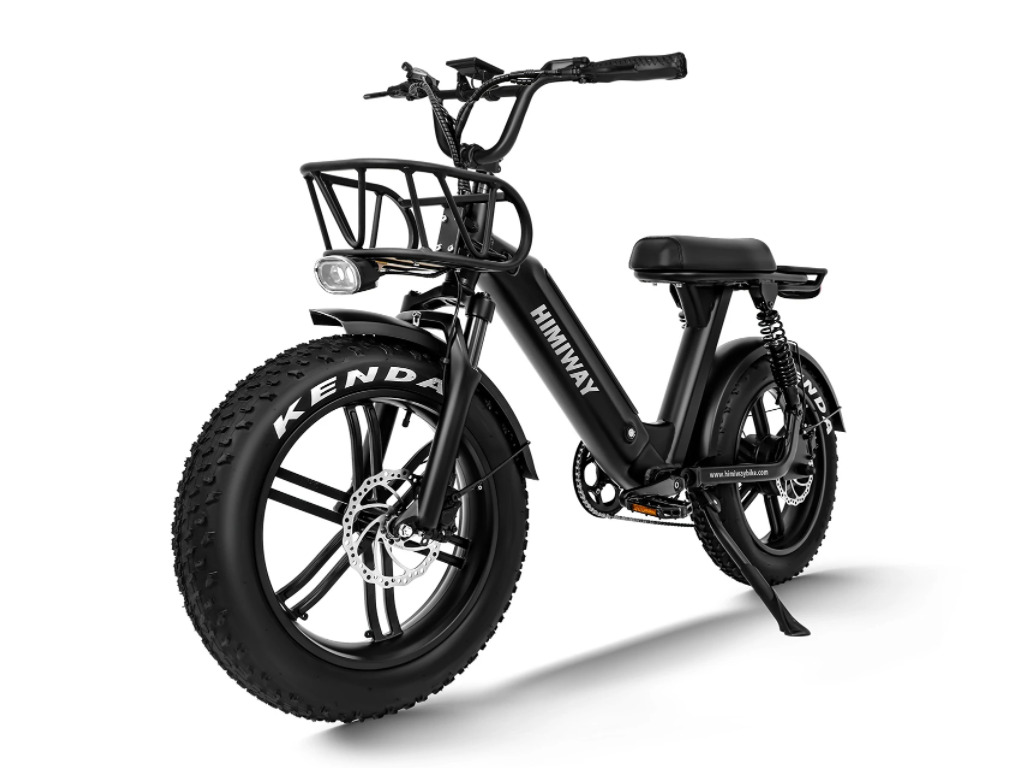 Himiway Escape Pro is a moped-style mini electric bike that's ideal for hunting as it can be used by riders of any height and yet it has a lot to provide in terms of not only quality but also versatility and the ability to conquer any type of terrain and conditions.
The design is very simple and it can remind you of a moped which is very easy to get on and off and yet is very durable since it's made from 6061 aluminum so it's extremely sturdy.
It is equipped with a brushless hub 750W motor that can output 80 Nm torque of power onto the rear wheel and in combination with either a Samsung or an LG 48V 17.5 Ah battery, you can expect a range of anywhere between 30 to 50 miles per single charge.
With Shimano's 7-speed gearing system, Kenda 4″ fat tires, and a dual suspension and hydraulic lockout, you are able to take this mini bike for hunting deep into the wilderness without worrying about overcoming any obstacles along the way.
Alongside all the equipment and components it includes, Himiway Escape Pro eBike comes with a rear rack, front and rear lights, even a front basket, and a smart display that shows you the most important information about your trip.
This information includes speed, average speed, covered distance, estimated distance you can cover, battery range left, and more information.
6. Ubco 2×2 WRK Bike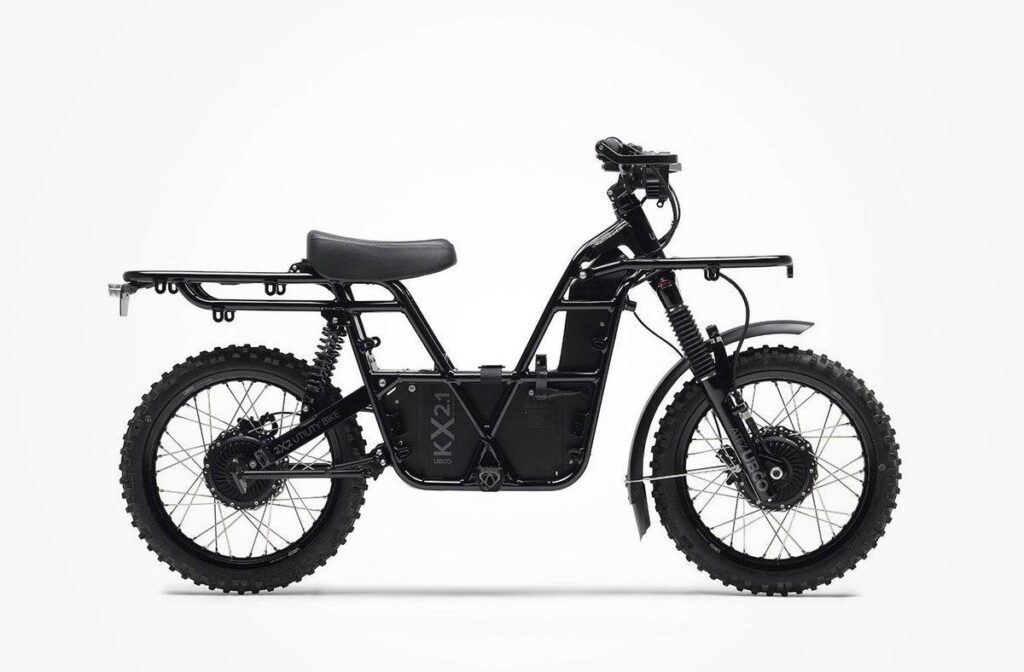 If you're looking for a mini bike for hunting but a very powerful electric bike that will be able to take you anywhere and will easily replace your cross motorcycle or a quad, Ubco 2×2 WRK bike is the right choice.
This electric bike comes in two power options and you get to choose between 2.1 kWh and 3.1 kWh. The range for 2.1 kWh is estimated at 40 to 52 miles while the range for the 3.1 kWh version is estimated at 65 to 78 miles per charge.
What's very significant about this electric hunting bike is that it has one of the quickest charging times on the market. With this model, it takes 4 hours to charge the 2.1 kWh version and 6 hours to charge the 3.1 kWh version. Of course, a fast charger is included in the price.
It comes with two motors, one on each wheel and it has no clutch so it provides great low-speed control since it's designed to handle off-road conditions so you'll be able to easily overcome the toughest terrains and obstacles on your way deep into the wilderness.
It can easily ascend gradients up to 30% thanks to the power it can output onto both wheels, and with the help of the UBCO front and rear suspension system, you can have greater control, better handling, a comfortable ride, and faster tracking of what's ahead which means a quicker ride.
Two-stage regenerative braking is another innovation that provides the needed stopping power so you can go flat out whenever you feel like fully enjoying the whole experience of this mini hunting machine.
How to Finance the Best Mini Bike for Hunting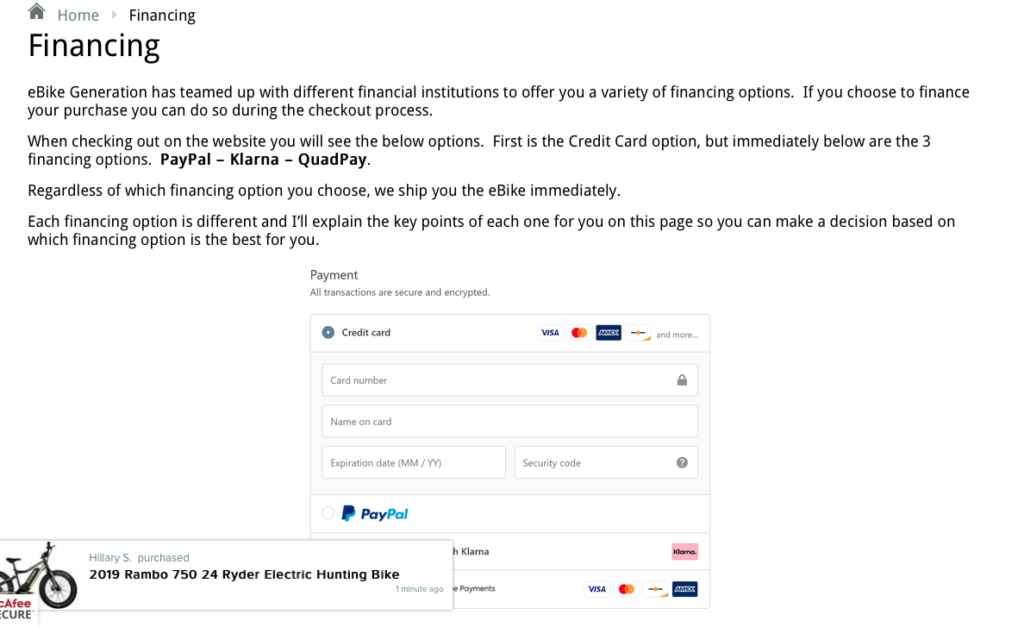 In this post, you can only see the best mini bikes for hunting you can find on the market. Going for cheaper options might not cut it and you might end up spending more money in the end to get the quality you will need to meet the demands and needs of hunting in the wilderness.
Of course, some of these hunting bikes might be really expensive but here's a solution that will help you purchase the eBike today and pay it off monthly.
Quality eBike stores such as eBikeGeneration have financing plans available to almost anyone (high acceptance rate) where you can purchase the eBike today and pay it off monthly in installments. If you pay all installments on time, you won't be paying any interest on the full price of the eBike.
Therefore, you will get a great deal without breaking the bank, and even if you have money in the bank, financing still makes a great idea.
Conclusion
With so many great mini bikes for hunting, a choice can be hard, but all you need to do is make a list of requirements you need and things you'd like to see on your next hunting eBike, and your choice will be a lot easier!
However, you can't go wrong with any of these choices so don't worry about having any regrets afterward. On top of that, if you take advantage of any financing plans available through eBike stores, you will be able to get a great deal that will pay itself off if you replace your primary hunting vehicle.
What is your favorite mini bike for hunting and why?