You're looking for a hunting bike, and you're only interested in the best of the best? That's probably what got you in this dilemma and that's why we're here to help you out.
Both electric hunting bikes are considered to be in the higher tier of the best hunting bikes, and they are even in a very similar price range.
But which bike should you go for? Do they offer the same exact thing, and which bike would fit your needs better?
These are just some of the questions which are answered in this post where we review & compare Rambo and QuietKat hunting bikes.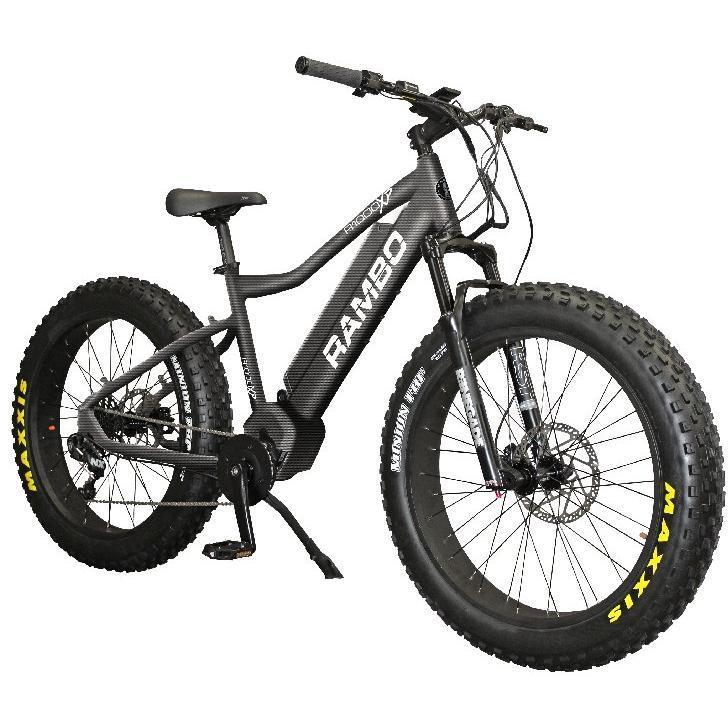 Rambo R1000XP is a custom-built FatBike that is powered by a powerful 1000-watt mid drive motor and is being operated with a single thumb throttle command.
From the moment you lay your eyes on the design – you'll love every single feature it offers. Rambo introduced R1000XP bike with a solid built bike frame which was completed with Premium Fat tires, 26″ x 4.8″.
Other than looking sharp and sleek, Rambo R1000XP is being backed up with a high-capacity 48 volt 14.5Ah Panasonic battery that offers a 20 mile range with throttle use only, much more if on pedal assist mode.
For the comfort of your long-distance rides, Rambo introduced air suspension at the front and a large hydraulic disc brakes on both wheels. It goes without saying that a pair of quality breaks is essential and is something that could either make or break an electric hunting bike – and that's why we're glad Rambo got this right.
What Rambo R1000XP does, it stands out from standard electric hunting bikes and takes things to another level, offering hunters to experience and enjoy hunting even on the longest distances where you have never thought of riding a bike to.
If a battery ever dies on you (and you didn't take the folding solar panel or extra battery with you), you still won't have anything to worry about. RX1000P with an SRAM NX derailleur that offers 11 gear settings you can still pedal it like a regular bike.
And considering this bike frame comes with 26-inch tires and 4.8″ wide, you will be able to tackle any situation with a perfect mix of power and torque.
If we go back to the powerful motor, it's worth mentioning that can reach a maximum speed of 28 miles per hour thanks to its hefty motor.
Therefore, this bike will never leave you stranded, even if you're fully loaded and headed up in the hills – you'll make it without a doubt.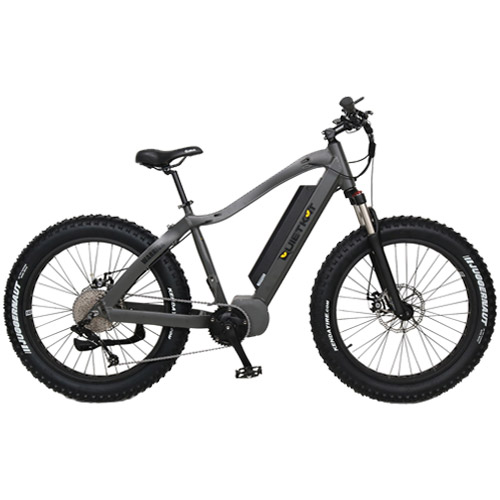 QuietKat Warrior is very similar to Rambo R1000XP, but it's still a bit different and offers a bit different things which are important to know before the purchase.
Let's start with the similarities. QuietKat Warrior hunting bike is also powered with 1000-watt motor and a Panasonic battery that offer a pretty decent range (of about 18 miles).  The range is slightly less than Rambo's offering because Quietkat use a 48 volt 11.6Ah battery and since it's the battery that determines range, the Quietkat Warrior has a few miles less per charge.
From the frame to the tires, everything is almost identical where QuietKat also featured 26″ FatBike tires but slightly thinner, 4.5″ vs Rambo's 4.8″ and features mechanical disc brakes on both wheels.
What's different is that Warrior bike comes equipped with a coil-spring front fork suspension instead of an air suspension – however, it can still tackle on most riding situations and terrains.
The most noticeable difference between Rambo R1000XP and QuietKat Warrior is the gearing and the top speed. QuietKat Warrior is equipped with only 8 gears which is less than Rambo's 11 gears. Also, Warrior hunting bike can achieve a speed of 25 mph where Rambo achieves about 28 mph.
While it might not be a drastic difference, we think that the number of gears QuietKat Warrior offers could be improved when we take the power of the motor in the consideration.
On the bright side, what's QuietKat Warrior is known for its hauling capability where it can easily carry up to 300 pounds at a range of 18 miles with an unassisted speed of up to 25 mph.
If you are looking for a hunting bike that comes with the hauling capabilities of the Warrior – you'd be getting a great deal.
Even though these might seem like big downsides on the part of the Warrior bike, but when you take the price in the consideration – it's still a lot of bike for the price.
Rambo's hunting bike costs about $400 more than a QuietKat's hunting bike. However, if you are lucky enough to find a Rambo on a discount, it would make Rambo's hunting bike on par with QuietKat's hunting bike – in which case we highly recommend you to go for Rambo R1000XP.
Which Bike is Better?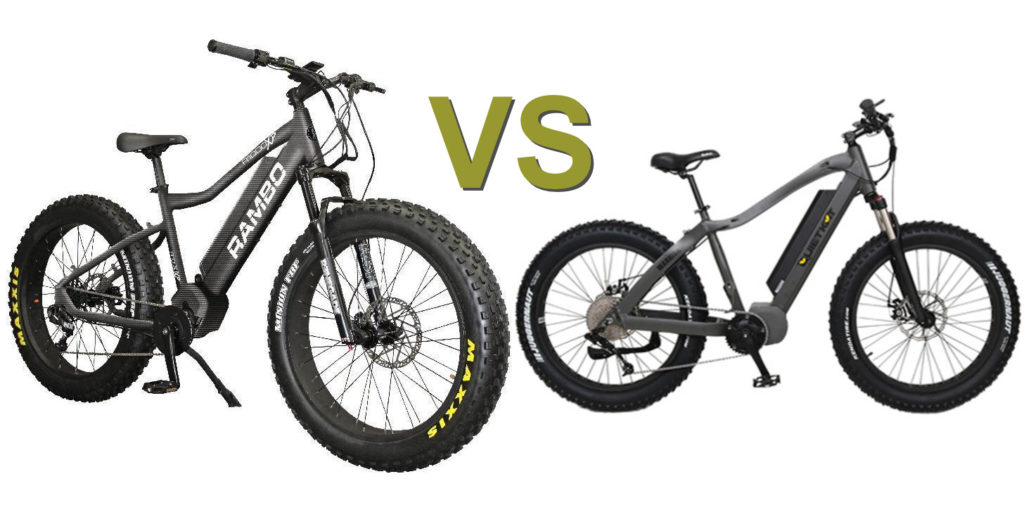 Depending on your needs, you will have to take a look at different aspects of both bikes in order to find out which bike is a better fit for your needs and which hunting bike is going to make a better deal.
Yes, the truth is that QuietKat Warrior lacks a bit in performance when compared to Rambo R1000XP, but we're splitting hairs at this stage because they are both awesome bikes.
If you're all about the performance and aren't on a tight budget – we highly recommend you go for Rambo R1000XP since it's a better overall option.
But if performance isn't everything to you, we recommend QuietKat Warrior since it's still a pretty great hunting bike that can be compared to a bike such as Rambo R1000XP, and yet it still costs a few hundred bucks less.
Therefore, even though Rambo R1000XP is a better hunting bike in overall, it's up to you to make a decision that will fit your needs well.
Conclusion
Both bikes are brilliant and if you were lucky enough to ride any of them, you'd be surprised with the quality and ability they have to tackle any type of terrain even when they're loaded with equipment.
Even though they're both similar in build, configuration, components, and also looks – there are a few differences that might make some of the hunters go for a bike with a better performance – which is Rambo's R1000XP in this case.