Rambo is one of the most known hunting eBike manufacturers on the market thanks to their dedication to specializing in the production of high-quality electric hunting bikes for hunters.
They update their line-up very often and they strive and continue to improve their products and to bring hunters the eBikes that will fit their needs the best.
Of course, by now, you probably know all the benefits of electric hunting bikes, and in this post, you'll Rambo eBike reviews that will help you find the right Rambo hunting eBike for your needs and for your budget.
Besides that, you'll also learn how to easily finance any of these Rambo hunting eBikes so you can quickly upgrade to an electric hunting bike!
Top Rambo eBike Reviews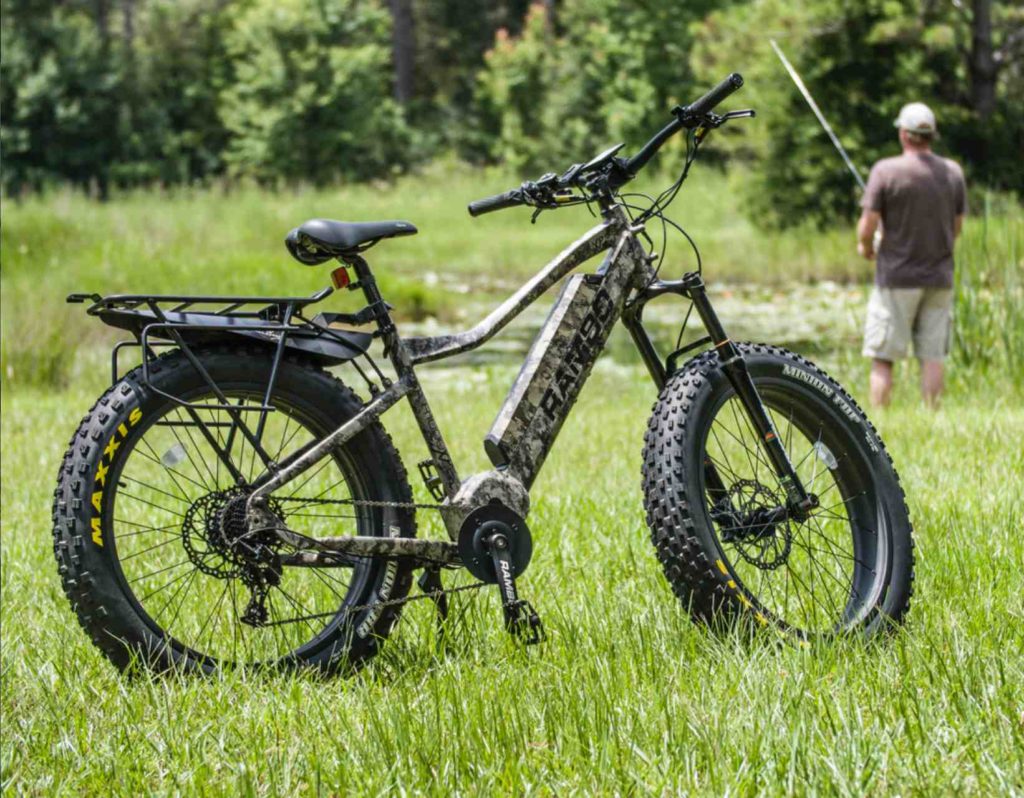 With so many great and quality Rambo electric bikes for hunting, the choice is hard but we managed to narrow down the list to 6 picks. You won't go wrong by going for any of these picks and down below, you can find a review of each eBike that will help you make the right decision of choosing the right hunting eBike for your needs!
Rambo Rebel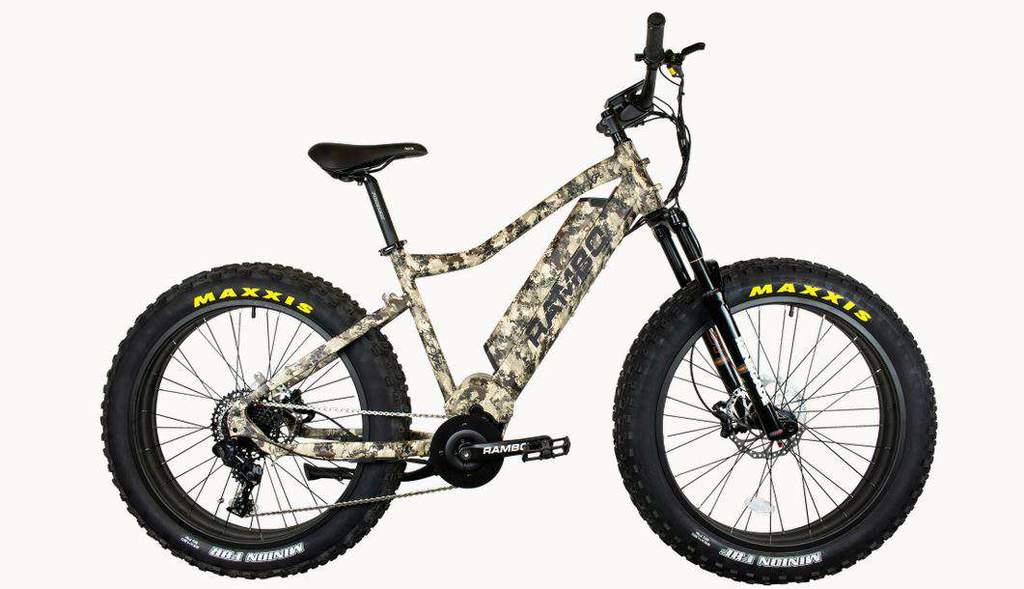 Rambo Rebel is a 1000W hunting eBike that comes with a perfect Urban camo that will keep you camouflaged and yet will give you plenty of ways to move through the forest, and wilderness, and reach places that are unreachable with any other hunting vehicle.
It is powered by a high-end 1000W Bafang mid-drive motor that provides a high-torque feature that gives you more than enough torque to achieve a real speed real quick in any type of terrain. 1000W of pure power is transferred to both wheels at the touch of a thumb throttle and you can get flying quickly thanks to the SRAM 11-gearing system.
This powerful motor is combined with a Samsung 48V 21 Ah high-capacity battery. Such a combination gives you an estimated range of up to 48 miles per single charge. This estimated range applies to the use of thumb throttle at the full speed at all times.
Therefore, depending on the riding style, use of the pedal assist system, and the type of terrain you ride on, including a couple of other factors, you can achieve a much better range as well.
To overcome any obstacles and challenges on the road, this eBike comes equipped with premium Maxxis Minion fat tires that are 8″ wide so you won't ever have to worry about a puncture or be unsure if you can go down a certain path.
Rambo Nomad Step Thru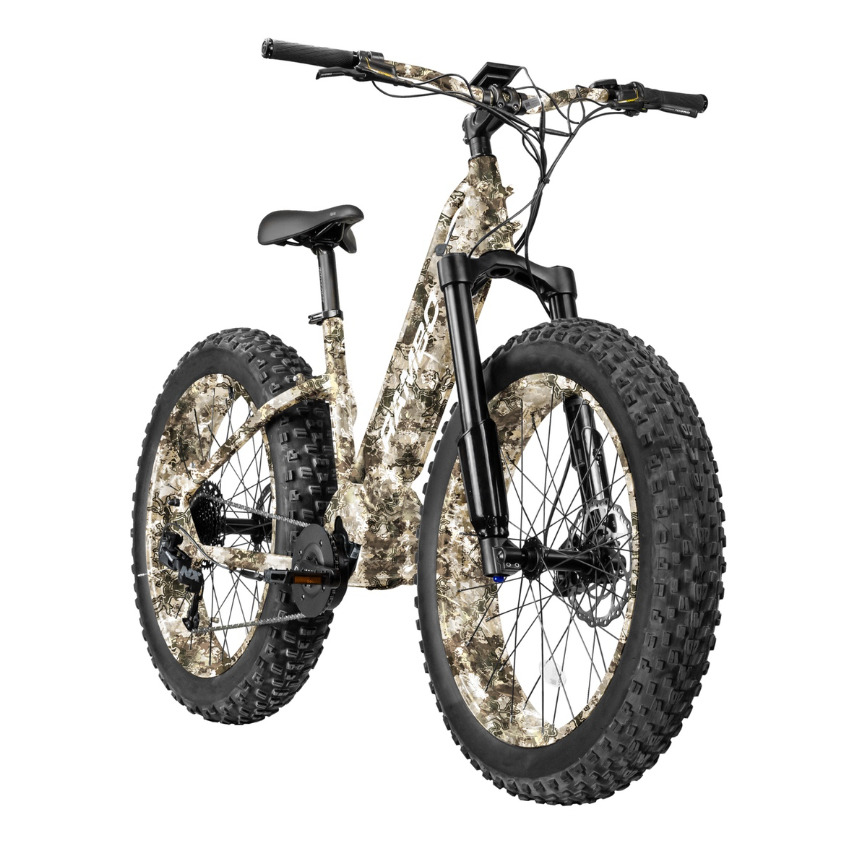 Rambo also has step-through hunting eBike models and Nomad Step Thru is one of them. This is a version that's built with the same quality frame and yet it's designed in a way to allow easier getting on and off the eBike, but also a better standover height for shorter riders.
It is equipped with a powerful Bafang 750W motor, a brand on which Rambo relies for almost all of their hunting eBikes. It's a BBHSD high-torque mid-drive motor that outputs more than enough power on both wheels at the same time so you can get the most out of the eBike in any type of terrain and situation.
This quality and powerful motor are well combined with a 48V 14 Ah battery that's integrated into the frame for better security and for a sleek and clean look. Of course, the battery is removable which makes charging very convenient.
What's also great about the power and battery of this eBike is that they're both placed in the middle of the eBike, where the motor lays lower in the frame. This ensures better stability, manueverability, and better traction as the weight is centered and evenly distributed since it sits lower to the ground.
For comfort and safety, Rambo Nomad Step Thru comes equipped with a GT MRK air suspension system, Tektro piston hydraulic brakes for most stopping power, fat and wide 4″ tires, and a thumb throttle combined with a pedal assist system.
Per single charge, you can achieve a range of up to 38 miles while using the full open throttle the whole time, and with a conservative riding style, you can easily extend the eBike's range.
Rambo Megatron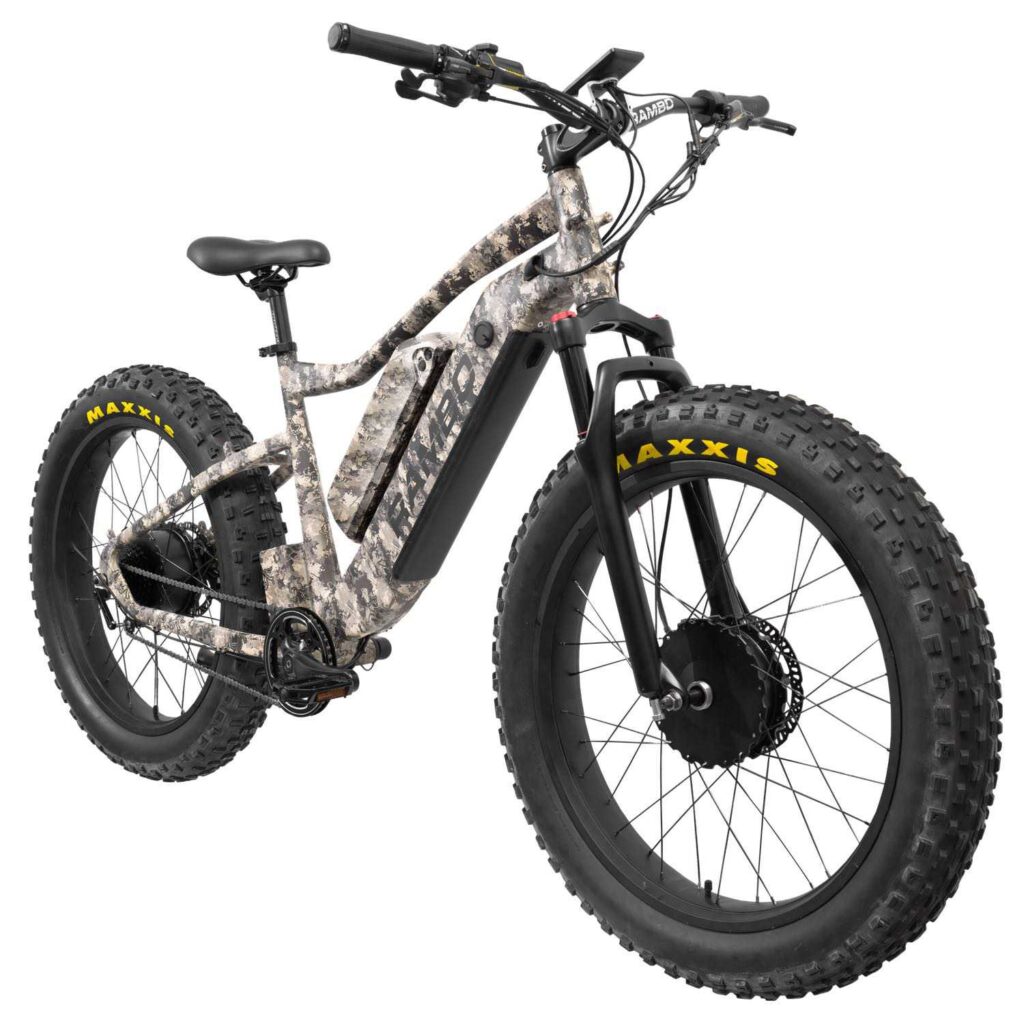 Rambo Megatron is one of the most powerful Rambo electric hunting bikes since it comes equipped with two 1000W Bafang hub motors. They provide an all-wheel-drive system that provides a powerful torque of about 86 Nm to each wheel at the touch of a thumb throttle.
This is well combined with two Samsung 48V 17 Ah batteries where one battery is integrated into the body of the eBike and the other battery is placed at the standard frame position.
With such a combination, on a single charge, Megatron eBike allows you to cover an estimated distance of about 80 miles. Of course, this estimate is based on the usage of full throttle at all times, and if you ride more conservatively, you'll be able to extend the eBike's range.
For safety and comfort, Rambo Megatron eBike is equipped with Tektro 4-piston hydraulic brakes, Maxxis Minion 4.8″ wide and fat tires, GT MRK 355 air suspension system, and a couple of other components. Such a combination and quality build with the high-end ensure that Megatron sets the new standard for one the best hunting eBikes on the market.
Keep in mind that Megatron comes with only one frame size and it's 19.7″ (medium) which is ideal for riders who can handle a standover height of 31.6″.
Rambo Pursuit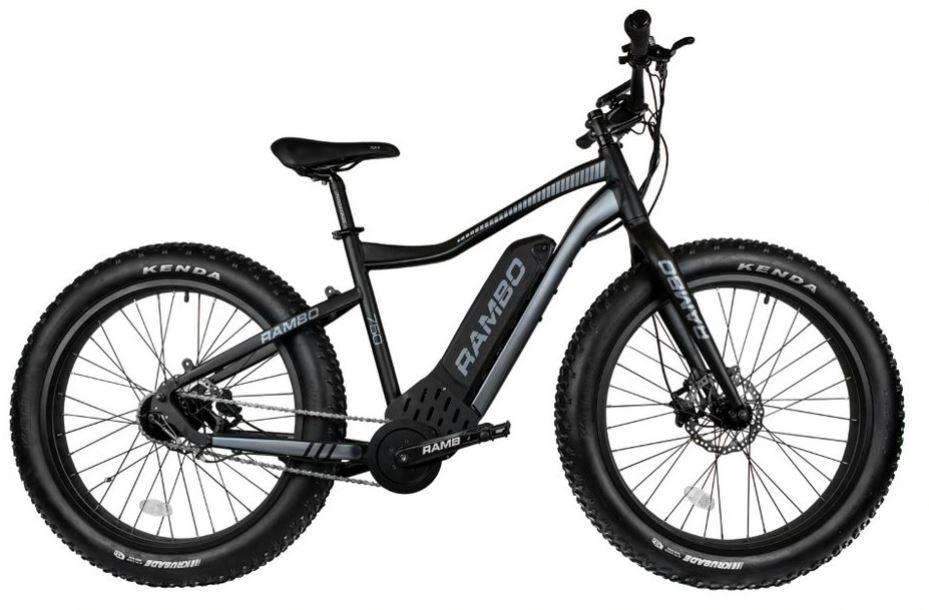 Rambo Pursuit is a hunting electric bike that comes with a 26″ set of wheels and yet it is still an eBike that's built on a rugged aluminum alloy 6061 frame.
With a lower standover height of 29″, it is a much better choice for many shorter riders who are looking to experience hunting with a high-quality hunting eBike and yet need a bit lower eBike to get on and off of it quickly at the right moment.
Rambo Pursuit eBike packs a great amount of power since it's equipped with a Bafang 750W BSS02 high-torque motor. The motor is well combined with a Samsung 48V 14 Ah battery which in combination gives an estimated range of up to 35 miles per charge.
Of course, this range is estimated on full-throttle power use, but depending on your riding style, weather conditions, and the terrain you ride on, you can get a much better range out of the Pursuit eBike.
With a Shimano 8-speed gearing system and a 26T rear cassette, you can climb hills, descend, and hit the top speed on flat off-road type trails with ease while remaining confident and safe on the eBike. For safety, Pursuit eBike is equipped with a GT MRK air suspension and dual piston hydraulic brakes that provide decent stopping power so you won't have to worry about quickly stopping even in case of emergencies.
Kenda Kevlar anti-puncture tires ensure that you don't ever have to deal with a flat on a Rambo Pursuit eBike so you'll be able to go deep into the wilderness without worrying about overcoming obstacles of any type.
Rambo Roamer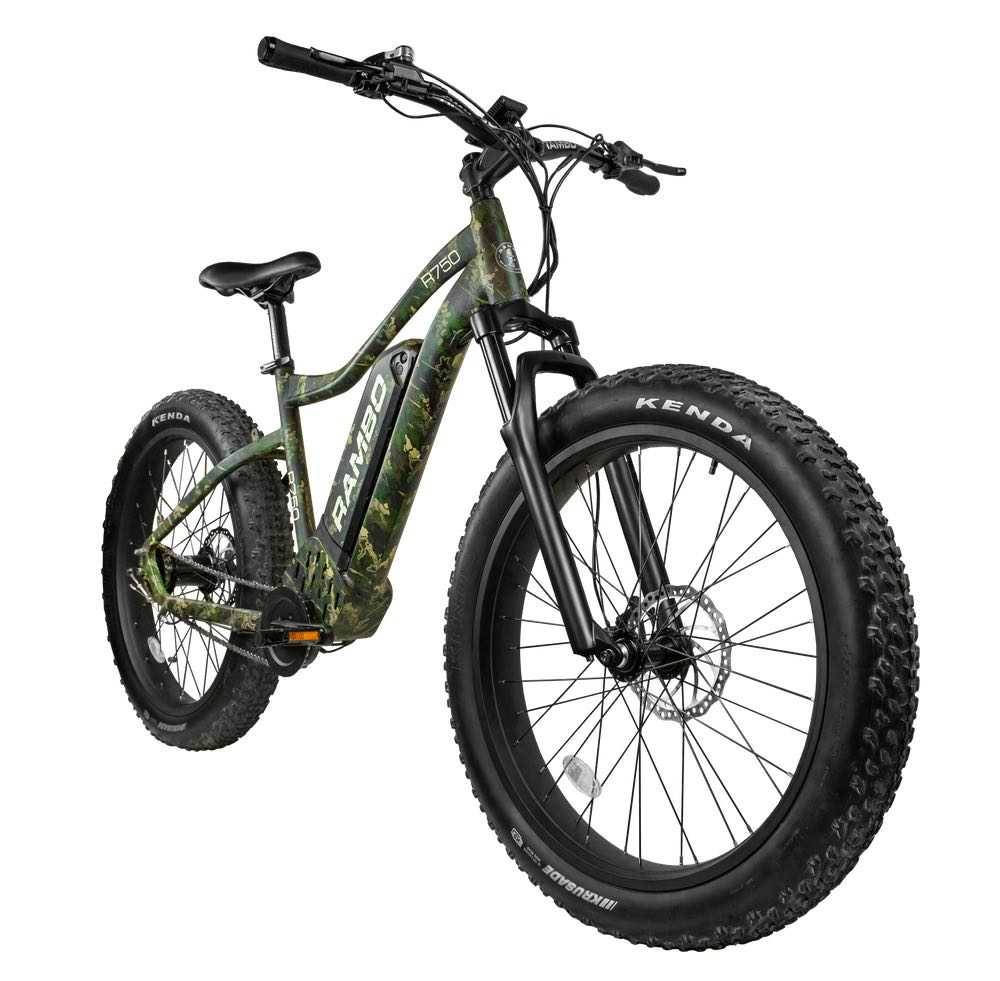 Rambo Roamer is a mid-level electric hunting bike that is very affordably priced for what it has to offer and everything that it includes.
Roamer eBike is built on the aluminum alloy 6061 frame which is durable and yet light enough so the eBike can pack other important components such as the motor and the battery while still allowing riders a smooth and effortless riding experience.
It comes equipped with a Bafang 750W BSS02 mid-drive motor which is a high-torque version that can output about 86 Nm on wheels at its peak. This is well combined with a Samsung 48V 14 Ah battery which is removable for very convenient charging.
Such a combination provides an estimated range of about 35 miles per charge, and of course, this is calculated with throttle used the whole time. The range also depends on the riding style, use of the pedal assist system, and other factors such as even the weather conditions.
For better durability, Roamer eBike is equipped with Kenda Krusade anti-puncture tires that are 4″ wide and are made for off-road and can help you ride deep into the wilderness without worrying about the obstacles on the way or getting a puncture in the middle of nowhere.
Even though Roamer weighs about 63 lbs, it has a high load capacity of up to 300 lbs which allows you to carry plenty of storage or even attach a cargo trailer and carry more equipment or even use it to recover the game after a successful hunt.
The only thing you have to keep in mind is that the stand-over height is 29″ since the eBike comes with a 19″ frame size.
Rambo Ryder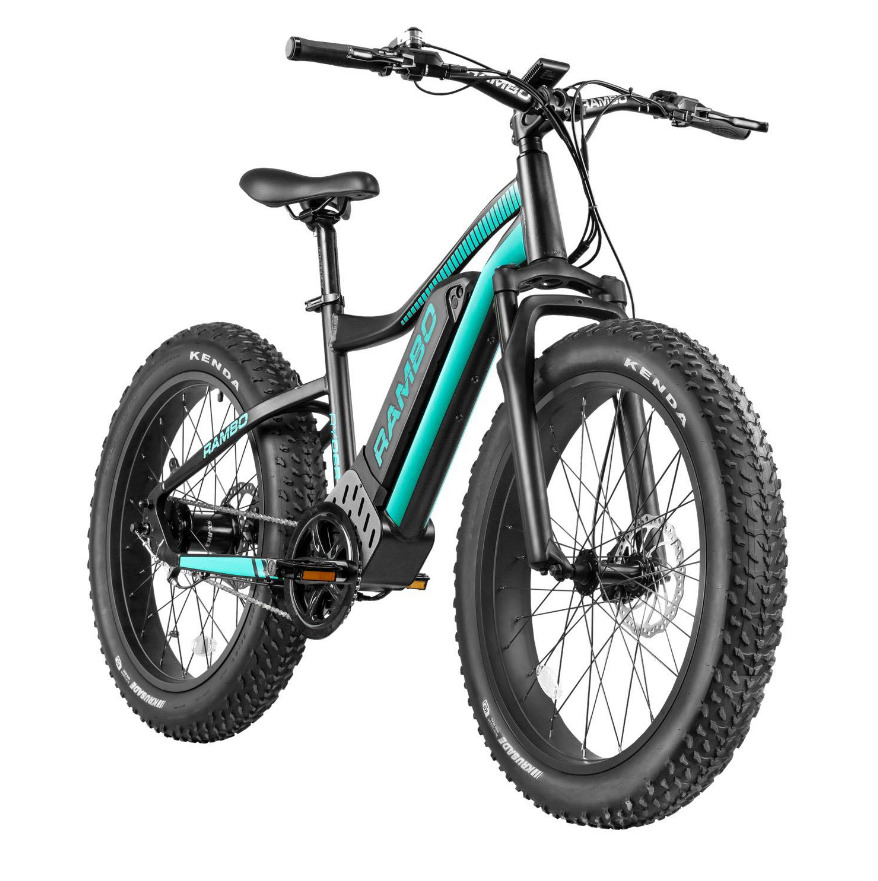 If you're looking for an electric bike that provides a smaller frame but is still as powerful as regular-sized hunting electric bikes, Rambo Ryder is the right pick.
Ryder is a hunting eBike that's based on a 17.5″ frame size while hunting eBikes usually come with a 19″ frame, and it comes with 24″ wheels while the most common wheel size is 26″ – making it suitable for people who want more space-efficient eBike, are on the short side, or just need something smaller to easily transport it to and from the hunting area.
However, even though Ryder is a bit smaller, it is still as powerful as regular electric bikes since it comes equipped with a Bafang 750W high-torque mid-drive motor. It's the exact motor you can find on other Rambo electric bikes, and this is well combined with a Samsung 48V 14 Ah.
Per single charge, you can expect a range of about 35 miles, which can be extended if you take advantage of the pedal assist system.
Even though Ryder eBike sits lower to the ground, it is still as comfortable as bigger eBikes as it comes with a GT MRK fork air suspension, wider handlebars for easier manueverability and better stability & control, and Kenda Kevlar wide & fat anti-puncture tires, you will feel comfortable overcoming any type of obstacle in your way.
With the Ryder, you'll also get a Bafang C965 display that will give you the most accurate insights while you ride and you'll also be able to benefit from a high load capacity which is 300, just like regular Rambo eBikes, while Ryder weighs about 63 lbs.
How to Finance the Top Rambo eBikes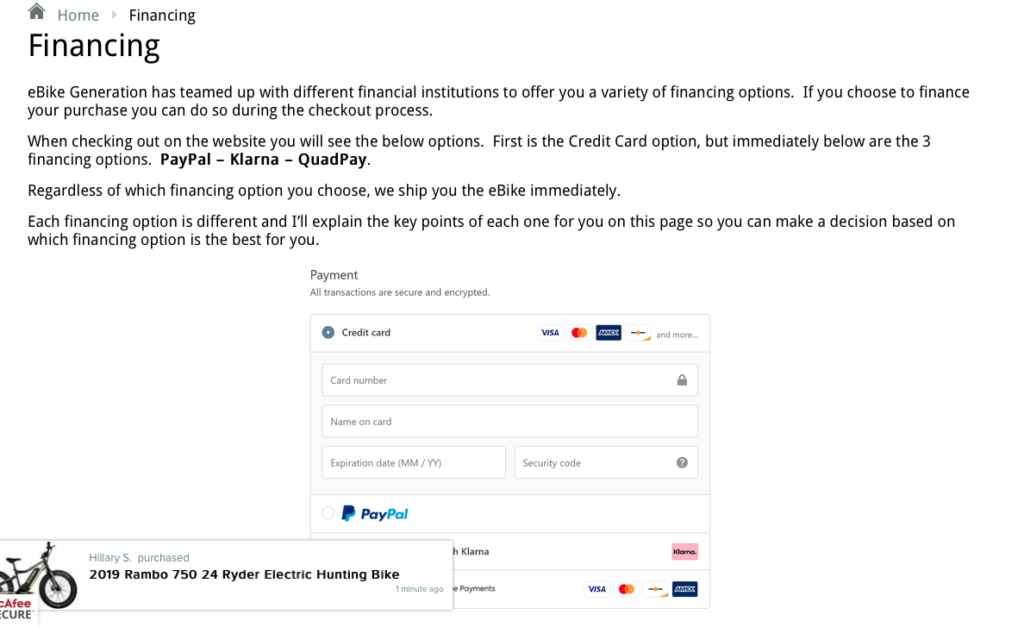 Rambo electric bikes are among the top electric bikes on the market, especially for hunting purposes. Therefore, their price tag can seem a bit too much at first, but considering all the value they provide, it's really a great deal that will be a great investment.
However, that's where financing plans come in handy to help you purchase your Rambo eBike today and pay it off monthly without any interest rate on the price of the eBike (if you pay the installments on time).
Good eBike retailers such as eBikeGeneration provide a couple of different financing options where the application process takes minutes and finding out your result takes even less time than filling out the application.
Therefore, even if you have money sitting in the bank, a financing plan can help you get the new Rambo eBike without breaking the bank!
Click Here to Learn More About eBike Financing Plans!
Conclusion
No matter which one of these Rambo eBike reviews caught your eye, you won't make a mistake by going for any of these eBikes because they're built with a clear purpose in mind using high-quality components and products, and they're ideal for all types of purposes.
Depending on your requirements and needs, it's all about finding a model that will fit your needs the best. But if you need any help, feel free to head to the comment section below and ask any questions you might have!
What is your favorite Rambo electric bike and why?