Electric bikes for hunting come in all types, shapes, and sizes, and don't be surprised if you find electric hunting bikes that almost look like dirt bikes.
If you're looking for an electric hunting bike that looks and even operates like a dirt bike, you're in the right place!
In this article, we'll review Delfast Top 3.0 which is one of the hunting eBikes that is made for off-road and extreme terrain conditions and not only does it look like a dirt bike, but it also comes with a throttle that ensures similar operation as well.
Therefore, keep on reading to learn everything you might need to know before purchasing the best electric dirt bike for hunting!
Best Electric Dirt Bike for Hunting
Even though there are a couple of electric hunting bikes that are very similar to a dirt bike, but Delfast is one of the most powerful ones with plenty of options to choose from. Therefore, keep on reading to learn more about Delfast Top 3.0, but also find one of the best ways to finance an electric bike without breaking the bank!
Fastest Electric Bike
Believe it or not, Delfast Top 3.0 is the fastest electric bike in the world in 2021. Yes, that's right.
It can achieve 50 miles per hour (80 kph). Delfast Top 3.0 has been crowned by the Guinness World Record as the fastest electric bike so it's not something the brand claims.
But not only is the Delfast Top 3.0 well known for its speed. It's also well known for its long-range which almost got him another Guinness World Record.
Extremely Long Range on a Single Charge
Even though the motor is powerful enough (can produce up to 14000 watts of power), it is also well known for its ultra-long-range of about 200 miles on a single charge.
This was definitely unexpected, especially considering the power of the motor that is pushing this wild yet reliable eBike.
However, the biggest advantage here is the battery that is estimated to last up to 600 000 miles or 3000 charging cycles.
Made for Challenging Conditions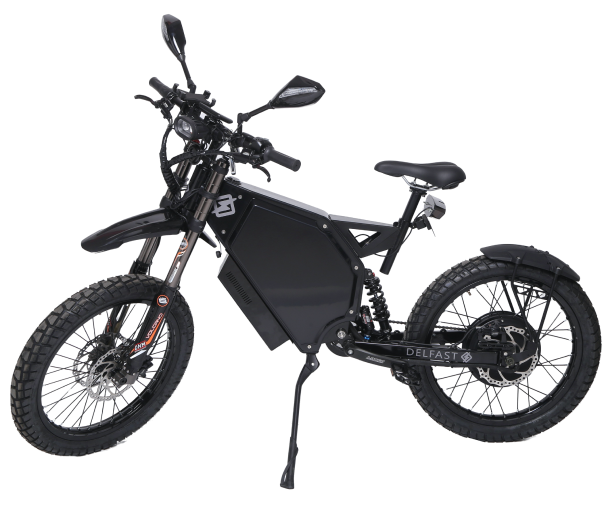 By the look of Delfast Top 3.0, it looks like it can tackle down any type of terrain, just like an actual dirt bike.
With a durable frame, aerodynamic design, and ripped tires that look like they just came off of a motorcycle, Delfast Top 3.0 is definitely made for challenging conditions.
These conditions range from tough terrain, mud, snow, sand, to off-road destinations that haven't been explored by a motorized vehicle so far.
Resembles the Look and Feel of a Dirt Bike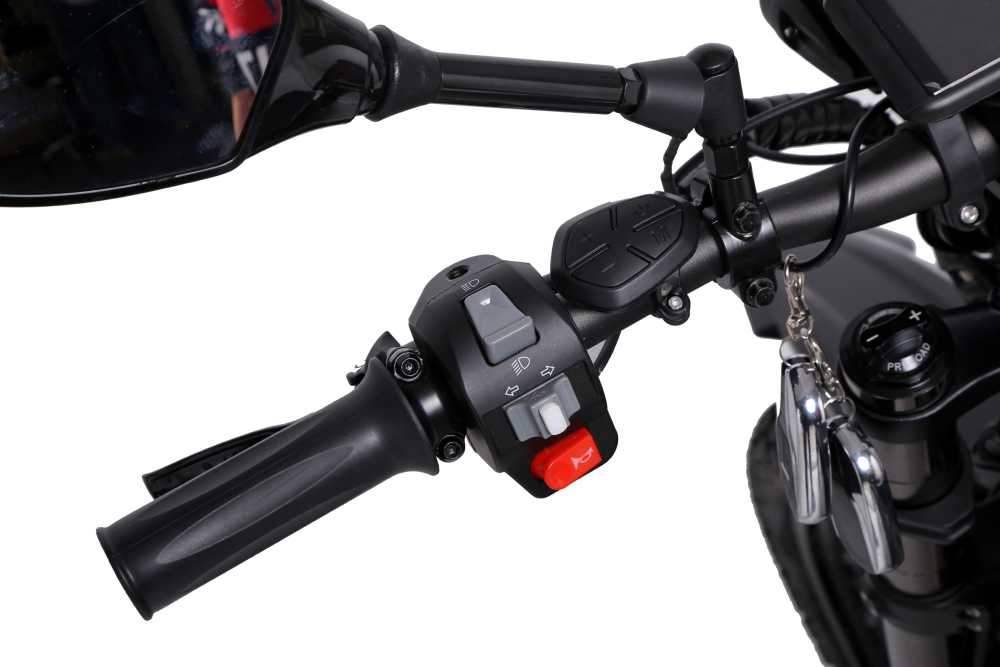 Just one look at Delfast Top 3.0 and you'll know exactly what to expect from this electric bike. Some might mistake it for an actual motorized dirt bike, but others who are following the production and improvements in the eBike industry will know what Delfast Top 3.0 really is.
We really like the Delfast Top 3.0 look because it combines the aspects of a mountain bike, but also an actual dirt bike.
Therefore, you can see the frame is similar to a mountain bike frame but is built in a way to represent the dirt bike's style. Even the high front fender and over-the-wheel rear fender represent a motorbike.
Mirrors on the handlebars, high front fork suspension, and a decent standing height really resemble the look, but also the feel of a dirt bike.
Additional features such as a smart security system, wiring, and lighting are some other factors that represent this.
Smart Security System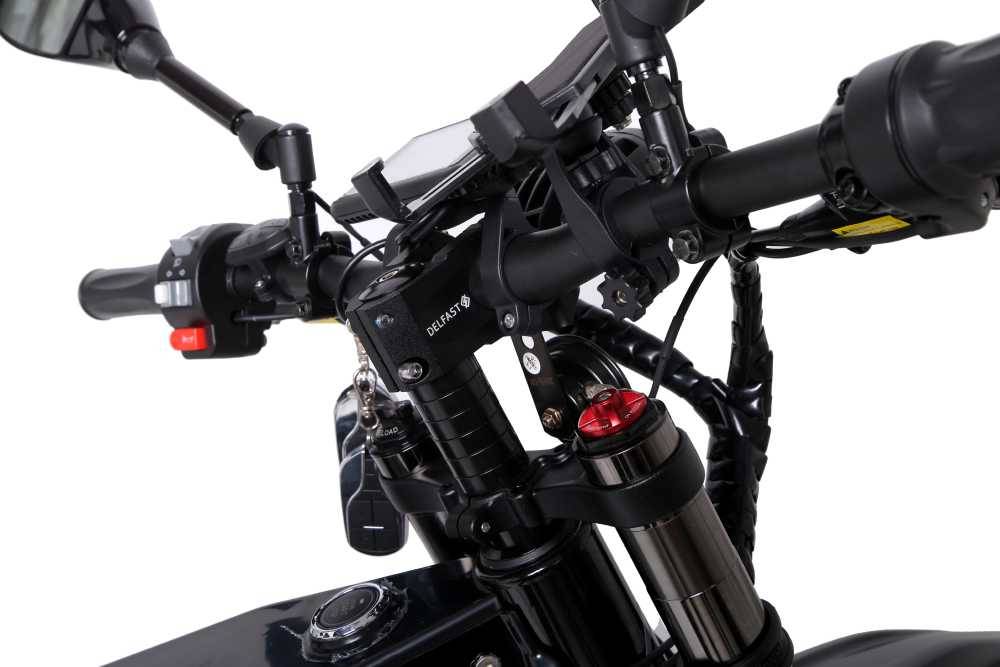 Delfast Top 3.0 is equipped with a smart security system that is very unique to electric bikes and yet is specifically designed by Delfast to eliminate any possible threats.
Electric bikes are not cheap, and having such a valuable asset stolen is definitely not a good situation to be in.
This smart security system is specifically designed to eliminate any potential threats both in hardware and software so Top 3.0 is as secure as possible.
Additional Features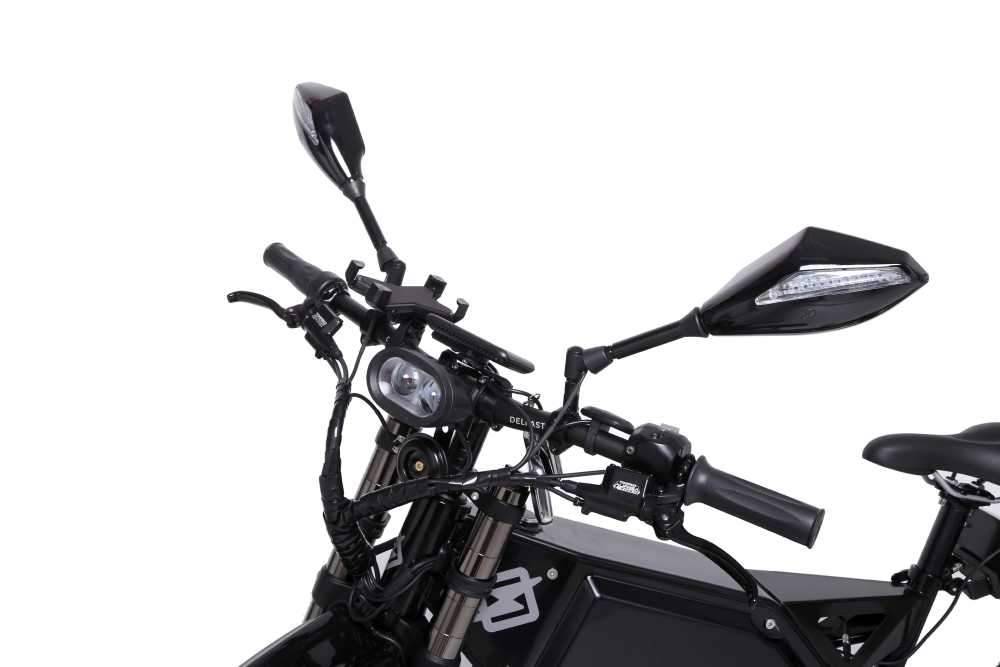 Delfast Top 3.0 is well equipped and from additional accessories and features, you will benefit from full pack lights that will keep this eBike visible at all times.
A smart security system is another feature that will keep your eBike safe when you're not around. Theft is nearly impossible and it will definitely eliminate potential threats.
For efficient riding, Delfast Top 3.0 comes with speed modes that offer 3 options, including pedal assistance, but also the full-electric mode (throttle) that allows you to ride this eBike just like a dirt bike.
And for the best experience, while using it, you will also get a very efficient display that will provide you with powerful insights such as the battery level, estimated range left, and much more.
Plenty of Options to Choose From
When it comes down to the options, you won't be able to choose the power option or the battery size. However, you'll be able to choose wheels between:
Moto
Dirtcross 19″
City 24″
and seat between:
The fact that you can choose a moto seat and even dirtcross tires just ensure that this eBike runs just like a dirt bike.
Of course, you can also choose between two colors (white or black), and needless to say, both colors look incredibly good so whichever you choose, you'll have an attractive eBike that looks, runs, and feels like a dirt bike!
On top of that, by now, you probably understand that this is an all-around eBike that can be used for off-road, moto stunts, and even city rides.
Conclusion
If you've been after the best electric dirt bike for hunting, there's definitely no better choice than Delfast Top 3.0. It's the third version of the now well-known dirt eBike that even holds a Guinness World Record.
With all the accessories, upgrades, functions, and even the build quality or style – it's needless to say that this eBike is built to look, feel, and function as an electric dirtbike.
And is there a better electric version of a dirtbike if you're a big dirtbike fan? We don't think so!
What is your favorite feature of the Delfast Top 3.0 eBike and why? Is there something that this eBike is missing?