If you've been looking for a hunting electric bike or any type of electric bike that will get you from point A to point B without breaking the bank, you probably heard of Fission Cycles.
Fission Cycles is a company that does its best to provide high-quality electric bikes that are very affordable. On top of that, proper financing plans help make the purchase even better.
So if you're looking for an electric bike, keep on reading as you'll learn everything you need to know about Fission Cycles eBikes, but you will also learn how to easily finance it with a 0% interest rate!
What are Fission Cycles?

Fission Cycles is a company that is building better electric bikes for less money. They're all about keeping the quality as high as possible without having customers spend a fortune on electric bikes.
What's even better yet is that Fission Cycles produces a versatile range of electric bikes so anyone can find a fit for their needs. Therefore, even if you need an electric bike for hunting, Fission Cycles can provide it.
This way, Fission Cycles is on the mission to get more and more people active outdoors and give them the inspiration to go on adventures.
So you can only expect premium electric bikes at a very reasonable price. Fission Cycles does this by keeping 100% control over the production, design, and innovation which helps them keep the cost down and yet keep the quality high.
And if you're looking to learn more about the benefits of Fission Cycles electric bikes, keep on reading before you get into the core of the article which is the Fission Cycles eBike reviews!
Benefits of Fission Cycles eBikes

Whether you're looking for an electric bike that you can ride at the beach (even on the sand), do errands with, take it to the forest, ride it on the trails, or even take it deep down into the wilderness on your hunts – Fission Cycles have an eBike for you.
One of their biggest benefits is their versatility which helps people of all walks of life find a perfect electric bike that will fit their needs and lifestyle. Whether you're into hunting, into sports, just love cycling, or need a vehicle that will effortlessly get you from point A to point B, Fission Cycles eBikes can benefit you.
These electric bikes are reliable, have a decent range, come with more than enough power, and come in all types and designs. There are also plenty of accessories that you can use to modify your electric bike to fully fit it to your needs and requirements.
Another benefit is that they produce electric bikes for everyone so anyone from the tallest to the smallest can ride the Fission Cycles eBikes since they come in both step-through and standard frame types.
Fission Cycles also takes full control over their manufacturing process so they can keep the quality of their electric bikes high while keeping the price relatively low, considering the prices of other electric bikes of similar quality.
Best Fission Cycles eBikes

All of the electric bikes below are made with the newest method of hydro-forming, and welding, they are hand polished and only provide craftsmanship that's taken to another level, especially considering the price tag.
Therefore, these 4 electric bikes below will definitely fit everyone's needs and provide a solution to requirements you might have.
Fission Cycles FM 750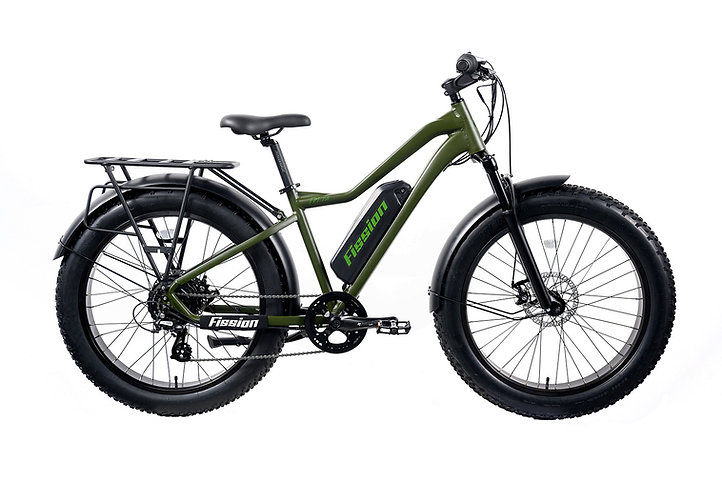 FM 750 is one of the top Fission Cycles eBike models which is built for almost anything you can think of.
It is very durable and reliable, and since it's made of 6061 aluminum, it is built for rugged terrains, off-road rides, and adventures deep into the wilderness.
FM 750 eBike features a powerful TruckRun 750W motor which can output up to 1000W of power at the max. It is combined with an LG 48V 14Ah battery which is decent and it matches the power well.
On a single charge, you can achieve anywhere between 20 to 40 miles, depending on the riding style, weather, and other factors that impact the battery and estimated range.
The Shimano 8-speed gearing system where you can switch gears without lifting a finger of the handlebar is super efficient when you're navigating through rough terrain.
The whole off-road vibe and style of the eBike are wrapped up with Kenda Antipuncture fat tires that will help you tackle any type of terrain without having to worry about getting stuck in case of a puncture.
For additional comfort, you can expect GT hydraulic front suspension system that's well combined with Tektro mechanical disc brakes to support any riding style.
Of course, there's also pedal assist which features 5 levels so if you help yourself by pedaling, you'll improve the range further. All of this can be tracked on the integrated smart color displays that give you insight into information such as the speed, average speed, battery percentage left, estimated range, distance covered, and more.
Fission Cycles SO 500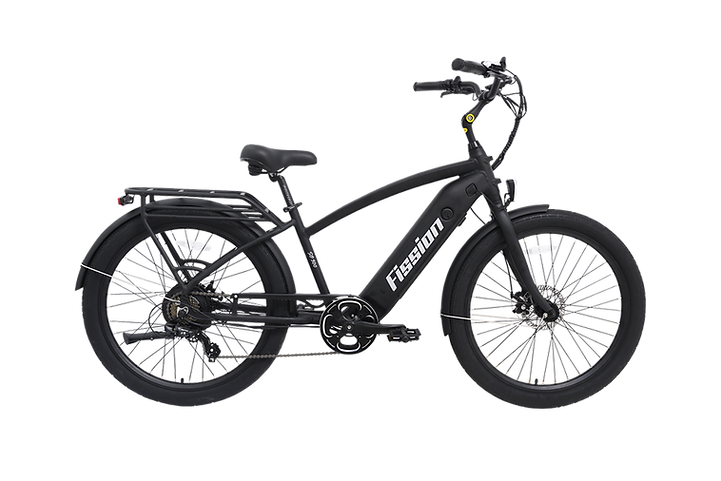 If you're looking for a pretty electric bike that will take you places, that you can take to the beach, and even on some off-road rides without worrying about getting it damaged, SO 500 is the eBike that will fit your lifestyle.
In fact, SO 500 eBike can fit almost any type of lifestyle since it is based on a beach cruiser frame type, and yet it packs a powerful motor, a battery pack, and it's equipped with anti-puncture tires that can take you places without a doubt.
Even though it is pretty well designed to look like a beach cruiser, it is still a mighty eBike since it's powered by a TrackRun 500W motor in combination with an LG 48V 15 Ah battery. Such a combination allows you to cover about 30-50 miles on a single charge, depending on the riding style and other factors.
However, this electric bike has a pedal assist system that includes 5 levels so you can extend the range by helping the eBike out by using the pedals.
Even though it doesn't feature any suspension, it features anti-puncture tires that are wide enough so you can take this eBike off-road if you felt like it. But no matter where you go, you'll stay safe thanks to the Tektro mechanical disc brakes, and for the most comfort, you'll love Shimano 7-speed gearing system.
Just like every Fission Cycles eBike, this eBike also comes with a smart display screen that even supports a Bluetooth connection where you can control the eBikes features via the app.
Fission Cycles FM 750X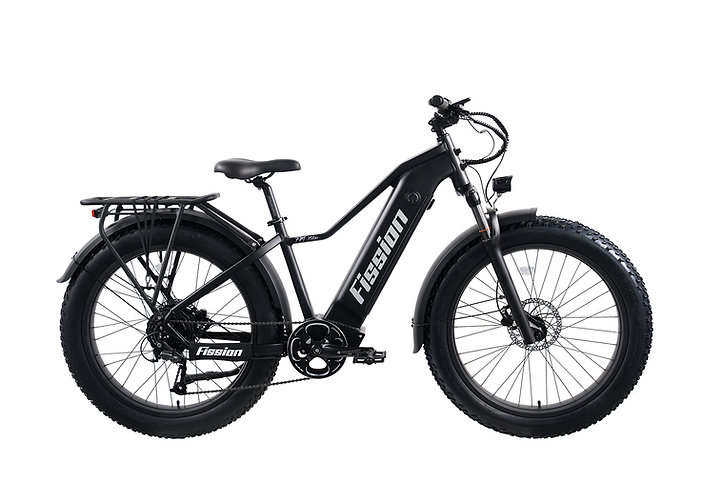 FM 750X eBike is the top-of-the-line eBike of all Fission Cycles eBikes. It's the most similar to the FM 750 eBike, but it is an upgraded version that comes with more advanced features and components for riders that require more.
This electric bike is the go-to eBike if you're looking for more power a larger battery pack, and of course, the ability to cover more range on a single charge.
Fission Cycles FM 750X eBikes come with a TruckRun 750W rear-drive hub motor which can produce a peak output of 1200W at max. It's well combined with an LG 48V 20 Ah battery, which allows riders to cover about 45 miles on a single charge on average.
For extreme durability, the eBike is based on a mountain bike frame that is built using 6061 aluminum and yet it's only Fission Cycles eBike that integrates the battery into the eBike's body for better durability.
Therefore, you can take FM 750X literally anywhere without having to worry about any damage. It even comes with Kenda anti-puncture tires so you won't ever get stuck in the middle of nowhere, making this eBike ideal for hunters who need a vehicle to recover the game after a successful hunt.
While it can definitely meet the challenges of rugged, off-road, rocky terrains, this eBike can still provide enough comfort for its riders. It features a front hydraulic fork known as a "trauma" fork that can absorb shock and provide steady movement and control even at top speeds on trails and off-road terrain.
FM 750X also comes equipped with a smart color display that can be connected to via Bluetooth and the smartphone app so you can control and keep an insight on all important aspects of the eBike during but even after your rides.
Also worth mentioning is that FM 750X eBike comes equipped with a rear rack, front and rear fenders, and front and rear lights, as well as a robust kickstand.
Considering its very great value-to-price ratio, this eBike is definitely one of the most popular Fission Cycles eBikes that even hunters use, so you know how good it must be then! With that being said, it's often out of stock so you better grab the chance if you get one!
Fission Cycles ST 500
If you're a short rider, or you're looking for an electric bike for your grandma, mom, wife, girlfriend, or daughter, ST 500 eBike is the right fit.
It's an electric bike that keeps a high standard of quality that matches other eBikes from the Fission Cycles eBike lineup. However, it is built with a step-through frame that fits riders of all heights and yet it still provides efficiency so it can handle all requirements and tasks.
ST 500 eBike is equipped with a 500 W motor that can output about 900W of power at its peak which is combined with an LG 48 V 15 Ah battery. On a single charge, you can cover anywhere between 30 to 50 miles, depending on the riding style, weather, conditions, and other factors that affect the range estimate.
However, if you help yourself with the pedals and don't only rely on the thumb throttle, you can take advantage of the pedal assist system that features 5 levels and extend the range you can achieve.
Whether you're going to cruise the streets, run errands, bustle city streets or on sandy beaches, this eBike is also equipped with Kenda anti-puncture yet slick tires that will provide joy to your ride and yet will keep you safe wherever you go decide to take your eBike.
It comes with an integrated rear rack, front and rear fenders, lights, and a smart color display that you can connect to via Bluetooth to control the eBike's features before and after the rides, while you keep an insight on the most important information during the ride with one glance.
Best Way to Finance Fission Cycles eBikes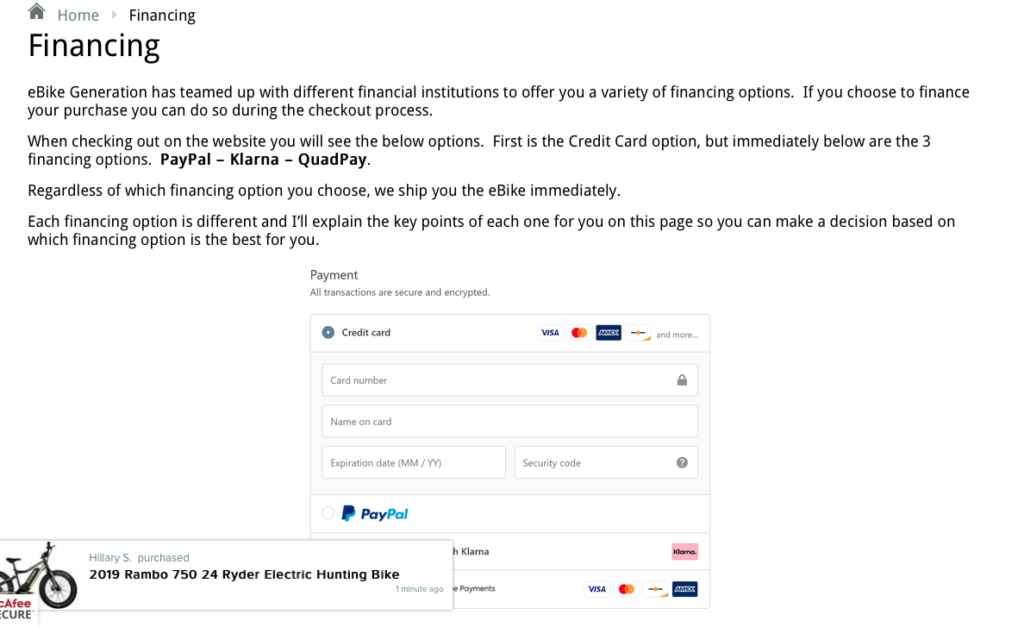 Fission Cycles aren't expensive, especially when compared to other quality electric bikes on the market, yet they still provide a relatively high level of quality which can be a nice surprise considering the price.
However, we still agree that the new eBike purchase can be a huge purchase so finding a way to make it happen smoothly is definitely appreciated, so here's what you can do!
Quality eBike retailers such as eBikeGeneration provide financing plans through third-party fintech partners who can help you purchase the eBike today, pay only the first month's installment, and pay the rest of the eBike in installments over the next 6 months.
If you pay off all installments on time, you will purchase the eBike with a 0% interest rate. Therefore, even if you have enough money for the new eBike, it's still a smart decision to apply for the financing plan since it's easy, doesn't require a lot, and can help you a lot in the long run.
Conclusion
Fission Cycles are definitely underdog eBikes that are still making a break onto the market and yet they already provide a variety of quality eBike that can be a great fit from anything such as city rides to hunting in the wilderness.
They're definitely built in a wise way where each detail of every eBike is thought through. This way, you really get an eBike that's built to help people out and be a fit for as many situations and needs as possible while keeping the quality high and price low.
Also, considering the accessories you get within the price, these eBikes are definitely a great deal, and if you take advantage of one of the available financing plans, you'll definitely be able to grab an amazing deal!
What do you think of Fission Cycles eBikes? Which eBike model do you prefer the most and why?