Himiway eBikes are making a breakthrough in the market by providing electric bikes that can match the quality of the higher-end eBikes, yet with a much more affordable price tag.
So if you're looking for the top himiway eBike on the market, you will realize that Himiway's top-of-the-line offers a lot. Considering the specifications you get for the price you pay, Himiway provides a lot of value in return.
On top of that, Himiway eBikes are known for their versatility and even the ability to make a good fit for even the most demanding eBike riders, and even hunters.
And in the review below, you'll learn everything about the Himiway's top-of-the-line eBike, but also how to finance it without breaking the bank, so keep on reading!
Top Himiway eBike on the Market

Himiway's top eBike on the market is definitely the Himiway Cobra Pro which is a full-suspension electric bike that has a lot to offer and surely can fit everyone's needs and handle the most demanding riding styles.
Ultimate Mid-Drive Motor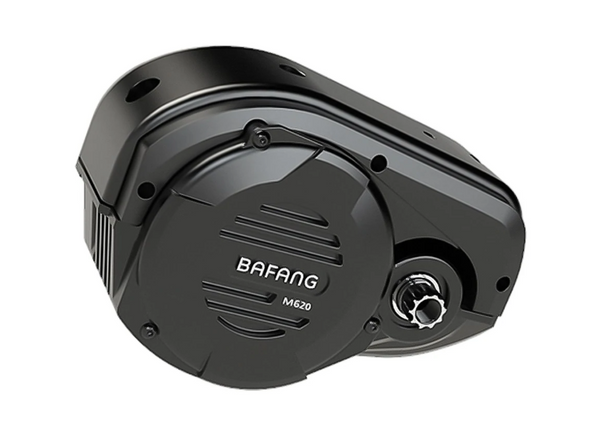 Himiway Cobra Pro is equipped with one of the best motors that many high-end electric bikes rely on and it's the Bafang M620 mid-drive motor.
It's a 1000W motor that's integrated well into the frame of Cobra Pro eBike, making it sit lower to the ground, ensuring great stability and manueverability thanks to the lower center of gravity.
At the peak of its power, Himiway Cobra Pro can produce up to 160Nm of torque which is more than enough to get a grip and handle any type of terrain in any weather conditions.
Fully Integrated Long-Lasting Battery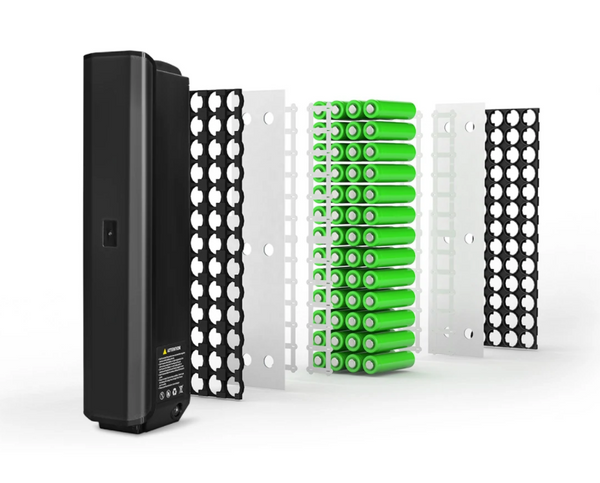 Not only is the motor integrated into the frame of Cobra Pro eBike, but so is the battery. The battery in question is either a Samsung or LG 48V 20Ah battery.
Even though the battery is integrated into the frame, it can be easily removed from the eBike for easier charging.
On a single charge, Himiway Cobra Pro can cover up to 80 miles and Himiway guarantees good capacity maintenance even after 1000 charges (the battery should still be around 80%).
Upgraded Frame for Increased Durability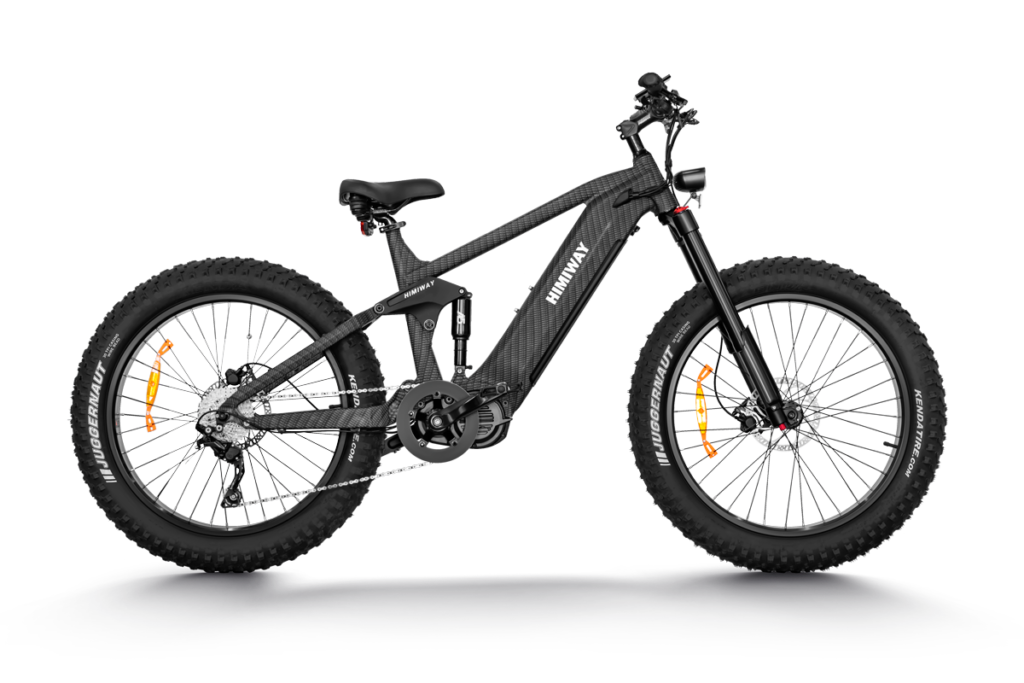 The top Himiway eBike might look like a regular mountain bike, but it is actually built with an upgraded 6061 aluminum for the reinforced frame that can withstand extra weight, but also provide a much better weight capacity.
This way, the eBike can handle the weight of a motor, the battery, and the rider's weight, and even add accessories such as a cargo trailer. Even a fully loaded Cobra Pro can easily pull you up the hill with ease.
Gearing and Weight Capacity
Another reason why Cobra Pro eBike can pull you up the hill so easily is the gearing system. This electric bike comes equipped with a Shimano 10-speed gearing system while other eBikes usually come with a 7-speed system.
An extra couple of gears combined with freewheel technology can allow you to easily climb up the hill even on the rockiest terrains. Combined with the wise design and weight that sits lower to the ground, you won't have to worry about wipeouts or getting stuck in the mud.
While Cobra Pro eBike weighs 88 lb, it can easily carry up to 400 lbs of weight, including the rider's weight and additional accessories and storage you put on the eBike (including the cargo trailer).
High-End Components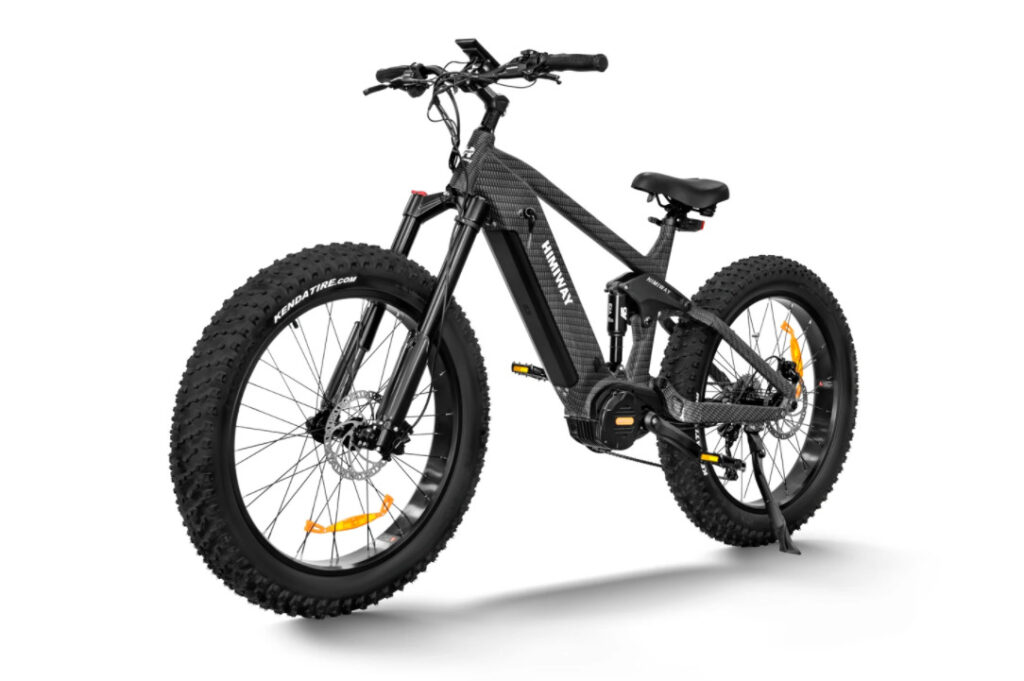 Himiway Cobra Pro doesn't only include a very quality motor and battery, but it is also equipped with very good components such as the aluminum alloy levers that come integrated with a motor cutoff switch.
There are also 4.8″ extra-wide fat tires that can help you overcome any obstacle on your way, no matter the type of terrain you ride in.
180mm hydraulic disc brakes and alloy front fork suspension help provide the stopping power you need to efficiently stop in any type of terrain.
For comfort, you'll love the full suspension system, SR saddle, a heavy-duty aluminum kickstand that will put your mind at ease every time you leave your eBike, and Promax stem that will make manueverability and avoiding obstacles so much easier.
Additional Accessories
From additional accessories, Himiway Cobra Pro comes with battery-powered light, reflectors on the pedals, an LCD color display, and even a USB charging port so you can charge your phone on the go.
LCD color display is very useful since you can get the most important information at a glance, such as the speed, estimated range, battery percentage, mileage, power, and more.
How to Finance the Best Himiway eBike on the Market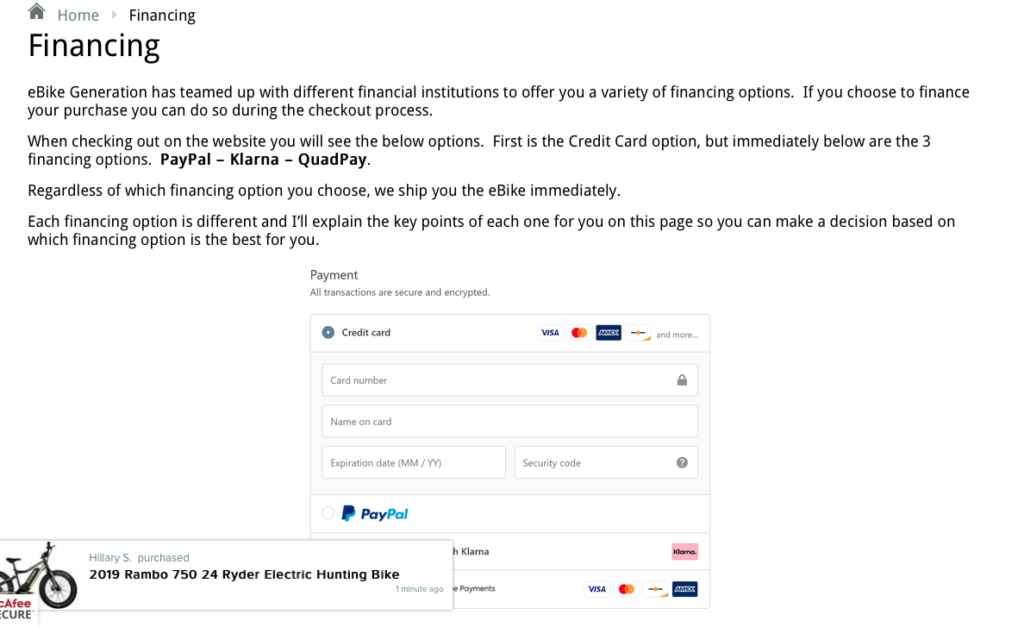 Even though Himiway's top-of-the-line eBike provides a lot of value, it is still a pricey eBike, no matter that it's a lot cheaper than other high-end eBikes of similar specifications.
Luckily, there is a smarter way to purchase your next eBike and it's through financing. Some of the best eBike retailers such as eBikeGeneration have partnered up with fintech companies that can help their customers finance their eBike purchases.
This way, you can buy the eBike today and pay only the first installment straight away. If you pay all other monthly installments on time, there is a 0% interest fee as well.
Therefore, you can take full advantage of the eBike and even have it pay itself off if you use it to replace a motorized vehicle.
Conclusion
Himiway Cobra Pro is definitely the to Himiway eBike on the market. It is built with quality in mind and it can easily match other high-end eBikes on the market, and yet it is a lot more affordable.
Such a combination of quality, durability, and versatility ensures that you can take Cobra Pro eBike anywhere you wish, and even explore locations you otherwise couldn't reach. Even hunters use Cobra Pro to stay on top of their hunting game, which says a lot about the eBike itself!
And with a proper financing plan, you can buy Cobra Pro today and pay it off monthly without paying any interest on the full price.
What's your favorite thing about Himiway Cobra Pro and why?