Step through eBikes are not only ideal for shorter people, but they're also ideal for hunters who often need to get on and off the eBike as quickly as possible without making a sound.
And if you're looking for the best fat tire step through electric bike for hunting, you're in the right place. In this article, you'll find our review of the Flatlander eBike which is manufactured by Bakcou and is sold by eBikeGeneration.
You'll also find a bit more information on available 0% financing plans that can help make a lot of difference when you decide to purchase the eBike, so keep on reading!
Best Fat Tire Step Through Electric Bike
For the best fat tire step through electric bike, we decided to choose the Bakcou Flatlander step-through version that comes as a part of a hunting package. Keep on reading to find out its best features but also how it could fit your needs.
Powerful Motor and Battery
Bakcou Flatlander is powered by only the best components such as a Bafang 750W motor and a Panasonic 48V battery where you get to choose the capacity of between 14.5Ah, 17.4Ah, and 21Ah.
Such a combination provides great torque when you need it the most and yet a battery that can keep up with the power that's put onto the wheels.
The eBike is powered by a throttle instead of pedal assist which ensures even better performance at the touch of a button.
Durable Frame and Fat Tires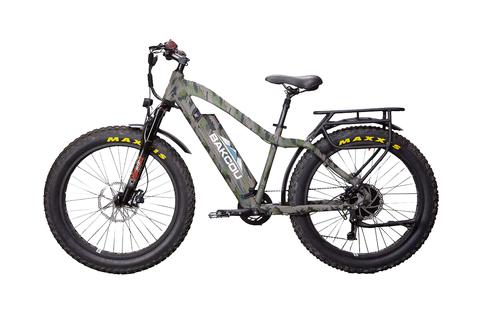 Flatlander is built on the enforced mountain bike frame that has a step through design. This design allows users to get on and off the eBike easily in only seconds, but it's also very useful at evenly distributing the weight and keeping it lower to the ground.
As a result, Flatlander eBike is a lot safer to ride as you will be faced with fewer wipeouts on the unstable terrain.
Also, Flatlander eBike comes equipped with Maxxis Minion fat tires that literally allow you to go anywhere you want. With a wide tread, you have more control in the corners, no matter at what speed you're moving.
Comfort and Safety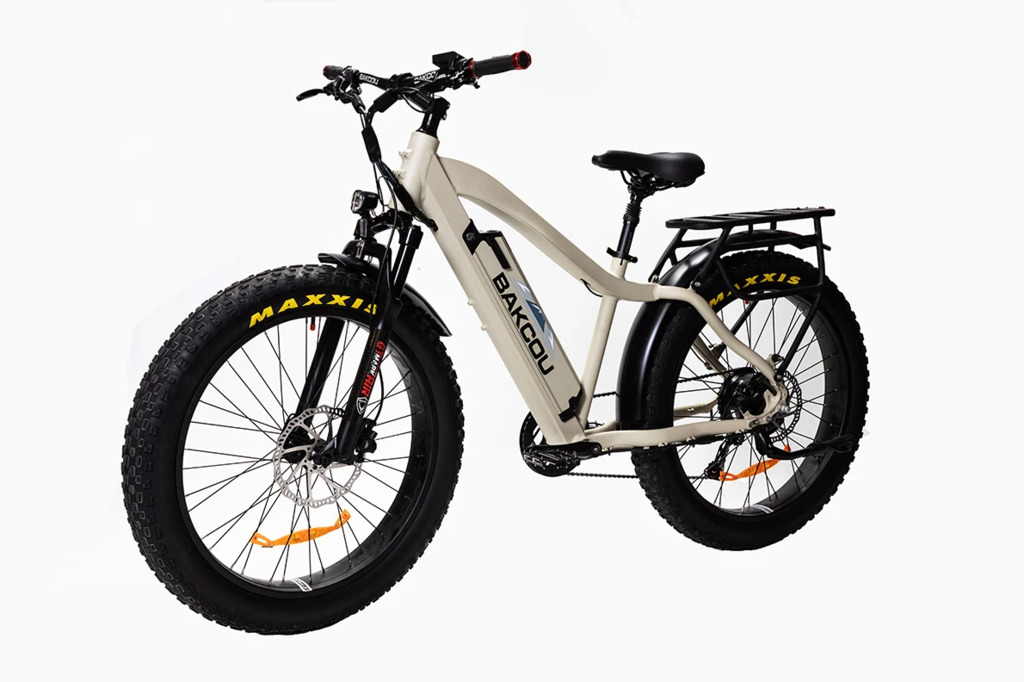 Along with the performance and durability, comfort and safety are two other things that Bakcou paid attention to.
Not only is it easy to get on and off this eBike, but it's also very comfortable to ride thanks to the BCEB GT MRK air fork suspension, wide 740mm handlebars for better manueverability, and SR sport saddle for extreme comfort.
You'll stay safe thanks to the durable yet lightweight material (high-grade aluminum alloy) used for the frame in combination with powerful Tektro dual-piston hydraulic disc brakes.
Even rushing down the hill with the full power on won't be scary yet fun knowing that you can stop at any given moment!
Many Different Finishes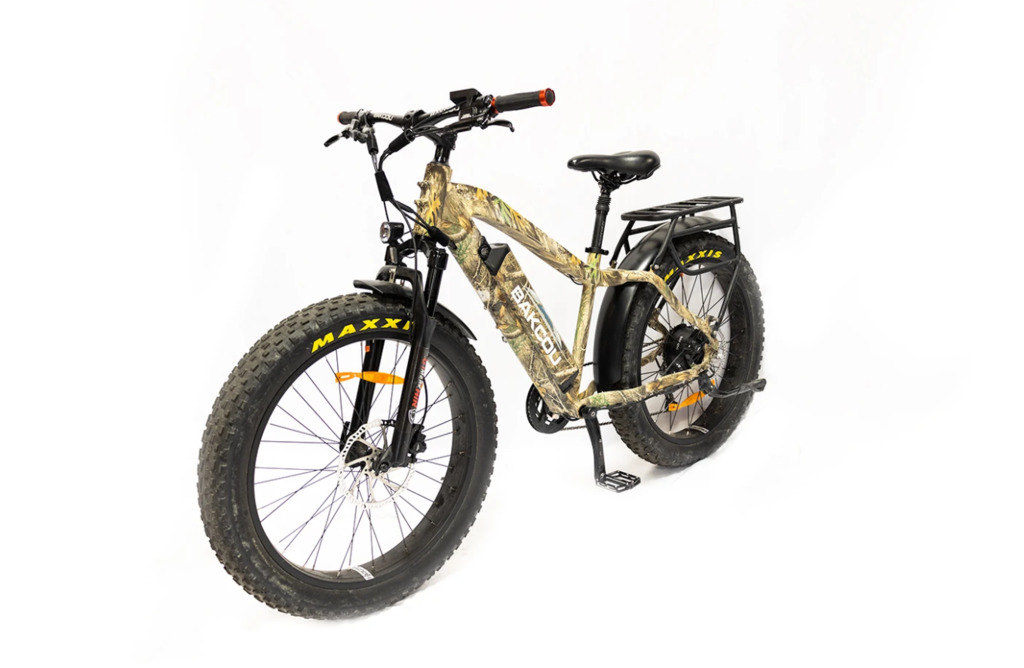 We're used to seeing hunting eBikes that come in one or two finishes, but Flatlander is available in 6 different finishes.
You get to choose between Burnt Orange, Army Green, Matte Black, White, Kuiu Verde Camo, and Desert Tan.
All of these finishes include a battery that's coated in the same finish to ensure that it matches the rest of the eBike. Depending on your local hunting area and the conditions you hunt in, you can easily blend with the background thanks to the multiple finishes you get to choose from.
Great Range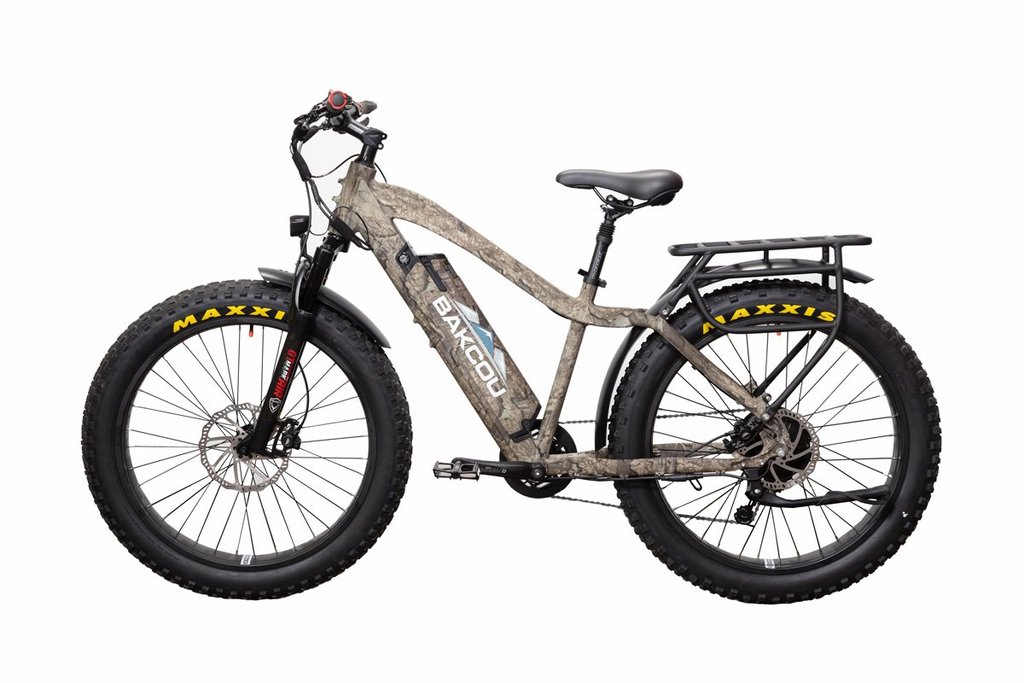 Depending on the battery's capacity you choose, Bakcou Flatlander can help you cover at least 40 miles on a single charge.
Considering the powerful motor and the thumb throttle powering option, 40 miles is a lot. And if you try to conserve the battery as you ride instead of having way too much fun – you can even benefit from a longer range.
However, keep in mind that weather conditions and terrain type can have an impact on the total range you can achieve on a single charge.
But if you are worried about the range, you can also purchase an additional battery that you can swap out anywhere you go and achieve a double range.
Decent Weight and Even Better Weight Capacity
Flatlander eBike weighs about 63 lbs and yet it has an amazing weight capacity of about 300 lbs. This includes the rider's weight but also leaves plenty of room for hauling a trailer that can be used to either carry the equipment, as an extra storage space or even to recover the game after a successful hunt.
Considering all components that come included and the weight of the motor and the battery, Flatlander has a very decent weight and it's actually lower than the average weight of a hunting eBike.
Hunter Package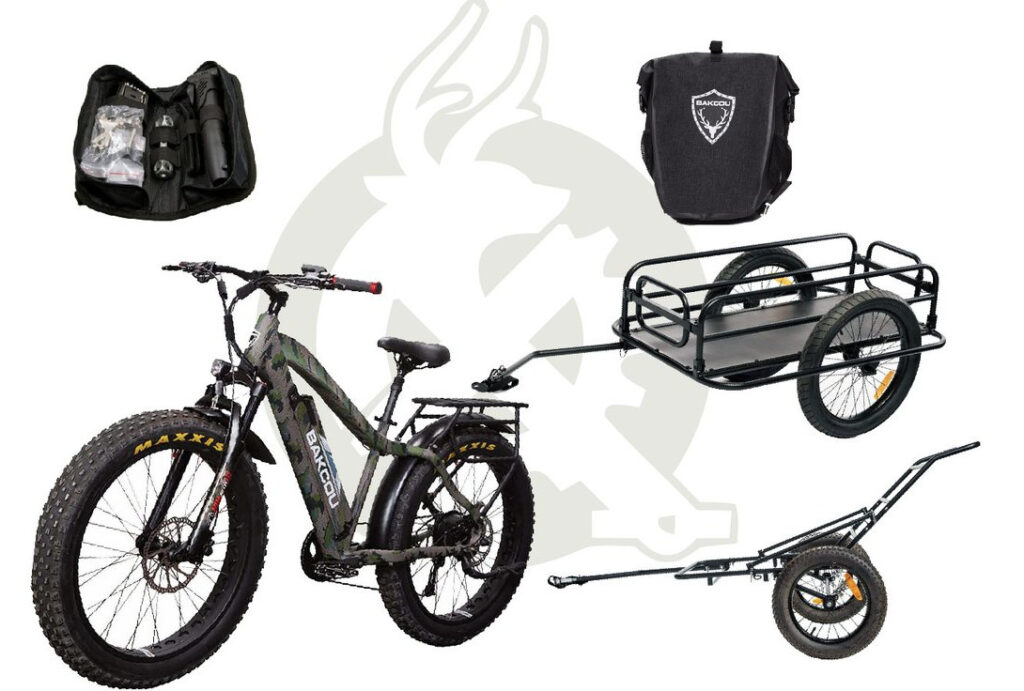 Bakcou Flatlander comes as a part of a hunter package. Hunter package includes additional accessories such as:
A choice between three trailer types: compact gear trailer, folding deer trailer, folding hunting trailer
Trail-side repair kit
Dual use pannier bags
The Flatlander eBike itself comes with more accessories such as:
Free charger
Headlight
Fenders
Rear rack
Tire liners
Even though the Flatlander as a part of a hunter package comes at a slightly higher price, it's very well worth it considering everything you get included. If you had to purchase these additional accessories separately, it would cost a lot more than the hunter package.
Conclusion
Flatlander eBike is the perfect choice for the best fat tire step through electric bike for hunting since it is well built, well equipped, and it even comes as a part of a hunter package that includes everything you might ever need.
With the high-end components, plenty of safety add-ons, and great capabilities, you won't ever get bored when riding the Flatlander.
However, keep in mind that if you don't need the accessories provided as a part of the hunter package, you can purchase only the Flatlander eBike.
What is your favorite thing about the Flatlander eBike? Do you think it's one of the best step through hunting eBikes available on the market?